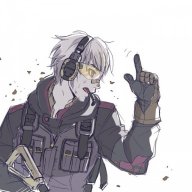 Joined:

Sep 26, 2014
Messages:

1,418
Likes Received:

879
Trophy Points:
Gender:

Male

Age:

19

Location:

Occupation:

Hero of Time
SolusFalcon
Plantera, Male, 19, from Somewhere in the world
I'm slowly descending into DRv3 youtube trash and I don't regret it one bit. Oct 10, 2017
Loading...

Loading...

About

Gender:

Male

Location:

Occupation:

Hero of Time

Re-Logic Games Owned:

Well, I'm SolusFalcon.

"Never accept the world as it appears to be; dare to see it for what it could be."
"Light doesn't mean good, and Darkness isn't necessarily evil. Even in a city of Angels can you find a thief, and by the same coin, charity may reside in the dark heart of a demon. It is the intentions of one that makes them good or evil, not their background or appearance."

Interact

Signature

Felicia: "You're just a stain!"
Silas: "Fall so that others may live!"
Kaze: "The pain will pass!"
Takumi: "I hate to do this!"
Oboro: "You are so last season!", "You're gonna need stitches!"
Rinkah: "You're toast!"
Leo: "Nothing but cinders!"
Elise: "No more holding back!", "You're going down scumbag!"
Laslow: "Stop staring at me!"
Selena: "Time to play!", "Let's get this over with!","So annoying!"
Odin: "You can't hide from me!"
Niles: "Oooohhhhh Yes!"
Charlotte: "You're nobody!"
Shigure: "An encore? If you insist!"
Dwyer: "Get outta my way..."
Sophie: "I have no choice."
Midori: "Here's a bitter pill!", "My diagnosis? You're done!"
Asugi: "Ooh! Pinata!"
Caeldori: "I'd run if I were you."
Forrest: "I'm stunning, you're dead.", "Can't run, can't hide!"
Ophelia: "Take this maiden seriously!"
Soleil: "Smile! You're dead."
Nina: "Lookie what we have here.","I spy a corpse!"
Scarlet: "I'm gonna get Nohrian on your butt!"
Azura: "My heart is singing...", "Time for you final bow!"

Loading...