Took one of those pokemon tests.....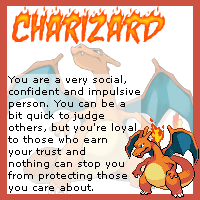 RPG one too......

I took a 'Which UNDERTALE character are you' quiz and got Sans, then took a 'which AU are you from' quiz and got UnderFell, So I guess that I am UF Sans then!
Don't expect me to not rickroll you if I give you a link.
Oh, and I seem to make @Dark Sunshine's day a lot, 3 times so far.