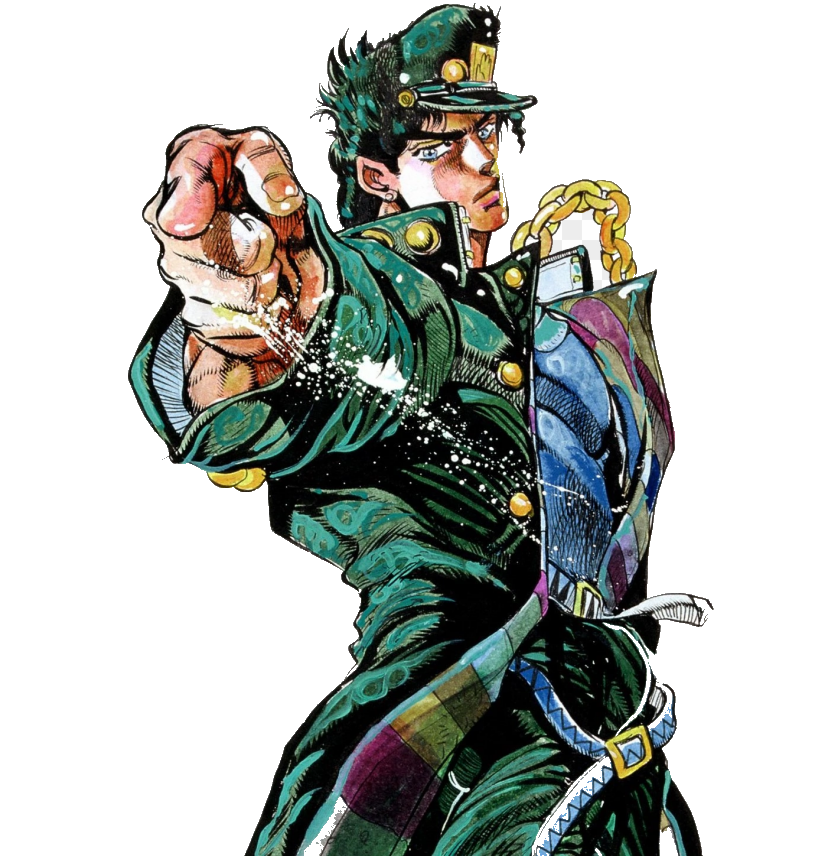 I just finished the last part of the anime "JoJo's Bizarre Adventure", and being enraptured by it, it spurred me on to create this wavebank.
It took about a week, meticulously planning what theme would go with which Terraria song best (don't worry, I didn't just spam Giorno's Theme), and finally, it has arrived - The True
Golden Experience
I changed every song, apart from the Alternate Otherworld Tracks.
I've Included both Character Themes, and mostly instrumental tracks from across the anime, but sometimes I've snuck in a vocal track that references a JoJo character/Stand - (example - Sheer Heart Attack by Queen - This isn't in the tracklist btw)
Even If your not a JoJo Fan, I highly recommend you at least trying this out - Its fits snugly in place of the Vanilla track.
Quick Set of Installation instructions:
-Download the file
-Locate Terraria's Content folder (ex. for Steam: C:/Program Files/Steam/steamapps/common/Terraria/Content)
-(recommended) Backup Terraria's original Wave Bank.xwb file
-Replace the original file with the one you downloaded.
-Enjoy!
To create your own Wavebank, follow
this
tutorial.
Download here -->
Wave Bank
<--
| | |
| --- | --- |
| Overworld Night | Phantom Blood Ost 01 [Sekikamen] |
| Eerie (Blood Moon) | Stardust Crusaders OST Possession |
| Overworld Day | Phantom Blood Ost 02 [Hikiyose Rarete Iku Unmei] |
| Boss 1 (Eye of Cthulhu, King Slime, Eater of Worlds, Skeletron, Skeletron Prime) | Stardust Crusaders OST - Stardust Crusaders |
| Title Screen | Torture Dance |
| Jungle Day | Phantom Blood OST - Mysterious Visitor |
| Corruption | Dark Rebirth - [Shadow Dio's Theme] |
| Hallow | Stardust Crusaders OST - Setting Off |
| Underground Corruption | Wicked Thoughts - Angelo's Theme |
| Underground Hallow | Diamond is Unbreakable OST - Separation and Departure |
| Boss 2 (Wall of Flesh and The Twins) | Burning Colosseum - Wamuu's Theme |
| Underground | Battle Tendency OST - Tense |
| Boss 3 (The Destroyer and Brain of Cthulhu, Frost Legion, Torch God) | In the Zipper - Bruno Buccellati's theme |
| Snow | Phantom Blood Ost 17 [Chichi e no Omoi] |
| Space Night | Pink Floyd - Shine On You Crazy Diamond |
| Crimson | Cioccolata's Theme |
| Boss 4 (Golem and Lunatic Cultist) | Awaken (Pillar Men Theme) |
| Day Alternative | Phantom Blood Ost 06 [Koi,Hatsuratsu to] |
| Rain | Diamond is Unbreakable OST - Italian Restaurant |
| Underground Snow/Ice | Ice Ice baby - Vanilla Ice |
| Desert | Landing in Egypt [Cameo/Judgement's Theme] |
| Ocean Day | The Stardust Man Appears - Part 4 OST |
| Dungeon | Killer - Yoshikage Kira's Theme |
| Plantera | Diamond is Unbreakable OST - Diamond is Unbreakable ~ Main Theme ~ |
| Boss 5 (Queen Bee) | Giorno's Theme |
| Jungle Temple | Rubicon | Santana's theme |
| Solar Eclipse | Phantom Blood Ost 18 [Kyuutenchokka] |
| Rain SFX | Same |
| Mushroom Biome | Purple Thorns [Old Joseph's Theme] |
| Pumpkin Moon | Part 4 OST - Interception |
| Underground Alternative | Onigai Kappo/Strutting The Ogre Street [Speedwagon's Theme] |
| Frost Moon | Stardust Crusaders - Space of a Lone God |
| Underground Crimson | Fugo's Theme - Virus |
| Lunar Event/Towers | Sono Chi No Sadame |
| Pirate Invasion | Golden Wind OST - Golden Experience |
| Hell | Golden Wind OST - Un'altra persona (Boss's theme) |
| Martian Madness | Figlia [Trish's Spice Girl Theme] |
| Moon Lord | Capture the Target [Baron Zeppeli's Theme] |
| Goblin Invasion | Noble Pope ~ Kakyoin's Theme |
| Sandstorm | Wind in the Wilderness [Hol Horse's Theme] |
| Old One's Army | Persistence ~ [Jonathan's Theme] |
| Space Day | Made In Heaven - Queen |
| Ocean Night | Asa Tsujis Theme- Fair Godmother |
| Windy Day | Holy Kujo's Theme - Gentle Sunshine |
| Windy Day SFX | Same |
| Town Day | Golden Wind OST - Dawn |
| Town Night | Last Train Home |
| Slime Rain | Silver Twist [Polnareff's Theme] |
| Terraria Title Theme Remix | Same |
| Title Screen (Journey's End) | Morioh Cho Radio |
| Title Screen (Journey's End, without beginning) (plays when you logout from world) | Roundabout |
| Storm | The Author's Bizarre Passion [Rohan's Theme] |
| Graveyard | Himeru Omoi - Phantom Blood - Dio's Theme |
| Underground Jungle | Diamond is Unbreakable OST - A New Courage |
| Jungle Night | Golden Wind OST - The First Assassin |
| Queen Slime | Killer Queen |
| Empress of Light | Avalon [Ultimate Kars' Theme] |
| Duke Fishron | The Hand [Okuyasu's Theme] |
| Morning Rain | Phantom Blood Ost 10 [Denkousekka] |
| Title Screen (Console ver.) | Same |
| Underground Desert | Fire Shaman [Avdol's Theme] |
| Rain (Otherworld) | Same |
| Day (Otherworld) | Same |
| Night (Otherworld) | Same |
| Underground (Otherworld) | Same |
| Desert (Otherworld) | Same |
| Ocean (Otherworld) | Same |
| Crystal Caves (Otherworld) | Same |
| Dungeon (Otherworld) | Same |
| Space (Otherworld) | Same |
| Underworld (Otherworld) | Same |
| Snow (Otherworld) | Same |
| Corruption (Otherworld) | Same |
| Underground Corruption (Otherworld) | Same |
| Crimson (Otherworld) | Same |
| Underground Crimson (Otherworld) | Same |
| Underground Snow/Ice (Otherworld) | Same |
| Underground Hallow (Otherworld) | Same |
| Eerie (Otherworld) | Same |
| Boss 2 (Otherworld) | Same |
| Boss 1 (Otherworld) | Same |
| Invasion (Otherworld) | Same |
| Towers (Otherworld) | Same |
| Lunar Boss (Otherworld) | Same |
| Plantera (Otherworld) | Same |
| Jungle (Otherworld) | Same |
| Wall of Flesh (Otherworld) | Same |
| Hallow (Otherworld) | Same |
| Journey's End (Credits Theme) | Stardust Crusaders O.S.T [Destination] - 26 - The Return of Travelers |
Of course, if you're a Gangstar, you'll figure out all of these songs for yourself ~~
Be sure to give me feedback, especially if you feel like the volumes are a bit off, or a different jojo songs would fit better than the selection I made
Last edited: