Not sure if I'm the first to suggest this, but this came on my mind lately:
I was thinking of a small but neat addition thing that could be done; basically, (re)adding old sprites of furniture and blocks and walls as they once used to be, as new items.
For example: The pre-1.2 sprites of the furnace and Hellforge, all the bricks and brick walls, (basically just Grey Brick resprites) and some pre-1.3 sprites of blocks that received a makeover. (such as Mudstone Bricks and Copper Bricks) Even applies to the furniture too, like the pre-1.0.6 sprite of the Wooden Door and Workbench. For the unfamiliar, here's an example of what I mean... (images taken from a Yrimir video)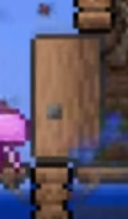 As for the pre-1.2 sprited ancient blocks... I was thinking that they should not meld into other blocks, which was basically block behaviour in pre-1.2 Terraria.
As for how to obtain them, I was thinking that for the bricks and brick walls, you could convert between the current and ancient versions in the presence of a Workbench in Ecto Mist. For the furnaces and other furniture however, I guess that should have the same recipe as the normal one, just again, at the same crafting stations but in Ecto Mist.
These shouldn't replace pre-existing stuff, of course. These could be new stuff that basically has the same looks as these ancient things. It's pretty easy to see why they got resprited later on, given they feel very outdated, but it'd be cool if we could obtain them again.
Oh, and by the way, if it wasn't obvious enough, all these items should be named "Ancient [furniture/block/wall item]". That's all there is to this.