Notice: We need spriters! Message me if you're interested.
Welcome to...
Big Biome Expansion: Jungle
Overview
​
This mod aims to completely redo the world of Terraria and everything in it. In essence, it changes the entire world to fit one vanilla biome--in this case the Jungle--and then works on recreating the other biomes themed after the main biome. So, say, in the case of the Dungeon, it's the Mayan Temple, or instead of the Sky, it's the Canopy.
​
Currently, this mod has the following biomes: Flooded Rainforest (Ocean), Barren (Crimson), Volcano (Corruption), Mayan Temple (Dungeon), Lihahzrd Complex (Hell), The Canopy (Sky/Space).
Granite biomes are replaced with Beehives.
Marble is replaced by Bamboo forests.
Compatibility
​
Now, I do realize that, as a mod, this will practically destroy compatibility with most other mods. This is both due to the whole world being removed, and for custom spawning being used instead of vanilla spawns. I will try my best to add the following:
Modded biomes, structures, or other world gen that would fit. (Modders, you'd need to provide code)
An attempt to add NPCs to custom spawning, or to create a system in which people can add spawns to the custom spawning. This may take a while, and once released I'll add a list below of compatible mods.
All recipes, items and projectiles that can be found in the world should still work fine. Message me if you have any further questions with compatibility.
Developers & Thanks
​
Developers:
Spriters:
GabeHasWon

Koopahunter197

Ca595

TheGeckoGamer

SnakeBlock

Small Watch
Programmers:
GabeHasWon
Tracks:
The Flooded Rainforest: https://soundcloud.com/miguel-guevara-895087321%2Fdrowning-forest
More tracks will be added in the future!
Thanks to:
My sister for a couple sprites.
tModLoader & devs because we couldn't do this without it, and from which I stole this beautiful separator.
MrMarcinQ for some sprites.
Trivaxy for some code and one sprite.
gratgaisdead for a boss fixup.
Questions on this thread or here: Discord - A New Way to Chat with Friends & Communities
Spoilers are also shared early on here.
Progress
​
Format: Concept, Progress, estimated time of release, notes.
WTM = With the Mod.
Example: Bananas: 100%, WTM, examples are fun.

The Flooded Rainforest: ~98%, WTM, at least two more items.
The Barren: 10%, WTM, needs polish, better main structure, and better variety.
Mayan Temple: ~40%, WTM, needs polish and expansion.
Volcano: ~12%, WTM, needs polish, better generation and a finished volcano.
The Lihahzrd Complex: ~4%, WTM, needs to be emptied.
The Canopy: ~20%, WTM, started, structures need polish, loot and tiles.
General jungle: ~46%, WTM, needs more polish, structures and variety.
Beehives: ~100%, WTM, finished! Added all that is needed for the Beehives, excluding various items.
Bamboo Forests: ~5%, needs polish, more structures, and actual bamboo.

Bosses: ~5%, WTM, the one needs polish and completion and the rest need adding.
Enemies: ~12%, Partially WTM, most are polished but many are not added.
Items: ~9%, Partially WTM, most are polished but many are not added.
Projectiles: ~2%, Partially WTM, some are polished and most need to be added.

Dust/Gore Water Effects: 0%, After mod release, just some more effects.
Enviromental Effects: ~60%, Partially WTM, the environment is affected by events, items or armor. (check Spoilers)

Overall: 5%, WTM (duh), needs more of the everything.
This mod will be released once Prehardmode is complete or nearly complete. This will allow the team to get feedback before the full Hardmode update.

Content
​
Note that this will be added to very slowly, I'd rather keep bigger secrets hidden.
NOTE: Healer class has been named druid class, please note that it could be changed to some other name.

Rich Mahogany Staff

Druid class
Heals 5 health
Uses 20 mana
Fast speed

Crafted at Workbench with 20 Rich Mahogany and 4 Jungle Grass seeds.
Rich Mahogany Axe

4 melee damage
40 axe power
Average speed
Average knockback
Spoilers
​
Raining environmental effect:
)
Uploaded to the mod browser as a mini-mod, Rain Effect!

Flooded Rainforest spoiler: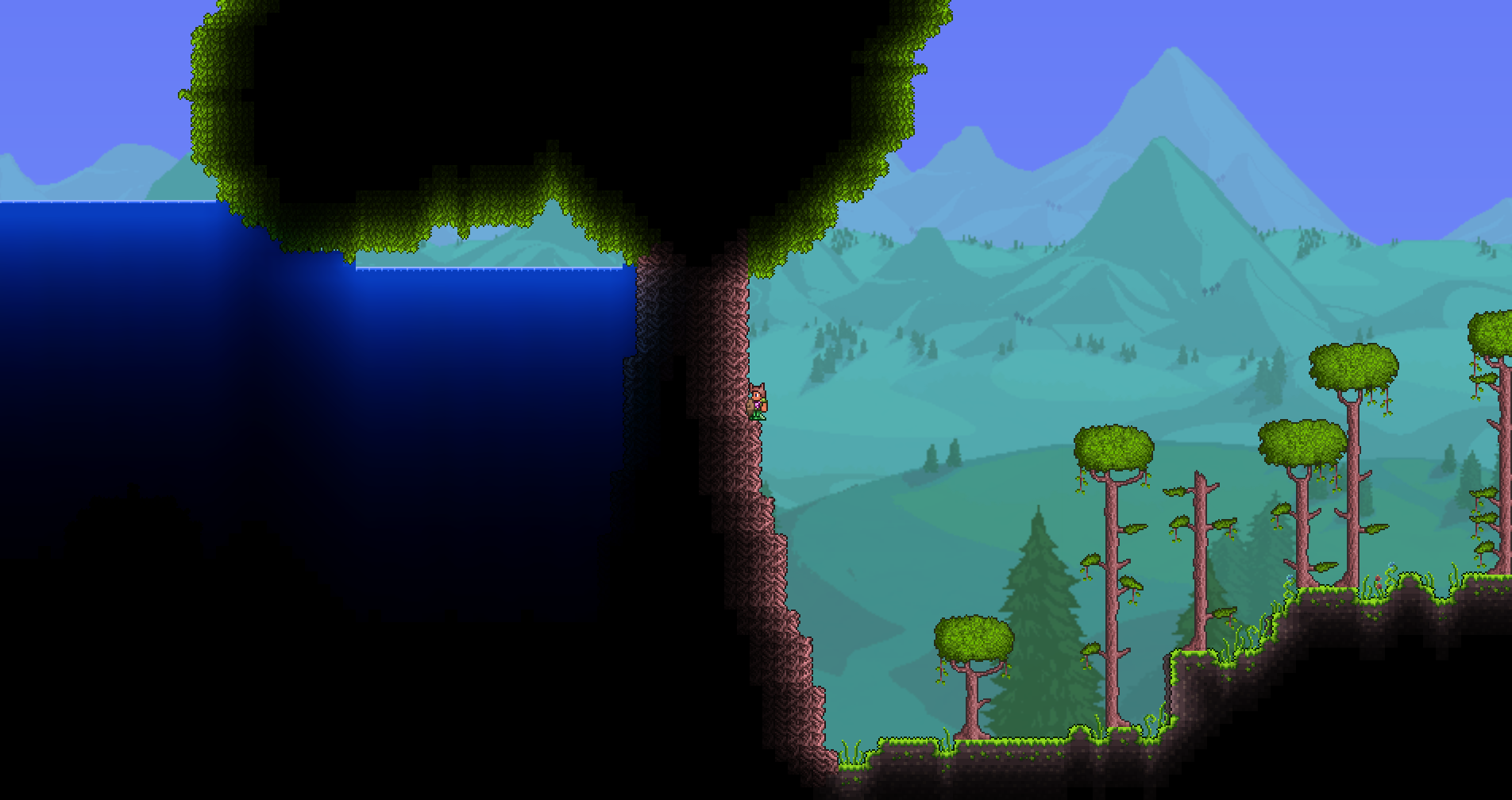 Ocean counterpart, this is one of the trees that spawns there. You may also see one new shield on the character.
A little house I made.
Last edited: