WARNING: THIS FORUM POST WILL BE REWORKED IN THE FAR FUTURE.
In the meanwhile, please go check out the wiki page or
Discord
Downloads (1.3.13.3):
EA Github
EA Music Github
EA Retro Music Github
Discord Invite:
Discord
What does this mod add to Terraria?
- 900+ new items
- 50+ new monsters and banners to collect
- 13 new bosses
- 3 new mini bosses
- 3 new town NPCs
- 2 new events
- A new mode harder than Expert Mode, introducing the sanity bar
- An interactive boss checklist npc that rewards you for beating bosses
- Unique mechanics and weapons
- A lot of more content coming
Official (Very Old) Trailer:
This forum doesn't include all content in the mod, more content is found on the Wiki page.
Items:
E
l
e
m
e
n
t
s
Tier 1- Desert
Desert Essence is randomly dropped from creatures in the desert after the EoC has been defeated
(From left to right and top to bottom)
Solitary Storm - Sword that shoots a sand tornado
Desert Eagle - A basic gun
Sandstorm Tome - Rains sand from the sky
Staff of the Sandstorm - Summons a baby sandstorm
Desert Trailers - Upgrade of the lightning boots (NOT FROSTSPARK)
Badge of the Desert - +20% Movement speed and melee speed
Shield of the Desert - Eye of Cthulhu shield dash and immunity to knockback. Dashing will cause a sandstorm to shoot out.
The Grit - Desert yoyo
Sand Sprayer - Desert themed flamethrower
Sandstorm Stone - Summons a sandstorm
Sandball - Sand equivalent of snowball
Arid armor - An early pre-hardmode armor with an helmet for each cass. Set bonus allows you to weakly levitate.
Tier 2- Fire
Fire Essence is randomly dropped from hell after Skeletron has been defeated
(From left to right and top to bottom)
Blazing Trisword - Shoots 3 exploding fire beams that summons a smaller projectile on emey hits.
Fire Storm - Pre-Hardmode Clockwork Assault Rifle
Bonfire Pummel - Shoots a fireball that explodes into greek fire
Fire Minion Staff - Summons a fire elemental
Fire Treads - Desert trailers + Lava Waders
Band of Inferno - Magma stone and Titan glove effect
Inferno Bulwark - Immunity to on fire and allows to walk on hot blocks
Firelash - Fire yoyo (Shoots flamethrower projectiles)
Dragon's Breath - Intense Flamethrower
Fire Scythe - Pre-Hardmode Death Sickle
Fire Knives - Shoots out fire knives that explode into homing projectiles
Tier 3- Sky
Sky Essence is randomly dropped from creatures in the sky after all mech bosses are defeated

(From left to right and top to bottom)
Skyfury - Shoots a 3 cloud blasts and rain comes from the sky
Featherfall - Shoots out a feather that makes multiple feathers appear above where it hits
Starlight - Fires heaps of feathers
Happy Little Cloud Staff - Summons a Happy Little Cloud
Skyline Whirlwind - Fire Treads + Wings
Badge of the Sky - A bunch of buffs when your in the sky
Ward of the Clouds- 10 defense when in sky, cloud in a bottle effect, increased wing time
The Launcher - A yoyo that launches enemies into the sky
Windfall - Flamethrower for sky
Hourglass of Eternity - Changes the time between day and night
Storm Hammer - Boomerang like weapon
Skyline Wings - Decent Wings
Empyrean armor - A mid-hardmode armor with an helmet for each class. Set bonus causes nimbus clouds to appear around you that rain down raindrops.
Tier 4- Frost
Frost Essence is randomly dropped from creatures in the snow after Plantera has been defeated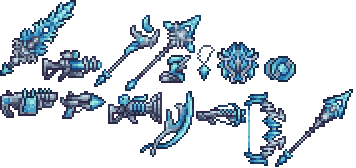 (From left to right and top to bottom)
Icicle - Ice Sword, shoots 3 icicles, right click to stab and shoot rapid frost rays
Frost Pulse - Shoots a frost pulse
Snowflake Staff - Shoots a snowflake that acts like the magic missile
Snowball Staff - Summons a snowball
Frost Walkers - Skyline Whirlwind + Ice Skates
Freeze Ray - Shoots a beam that freezes enemies completely
Pendant of Frost - When the player is in snow, 5% increased damage
Frost Shield - 30 increased life, 5 defence, when in snow 30 increased life, 5 defence and +10% damage
Glacial Blitz - Frost yoyo
Hailgun - Late game snow cannon
Snower - Snow flamethrower (don't ask us how that works.)
Frost Blade - Throws 2 boomerang like weapons
Tier 5- Water
Water Essence is randomly dropped from creatures in the ocean after Duke Fishron has been defeated
(From left to right and top to bottom)
Forever Tide - Arkhalis type weapon
Watershot - Fires watery projectiles
True Water Bolt - Improved water bolt
Bubble Staff - Summons a kamikaze bubble
Aqueous Waders - Water walking boots + Frost Walkers
Emblem of the Ocean - Can turn the player into a merman, when in water: +20% increased damage, +10 defence
Great Barrier Reef - Ocean enemies don't attack you, turn into a merman upon entering water
Aqua Marine - Yoyo that leaves a trail of poisonous water
Bubble Flood - Fires a heap of bubbles
Rain Sigil - Summons the rain
Chakram of the Duke - Water themed chakram
Bubble Pack - A jetpack that propels you with killer bubbles
Tier 6- Void
Void Essence is randomly dropped from creatures in the Dawn of the Void event.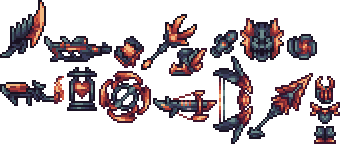 (From left to right and top to bottom)
Holocaust - Shoots 3 homing void blades
Void Blaster - Rapidly shoots homing bullets
Void Spirit Staff - Summons a void spirit that hovers above your head
Infinity Tome - Hex voodoo doll type item
Boots of the Void - Aqueous Waders + Master Ninja Gear
Idol of Darkness - Increased life regen and 25% increased damage.
Somber Bulwark - The more defence you have the more life it gives you
The Eye of Annihilation - Void yoyo that shoots lasers at enemies
Scourge - Flamethrower
Icon of Healing - When under 300 health, the player is healed rapidly
Calamity - Fires 2 Exploding chakrams
Gloomhandler armor - A damage focused armor, set-bonus causes all projectiles to have a chance to heal you slightly.
Bosses:
E
l
e
m
e
n
t
s
Wasteland
Infernace
Regaroth
Permafrost
Aqueous
Void Leviathan
Other

Scourge Fighter
Obsidious
The Guardian, Ancient Wyrm & The Eye
Volcanox
Azana
The Ancients
A post-moon lord event meant to be fought after, well, the Moon Lord.
Dawn of the Void
A fantasy among the individuals of the terran lands, the void was portrayed as an endless cycle; an infinite shadow of no return. Those, that were unfortunate enough to lose themselves in these cold arms of death, or fell victim to the great, haunting serpent, had masked this monotonous place, shrieking through the emptiness that had taken rule. Many had proposed that such may be forever hidden from the eyes of the terrans, a belief for a simple truth. And yet none of them knew, that they had counted their blessings too early.

As the death serpent had crushed through the shades that held this zone together, a powerful infection caused these mere wisps that had gathered started to awaken one by one. What became one wail increased a thousandfold and soon, these lost spirits had escaped their endless prison, manifesting their influence on everything that moved, burning their life force out. But the mere thought of draining the power of others strengthed their will to survive nonetheless, for the better or the worse.

In such circumstance, the armies of the void grew, their shadowstained matter growing darker by each passing second, until they were powerful enough to invade the night. Generations had lived through sleepless nights and even if they had grown rare nowadays, many can recount the horrors that they had faced during the dawn - a ravaging force that overshadowed even the corruption at it's greatest.




Shade Wyrm


An important part of the dawn's plan are these silent, but deadly beings. Originating from the void, they are a force to behold, solely for their tricking nature and their powerful maws. Even a young example is capable of striking down a large group of rodents in a blink of an eye and once they age, their capabilities exceed far beyond their previous strength.

Evolving creatures of this kind have a singluar chance to shed their scales and become what might only be known as a Void Leviathan, but as of now, sightings confirm that only one had managed to attempted such a feat and emerged successful, to the fortune of the terran world. But even without these possibilities, a small amount of them could eliminate even the Moon Lord with such seen as a large power on it's own.

As the armies of the void had ravaged through the night, these creatures carry on with their wanderings, continuing their murder even at the darkest of nights. And perhaps, very few people know that anyone could survive a head-on clash with these monsters.
A post-Azana event that can replace normal rain with a chance of 25%.
Radiant Rain
The Radiant Rain is an event arising from the universal light. Once, everything around suddenly seemed to be hanging in a white void — and these objects that have just hung in it disappear, merging into one shimmering point, making the world bloom in radiance. This is the clear sky and there was no other world besides it. Outside the celestial ether, everything is occupied by stars. The sky had gone into infinity and collided in the distance with a nebula full of an astral. It is not even clear where the sky ends and where the blending of these heavenly bodies begins.

The annals, preserved to this day from bygone eras, tell the following about the first coming of the shining monsoon: «a small white fragment flew from heaven, splitting the firmament.» And this fragment, as if by magic, began to expand and turn into a dazzling bright glow. The world has never seen such a light, all present at such time saw it at once, listening to an inaudible whisper. And suddenly, there was nothing left but this shining light, seen as indescribably beautiful. From there on, the days began to seem absurd.

«Then thousands of otherworldly stars lit up, low, as if at any moment risking falling on the heads of the huddled people.»

A million eyes followed them; hundreds of sounds merged into a roar, the ecstasy of thousands of spectators merged into a mad chorus, the radiant light burned out their souls from within. Nothing remained of them but hollow, shining shells. The world has ceased to be an idyll, the beauty in the radiance has dried up, renewed by the essential chaos.

Many sorcerers persisted in the manifestations of the Radiant Rain, but only a few of them kept their sanity. Others, lost their senses from the whispering of their heads, succumbed to the influence of the call beyond the periphery of the riven nebula. In an instant, the Radiant Rain stopped as abruptly as it began. Nobody understood what happened. According to rumors, the reason for it's disappearance was the intervention of enbrighted souls resting in sacred intervention beyond the horizon. Although, if this were true, damaging this wondrous intervention could make the Radiant Rain shine in the sky again and a new meeting with the blissful energy of this starlit rain would promise to be simply irreparable. Many of those who have had to go through the years filled with continuous starlit thorns hope that this will never happen again until people leave their significant mark on this planet. But, of course, counting on this is pointless.



The Radiant Master


The Radiant Masters are nothing more than living chronicles, puny and weak-willed magicians who once succumbed to the whispering revelations of the Radiant Rain. It is thanks to their efforts that the Radiant Rain headlong transforms the world, outlining its own beautiful decadence. They're emissaries of Radiant Rain, sent by it's invisible will to earth to collect the souls of those branded with the mark of the light of stars shining in the distance.

They live and exist in order to protect and support the further existence of the Radiant Rain. For them, the meaning of life becomes painstaking and at the same time extremely necessary work on collecting souls in order to amoral their energy into something to satisfy the insatiable hunger of the Radiant Rain, which is always thirsting more and more.

Those whom they have robbed of their souls, as the Radiant Rain once robbed them of themselves, become nothing more than lamenting, hollow shells of their former selves. They become for the Radiant Rain the main weapon of its endless robbery. Unlike mortals, these shells no longer believe in this mirage. They just can't resist it anymore.

Their Radiant Crowns allow them to scatter among the falling heavy stars, becoming one with them. Each curl of the fog of the Radiant Rain is a wriggling tendril of some living, seeking creature along which the Radiant Masters move between the gaping stars.
Contributions:
Developers:
-
@ThatOneJuicyOrange_
- mod creator and main developer
- @Silvestre, moonburn, Aloe, daim and Mayhamm - Amazing sprites that make up a huge part of this mod
- @Ranipla, @Genih Wat, @Universe and @charliedebnam - Soundtrack
-
@Burst
- Lore for bosses, main post updater
- @Amadis - Proofreading, aswell some sprites


Sprite Submissions:
@NnickykunN
@Aloe
@Billy

Other:
-@ASGNeoN - Sandstorm Stone code
-@Dan Yami - Solar Eruption code


- Lacrinimo - Radiant Rain/Radiant Master lore




- Some of the community also helped with other new lores.
Support Banners
If you want to help support Elements Awoken, copy the code into your signature (they contain old sprites, but still work as intended)
Wasteland:
Code:
[url="https://forums.terraria.org/index.php?threads/elements-awoken-wip.54553/"][img]https://forums.terraria.org/index.php?attachments/wastelandsupport-png.211251/[/img][/url]
Infernace:


Code:
[url="https://forums.terraria.org/index.php?threads/elements-awoken-wip.54553/"][img]https://forums.terraria.org/index.php?attachments/infernacesupport-png.211254/[/img][/url]
Regaroth:


Code:
[url="https://forums.terraria.org/index.php?threads/elements-awoken-wip.54553/"][img]https://forums.terraria.org/index.php?attachments/regarothsupport-png.211253/[/img][/url]
Permafrost:


Code:
[url="https://forums.terraria.org/index.php?threads/elements-awoken-wip.54553/"][img]https://forums.terraria.org/index.php?attachments/permafrostsupport-png.211255/[/img][/url]
Aqueous:


Code:
[url="https://forums.terraria.org/index.php?threads/elements-awoken-wip.54553/"][img]https://forums.terraria.org/index.php?attachments/aqueoussupport-png.211252/[/img][/url]
Void Leviathan:


Code:
[url="https://forums.terraria.org/index.php?threads/elements-awoken-wip.54553/"][img]https://forums.terraria.org/index.php?attachments/voidleviathansupport-png.211256/[/img][/url]
Donations
Code:
Donation information is on the #rules_and_info channel in the discord! Come check it out if you want some dedicated items for yourself :D
Last edited: