This is a mod which ports content from Final Fantasy 6 (aka 3 on the SNES) into Terraria. The current working name is "World of Ruin - An FF6 Mod"
Current version - 0.1
No download yet
This post was last updated 4/2/2021
About the mod: FF6 is one of my favorite games of all time. This mod is currently being worked on by myself and
@Afro_Thunder
. Our goal for the mod is to have a full set of costumes for every character, as well as bring over the various types of weapons, magic, summons, and special skills (Blitz, Tools, etc) used in the game. The content in FF6 seems to fit extremely well with how Terraria is set up. For example, FF6 has melee and throwing weapons, magic, and Espers for summons. Hopefully you're familiar with FF6! We're sticking mostly with the names from the SNES translation, but using some from the GBA as well where the translation is better.
If you're interested in helping out, we are recruiting! We'd love someone to help with coding in the Espers and magic.
Chocobo!
Edgar throwing fixed dice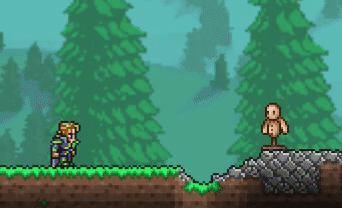 General Leo using cards and boomerang
Kefka summoning Kirin
Shadow using the Full Moon, and summoning Odin
Stray Cat esper with AOE confusion:
Merchant NPC:
Planned content:
2 mini biomes - Figaro Castle and the Floating Continent
14+ main characters with alternate costumes, costumes for side characters as well (Imperial Soldier, Merchant, etc)
26 Swords
6 Spears
17 Thrown weapons
3 Claws
7 Healing magic
26 Attack magic
15 Effect magic
27 Espers (summons)
31 Accessories
10 Shields
1 Pair of Wings
24 specialty items / skills (Blitzes, Tools, Bushido)
All feedback is welcome!
Last edited: