Consigliere
Staff member
Re-Logic
Administrator
Happy Launch Week, Terrarians!
We truly are on the home stretch now - and the development team is working feverishly to get the final bug fixes, tweaks, and polish into Journey's End so that everyone can have an amazing experience from moment one. It has been an exciting journey indeed, these past couple of weeks, as we have introduced you to some of the new content and features that you will soon enjoy - and this week will be no exception as we count down to launch in a few short days.
Today's feature covers something that caught quite a few Terrarians by surprise when it was first revealed way back at the PC Gaming Show during E3 in 2019: Golf. "Golf?!" we still hear you saying... and we are here today to help answer some of those burning questions that you have about this fun new way to play Terraria. So, get your clubs in your bag... a fresh set of golf balls... and let's grip it and rip it out on the course!

NEW TO GOLF? SOME BASIC RULES
Assuming not everyone has played golf before, the goal is pretty simple. A quick rundown:
---
You are trying to put your golf ball into the cup at the end of the hole in as few strokes as possible, while using only golf clubs. Lower scores are better!
---
Most courses will have a number of Holes to complete - typically 9 or 18
---
Each hole has a "Par" score, which represents the target score for that hole - see if you can get under Par for a Birdie (one under par) or better!
---
Watch out for different terrain and how it will impact your shots - hitting from perfectly mowed grass isn't the same as hitting from Sand or even hard surfaces like Stone.
---
Loft (vertical height of the shot) and Distance (how far the shot travels) are crucial, as is club selection for a given shot.
---
Be sure to check the wind!
---
Try to stay out of the water!
D'oh!

WHAT'S IN THE BAG, WHAT'S IN THE BAG?! - LEARNING YOUR GOLF EQUIPMENT
Ok, so Golf in a Metroidvania-Sandbox Adventure game huh? Sure thing! Once you get a handle on the basics, you will be driving for show and putting for dough in no time. Maybe some of you will even become our next great Terraria golf course architects!
GOLF CLUBS
Let's start by checking in our golf bag to see what clubs we have at our disposal...
DRIVER
Nothing turns heads quite like a massive drive smoked from the tee box - pull out the Driver when you want to go the distance!
IRON
Best used for approach shots, the Iron is a nice mix of Loft and Distance - show off your short game!
WEDGE
Looking to make that chip onto the green or buried in a sand trap? This handy club, with its very high Loft and shorter Distance is used for shots where tight control is needed - or when hitting from tough terrain.
PUTTER
For finishing the hole, this is where champions are crowned and hearts are broken - show off your short game!
Each category of club is available in an array of shapes and sizes - from the shabby Worn Clubs to the pro-tier Premium Clubs, there is a set of clubs out there that will be perfect for your game... or you can mix and match to your heart's desire!
(Better Clubs are only for fancier looks/Vanity... don't worry)

GOLF BALLS
Of course, Golf Clubs are kind of useless without something to hit, right? Oh look, we got you a bucket of balls - let's see what we have here...
Oh, nice, a fun array of colors so that we can keep up with whose ball is whose when playing together. Don't worry, these are just for Vanity purposes... and you don't even need one equipped to play. You can always tee off with a plain white ball by right clicking on a Tee. More on that below!

GOLF ACCESSORIES
GOLF WHISTLE
A tool of last resort, the Golf Whistle will return your ball to where it was last hit. Useful for times when you get yourself stuck in a bad spot and cannot get out.
BEWARE! Using the Golf Whistle will cost you one penalty stroke!
GOLF CART
True golf purists will tell you that walking the course is the only way... of course, others think that walking is for the dogs. This new mount can zip you around the course (and the world in general) in style!

Ok, with our bags packed and our cart ready (unless we are walking, of course, like true golf purists) - we are ready to tee off!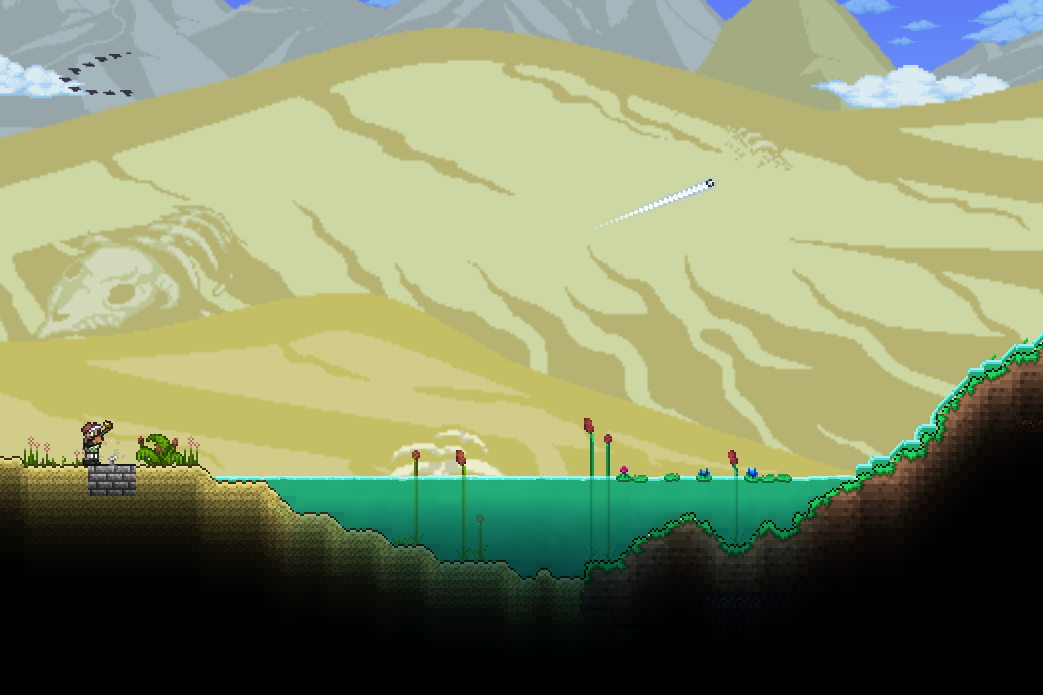 TERRARIA GOLFING 101: HOW TO MOVE FROM DUFFER TO SCRATCH GOLFER IN A FEW EASY STEPS
Ok, here we are on the first tee. What now? How does all of this work in Terraria?
TEEING OFF
Ok, let's get ready to grip and rip here, golfers. Step up to the tee with your club of choice in hand (we recommend a Driver for long-distance holes and an Iron for shorter ones), and then right click to place your ball on the Tee.
Alright, let's send this lucky golf ball on its merry way towards the cup. Step up to the ball and press and hold the left mouse button. You will be greeted by the golf shot interface shown below:
What does all of this mean? There are two elements at play here - Trajectory and Power.

TRAJECTORY
The white line shows where your ball will travel if you hit it - note that these Prediction Lines can be turned off in Settings for a more authentic challenge!
This is how you aim - as you move your mouse up and down, you will see the trajectory of the shot change.

POWER
The meter under your character is your Power Meter - less power to the left, more power to the right
Dragging your mouse away from your character will increase the power of the shot, while moving closer to your character will result in a softer shot.
REMEMBER: THE MAXIMUM POWER AND TRAJECTORIES POSSIBLE WITH YOUR SHOT IS DETERMINED BY WHICH CLUB YOU CHOOSE... SO CHOOSE CAREFULLY!

That's it, pretty simple huh? Just keep hitting those shots until you get to the cup, putt the ball in, and gather your score for the hole.
Surely there has to be more to it than this? But of course there is... and that is the Course itself, of course. Good, challenging Golf Courses are full of environmental hazards to overcome - from water to sand and much, much more. Let's move on to learn more about Golf Courses.

YOUR NEW WORST ENEMY - THE DREADED GOLF COURSE
At the most basic level, a Golf Course is a series of Golf Holes - each made up of a Tee Box and a Cup. Nothing more complicated than that. However, this is Terraria!
Terrarian Golf Course creators will make smart use of how the environment and terrain impact golf shots, setting up tricky situations to challenge even the most pro-tier golfer. This section of our guide will give an overview of various terrain and how it impacts golf shots.

MOWED GRASS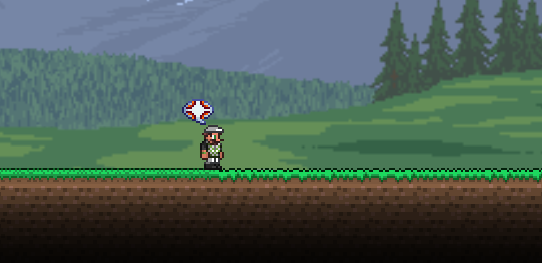 This is the most pristine and ideal surface from which to hit your golf ball. Thicker grass will slow your ball down as it rolls and take away a bit of your power on shots.
A Lawn Mower can take care of that long grass for you, if you are looking to design your own course.

SOFTER SURFACES - DIRT/SAND/ETC
Taking shots from surfaces that are softer by natures will take a lot of power off of your shot, and golf balls will not roll as far when they come in contact with these blocks.
Sand is perhaps the most notorious of these, so be sure to avoid those nasty sand traps at all costs!

HARD SURFACES - STONE/BRICK/ETC
While taking shots from hard surfaces such as Stone incur no penalties, golf balls that bounce on these blocks will tend to bounce and roll FAR higher and further than on Grass or softer surfaces. Be sure to account for this in your shot selection!

WATER - A GOLFER'S WORST NIGHTMARE
Oh no! Your shot has landed in the drink! If the water is shallow enough and the surface of the pond is a harder surface, there is a chance you will be able to hit out of the water... however, in most situations, hitting a shot into the water means its time to pull out your trusty Golf Whistle, take your penalty stroke, and try again.
This applies to Lava and Honey as well - which are sorta like Water... just way worse.

OTHER BLOCKS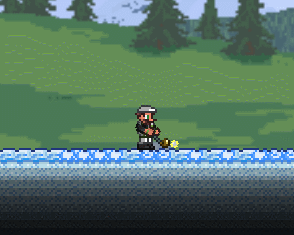 Of course, Terraria has a seemingly-endless variety of blocks - you will have to experiment and learn how each of them will impact your golf shots and how the golf balls interact with each of these blocks. Good luck!

VISIT THE PRO SHOP - INTRODUCING THE GOLFER NPC
Be sure to stop by the Pro Shop (or you know, build one) to chat up the new Golfer NPC! This friendly chap is an expert on all things Golf and is your best (well... only, really) source for Golf and Golf Accessories. From Clubs to Balls and more, he has it all!
Only one problem, really - he hasn't been heard from in quite some time. The Guide overheard him muttering something about "working on his sand trap game" - maybe that means something to you? Welp, let us know if you find him, will you?

KHAIOS ON GOLF - EXPERT ADVICE FROM OUR RESIDENT PRO AND COURSE ARCHITECT
What better way to close out today's Golf lessons than to have our resident Golf Pro and Course Designer extraordinaire pull it all together in a short video? Join
@Khaios
as he demonstrates the basics, shows what is possible with creative golf course design, and gives a few tips and tricks along the way!

That's it for today's trip around the ole Golf Course. We hope this helps you all get informed and excited about what Terraria Golf is all about! We also want to share that we will have a special set of three Golf Course Maps available on Launch Day for Journey's End! We hope that you will enjoy playing these and that they serve as great examples of just how fun Golf can be in Terraria... and perhaps inspire some budding Golf Course architects out there to create and share their own.

Only a few steps left on our Journey to Launch Day, Terrarians...
​
Last edited: