Good Day, Terrarians,
We are happy (and relieved) to announce that we've successfully completed the first stage of software upgrades that will bring us up to date. We've managed to fix most of the features that were broken (and all of the really annoying ones), and have some new features that we hope you will like.
Fixes
The
following issues
have been fixed:
FIXED: Uploading a file/image to a thread post or conversation post now works as before. (All of the work-around methods still work too).

FIXED: Permalinks for individual posts are working correctly again.
FIXED: The 'Previous Names' tab on profiles is once again working properly.

MODIFIED: You will now only see your own previous names, as a matter of privacy. The forum staff will see everyone's previous names, and will still have to approve name changes.

FIXED: Radio button selections for threads in sections that support them are now working again.

FIXED: Our front page is once again functioning properly and we can update it once again.
FIXED: The 'Start a Conversation' link underneath post avatars is working again and enabled.
Features not fixed:
Likes in Conversations no longer work and have been disabled. We hope to return this (purely cosmetic) ability in the next update.

There are still some media sites that will not embed content properly. This is probably due to those sites changing how that works with their content.

NEW (and not our doing) - It has come to our attention that the Official Terraria Wiki has changed links to images on their site. We do not control that site and we received no notification of them doing this or why. If you have included images from the Wiki in your posts (such as in Suggestions or Mods), then those links and images may well be broken. There's not much that we can do to help people correct those; they will have to be resolved by the content authors. Please do not report such broken images (unless they are staff posts); the staff will not look up and fix these links for people.
Minor Visual Improvements
Content on the New Profile Posts and Likes You've Given pages is now properly opaque; the background no longer bleeds through, making the content hard to read.
The trophy points ladder has been disabled (DON'T PANIC - your trophies and titles are safe!). What this means is that the 'Most Points' tab is no longer on the Members page (it was empty anyway), and Trophy Points total is no longer displayed on member cards. The Trophy Points (0) will still appear on profile pages, and clicking on the '0' will still display what trophies the person has earned. We discovered that this prevented new trophies from being awarded properly, so this change was reverted to the previous state.

For users of the Snow Theme, member cards are now more readable:

Before:

After:
New/Improved Features
This upgrade brings some new features that we hope you will enjoy.
Improvements to Profile Post Comments
. Before now, we only had the option to Like a profile post comment (and Delete it if it was our own). Now they have more of the tools that are found on Profile and Thread posts.
You can now:
Report an individual profile post comment. Previously, you had to report the top-level profile post and indicate which comment was the problem.
Receive a warning for an individual profile post comment.
Profile comments should now appear in the News Feed / Recent Activity.
Profile Post Comments are now indexed and searchable
. If you've ever seen something in a profile post comment and then later forgot where you saw it, you're not alone. Now you can search for that content through expanded search.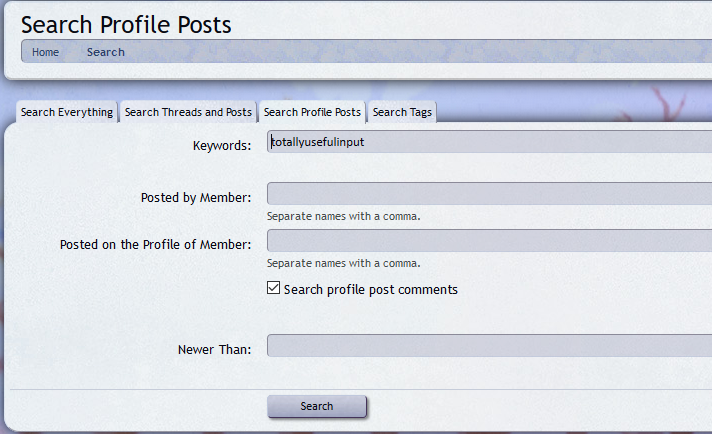 All past profile comments that are still visible since the forum opened are now part of the search caches. Happy mining.
New Post Block in the sidebar.
A popular feature that stopped working a long time ago is now restored. In the right-hand sidebar, there is now a block summarizing the last 5 thread posts.
Link Title Conversion
. It is common to copy/paste links into posts and profiles. Often, it is difficult to determine just from the URL what following the link will bring.
We could always use BBcode to display a title for a link, if you explicitly edited one in. Example:
Code:
[url=https://forums.terraria.org/index.php?members/tunnel-king.19/]Tunnel King's Profile[/url]
-->
Tunnel King's Profile
Now, when pasting a URL into a post, this formatting will be done automatically IF a title can be determined for the link. This is similar to automatic media embedding.
Notes:
This works on thread posts, conversation posts, profile posts, and profile comments.
This works on shortened links (including AdFly and such), Google Document links, etc.

This is a global option. We cannot disable it by section, turn it off just for profiles, or let members opt in/out of this.
This may affect profile post character limits (which we cannot change).
Surrounding the URL in PLAIN BBcode tags should prevent this conversion where needed.

This will not affect URLs that have been posted before this update. It will only affect links posted afterward.

If we find a general consensus that this is undesirable behavior, we can turn the option off. This would restore the behavior we've had before this update.

Two-Factor Authentication (2FA). **COMPLETELY OPTIONAL**
This feature provides extra security for your Terraria Community Forums account, should you choose to use it. We will have detailed instructions for it later.
Two-step verification, also known as two-factor authentication, requires you to provide two pieces of information to login. The general form is expressed as "something you know and something you have". "Something you know" is your password. "Something you have" is the new part. You may have seen this with other services, such as Google accounts. If you're familiar with that, you'll understand how it works in XenForo.
Two-step verification is something a user has to opt into sometime after they have registered. Enabling it increases security at the expense of a more complex login procedure. For many users--particularly ones that just lurk or only have a few posts--the "value" of their account is low so the cost may outweigh the benefit. However, for privileged users, the extra security should be worthwhile.
When you've enabled two-step verification, you will login with your username or email and password as normal. Once those are verified, we will determine if two step verification is needed. If so, you'll need to take the appropriate steps to complete that. Upon receiving that verification, you'll be logged in as normal.
Again,
this is completely optional for members
. If you do choose to enable it, you will be given the chance to generate and save some backup codes in case you lose access to your primary authentication method (usually, an authenticator app on your mobile phone such as Authy or Google Authenticator). We will never have or retain information about your device on our system. You will have the option of disabling 2FA if you later find that you no longer wish to use it.
Enable Two-Factor Authentication
. <<-- if you don't understand the steps here, please wait until we have detailed instructions ready.
There are more updates coming
We are not finished with updates; even with this update, we are quite a bit behind. This update was critical to fix immediate issues and incompatibilities, but further updates are needed to stay under the Xenforo support umbrella.
[To make an analogy with Windows OS support levels: we
were
on Windows XP (or worse) level - support long expired; we've gotten to the Windows 7 level just now - support expiring soon; but we need to get to the Windows 10 level soon to avoid falling into the same non-support issues.]
There will be new features, of course, but the greater concern is maintaining support and ensuring compatibility with other evolving technologies that are in widespread use.
We will be looking at and evaluating this next step immediately, but it will take some time to get to that point. I would expect a major update/upgrade will happen within the next few months, rather than the 3 years it has taken to get to here since the last major update. As soon as we have more definite information, we will pass it along. We might even have some spoilers as we work through this next phase. Stay tuned.


​
Last edited: