Hello everyone! I'm InsouciantGote, creator of this mod called the Fractures of Penumbra!
This mod is still a work in progress. Although an initial release is made, some content or features may not be final and can be changed, and bugs may exist. The given features below, however, will never change. Do note that this mod won't be suitable or compatible for multiplayer, so this mod mostly functions effectively in singleplayer.
​
Fractures of Penumbra Features:
Adds routes and endings to the game which can affect the entire gameplay aside from adding ores into the world, gaining new loot, unlocking new content, or spawning new mobs. Be careful with what events you may wish to occur, items that you could use, or bosses that you could kill.​

Adds new NPCs, items, bosses, and more content from pre-hardmode to Post-Moon Lord.​

Adds Fragments to every boss which are always dropped in treasure bags that are used as accessories to give you various abilities and consequences.​

Adds new biomes; one in which it'll be made once hardmode starts and the others which should be made by the player itself.​

Active abilities such as stasis.​

New summoner damage system​

Supports Yet Another Boss Health Bar Mod and Boss Checklist Mod.​
Fractures of Penumbra Current Progress:
We're currently focusing on pre-hardmode content. The progress is slow due to a lack of members and time but it's still going well. Some plans are not yet clear, but we're still sticking to the objectives.
100+ items, 10 of which are fragments​

1 Town NPC​

3 new bosses with YABHB and Boss Checklist support​

6 new enemies​

Custom sounds (not music)​

Changed Chaos State to disable teleportation items, including mirrors and potions​

Added recipes to Ice Machine, Living Loom, and Wood Wands​

Added sound effects when low on health​
Item Examples:



Seeds of Deterrence and Enchanted Wood



- The Seeds of Deterrence is a world-changing item that will allow your world's forests to spawn hostile treants which drop Enchanted Wood that serve as materials for more gear. In hardmode, it will also cause corrupted, crimson, and hallowed treants to spawn. Once you use this item in a world, the effects cannot be reversed anymore.
Ice Block
- An accessory that gives you an active ability called Cryostasis which causes you to freeze but become immune to damage (does not clear or make you immune to debuffs even to their damaging effects), lasts until 4 seconds or if you cancel the buff yourself. After using it, it comes with a 2-minute cooldown.
Precision's Flight



- A pre-hardmode weapon crafted from enchanted wood and fallen stars in a living loom. This bow shoots an additional arrow that ignores gravity, however, it only deals half damage.






Living Cherry and Mystic Starfruit



- If you allow the treants to spawn in your world, they'll have a chance to drop these items. These are alternatives for life and mana crystals if you can't find one that easy or if you need one quickly.
Party Cupcake
- Happy Grenades from the vanilla mod are altered in this mod to make them more powerful than the ordinary grenade. With that being done, another weapon with the same properties has to be made, but with a new function. Party Cupcakes are like the normal Happy Grenades; low damage and pops out confetti upon explosion, however, it has a chance to confuse enemies for a while. Do note that this is an explosive weapon, not a food that can be eaten safely.
Prismatic Shard



- With Last Prism being a fun weapon to use for mages and a weapon to be collected only from the Moon Lord, a pre-hardmode version of this weapon is made. A shard carrying a small fraction of the Last Prism's power; this shard fires 4 beams and takes even longer to charge. It also deals 2 damage.


Protodesignator
- The game features summon weapons that let you attack instead of summoning minions, allowing summoners to make more use of mana and do much more than just dodging. This weapon releases a harmless laser that marks your location for friendly vile kamikazes to approach and bombard enemies.
Bladed Flower Seeds



- Another unique summoner weapon is this bag of seeds. These seeds are thrown, and when they hit an enemy or if they stay on the ground for too long, they release flower minions. These minions don't take any minion slots, however, they expire after a short while.
Dark Pulsar Staff



- A combination of the three staves that can be crafted using the materials from the mod's pre-hardmode bosses. This staff fires 2 bolts that homes on nearby enemies, when they hit a target, they go backwards for a short while to home on enemies again.
Scarlet Elemental Core
- Some items are obtained if you end fights differently, this item is one of them. The Scarlet Elemental Core has no power once you obtain it, it awaits your choice of power; crafting it to another power with some fallen stars and the core itself. Find out what this item does by yourself. Do note that this is dropped only once in a world and it cannot be crafted into another power again.
​
​
NPC Examples

Cryomancer


"I don't need a fancy outfit to be a true cryomancer. It's all about power and skill."

This NPC shows up after killing a certain boss. He serves as your guide for this mod and a merchant for some items such as Ice Mirror and Ice Machine.
Alpha Frostjaw

A worm boss that rests within the depths of the snowy lands and appears only if there's any human activity that may tamper with the weather like making an anomalous blizzard.

This worm has an extremely durable body, therefore attacking the head or the tail will have to do. Watch out for its spikes and mines
Scarlet Elemental



An elemental that is responsible for the seal that's cast upon the scarlet gems. While undefeated, all items that require scarlet gems for crafting cannot be crafted, however, the Scarlet Gem is still craftable which is used to summon it underground.

This boss slowly loses physicality as you keep hurting it, eventually making it impenetrable from attacks that lack the unique energy to deal damage against it. If so, energy zones will occasionally show up which will allow you to hurt the elemental when inside them. These zones expire if there's no elemental present or if you stay too long inside them.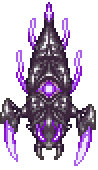 V.I.L.E. (Virulent Intelligent Liquidating Exanimate)

A strange alien robot with otherworldly energy and construction based on the creatures within the corrupted and grotesque lands. This machine constantly spawns Vile Drones to assist itself while charging either above or below you to hurt you from jumping or going up or down.

The V.I.L.E summons two drone types: The Vile Interceptor and Vile Kamikaze. The interceptor follows you, dashes shortly, and shoots lasers, while the kamikazes move quickly and will explode once killed or if touched. The V.I.L.E. has various phases which may involve it charging diagonally to punish you from moving up or down, shooting lasers which sometimes come in a spread, and bombarding you from above.
​
Fragments


Fragments are dropped in treasure bags from bosses. Each boss, including the ones in vanilla have their own. Each fragment gives you a bonus, but also a consequence (if any), so use them wisely. Only one fragment can be used at a time.



Fragment of Insistence (King Slime)


- Increases jump height but reduces your defense.



Fragment of Intelligence (Brain of Chtulhu)


- Increases magic and minion damage based on your current mana but reduces your maximum mana to half.



Fragment of Prevalence (Queen Bee)


- Adds a minion slot and increases minion damage but reduces your damage reduction



Fragment of Resistance (Skeletron)


- Converts any damage above 100 down to 100, then it gains a 1-minute cooldown, but your critcal chance is reduced by 10%.



Fragment of Virulence (V.I.L.E.)


- Increases critical chance but every time you get hit, you are cursed for a few seconds

(There are more fragments available in the game)
​
Summoner Nerf
Due to upcoming vanilla changes and additional summon weapons, abilities, and items such as the

Fragment of Intelligence

, the summoner class in this mod will need a change. This nerf aims to prevent non-summoner players from taking advantage of the additional damage provided by the summons and to make more use of mana aside from just using it to summon minions. This option can be deactivated whenever you want to by going to the mod's configuration settings, allowing you to play summoner normally.



Summoned minions will maintain their damage unless you are not holding a summoning weapon. If you do so, their base damage will change and stay to 4 even when you're holding the weapon again. In this case, they have to be resummoned to restore their damage back to normal. Holding classless weapons which will be added in the future will not reduce the minion's damage.
​
---
More content will be given soon; help is highly appreciated!
We are currently in need of more spriters and coders. We are also finding for a musician, which is very important. There's no dev team yet except for myself, but there are others who still managed to contribute.
​
Do you like the mod and get updates about its progress? Want to know more or contribute to the mod? Join our Discord server!
Check out the Fractures of Penumbra community on Discord - hang out with 4 other members and enjoy free voice and text chat.
discord.gg
(Expect to see a lesser number of members inside)
Support Banners:
Banner Codes:
Alpha Frostjaw:
[url="https://forums.terraria.org/index.php?threads/fractures-of-penumbra-wip.105752/"][img]https://i.imgur.com/MXv2bwP.png[/img][/url]
V.I.L.E:
[url="https://forums.terraria.org/index.php?threads/fractures-of-penumbra-wip.105752/"][img]https://i.imgur.com/gDrpU8l.png[/img][/url]
Scarlet Elemental:
[url="https://forums.terraria.org/index.php?threads/fractures-of-penumbra-wip.105752/"][img]https://i.imgur.com/fwDnCll.png[/img][/url]
Thanks to the following for contributing!:
Mythriel81
milk
Rovic
Chepyl
Byte the Protogen
NotsoMcMinty
Über Über 1
AppleWithBeak
Da capital
Daedronox
Last edited: