A Free Server Instance Client
Designed to be an adventure map, casual, and (soon) PvP server instance platform, Carbuncle accommodates for online hosting services. With a chat room attachment and servers-listing, hosting is meant to be simple. The process works like most matchmakers would: click host, fill out a couple server settings, and start it; there is a feature: a terminal, which gives direct access to the server executable's command prompt.
There is a selection of maps hosted for use and the
world selection will be added to per request
and through curating.
Each instance lasts in 15 minute segments. Once all have left the server and this time span expires, the server instance is removed. This way space is conserved and recycled.
Images of each client-side feature.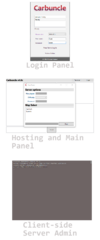 Video example of how the program works.
NEW
Crossplay plugin added: compatibility for Terraria 1.4.4 -> 1.4.4.9.​
Download:
Carbuncle 4.0c
JSON Manager Post:
Server Manager
Last edited: