Guide Category

Weapon/Gear Use
Most regen items in terraria are simple, they provide a flat healing rate which is easy to compare. If you were to ask how good palladium is someone could tell you, it heals 3hp/s. It's simple and easy to compare. However with crimson armor you don't get a flat regeneration rate. When I've heard people talk about crimson armor some people say crimson armor is good, some say its the best prehardmode armor, and some people have even said its better than palladium! however I haven't heard anyone mention the actual healing rate of crimson. so here I will go in depth to see just how good crimson armor is.
A brief explanation of base healing rate and crimson armor
Before the game applies regen bonuses it calculates a base healing rate based on the following factors:
When did you last take damage?
How much max health do you have?
Are you playing expert mode and haven't eaten recently?
Are you near a campfire?
Are you moving?
Do you have a shiny stone? (this could also get a whole guide explaining what it does exactly)
Do you have crimson armor?
Do you have honey?
Let's make some assumptions
You have 400 max health since that is the maximum health prehardmode, you can also find life force potions in shadow chests but those are in finite supply, we can also rule out the shiny stone.
If you're playing in expert we'll assume you're staying well fed, if not your base healing rate is halved!
We'll say you're not near a campfire, if you are near one the add 10% to all the healing rates we've calculated.
We'll say you aren't honeyed. (yet?)
So we will be comparing the following:
When did you last take damage?
Are you moving?
Do you have crimson armor?
The player has a hidden stat know as life regen time this increases by 60 every second, once it hits certain benchmarks it will determine the base base healing rate.
After this step the healing rate can vary from 0-9
If you are wearing crimson armor life regen time counts up twice as fast
If you have the honeyed buff life regen time is 3x as fast normally, and if you have crimson on top of that it's 4x faster total.
Upon taking damage life regen time is set to 0!
This chart shows in seconds how long it takes to reach certain base base healing rates
If the player is moving this rate will be halved if they are standing still it will be increased by 25%
If you are wearing crimson armor the healing rate will be increased by 50%
This is all applied to the player's life regen stat, every 2 points of life regen correlates to 1hp/s life regen.
So what all does this mean? Well how about some graphs!
The 'difference' in these graphs is the healing rate you would have with crimson minus the rate you would without, so it is effectively what crimson is actually adding.
Remember the x axis is the time since were last hit
Healing rate over time
The regen rate updates instantly upon reaching a certain time so if you between two points on the graph round down.
Health recovered over time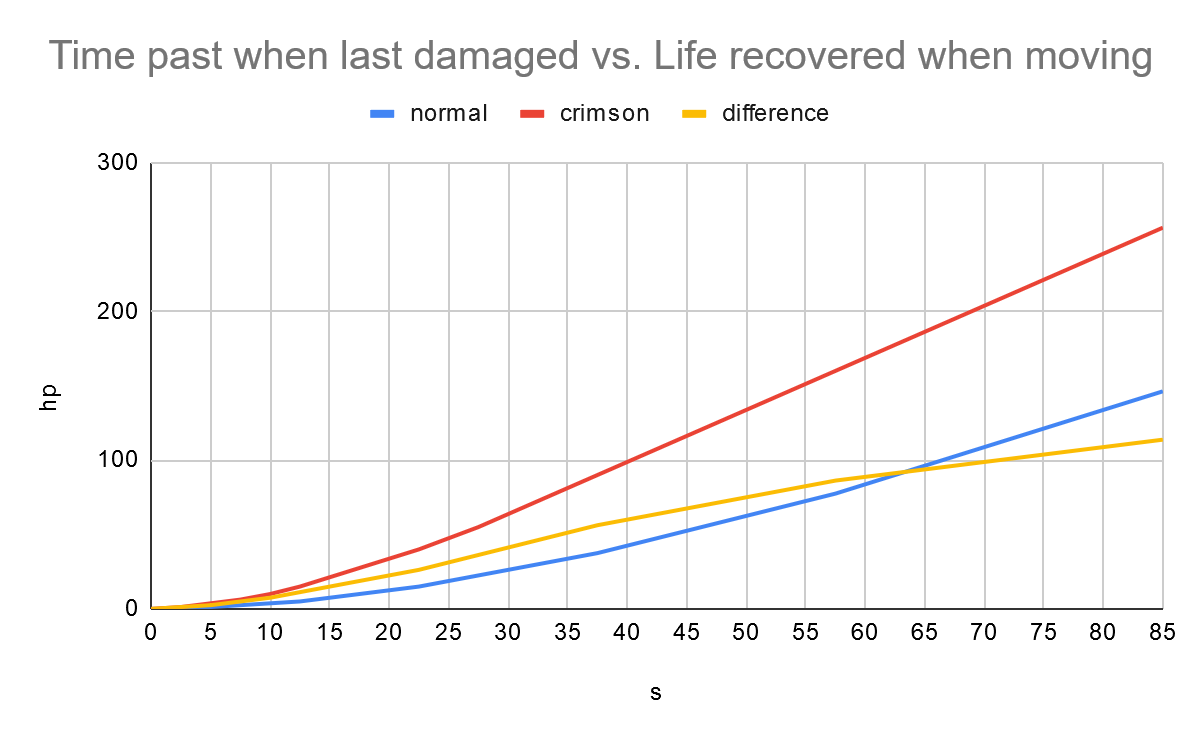 Comparing crimson to other forms of healing
Ok so having crimson armor is better than having no armor, but how does it compare to other regen items? We'll be using the difference trend line from the health recovered graphs since that's what crimson is actually adding.

Note: Leinfors said that the band of regen is getting buffed in 1.4.1 and that is the number I'm using
Honey also accelerate life regen time which isn't factored here.
Here are some conclusions I've drawn from this graph.
Crimson armor is at its best out of combat where you don't move around as much and don't get hit.
If you haven't received damage in the past 25 seconds, and are standing still crimson armor is better than palladium. In every other situation palladium is better.
When in active combat crimson armor isn't as impactful as a regeneration potion
It takes 15 seconds of avoiding damage in active combat before crimson outperforms honey/heart lanterns/band of regen(after 1.4.1 buff)
Nebula armor is op
So how good is crimson armor then?
In my opinion crimson armor is a good armor set, however I wouldn't consider it overpowered and I wouldn't even consider it the best armor set in prehardmode.
Crimson armor's regeneration requires the player to avoid attacks to get the most out of it, if I'm able to reliably avoid attacks I'd rather have an armor set that focuses on damage output like the necro or wizard.
Last edited: