Ladies and gentlemen...
Terraria Tweaker 2 is out!
(click the link below)
Tool - [Patcher] Terraria Tweaker 2 | SUPERCHARGE YOUR TERRARIA!
This original thread for TT 1.X.X.X will stay around as a legacy support thread *only*
(and sentiment, too)
For anything Terraria Tweaker related, come to the greener grass of V2!
When Terraria 1.3.6 comes out, I may backport the compatibility updates of more popular tweaks to TT 1.X.X.X for the one guy who's still using this tool.
(This was the plan back when Relogic seemed to be hard at work on a soon-to-release 1.3.6 update. That has since changed quite dramatically. TT 1.3.2.3 will remain the final version of the TT 1.X line to endlessly support Terraria 1.3.5.3)

Downloading Prior Versions of Terraria Tweaker 1.x.x.x
NOTE: These versions are for Terraria 1.3.0.8 - 1.3.4.4 only! If you want the latest version of TT 1.x.x.x for Terraria 1.3.5.3, scroll down to the Downloads section of the original post!
In rebuilding my Terraria version archive after some hasty disk formatting, I came across a way of acquiring past versions of Steam games. Considering how straightforward it is to pick up and enjoy an older version of Terraria, I'm re-releasing some older versions of Terraria Tweaker for those who, like me, may want to play some Terraria 1.3.1 with a fine variety of patches.
► Terraria Tweaker 1.2.0.11 OTF (released 2016-04-25)
► Terraria Tweaker 1.3.0.0 AE (released 2016-07-12)
► Terraria Tweaker 1.3.1.2 TCF (released 2016-07-30)
► Terraria Tweaker 1.3.2.1 TCF (released 2016-12-13)
These binaries are unchanged from the day they were released. As such, they will still check for updates and prompt you to install them (except for TT 1.3 AE, which is disconnected from the update system). Simply decline the update prompt.
Keep reading below for the original, official Terraria Tweaker 1.x.x.x release post. It's just like 2015 again!
_______________________

Customize Terraria to your liking with Terraria Tweaker!
The most feature-filled patcher for Terraria!
What's new in the 1.3.2.3 compatibility update:
►
Compatibility update for Terraria 1.3.5.3
◆ Fixed Functional Social slots tweak
​
NOTICE: Terraria Tweaker now may require the !!2015!!

(not 2013)

VC REDISTS

to run! You can download them in the redist bundle from the downloads section.
​
TESTED AND PARTIALLY WORKING WITH: Official Terraria 1.3.5.3


(Steam version, on Win 7 Ult 64, Win 7 Prof 64, and Win Vista Ult 64)
What it looks like: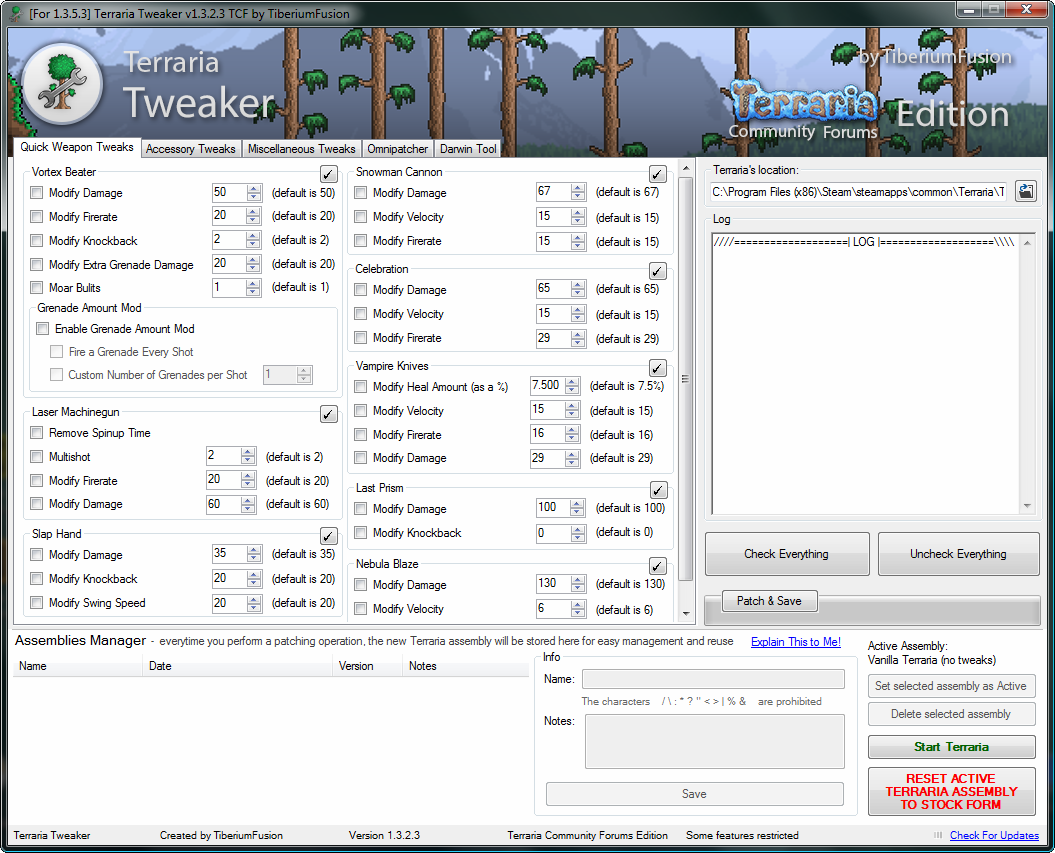 ------------------------------------------------------------------------------------------------------------
What it does:
►
Terraria Tweaker
modifies the Terraria assembly for a permanent, lasting bond.
► Using the new
Darwin Tool,
you can
tweak any NPC
in the game! Villagers to slimes, zombies to bosses,
all can be modified
as you see fit!
► Grant yourself
invincibility
or full out
invulnerability to damage
and
never die
!
►
Remove
the
potion sickness
,
mana sickness
, and
rod of discord
debuffs!
► Virtual
persistent accessories
! Have the
effects of an accessory without actually equipping it
! Comes with some of the most common and powerful accessories! Includes...
◆ Arctic Diving Gear!
◆ Philosopher's Stone!
◆ Shiny Stone!
◆ Worm Scarf!
◆ ...and many more!​
► Get
more accessory slots
! Unlock the
expert
mode
slot
for any
world along
with a
secret 7th slot
!
► Turn
social slots functional
! That's right,
accessories
in the
social slots
can
provide their effects and bonuses
! Effectively
doubles your accessory capacity
! See patch warnings before use.
► Increase mobility with
grappling hook mods
! Now you can grapple
whilst
on a
mount
, or even when
frozen
,
stoned
, or
webbed
!
► Tired of drab and boring armor? With the
armor effects mods
, you can give yourself the fancy
shadow and outline effects
any time, any place, with
any armor
!
(warning: applying more than one armor vfx may cause crashes in multiplayer)
► With new
Omnipatcher,
you can change the basic attributes of any item! For example...
◆ Make a shadewood sword summon the Scutlix mount!
◆ Turn bones into drinkable potions!
◆ Make dirt blocks deal 10,000 damage!
◆ Heal yourself with the swing of a sword!
◆ The possibilities are infinite!​
► Modify several
fun
(and gimicky) weapons to
enhance
your Terraria experience! Possible modifications include...
◆ Damage Mods
◆ Firerate Mods
◆ Knockback Mods
◆ Attack Speed Mods
◆ Velocity Mods
◆ ...and many more!​
► Return Red's Wings to their former state, as of 1.2.4.1. Yes, this means you can experience all of their awesomeness with the awesomeness of 1.3.X.X! No compromise, no fine print! Includes

7 separate fixes

to allow for maximum customization! (feature 'unavailable' on TCF locale, but coming soon to TT2!)
◆ Infinite Flight - That's right, enjoy flying forever once more!
◆ Jetpack Ability - Red's Wings used to have the jetpack's ability to hold Up and Jump to fly upwards at a high speed, now it's yours again!
◆ Hover Ability - One of two best parts of the wings, hovering will let your build and maneuver with expert precision!
◆ Fast Run Speed - The second best part of Red's Wings; when you had them, you never had to worry about wearing Lightning Boots, as the wings gave you amazing speed, and will now give you that same speed again!
◆ Fast Flight Speed - What good is flying if it isn't fast? Improve everything with some extra speed!
◆ Original Walk-Through-Walls Ability Remake - Walls and doors that don't open are such a hassle, forget about them with the original noclip ability!
◆ Infinite Water Breathing - This is even older, from 1.2.3! If you swim a lot, then this is for you!​
► Now once you've
tweaked up
Terraria, you can store and reuse each new
modded assembly
from the
Assembly Manager
! Makes
switching between mods
extremely
easy and quick
!
► These fixes are
permanent
to your game! Apply them once, and they'll work anyday, for any character, and on any world!
► Every time
Terraria updates
, however, you will need to
reapply
your patches. If a Terraria update comes out that breaks this tool, I will update
Terraria Tweaker
accordingly.
------------------------------------------------------------------------------------------------------------
How to Use:
►
Ensure the 2015 VC redists and dotNET 4.5 are installed
- see the
Downloads
section below.
YOU MUST HAVE DOTNET 4.5 INSTALLED FOR TERRARIA TWEAKER TO WORK
►
Download
the latest binary - see the
Downloads
section below
►
Install
the program, or
unzip
the archive
►
Launch
the application. UAC will prompt you; allow the application to run.
Terraria Tweaker
requires elevated permissions in order to modify the Terraria assembly. If the application gives an error on start, see the
Troubleshooting
section below.
►
Select the changes
you wish to apply, choose the assembly you wish to base from, then click
Patch & Save
or
Apply Attributes
► The tweaks will be applied. If an error occurs, see the
Troubleshooting
section below.
►
Start up Terraria
and enjoy!
------------------------------------------------------------------------------------------------------------
"But what about multiplayer?" I get asked a lot. Well, here's the rundown!
Multiplayer Compatibility:
■ Short answer: The patches performed by this tool will work near-flawlessly on any server, vanilla, TShock, or other.
■ Long answer: This tool directly modifies the code of the Terraria assembly at the IL level. Therefore, by using it, you are creating a modded client as some people may say. Terraria servers are laggy, for there is a lot of data transfer and server-side computation. Because of this, cheat-detection measures are extremely limited. The only way to truly and accurately determine if your Terraria assembly is modded is to upload the assembly to the server for decompilation and verification against the release Terraria assembly. Obviously, this is terribly impractical due to the bandwidth and processing power demanded of such operations. The next best solution would be for the server to verify every single action the player performs to ensure it is not abnormal. This, however, is still resource-intensive and can yield false-positives due to internet lag. At best, servers with TShock have damage and movement thresholds, among others, that check for oddities in those actions. For example, if you mod a gun to deal 10,000 damage, TShock servers with these checks enabled will detect that and freeze you. But other than that, there are no good ways for servers to detect cheats/hacks/patches, and for that reason, this tool will be undetected and immune to resistance for a very long time.

■ Caveats (IMPORTANT!)
Applying more than one armor vfx may cause crashes in multiplayer
------------------------------------------------------------------------------------------------------------
You're likely thinking, "Wow!
Terraria Tweaker
sounds great! But how do I get it?" Look no further, for here is the downloads section!
Downloads:
■ Terraria Tweaker Installer: http://www.mediafire.com/file/dijuocnssfceuqj/TerrariaTweaker_v1323TCF_OCE_Setup.exe

(new way)


■ Terraria Tweaker Standalone ZIP: http://www.mediafire.com/file/t00fv68s783txv6/TerrariaTweaker1323TCF-20170427-OCE.zip (old way)
■ dotNET 4.5 Update: Download Microsoft .NET Framework 4.5 from Official Microsoft Download Center
■ VC Redists from 2005 to 2015 Bundle: http://www.mediafire.com/download/6722a3tyowocsea/VCRedists05-15.zip (you should only need 2015, but having all of them will ensure that other applications that need them will run fine)
Changelog
------------------------------------------------------------------------------------------------------------
Or maybe, "Hey!
Terraria Tweaker
isn't working, help me!" Well, no worries because you have found the troubleshooting section!
Troubleshooting:
►
Problem:
When I try to open
Terraria Tweaker
, it says I have a side-by-side configuration error.
◆ Solution: Ensure you have the latest version of dotNET and the VC Redists.
​
►
Problem:
When I apply my tweaks,
Terraria Tweaker
throws an error with a bunch of text I don't understand.
◆
Solution:
You are likely using
Terraria Tweaker
on the wrong version of Terraria, or on an already modified Terraria assembly
​
►
Problem:
I applied the tweaks but they didn't work! (or nothing happens)
◆ Solution: It's possible you patched a different Terraria assembly instead of the one that Steam will launch. It's also possible that you don't have the equipment/items you patched, so check for that before whining in a reply.
​
►
Problem:
When I try to start
Terraria Tweaker
, it doesn't show up.
◆
Solution:
Open task manager and watch TT start. If the process appears then quickly disappears with acquiring less than 200KB of RAM, it is crashing pre-runtime. This usually means your anti-virus has deemed
Terraria Tweaker
as a trojan, since it does indeed externally modify another program. Try disabling your AV. If
Terraria Tweaker
gets several megabytes of RAM, then crashes, it is the program having troubles instantiating itself. Try the .NET repair tool. Ensure there are no restrictions or GPO objects on your account blocking the execution of programs like
Terraria Tweaker
. Finally, try deleting the "FixTerrariaCf.ini" file in the directory where
Terraria Tweaker
is located.
​
►
Problem:
When I try to open
Terraria Tweaker
, an error appears of code
CLR20r3
with
mscorlib
mentioned
◆
Solution:
I have no damn idea
.
Apparently this is a common bug for .NET applications on Win 7 machines. Here's a few solutions that might work.
● Switch to Windows 8 or higher
● Maybe your dotNET install is invalid, and cannot run Terraria Tweaker. Look for a number below mscorlib. If it starts with or 4.5, 4.5.1, 4.5.2, then you have the right version of dotNET, but it might be corrupted and needing a reinstall. If it starts with anything lower than 4.5 (such as 4.0, 3.5, 2.0, etc), then you do not have the right version of dotNET installed. Update to 4.5 with the link provided in the downloads. If you have 4.6 and
Terraria Tweaker
wont run, I highly recommend downgrading to 4.5.2. I read somewhere on MSDN that 4.6 changes some aspects of the dotNET runtime in glitchy and undesired ways.
● Try the .NET repair tool:
https://support.microsoft.com/en-us/kb/2698555
and
Download Microsoft .NET Framework Repair Tool from Official Microsoft Download Center
● Install the Microsoft SQL Server 2005 Backwards Compatibility Components (just for 64-bit Windows):
http://download.microsoft.com/downl...C2-A67D-48053B8F9FAD/SQLServer2005_BC_x64.msi
● Ensure your system locale is set to anything but Unicode. Go to your control panel, then Region and Language, then Administrative, then Change System Locale and ensure it's English or whatever your language is.
​
►
Problem:
Terraria Tweaker
isn't working for some generic reason, and I am using the GOG version of Terraria.
◆ Solution: Buy Terraria on Steam, wtf even is GOG?
​
►
Problem:
When I try to apply my tweaks, instead of the "IL Modification Complete" message showing, I see this instead:

◆ Solution: This occurs when you have the Terraria install directory open in Explorer when you apply tweaks. To prevent this error, simply do not open the Terraria install dir when patching.
If you get this error, carefully follow these steps: Click 'Continue', then look for and delete the assembly that was just created in the Assembly Manager. Despite failing to write over the acting Terraria assembly, the new tweaks will still generate an assembly and you must delete it or wonky things may happen.​
If none of the above solutions have helped fix a problem you are experiencing, leave an

intelligent reply

and I may find a solution for you. Do not say "I have the latest version of dotNET and VC redists", that means nothing. Give me version numbers, and ensure you tried reinstalling both (if possible) before complaining.

If you've found a

bug

, don't hesitate to inform me! Please be as detailed and descriptive as possible!
------------------------------------------------------------------------------------------------------------
Known Issues:
►
Omnipatcher only works on item IDs greater than 0, and doesn't work on item ID 4 (sorry Iron Broadsword)
► The Assembly Manager can be somewhat instable in rare occurrences. If everything is going to hell for you, you can reset it by deleting the "TweakStore" folder in Terraria's directory.
------------------------------------------------------------------------------------------------------------
The 100% Money Back Guarantee
(even though this tool is free
)
If at any point, you wish to

revert

the changes to your Terraria assembly, for whatever reason, follow these steps.

► Acquiring a fresh Terraria assembly:
This will completely restore Terraria to its stock state
◆
Go to your

Steam library


◆

Right-click Terraria

in your games list, and choose "Properties"
◆ Go to the "Local Files" tab
◆

Click

on "Browse Local Files"
◆ The Terraria installation folder will open.

Delete

the folder in it named "TweakStore"
◆ Go

back

to the Steam properties panel for Terraria and

click

"Verify Integrity of Game Cache" and Steam will download a new copy of the Terraria assembly
◆

Wait

for the download to finish, and you are done!
​
------------------------------------------------------------------------------------------------------------
Huge credit goes to Transcend for assistance with IL & Cecil! This tool uses sources and inspiration from his TerrariaPatcher tool, please check it out for more awesome patches to Terraria!
------------------------------------------------------------------------------------------------------------
Thanks for giving a look at

Terraria Tweaker

, I hope you enjoy it!
-- TiberiumFusion
o-----------------------------------------o
You can improve Terraria Tweaker!
Tell me what you'd like to see added
o-----------------------------------------o

(please do not use this suggestion form to submit complaints and errors)
Tags: Terraria, Tweaker, Terraria Tweaker, Terraria hack, Terraria hacks, hack, hacks, patcher, tool, Terraria tool, mod, Terraria mod

Usage Agreement:
BY USING TERRARIA TWEAKER, YOU ACCEPT THE FOLLOWING USAGE AGREEMENT IN ITS ENTIRETY. This program is provided on an "as-is" basis, with all faults. There are no warranties or guarantees of performance. This product is free of charge. If you paid for it, you were robbed. THE CREATORS AND DISTRIBUTORS OF THIS PRODUCT ARE NOT LIABLE FOR ANY DAMAGE, MISUSE, OR FAULTS YOU MAY CAUSE UNTO YOUR COMPUTER AND THE SOFTWARE RESIDING ON IT FROM USING THIS PROGRAM. USE AT YOUR OWN RISK. NO GUARANTEES.
​
Last edited: