EDIT: Well folks. Its official. The reset is coming later this month, and its looking to stand up to the quality the game deserves. Thanks for contributing to this thread!
(NOTE: This thread may not receive much attention from me unless I think of another thing to place, so please don't think its dead)
So, as of this writing, with the Mobile Reset and 1.3 coming in September-ish(EDIT: LOL RIP THAT DATE), I would like to create this thread for the TCF mobile players to try and request necessary changes, most importantly BEFORE the reset occurs. I have also been alerted that Pipeworks is not really completely familiar with mobile nor its player's wishes, which is a dangerous gamble. I am placing this thread in the suggestions due to its nature, and the fact that the mobile forum has only a handful of categories. I am an almost entirely mobile player, and have wanted to make known to the developers my complaints, and help suggest solutions from this viewpoint for a long time. PLEASE remember that I AM aware that the mobile reset will almost certainly eliminate the large scale bugs I am showing, and such complaints will not be the focus, instead I would like to focus on issues of intentional decisions that I feel harm the mobile edition, and how to solve them(with the help of the community, of course!).
GRIEVANCES ON BUGS AND GLITCHES
This section is mainly just to blow off some steam about the poor coding and handling of issues. If you play mobile for even a short amount of time, you quickly notice graphical issues, which can be quite annoying, especially when taking screenshots. If you play it long enough for the game to be updated a couple times, you also notice that plenty don't get fixed, and ones that are either resurface later, or are replaced by equally annoying ones. This shows poor management of bug removal and prevention, to the point where the slate had to be wiped clean.
INTENTIONAL FEATURES AND DECISIONS IN NEED OF CHANGE

WALL OF TEXT HAS AWOKEN!
1. You know what I'm talking about. One of the most horrible types of things you can subject a player to. *drumroll*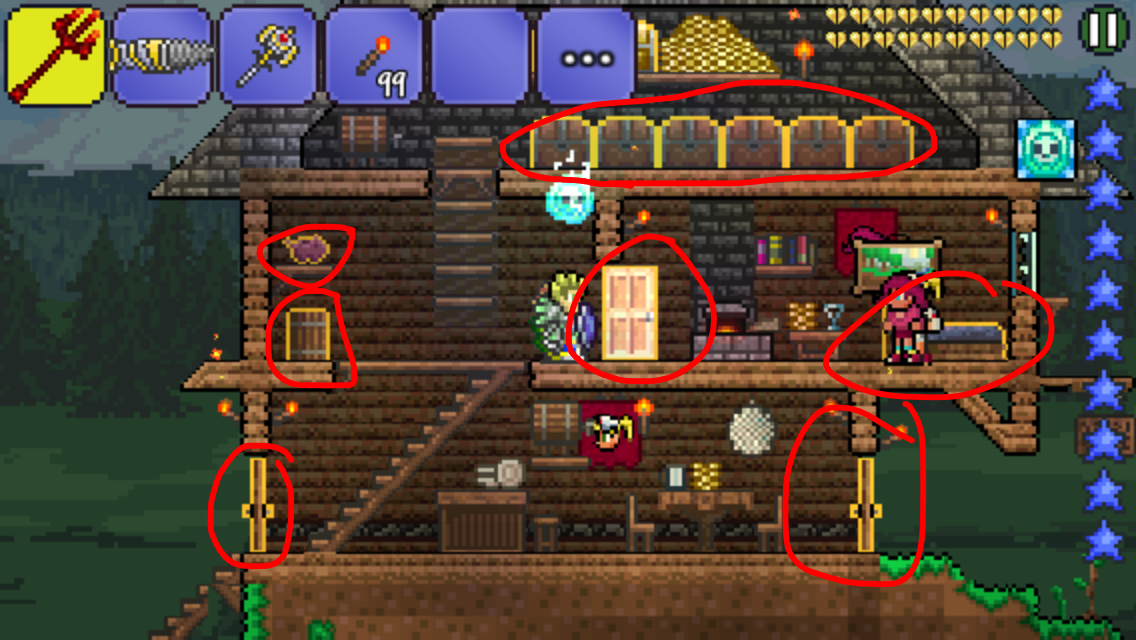 Did you guess right? (If so free cookies for you true mobil-ers
) THE GARISH FLASHING YELLOW OUTLINES ON EVERY. SINGLE. INTERACTABLE! (This picture also shows distorted pixel widths if you look closely at the blocks and furniture) PC users may recognize this from the smart cursor mode, but for mobile users, this is present on any interactive furniture, from any distance, and CANNOT be toggled. Simply adding a toggle for this would already have made mobile quite a bit better looking, in visual quality mobile is far behind.
2. Increase the maximum area visible for smaller devices! This is something that I have wanted from the very beginning. When everyplay videos became available, the first thing I noticed was that even on my iPhone 5S, the massive visibility available on tablets was surprisingly close to a good range for smaller devices as well! The previous image is fully zoomed out, which is clearly far too small, which is particularly important for 1.3, as otherwise fighting the Moonlord will be even more difficult than it really should be. I think that if the maximum view distance was made to be between that of tablets and phones, at LEAST 1.5x bigger, it would be very beneficial.
3. Add the housing menu. Mobile has never experienced the joy that comes from the usefulness of the housing menu. Something that really should've been there from the beginning that was never implemented. Also: add a toggle on visibility of NPC banners, they are always on which, while useful due to missing menu, is kind of annoying sometimes.
4. Accessory vanity slots, dyes, and visibility toggle. One of the biggest reasons I was looking forward to the 1.2.1-4 updates was this. I was so excited to have a new layer of customization for my character(Capes! Which are added, but sacrifices a valuable slot). Then it didn't happen. With the GUI, it scrolls down, so spacing was never an issue.
5. DYNAMIC DYES! In a post, 505 stated that dynamic dyes are, "unsupported on mobile devices".

That statement is nonsense. The latest iPhones have more RAM than low-end computers, yet dynamic dyes are unsupported?

6. Yet another appearance-related issue, lack of clothing choice. Correct me if I'm wrong, but I'm fairly certain that by 1.2 different clothing styles were supposed to be available. Swept that one under the rug as well?
7. Compass, Depth Meter, etc. functionality. Now, the problem with this one I can understand. With the limited screen size, they didn't want such information cluttering the screen. My objection to this is simple: 1. such a thing exists as icons in place of words like "depth", and small text. 2. Look at number 2 again. Add that important change and issues with "obscuring view" are much milder. Also, if the player chooses to sacrifice some of their screen for info, thats their choice. Its not like players are going to have these equipped while fighting a boss.
8. Low spawn rates. I can also see this from their point of view, "we want a simpler, pick-up-and-play mobile experience." But honestly, I don't think that reducing spawn rates would really do this, nor should mobile be oriented in such a way. Also: this worsens the "DARN YOU RNG!" problem.
9. Save the Golden Turtle! If anyone reading this doesn't know what this was, it was a super cool pet that was unobtainable, for reasons unknown. And if that wasn't bad enough, after hackers started using it, it was removed from the game's files entirely! I don't know why the devs are so touchy about adding exclusive pets that aren't attached to a terrible holiday event(more on that later), but it really ought not to have been removed(Or been unobtainable, it was completely functional).
10. Redo Lepus! A long time ago I saw a suggestion that turned Lepus into a fleshed-out, well sprited, and enjoyable boss with useful loot. I can't find it anymore, but it reduced his insane health(20,000!? FOR SILVER TIER?!), rebalanced the event, fixed his drop pool, and had high quality sprites. Could someone please find it?
11.
REMOVE TURKOR.
NO EXCEPTIONS.
Perhaps make the Merchant sell the Horn during the event, if all mechanical bosses are defeated. I don't really like the item, but I'm including it for the many who do. On a slightly different note, I had an idea that salvages the "multi-head" idea. An exclusive Hydra boss with armor(perhaps in a similar vein to spider or jungle), weapons and other details? This would require sprites and its own thread, so Ill leave that there.
12. Save the Chinese New Years event! It had an epic mini boss and vanity set! Add a few more items or details and it would be complete!
13. Remove/shorten St.Patrick's Day event. Its super annoying collecting useless rainbow pieces from late February to mid April. Remove it, or make it only last the week St. Patrick's day occurs in along with making them sell for a few silver. (No, do not make it into a recipe for the Rainbow Gun, its in a dungeon chest for a reason. An alternate Rainbow Rod recipe or even a brand new weapon(Prism Blade?), vanity(if it looked like the last prism palette
) would be better.)
14. Spruce up the old mobile-exclusive pets. Their sprites are slightly discolored and old. Perhaps give them exclusive sprites and animations, to make them into a set of actually great pets!
15. Full Guide functionality. Smaller one in my view, but still a missing feature. The guide only offers those earlygame tips, and doesn't let you view crafting recipes.
16. Redone crafting menu! One problem that the mobile version suffers from is a cluttered crafting interface. It lets you see recipes that you don't have the materials for, which I support, but the problem is, with 1.2's huge increase in, well, everything, the crafting lists are very long, particularly in weapons and building. This leads to the menu taking awhile to load. I think that it should have new categories within the existing ones to break up recipes into easy to find groups. Examples would be furniture sets being grouped together by material, or ingots being separate from melee, ranged, and magic weaponry. Think like a sideways tree going left to right.
17. Correct spawning area! Mobile has a spawn zone about 2/3ish that of pc, and while spawn rates are another matter, the problem is replication of arenas for pc is inaccurate and leads to poor performance.
18. May be cheating the category a bit here, but based on the reaction to the original 1.3 release this is kinda important
Altered Medusa range mechanics. Please make sure Medusa's range does NOT exceed the max viewing distance for the device so that we don't get sniped literally every time, thanks.
I will try and include any good additions from the comments in the list. Improved mockups and sprites welcome, if someone can make me a good banner for this I will be their friend. GET PIPEWORKS TO NOTICE THIS!
Last edited: