Supercharge Terraria to your liking with...


...the latest and greatest in flexible Terraria patching!
​
COMPATIBLE WITH OFFICIAL

TERRARIA 1.4.0.5

!
​
---------------------------------------------------------------------------------------------------------
What's new in the 2.3.1411.0 update: (2020-10-17)​
◆ Versions: Terraria Tweaker 2.3.1411.0 and TTApplicator 1.2.1411.0
​
► Compatibility update for Terraria 1.4.1.1​
► Added the Princess villager to the Darwin Tool​
► TTPlugins update with support for Harmony transpilers​
► Minor application improvements​
​
​
​
◆ Terraria Tweaker version 2.3.1411.0
for Terraria 1.4.1.1
TESTED AND MOSTLY WORKING WITH: Official Terraria 1.4.1.1​
​
◆
Terraria Tweaker version 2.2.1353.0
for Terraria 1.3.5.3
TESTED AND FULLY WORKING WITH:
Official Terraria 1.3.5.3
​
​
(Tested with Steam version on Windows NT 6.X x64)
​
■ What it looks like: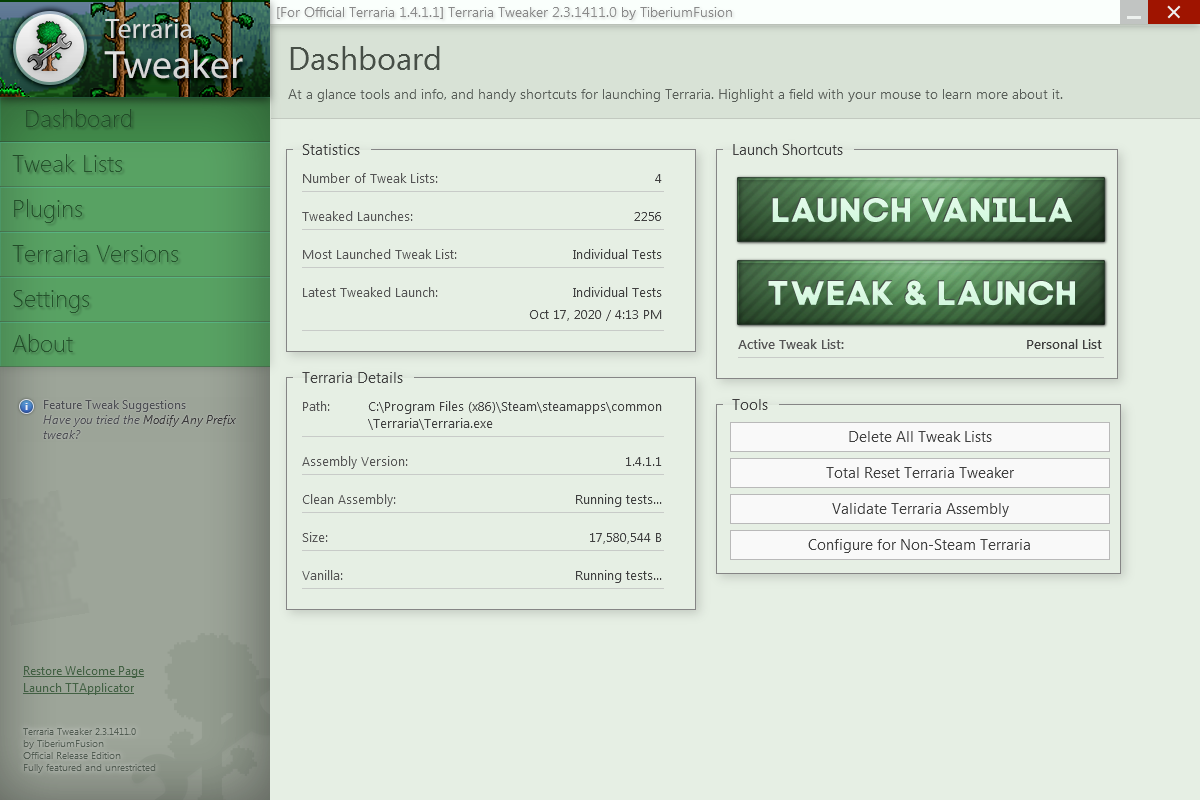 ---------------------------------------------------------------------------------------------------------
■ What it does:
Using the new Tweak List system,

Terraria Tweaker 2

provides a fast, convenient, and powerful way to patch Terraria!
► Accessory Tweaks
◆

Persistent Accessories: Enable the effects of various accessories without actually equipping them!
​
◆ Roster of Accessory Sets:

The Original 19, Music Boxes, Combat Items, Fishing Items, Mobility Items, and Building Items
​
◆

More Accessory Slots:

Open up the Expert mode accessory slot and a secret, seventh slot, to any world!
​
◆

Functional Social Slots: For even more accessory capacity, turn the social slots into functional ones!
​
◆ Unrestrict Social Slots: Allows you to equip non-vanity accessories in the social slots again! Don't let 1.4 get in the way of your fun!​
◆ Accessories Function in Inventory: Accessories will grant their bonuses and effects simply by being in your inventory - no need to equip them!​
◆
Customize Wings Stats:
Modify any set of wings in the game to have the flight time, flight speed & acceleration, and hoverboard features of your chosing!​
◆

Armor Visual Effects:

Enable the fancy armor effects on your character for any combination of wearables!
​
◆ Remove All Armor VFX: Go the other way and disable all armor visuals in case you so desire!​
◆ Equip Duplicate Accessories: Now you can equip as many copies of your favorite accessories as you like!​
◆ Modify the Paladin Shield: Fine tune the range, damage threshold, and damage distribution properties of this tank essential!​
► Miscellaneous Tweaks
◆

Fix Red's Wings: The tweak that started it all - now available on TCF! Yes, that's right, TCF users now have access to this fantastic modification!
​
◆

Restore Menu Music: Bring back the real menu music and say goodbye to that annoying 1.4 tune!
​
◆ Maximize Terraria Window: Launch Terraria maximized, just like it used to do before 1.4 stupidly removed it!​
◆

Fix Underworld Background: Ditch that atrocious 1.4 background and bring back the original! No more eye strain! (may not be suitable for Relogic employees with godlike vision)
​
◆

Fix Desert Fossils: Stick it to 1.4 and prevent desert fossils from randomly breaking when you mine them!
​
◆
Enable Journey Mode in Other Difficulties:
Bring the creative powers of Journey Mode into your other worlds without decreasing the difficulty!​
◆
Unrestrict Journey Mode Worlds:
Allows all your Regular, Expert, and Master characters to join Journey Mode worlds and gain Journey Mode powers!​
◆ 100% Complete Bestiary: Skip the grinding and instantly unlock everything in the bestiary!​
◆ Open Locked Chests Without Keys: Open locked Golden, Shadow, and Biome chests without needing the corresponding key!​
◆ Enable/Disable Tombstones: Easily enable or disable tombstones while ingame using a chat command. Very useful in master mode!​
◆ Modify Extractinator Speed: Speed up (or slow down) the Extractinator to filter items as fast as possible!​
◆ Change Normal/Expert/Master Difficulty: Change the factors (e.g. enemy defense, damage, etc.) that define the Normal, Expert, and Master difficulties!​
◆ Don't Pause on Lost Window Focus: Prevents your singleplayer games from pausing when Terraria is in the background - great for farming!​
◆ Summon Bosses with Relic Statues: Turn those useless master mode boss statues into functional boss spawners! Works with manual right click and wire pulses!​
◆
Visualize Remaining Chest Space:
Adds a handy little meter on the outside of all chests that shows how full each one is - great for large storage areas!​
◆ Show Chest Names on Chests: Displays each chest's name above it so you can quickly and easily find what you're looking for! No need to mouse-over all your chests!​
◆ NPCs Always Sell Pylons: Removes the 117.7% happiness requirement on pylons so you can buy them whenever you like!​
◆ Zoologist Always Sells Universal Pylon: Buy the Universal Pylon before completing the Bestiary!​
◆ Remove Pylon Restrictions: Removes the plethora of limitations on pylons usage! Place duplicates & teleport at any time, even if you're miles away from a pylon!​
◆ Reveal NPC Happiness: Reveals the exact numerical factor affecting the shop prices of the NPC you're talking to - just ask them about their Happiness!​
◆ Remove/Override NPC Happiness: Remove the NPC Happiness system entirely, set a minimum happiness amount, or a constant happiness override of your choice!​
◆ Allow Corrupt NPC Houses: Removes the restriction that prevents NPCs from living in the Corruption & Crimson!​
◆ Change NPC House Size Restrictions: Change the minimum and maximum house sizes to your liking! Now you can fit NPCs into even smaller cages!​
◆ Invincible Town NPCs: Now you don't have to worry about those brain-dead villagers getting themselves killed!​
◆ Modify Villager Distance Thresholds: Change the distances that cause villagers that are "too close" to each to lose happiness. Make them like their tiny cages!​
◆ Traveling Merchant Spawn Chance: Change how often the Traveling Merchant visits your world!​
◆ Magic Mirror Hotkey: Activate your Magic Mirror with a hotkey of your choosing! You can even make the hotkey work without having a Magic Mirror in your inventory!​
◆ Money Trough Hotkey: Summon your Flying Piggybank with a hotkey of your choosing! You can even make the hotkey work without having a Money Trough in your inventory!​
◆ Void Bag Hotkey: Summon the Void Vault with a hotkey of your choosing! You can even make the hotkey work without having a Void Bag in your inventory!​
◆ Quick Stack to All Chests Hotkey: Activate the Quick Stack to All Nearby Chests ability with a hotkey of your choosing!​
◆ Portable Crafting Guide: Call up the Guide's crafting guide with a hotkey of your choosing! No Guide NPC required!​
◆ Toggle Capture Mode Hotkey: Quickly toggle Capture Mode a hotkey of your choosing!​
◆ Instant Teleport: Teleport with the press of a hotkey, no need for the Rod of Discord!​
◆ Lock Camera Hotkey: Quickly toggle a stationary camera on & off with a hotkey - great for taking screenshots or capturing videos!​
◆ Ruler & Grid Hotkeys: Easily toggle the tile grid, ruler line, and ruler grid with hotkeys! Perfect for building!​
◆ Inventory Duplicator: Using a hotkey, duplicate any item in your inventory an infinite number of times!​
◆ Fast Angler Quests: Now you don't have to wait until the next day for the next angler quest! The only limitation is how fast you can fish!​
◆ Override Torch Luck: Set a constant override for that annoying torch luck factor - make yourself extra lucky, extra unlucky, or remove torch luck altogether!​
◆ Override Final Player Luck: Forcibly set your final luck factor to any value of your choosing, or set a minimum luck threshold!​
◆ Reveal Player Luck: Reveals the exact luck factor that is currently affecting your gameplay!​
◆ Classic Gravity Control: Flip gravity without flipping your screen! It's just like 1.2 again - and "flying" forever with gravity potions has never been easier!​
◆ NPC Spawner: Spawn any NPC at any time, including bosses!​
◆ Item Spawner: Spawn any amount of any item - no need to make a round trip to your inventory editor!​
◆ Set Item Prefix: Instantly change the prefix of any item without needing the Goblin Tinkerer or any coins!​
◆ Reveal Map: Uncover the entire world map with a press of a button! You can even "unreveal" the map afterwards - useful for scouting out world generations!​
◆

Sandman: Jump to dusk, dawn, or anywhere in between now that you can control time!
​
◆ Force Seasons: Now you can make any day be Halloween or Christmas using ingame commands!​
◆

Event Summons: Call in events & invasions at will, even if the conditions aren't right!
​
◆ Craft Anywhere: No longer do you need crafting furniture for any and all crafting recipes!​
◆

Modify Nearby Tile Range: Increase the considered range for nearby tiles, allowing you to reach your crafting stations from farther away!
​
◆

More Minions:

Increase the default minion limit without the need for accessories!
​
◆ More Turrets: Increase the default turret limit without the need for that Eternia rubbish!​
◆ Modify Turret Life Time: Change how long turrets last before they despawn - especially useful for the Eternia event!​
◆ Infinite Ammo: All you need is 1 bullet and you've got infinite ammo!​
◆ Faster Respawn: Customize the respawn time factors to your liking!​
◆

Better Sundial: Remove that ridiculous, 7-day cooldown!
​
◆ Large World Support: Play your oversized worlds from TerraCustom without needing tModLoader! Goes well with the below tweak.​
◆ Fix Fullscreen Map Graphic: Correctly draws the fullscreen map scroll graphic for worlds with non-standard dimensions! Goes well with the above tweak.​
◆

Invincibility:

Dying sucks, right? Now your characters can live through anything!
​
◆

Invulnerability:

Getting hurt also sucks, yeah? With this, you wont even feel the tiniest scratch!
​
◆ Infinite Wormholes: Teleport to your teammates without needing any of those obnoxious wormhole potions!​
◆

Teleport Anywhere:

A step better: teleport anywhere in the world just by right clicking on the fullscreen map!
​
◆ Eliminate Biome Spread: No longer will your pristine world succumb to the troublesome spread of Crimson, Corruption, and Hallow!​
◆ Fix Meteor Spawns: Now you can spawn meteors by breaking shadow orbs/crimson hearts again!​
◆ Prevent Mobs from Collecting Coins: Stops those pesky enemies from stealing your money!​
◆

Custom Max Health: More health is more good, so go crazy with this one!
​
◆ Smart Quick Heal: Improves Quick Heal to intelligently select the best-sized potion in your inventory when you need to heal!​
◆

Faster Healing:

Remove the built-in limit for rate of healing - great for Spectre armor and the like!
​
◆ Nullify the Rod of Discord Debuff: Teleport like it's 1.2.2 again!​
◆ Remove Rod of Discord Restrictions: Teleport into solid blocks! Teleport in the Lihzahrd Temple! Teleport anywhere!​
◆

Nullify Mana Costs:

Who needs a mana flower when you've got this?
​
◆

Nullify/Modify Potion Costs:

Change the duration of health and mana potion sickness, or remove them altogether!
​
◆ Modify Nebula Armor Buffs: Increase (or decrease) the duration and intensity of each Nebula Armor buff independently!​
◆ Change Starting Items: Customize the default items for new players to your liking!​
◆ Special Last Prism Colors: Using chat commands, set the Last Prism's beam to any of the special colors on the fly!​
◆

Custom Fishing Pole Power:

For those who hate fishing (can we say, everyone?), this'll help you through those annoying quests faster!
​
◆ Persistent Fishing Sonar: Permanently possess the effects of the sonar potion!​
◆ Modify Fishing Crate Chance: Make fishing up crates as likely or unlikely as you desire!​
◆

Superpower: Buff the tar out of yourself on a variety of fronts - damage, defense, crits, healing, flight, speed, etc!
​
◆ Power Scale: Scale your ultimate player stats to make the game easier or harder!​
◆ Global Armor Defense Reduction: Adjust how effective player and enemy armor is at mitigating incoming damage!​
◆ Modify Crit Multiplier: Change the damage multiplier on critical hits for both players and enemies!​
◆ Override Buff Immunity: Forcibly enable or disable immunity to any buff in the game! Useful for disabling buffs/debuffs you don't like (by making your character immune to them)​
◆ Add/Remove Buffs: Using ingame commands, apply or remove buffs from your character at will!​
◆ Permanent Buffs: Grant yourself permanent buffs are always active, even if you respawn!​
◆

Fullbright: Every patcher needs the classic fullbright modification! Every block and wall on your screen will always be bright as day! Perfect for finding & exploring caves!
​
◆ Change Coin Drops on Death: Reduce (or increase) how much of your hard-earned money is lost when your player dies!​
◆ 100% Journey Mode Research: Instantly unlock full research for every item in the game!​
◆

Place Objects Extremely Fast:

Maximum tile placement speed for those who love to build!
​
◆

Screenwide+ Place/Break Range:

Your pickaxe now magically extends to the edges of your vision and back!
​
◆

Screenwide+ Item Pickup Range:

Grab coins and drops just by looking at them - handy for mob farms!
​
◆

Allow Grapple While Immobile:

Grapple while stoned, frozen, webbed, etc to escape those pesky medusas!
​
◆

Disable Forced Dismount on Grapple:

Shoot hooks while flying along on your favorite mount!
​
◆ Undeprecate the Deprecated Items: Prevents deprecated items from being automatically deleted from your inventory/chests!​
◆

Modify Content Path:

Change where Terraria looks for its resources to help with your own mods!
​
► Omnipatcher Tweaks
◆

Modify Any Item: It's back, and better than ever! Omnipatcher V2 can modify 99% of all items in a sleek, new format!
​
◆ Global Attribute Tweaks: Apply custom values for attributes to all items in the game. E.g. you can make every item's max stack size 999,999 with a single tweak!​
◆ Roster of Supported Attributes:
maxStack, damage, defense, knockBack, useTime, useAnimation, autoReuse, shootSpeed, mana, crit, hammer, axe, pick, scale, healLife, healMana​
◆
Modify Any Prefix
:
In similar format to the Omnipatcher, fully customize all the item & accessory prefixes!
​
◆

Uber Upgrades: Turning unique weapons with low damage into end-game powerhouses!
​
◆ The pilot Uber Upgrade turns the Hellwing Bow into lightning-fast repeater with even more special projectiles!
​
◆ Bestow the Flare Gun with the ability to place torches (or any block, for that matter) where its projectiles land!
​
◆

Quick Weapon Tweaks:

Quick and easy templates for modifying some of Terraria's most iconic weapons!
​
◆ Roster of weapons:

Vortex Beater, Laser Machinegun, Slap Hand, Snowman Cannon, Celebration, Vampire Knives, Last Prism, Nebula Blaze, Book of Skulls, Golden Shower
​
► Darwin Tool Tweaks
◆

Modify Any NPC: Just like the Omnipatcher, the Darwin Tool returns as V2 with superior NPC-modifying power!
​
◆
Specific NPC Mods
:
Quick fixes and modifications to specific NPCs
​
◆

Remove Lava Slimes lava-drop on death
​
◆

Prevent Antlions (and possibly other mobs) from spawning sand/dirt/etc with their spit/attacks/etc
​
◆

Revert the Martian Saucer's death laser to its 1.3 behavior so that it cannot penetrate tiles anymore
​
◆ True Eye of Cthulhu Guardian: Equip the Suspicious Looking Tentacle to call upon the Moon Lord's very own True Eye of Cthulhu as your personal minion! What better bodyguard could you ask for?​
◆ Modify Eternia Crystal: Defending this POS sucks, right? Now you can give it as much health and defense as you want!​
---------------------------------------------------------------------------------------------------------
■ Why Terraria Tweaker 2?
Terraria Tweaker 2

is unlike any other patcher due to the

flexible Tweak List system

and

"friendly patching" model

. Rather than permanently screwing with Terraria.exe, your

tweaks

and

Terraria

are

kept separate

until the

moment of play

, allowing for considerable

modularity

and

ease of use

!
► Your selection of patches in TT2 is immune to Terraria updates
► TT2's friendly patching improves compatibility and ease of use with multiple patching utilities
► Tweak Lists can be rapidly edited and switched between - no more clunky assembly manager!
► Tweak Lists can be accessed swiftly from a variety of places for the fastest possible experience in switching between vanilla Terraria and all of your modifications!
---------------------------------------------------------------------------------------------------------
■ How to Use:
► First, look to the

Downloads

section below to acquire a copy of

TT2

.
► Once you've got

TT2

running on your computer,

watch

the recommended

introduction video

(shown below and linked in

TT2

's welcome page)
► When you're ready,

create

your

first Tweak List

from the Tweak Lists page.

Click

on the

"Set as Active"

button to make it your go-to Tweak List.
► You can

rename

and add

notes

to Tweak Lists by clicking on the

gear icon

in the Tweak List's tile. You can create a

launch shortcut on your desktop

with the shortcut icon (next to the gear icon).
► Add whichever modifications you desire, then

click "Launch Active Tweak List"

.

TTApplicator

,

TT2

's helper application, will handle the rest

---------------------------------------------------------------------------------------------------------
■ Downloads:
Terraria Tweaker Requirements
(yes... there are always requirements)
TERRARIA TWEAKER 2

REQUIRES

!.NET 4.5.2!

AND THE !2015 VC REDISTS! TO RUN!
I
f you don't have these installed, or aren't sure if you do, download them from the links below.
​
Without any further ado, here's download for...
►►►
Terraria Tweaker 2.3.1411.0
for
Terraria 1.4.1.1
◄◄◄
This is the main release of Terraria Tweaker. You probably want to download this version.​
Previous release (Terraria Tweaker 2.3.1405.1 for Terraria 1.4.0.5):​
If you are experiencing issues with the latest TT2 version and Terraria 1.4.1, this previous TT2 release may still work for your purposes.​
Terraria Tweaker
2.2.1353.0
for
Terraria 1.3.5.3:
This is a special branch of Terraria Tweaker that maintains support for Terraria 1.3.5.3. This release is NOT comaptible with Terraria 1.4!​
What's in the box?​
The downloads above for Terraria Tweaker 2 include TT2, TTApplicator, and their dependencies. Terraria Tweaker 2.exe is the main application, and TTApplicator.exe is the helper which does the actual modification of Terraria.exe. This separation allows for better updates and UX.
​
​
TT2 Changelog
...........
TTApp Changelog
​
Terraria Tweaker 2 Usage Agreement:​
Please read this so that you understand the legal usage of Terraria Tweaker! (even though it's practically all common sense)
​
​
BY INSTALLING/USING TERRARIA TWEAKER 2, YOU ACCEPT THE FOLLOWING USAGE AGREEMENT IN ITS ENTIRETY.
​
This program is provided on an "as-is" basis. There are no warranties or guarantees of performance. This product has only one official use-case: modifying vanilla, Steam-version Terraria for single-player use. Using this product to modify any other application is not recommended nor supported. Damages that may occur from using this product to modify anything other than vanilla Terraria are in no part or whole liabilities of the creators or distributors of this product. Damages that may occur from official, recommended use of the product are also not liabilities of the creators or distributors of this product; however, such damages from official use may be addressed by support.
​
THE CREATORS AND DISTRIBUTORS OF THIS PRODUCT ARE NOT LIABLE FOR ANY DAMAGE, MISUSE, OR FAULTS YOU MAY CAUSE UNTO YOUR COMPUTER AND THE SOFTWARE & DATA RESIDING ON IT FROM USING THIS PROGRAM IN ANY MANNER, RECOMMENDED OR NOT. USE AT YOUR OWN RISK. NO GUARANTEES. YOU ASSUME ALL RISK OF ANY DAMAGE THAT MAY RESULT FROM USING THIS PRODUCT.
​
Terraria Tweaker and Terraria Tweaker 2 © TiberiumFusion 2015-2019
​
​
If you're looking for Terraria Tweaker 1.x.x.x
Do you like playing on older versions of Terraria, but just don't have the same fun without your trusty hacks & patches? Lucky for you, older versions of Terraria Tweaker that support older versions of Terraria are now available for download.
You can find them in the original TT thread: Tool - [LEGACY][Patcher] Terraria Tweaker 1.X.X.X
---------------------------------------------------------------------------------------------------------
■ Some How-To's:
◆ How to Create a

Permanently-Patched

Terraria Assembly
► First,

decide

upon the

Tweak List

you wish to use
​
►

Right click

said Tweak List in the Browser, then

click

"Advanced..."
​
► The Advanced Utilities window will open, where you can create your modified assembly.
​
►

Browse

to the location you wish the assembly to be

saved

(the default is your desktop)
​
►

Click

"Perform Operation" and

TTApplicator

will create your modified assembly.
​
​
---------------------------------------------------------------------------------------------------------
■ Multiplayer Compatibility:
◆ Short answer: The patches performed by this tool will work near-flawlessly on any server, vanilla, TShock, or other.
◆ Long answer: This tool directly modifies the code of the Terraria assembly at the IL level. Therefore, by using Terraria Tweaker, you are creating a "modded client", as some might say. Interactions between your modded client and a Terraria server may produce unusual effects to other connected users, but no harm will be done to any of the connected clients or the server. Terraria servers suffer from a lot of data transfer and server-side computation. On account of this, cheat-detection measures are extremely limited. The only way to truly and accurately determine if your Terraria assembly is effectively patched is to upload the assembly to the server for decompilation and verification against the release Terraria assembly. This is clearly impractical, considering the bandwidth and processing power required for such an operation. The next best solution - forcing the server to verify every single action the a client performs - is similarly unwieldy, and may yield false-positives due to internet lag. At best, servers using TShock have damage and movement threshold checks, among others, that look for oddities in player actions. E.g., if you tweak a weapon to deal 10,000 damage, TShock servers can detect that and may and freeze/stone/punish you. This is more or the less the fullest extent to which you will encounter resistance for using Terraria Tweaker's patches in a multiplayer setting. Lastly, in the current age of the tModLoader monopoly, independent patchers are small fry when it comes to allocating manhours in developing anti-cheat measures. There is plenty of "security through obscurity" to be enjoyed by using Terraria Tweaker.

◆ An important thing to be aware of: Multiplayer Terraria games have very minimal network exchanges in order to reduce overhead. As such, both your client and the Terraria server assume that many parts of the game will always function in certain way. These assumptions are disrupted, however, when you apply a tweak that drastically alters something's behavior. What you see on your screen is probably not what your friend sees on their screen, so it is highly recommended that all players in a multiplayer game use the same Tweak List!




---------------------------------------------------------------------------------------------------------
■ *General
* Compatibility with Other Terraria Modifications:
■ TerrariaPatcher: Yes
■ tModLoader: Not by design, but I've seen TT2 patches run just fine on top of 10+ tModLoader mods
---------------------------------------------------------------------------------------------------------
■ Troubleshooting:
◆ Problem: When I launch one of my Tweak Lists, I get an error message that says "Could not load file or assembly"
■
Explanation:
Some of Terraria Tweaker 2's components could not be loaded by the patched Terraria.exe. This is usually due to remote file policies and antivirus software.
■
Solution:
► Close Terraria Tweaker 2.​
► Open the folder than contains Terraria Tweaker 2's program files. If you used the installer, this will be at C:\Program Files (x86)\Terraria Tweaker 2\​
► Right click each file and choose Properties. In the Properties window, look for a message that says something like "This file came from the internet and Windows has blocked it." Click on the Unblock button. Do this for each file.​
► Launch Terraria Tweaker 2 and try to launch your Tweak List again.​
► If you still get the same error message, add an exclusion for Terraria Tweaker 2 in your antivirus software.​
◆ Problem: The TT2 window is covered by a white/colored/glass thing and I can't see anything! --or-- The TT2 window is solid white and I can't do anything!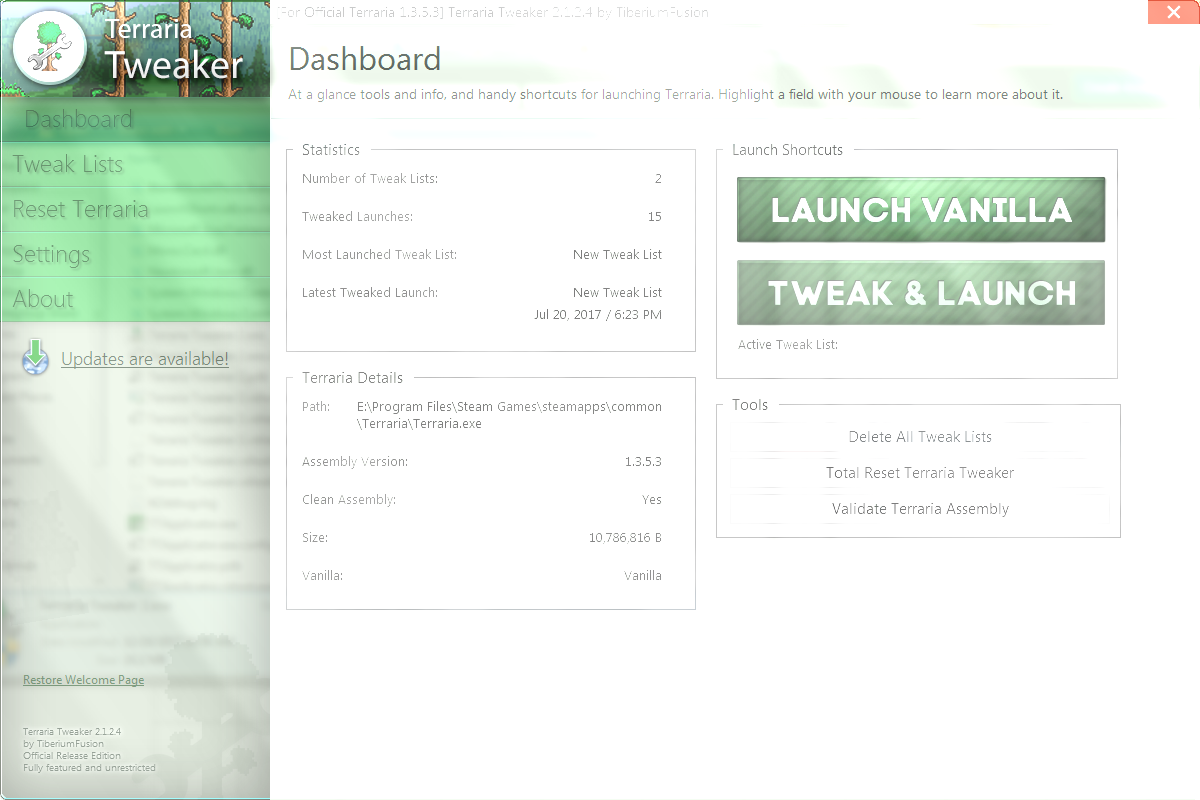 ■
Explanation:
For some users with particular graphics hardware, the Desktop Window Manager struggles to shadow windows properly, resulting in the Windows chrome plastering itself over the TT2 window. Windows Vista and 7 users will see something like the example above, whereas Windows 8 and 10 users will see a solid color overlay (such a terrible design choice, MS!).
■
Solution:
Try the Primary solution first. If it does not resolve the issue, try the Secondary solution.
► Download version 2.2.1403.0 of TT2 or newer.​
► That's it. Seriously.​
► You will need version 2.1.2.4 of TT2 or newer.
​
► If you can see enough the Terraria Tweaker window to click on things and navigate around, follow these steps:
​
► Open TT2, then shift click the loop in the 'a' of the word "Tweaker" in the header above the sidebar.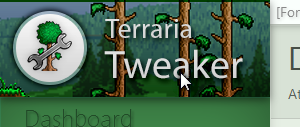 ​
► TT2 will restart in compatibility mode with Hardware Acceleration disabled. You should see that the window chrome issue is resolved.
​
► To permanently disabled HW acceleration for TT2, go to the Settings tab and toggle the "Hardware Acceleration" option to disabled.​
► Save your settings, then restart TT2 (which will leave compatibility mode to return to "normal" mode).
​
​
► If you cant see anything in the Terraria Tweaker 2 window (e.g. it is solid white), follow these steps:​
► You will need version 2.1.2.4 of TT2 or newer.​
► Close TT2 if it is running.​
► Go to C:\Users\[Your Username]\AppData\Roaming\Terraria Tweaker 2​
► Open settings.ttl with Notepad or Notepad++ or a similar program​
► Find the element: Base -> Generic -> HWAccel​
► Change the HWAccel element from <HWAccel>true</HWAccel> to <HWAccel>false</HWAccel>​
► Save the settings.ttl file​
► Launch TT2​
◆ Problem: When I launch Terraria from TT2 or TTApplicator, I don't get any sound!
■
Explanation:
I do not have a solid explanation for this phenomenon yet, just an idea. For some users, launching Terraria (patched or not) via TT2/TTApp causes Terraria to fail to register any audio output. My best guess is that when invoked with elevated privileges (as TT2/TTApp do), the XNA runtime does not establish its audio output. The solution sounds simple - merely launch Terraria without the administrative token. The application of such, however, is tricky.
■
Solution for Steam Users:
► You will need version 2.1.3.2 of TT2 or newer.
​
► Ensure that Steam is NOT running as an administrator.
​
► Simply launch Terraria from TT2/TTApp and you should be good to go.
​
► If you still do not have sound, see the "General Solution" below.
​
■
Solution for Other Users:
► You will need version 2.1.3.2 of TT2 or newer.
​
► REMINDER: Terraria Tweaker 2 does NOT officially support GoG or any distribution of Terraria other than through Steam!
​
► Launch Terraria from TT2/TTApp.
​
► You will be prompted that Steam launching is unavailable, and two launch options will be provided.​
► Pick the "hackish" launch option (click the "No" button).​
► Hopefully, Terraria will launch and you will have sound.​
► If you still do not have sound when using the "hackish" launch option, ensure that explorer.exe is NOT running with an administrator token, then try again.​
■
General Solution:
► You will need version 2.1.3.2 of TT2 or newer.
​
► Ensure TT2 and TTApp are not running.
​
► Navigate to the TT2 savedata directory (%APPDATA%/Terraria Tweaker 2) where you will find files like settings.ttl and stats.ttl
​
► Create a new file in this directory called "ttio.cfg"
​
► Open ttio.cfg with a text editor and enter the following:
​
Code:
DisableSteamLaunch=true
LaunchWarningChoice=hackish
► Now run TT2/TTApp and launch Terraria.
​
► If you still do not have sound, ensure that explorer.exe is NOT running with an administrator token, then try again.
​
​
​
■
More Information about the ttio.cfg file:
►ttio.cfg provides user configuration to TTIO.dll, the agent that launches Terraria when TT2 or TTApp requests it.
​
► Currently, there are two parameters you can specify:
​
◆ DisableSteamLaunch=true|false
​
◆ Only relevant to Steam users. When true, TT2/TTApp will ignore the Steam launch option, if available.
​
◆ LaunchWarningChoice=prompt|direct|hackish
​
◆ Specifies how to notify the user if Steam launching fails. If prompt, the launch is interrupted by choice between direct, hackish, and abort. If direct, there is no prompt and the direct method is automatically used (invoking Terraria with TT2/TTApp's token). If hackish, there is no prompt and the hackish method is automatically used (invoking Terraria in a de-elevated state using explorer.exe)
​
► When no ttio.cfg file exists, the default values mentioned above are used.
​
---------------------------------------------------------------------------------------------------------
■ Caveats and Things to Be Aware Of:
◆
Terraria Tweaker 2

has but a

single use-case

: modifying official, Steam-version, vanilla Terraria for single-player use. While many Tweaks

may work

perfectly in multiplayer settings and with other patching utilities,

they are not designed for such

, and can cause problems. If a Tweak has any specific

warnings

mentioned in

TT2

, read them thoroughly before use! Known

shortcomings

are listed below:
◆ Terraria 1.4.1 is unverifiable, unstable, and features fatal race conditions. If you apply a large number of patches and/or plugins, Terraria may intermittently crash on startup, depending on the alignment of the planets and stars.​
◆ In multiplayer, applying more than one armor vfx may cause crashes.
​
◆ The Omnipatcher cannot operate on negative IDs or the ID 4.
​
◆ Using player-changing gear in social slots with the functional social slots tweak can corrupt players and worlds.
​
◆ Increasing villager health above 250, then performing a save & exit while they are onscreen may cause the save to fail or to corrupt.
​
◆ Extreme item/NPC modification, such as the Hellwing Bow Uber Upgrade or True Eye Guardian, will appear disconnected and unusual to other players without the tweak (in multiplayer). In most circumstances, this will not crash their game.
​
◆ At random, applying tweaks can cause Terraria to crash upon Saving & Exiting a world. In this situation, the world file will not save. It does *not* get corrupted.
​
◆ Even recommended use in modifying Terraria may cause it to experience issues (very unlikely, however). I'm not responsible for lost worlds or players!​
​
---------------------------------------------------------------------------------------------------------
■ Bugs and Issues:
If you're having problems, double-check your actions, reference the caveats, and ensure

TT2

and

TTApp

are updated first. Then, if your problem is previously undocumented, leave an

intelligent reply

and I may find a solution for you. Do not say "I have the latest version of dotNET and VC redists", that means nothing. Give me

version numbers

, and ensure you tried reinstalling both (if possible) before complaining.
If you've found a bug in a tweak or in

Terraria Tweaker 2

or

TTApplicator

, don't hesitate to inform me! Please be as detailed and descriptive as possible!
Do not accept technical advice regarding Terraria Tweaker 2 from anyone except myself.
Some overzealous kid could instruct you to delete your personal data or share your private information without you even realizing it. I am the sole person who maintains this project and thus the only authority on Terraria Tweaker. You are entirely liable for the consequences of any advice you follow from non-authorities.
---------------------------------------------------------------------------------------------------------
■ User Suggestions:
If you have

ideas

for a

Tweak or feature

you'd like to see in

TT2

, comment it below! Most tweaks originate from user suggestions!
---------------------------------------------------------------------------------------------------------
Huge credit goes to Transcend for being awesome! This tool uses sources and inspiration from his TerrariaPatcher tool, please check it out for more awesome patches to Terraria!
Thanks for taking a look at

Terraria Tweaker 2

!
-- TiberiumFusion
---------------------------------------------------------------------------------------------------------
■ One Last Thing...
If tossing over a buck or two to support freeware like Terraria Tweaker is your kind of thing, just click on that bright yellow button.
​
​
For legal clarity: a donation is a voluntary, non-refundable act of kindness that supports the 100% free Terraria Tweaker project. Terraria Tweaker 2 is and will always be provided free of charge, fully featured and unrestricted as always - there is no obligation to donate!
​
Tags: Terraria, Tweaker, Terraria Tweaker, Terraria Tweaker 2, TT2, Tweak List, Tweak Lists, Terraria hack, Terraria hacks, hack, hacks, patcher, tool, Terraria patcher, Terraria tool, mod, Terraria mod
Last edited: