In-Game Creations Category

General Builds
In-Game Creations Type

General Builds
Greetings!
​
This is a series of builds I started back in 2021 after watching a lot of Terraria building videos on YouTube, especially Khaios' tutorials. I also got inspiration from other Terraria youtubers, like GandalfHardcore or Ziiio, and a lot of random screenshots I found in Internet.

My very first build is a literal definition of "Can I copy your homework? - Yeah, but don't make it too obvious". It was made after Khaios' tutorial video "How to Upgrade your Wooden Box!"

Sunhill Outpost

I didn't have access to Palladium Columns in pre-HM, obviously, so I replaced it with Large Bamboo and later decided that I like how it looks and left it like that.
Now it looks like this (haven't changed much honestly):
Hardmode Sunhill Outpost
Merchant moved to new house, now we have small pub here, but Guide still has his sort of library with big tomes, made of various columns and beams. Next we have tunnel which leads to my pre-HM base and storage, barracks and guard tower. Barracks are valid houses just in case.
The entire Forest Pylon area now looks like this:

Forest Pylon

The world spawn point is in Princess' Tower, where she lives with her slime friend and trusty butler Tax Collector. You spawn in TC's office and have to do some paperwork to proceed (you don't actually, its just some rp stuff).
Princess' Tower
Princess also has a garden with small pond and a fountain (small note: do NOT build on 'Constant' worlds, the weather will ruin your lights, except candles for some reason. After every rain ;I have to manually turn all lamps on, or make some lamps blink, or cover lamps with Echo Blocks).
Tower basement: butlers "actual" house and a vault, small sewer/hellevator and fountain control room.
3-second timer to make fountain lamps blink, 5-second timer to switch Witch Doctor's Fountains.
My actual spawn point:
Market and my house
Rolling Cactuses are real pain in a neck because any sneeze will break them with no materials back. Because of this one single "watermelon" I had to replace after every invasion/event I relocated my arena somewhere else.
My hardmode storage and crafting area: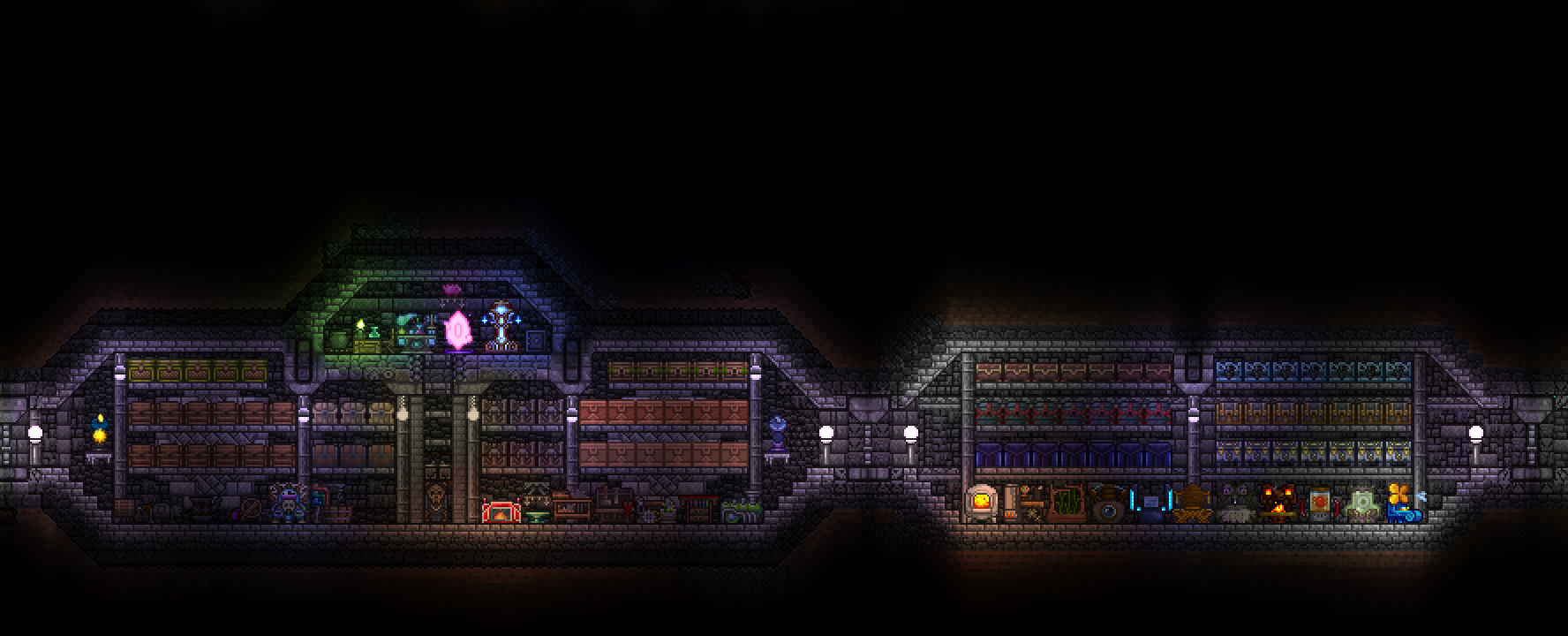 Accessible through both sewer and echo-coated teleporters in my house. I still have one spot reserved for Ancient Manipulator. Section to the right is reserved specifically for furniture and decorations, most of the chests are still empty though.
Actual Pylon:
Forest Pylon
Just a small cozy house for Golfer and Zoologist, nothing special. Pylon pedestal, on the other hand... Yeah, not the most optimal and convenient placement, but at least it has style.
The rest of underground quarters:
The Gallery
I wanted to use space between my old and new bases, so I made this. I also keep here most of paintings and statues. Look closer and you will find where the echo-coated teleporters are. I also like this tiled floor texture Sunplate Brick makes.
My pre-HM base and Shimmering Chamber:
This is where I keep weapons, armor, accessories and vanities - everything I don't want to mindlessly stockpile after I return home and press "Quick stack to nearby chests". The Shimmering Chamber was added looong after and I had to smuggle some Shimmer from other world, because this one was created before Labour of Love release. And, of course, this chamber is a valid house for NPC shimmering.
This is it for Forest Pylon, others will be added later. This area was updated through entire playthrough and now is the biggest pylon build in this world.
Last edited: