Risk Of Rain 2 Mod

​
I have began work on a brand new mod for Terraria! It will feature many things from Risk of Rain 2, including;
-All 10 survivors currently in the game and new ones that come out in the future as armor sets
-All enemies current and future as enemies in terraria
-All bosses ported into terraria
-Summon-able turrets, drones and much, much more!
This will be a long tern project of mine and i'll be constantly updating the mod as I recreate more content. I understand that there is already a mod for terraria that adds risk of rain 1 equipment into terraria so i'll avoid adding new equipment for now, even though risk of rain 2 has many new items than risk of rain 1.
Currently, the mod is not intended for regular play as there is lot's of balancing required and lots of work to get done. In it's current state the mod is intended as a snapshot of what there is to come.
Pictures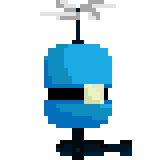 VERSIONS
v0.0.3 of the Risk of Rain 2 Mod includes

-The commando's armor
-The mercenary's armor
-The mercenary's sword

I've not yet created recipes for the mod so all items will need to be cheated in with something like cheat sheet or hero's mod.
First version of the mod was going to be v0.0.1, however, I've since added a mod icon and edited the description slightly.
v0.0.4 of the Risk of Rain 2 Mod includes

-Recipes for the Commando's armor
-25 gold bars and 10 glass at an anvil for helmet
-40 gold bars at an anvil for breastplate
-35 gold bars at an anvil for leggings

-Recipes for the mercenary's armor
-25 platinum bars and 10 glass at an anvil for helmet
-40 platinum bars at an anvil for breastplate
-35 platinum bars at an anvil for leggings

-Recipe for the mercenary's sword
-15 platinum at an anvil

-balancing damage and defense of all items
v0.0.5 of the Risk of Rain 2 Mod includes

-New Gunner drone
-Craft-able with 15 platinum ingots (this recipe will be updated in a future release)
v0.0.6 of the Risk of Rain 2 Mod includes

-Updated Mod icon
This was meant to be added in v0.0.5 but I forgot
Last edited: