"Slim Player & Female Npc Texture pack."
v1.9.3
Windows:
1.3.5.x
(Febuary 2017)
1.9.3
-
Content update for Terraria 1.3.5.x:
> Added new Dev Vanity items
> Updated Sprites, Tiles, that was updated in the 1.3.4 Update
> Merfolk form, now have a snake lower body again!
- Known Issues updated for: Robes without over hands & Merfolk

1.9.2
- Fixes
> Fixed Sprite for Slime king
> Tweaked sprite for Ant-lion
1.9.1 - Content update for Terraria 1.3.4.x:
> Added new Armors
> Updated Sprites, Tiles, Extra texture, that was updated in the 1.3.4 Update
> Updated merman "legs" apparently didn't make into the 1.9.0 update....
> Fixed the outline of housing icons for "Goblin Tinker" and "Stylist"
> Added the Missing re-color of "Skeleton hand" and "Worm hook"
Fixes will also apply to the Android port.
1.9.0b - Tweaks:
> Werewolf shape: had the outline re-colored and shape of the legs changed
> Animal costumes: had a slight design change female shirts (Cat, Fox, Wolf, Unicorn)
> Xenomorph costume: had ribcage design change

What is this Texture pack about?:
> Female Player Sprite and matching Armors and Clothing. (Since before Terraria 1.1.0)
> No torso stretching doing running animation. (Since November 2011)
> Player Sprites with a slimmer body, making Armors look more though.
> Female versions of several NPC's.
> White Bone Color for Skeletons, Corruption Creatures.
> Gore bits for every sprite i have Created/Changed.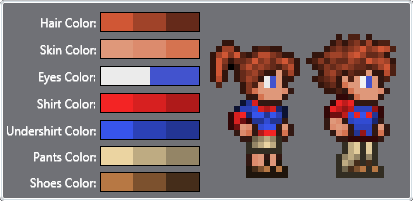 Color-Palate for Player sprites, used for character Creation.
Game-Bug
: Animation issue for lower body for Halloween dress costumes
> I Reported it and suggested how to fix it, in fall 2013
The issue is that these dresses are of the old Dress/Robe design
where the whole robe is animated on only on the chest texture
and the new Robe design have a extra texture for the "Legs", for synced animation.
> Not fixed in 1.3.5.2

Mod-Bug
: Exclusive to "Off-hand Shields" & "Robes with Tomes"
some Issues with Wrist Accessory items while wearing "Robes with Tomes"
> Only a Issue with the off-hand for "Robes with Tomes"
- Sadly you cannot toggle the visibility off the accessory's off-hand only, and thus cannot be Fixed. - Sorry.
!- If you encounter any other Mod Issues please report them to me -!
In the thread, or by PM (Conversation) and please provide a Screen-shot of the issue.
If it's the Player Character
Also, please inform what items and visual accessories you have equipped
Table of Content:


Armor sets
(

Female

)








Vanity Sets
(

Female

)





Developer Sets
(

Female

)







Halloween

:
Armors (

Female

)

Event Costumes
(

Female

)




NPC's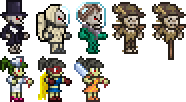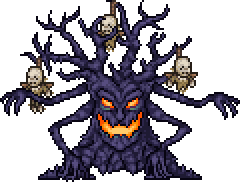 Christmas

:
Clothing (

Female

)

NPC's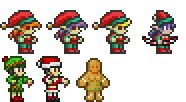 Downloads:
>
Main Pack v1.9.3 - [XNA]
(2,55 MB)
Test package for Experimental feature:
>
Experimental v1.9.1
(8,60 MB) - please read below
*
*
Read about Experimental Features
*
Known issues with the feature
*
W
hile using the

Experimental

feature of Terraria; I am not responsible for any issues or bugs, which includes sprites not being loaded correctly. as it is an Experimental feature of Terraria, and not my Texture mod.
Alternate (Add-on) Packs:
Female Townies
v1.7



Wizard, Demolist, Smuggler, Merchant, Clothier/old Lady, Goblin Tinker, Guide.
Mrs. Santa, Pirate Captain, Cyborg, Painter, Dyer, Witch Doctor, Travailing Merchant.
Truffle, Traveling Merchant, Angler, Skeleton Merchant, Tax Collector, Tavernkeep.
off-hand: Shields and Tomes
v1.4


Off-hand shields for Armors & off-hand Tomes for Robes
Off-hand Shields are Based on Main-hand shields by SzGamer227


Discontinued
Dryad-Deer
v1.2a

Deertaur Dryad


Deer-taur Costume
v1.0


Deer-taur Costume, replaces the Mermaid costume.


Unicorn Mount

v1.0


Centaur-Unicorn Mount


Anthropomorphic Animals

v1.0


Changes the Animal costumes Mask to be more like Heads
Note: some hair styles still show, you can fix that at the Stylist Townie
Last edited: