Consigliere
Staff member
Re-Logic
Administrator
Greetings from self-quarantine, Terrarians!
As the impacts from COVID-19 continue to disrupt so many lives, we once again hope that you are all doing as well as can be expected in these trying times and that everyone is doing their part to keep themselves - and your fellow humans - as healthy as possible! Please, please stay safe out there!
Across the Terraria development teams, everyone is now firmly entrenched in the work from home environment. That said, we are doing all that we can to keep the development trains moving unabated towards the latest and greatest for everyone out there to enjoy. So, relax, kick back, and let's dive into the latest Terraria news!
PlayStation 4, XBOX ONE, Nintendo Switch - PIPEWORKS
​
We hope that everyone on Xbox One and PlayStation 4 has been basking in the glow of parity over the last few weeks. Certainly an exciting milestone for everyone!
Some quick-hit updates on what we have going on right now....
XBOX ONE AND PLAYSTATION 4
Terraria 1.3.5 launched April 2 - Parity at last!
The team has been hard at work since on some fixes - including that nasty "transparent blocks" visual bug that occurs when using paint. All fixed up and coming your way soon.
We are also looking into some quality of life improvements at the same time.
No timing for either of those just yet, though the fix patch should not be much longer.
NINTENDO SWITCH
The 1.3.5 version of Terraria for Switch is still undergoing internal review. The team uncovered a handful of nasty multiplayer bugs, and we are working through those now.
This is triggering a bit of a delay - but these are the sorts of things we are glad to catch and fix before release.
Given the extended review times for submitted games during the COVID-19 pandemic, there is a good chance Switch 1.3.5 will slide into May. We are doing all that we can to cut that time down as much as possible. We will let you know when we submit so that you will know when the update is quite close.
Closer, ever closer to parity for everyone!

MOBILE - DR STUDIOS
​
Hello everyone!
We're very excited to hear the news about 1.4 on PC coming next month! We at DR are working hard on the last batch of issues raised with the 1.3.0.7.8 Customization & Controller update and we'll have a patch update 1.3.0.7.9 for you asap! After we get that out to everyone we are starting to investigate our next content update, all the features to take into account and then starting on our next BIG update! What will that entail? You will just have to wait and see...
FIXES FOR CONTROLLER + CUSTOMIZATION UPDATE
Updated Gamepad support frontend setup - allowing players with currently unsupported gamepads to set up their gamepad of choice and enjoy the controller-y goodness.

This won't mean every gamepad will be supported, but we hope it will substantially increase the list of gamepads that will work.
A preview of the setup interface is below!
Fix for the vanishing prefixes bug
Fix for staircase draw/layering issue
Fix for that pesky Sun not being able to be dragged around in the main menu
Some other minor fixes
We expect this to be out next week, we are just putting more work into the unsupported gamepad fix. Hang in there a bit longer!
​
WHAT COMES NEXT?
We are not quite ready to share the plans for future content on Mobile Terraria
We should be able to share more once the fix patch above is out for you to enjoy
Until next time!

PC - RE-LOGIC
May 16, 2020
Enough said.
What, you wanted more? Ok fine....

COMMUNITY
JOURNEY'S END VANITY CONTEST
​
In case you have been under a rock, we announced the finalists last Friday on a special livestream hosted by
@Loki
- a good time was had by all, and we look forward to maybe getting time to hang out again soon! Voting ends TONIGHT at 11:59pm Eastern - so get your votes in NOW!
TERRARIA: JOURNEY'S END VANITY CONTEST FINALISTS
Push the button above to vote!
​
Be sure to read over all of the contest details and congratulate our finalists - and good luck to everyone! It is no small feat to be in the Top 25 out of over 7,000 entries!

JOURNEY'S END LAUNCH EVE PRE-RELEASE LIVESTREAMING EVENT
​
Join various members of the Terraria development team in getting ready for Journey's End launch day by checking out our Pre-Release Livestream Event on Journey's End Eve, May 15th!
We have enlisted a handful of well-known Terraria streamers to partake in this very special celebration, and the Re-Logic team will be making the rounds to hang out in every channel - this is not something you will want to miss, so mark your calendars now! Here is how it will all go down...
FRIDAY, MAY 15th




~~All streams will go live at 3pm Eastern Time~~


~~Streams will continue until each host decides to stop for the day!~~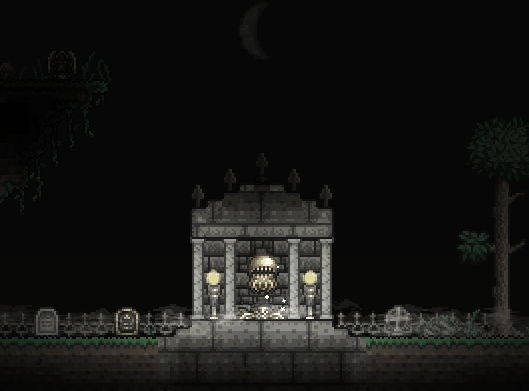 Join our chosen
victims
special guests below as they attempt to tackle Master Mode for the very first time!
(Click the name of the streamer to head to their channel)
PEDGUIN
CHIPPYGAMING
BADGER
BOUPHE

TERRARIA DISCORD MOBILE SERVER
​
We are thrilled to announce the launch of the Terraria Discord Mobile Server! We will utilize this mobile server to host public Terraria worlds for the enjoyment of our mobile community. Keep in mind that the Terraria community is massive, and it is very possible for these worlds to reach capacity. Please understand that you might need to find space in an open world or wait patiently while we create additional worlds.
We are using this initial launch to test the feasibility of hosting fun public worlds. We expect users to remain respectful at all times. We do have region protection on various parts of each world. This means that you will not be able to alter those regions. You are free to build amazing builds in non-protected regions. If your creation is truly epic then let us know and we could region protect the build or add it to our main default world that will be used to copy future worlds.
Here are the initial worlds available at launch:
Host IP: srv1.terraria-discord.com
Port = 5523 - pass = vip - Name = Terraria Discord 1
Port = 5387 - pass = vip - Name = Terraria Discord Expert 1
If you have any questions, then please reach out on Discord to @Mod Mail. Let's have fun as a community and make this a positive experience to justify additional public servers for more platforms.
The Terraria communities have been growing exponentially over the last few weeks. Two exciting examples come from our official Xbox community hub and our official Discord server. Over the last 30 days we have had over 8.6 million unique visits to the official Xbox community hub! As we are writing this State of the Game announcement, we currently display 95k online members in the official Terraria Discord server. These community engagement examples show how activity in the Terraria community is truly incredible. Behind our massive community is an epic team of moderators and community team members who make the Terraria community enjoyable and safe for all to enjoy.
We are thrilled to announce that we have reopened applications to join the Terraria Community Team!
If you love the Terraria community and you want to join the team that helps make this community so epic then join our Discord server and follow the directions to apply.
Welcome to The Community Team! We are dedicated towards helping and improving our Affiliated communities across Discord. | 25,834 members
discord.gg
We currently have space available in the following Terraria Community Team Branches: Event Branch, Developer Branch, Foreign Content Branch, University Branch, Art Branch, Writing Branch, and Lore Branch. We are organizing many exciting community projects and events across the entire Terraria community including Discord, Steam, Twitter, Reddit, Facebook, Instagram, Switch, PlayStation, Xbox, IOS, Android, and the Forums.
The Terraria Community Team server is also open to the public so feel free to stop by and introduce yourself. Space is limited so fill out your application before it is too late!
​
Last edited: