Consigliere
Staff member
Re-Logic
Administrator
Greetings Terrarians!
Happy Halloween! This is absolutely one of our favorite holidays of the year - a time to watch some scary movies, dress up as your favorite monsters, eat way too much candy, and just be a kid (again). October was a massive month for Terraria, with Mobile receiving Journey's End, PC 1.4.1 coming out, and Console Journey's End development ramping up to full speed. With that said, let's dig into our pumpkin-shaped pail here to see what treats await - no tricks, we promise!


STATE OF THE GAME - TABLE OF CONTENTS
PC NEWS
TMODLOADER NEWS
CONSOLE/SWITCH NEWS
MOBILE NEWS
COMMUNITY NEWS

PC - RE-LOGIC
This month, we were able to get the 1.4.1 update into your hands at long last! We hope that everyone is enjoying all that it has to offer! Personally, our favorite part is the new Princess NPC along with those sweet Vanity Contest sets.
The team is currently hard at work on the second wave of hotfixes for Terraria 1.4.1 - we are feeling confident that this may be the one that covers off all of the remaining issues. We will have an update on timing and content of that (1.4.1.2) just as soon as we can.
TERRARIA IS 50% OFF FOR THE STEAM HALLOWEEN SALE!
Haven't checked out what Terraria: Journey's End has to offer just yet? No better time like this weekend, because Terraria, Terraria Soundtrack, and the Terraria: Otherworld soundtracks are all 50% off during the Steam Halloween Sale!
Pick up your copy today - or one for a friend - by clicking the spooky image above!

SOUNDTRACK UPDATES
TERRARIA SOUNDTRACK: VOLUME 4
Terraria Soundtrack Volume 4 is now up and available on iTunes/Spotify/etc. and pretty much any other place where you can stream or digitally download music. This brings our Soundtrack Collection to its full completion! In case you missed it, here is where you can check out the full set:
​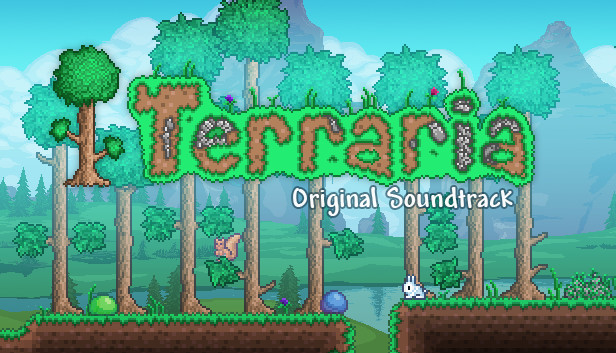 The complete and definitive soundtrack for the hit Indie 2d Adventure-Sandbox game Terraria! Featuring 36 songs from the PC version of the game - all composed & produced by Scott Lloyd Shelly/Resonance Array - the Terraria Official Soundtrack will provide the perfect background music for your... store.steampowered.com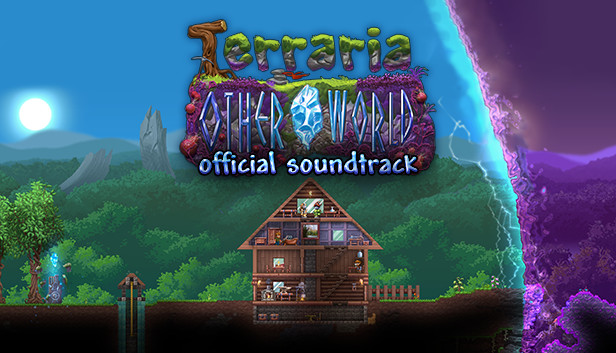 Featuring 26 epic songs intended for Terraria: Otherworld - composed by Jeff Broadbent & Jonathan van den Wijngaarden, and a special track by James Hannigan - the Terraria: Otherworld Official Soundtrack is a great addition to any Terrarian's collection, giving a glimpse into what might have been. store.steampowered.com

Be sure that you are up-to-date with the latest and greatest on this front via the Hotfix Changelog... and keep your bug reports coming via the handy bug report button below!
Terraria: Journey's End - Hotfix Changelog

Thanks again, Terrarians - we are as always blown away by your support!
Back to Table of Contents

TMODLOADER NEWS - TML TEAM
The tModLoader Team remains hard at work on getting TML up to the 1.4 era. Community Contributions are most welcome! If you would like to help out or learn more, check out the tModLoader Discord >
https://tmodloader.net/discord
Hopefully, it will not be too much longer!

TMODLOADER ISSUES/BUGS
The Re-Logic team does not directly develop TML, so bugs with TML are best reported via the links below.
tModLoader - Play Terraria with Mods!
https://tmodloader.net/discord
Back to Table of Contents

PlayStation 4, XBOX ONE, Nintendo Switch - DR STUDIOS
XBOX & PLAYSTATION
​
Last time we were here, we gave you all a little teaser video of Journey's End running on Xbox One. It was so awesome to see how everyone reacted to the idea that 1.4 was already running on consoles. Since that time, we have also wrapped up Journey's End for mobile as well as what we hope will be the needed hotfixes to get that version at a great place, allowing our team to turn its full focus over to bringing that Journey's End goodness to our eager Console fans. We do not yet have a precise timeline to give you, but the team has been doing some scoping and planning work so that we know all of the areas we need to touch in order to get from where we are today to where we need to be in order to get a worthy version of 1.4 out to you.
Part of that will be working out things like what legacy systems to pull over, making sure saves cross over properly, etc. on top of the usual implementation on various consoles. It is not as exciting perhaps as the new content itself, but taking the time needed to do these things right will pay off in the best console Terraria experience that we can deliver.
Hopefully, if all goes to plan, we will have more to share next time by way of visuals, etc. - either way, we will look forward to giving you a progress report from our first console-focused time period. Stay tuned!

NINTENDO SWITCH
​
We didn't want to go an entire month without showing something on the Console side of the house... and that got us to thinking that the Nintendo Switch Terrarians didn't get to join in on last month's "it's alive!" teaser video. Well, let's do something about that, shall we?
Terraria: Journey's End - Alive and Running on a Nintendo Switch!
​
As we were saying to our XB/PS friends above, we do not have an exact timeframe to give you just yet. Odds are that the Switch version will take a bit longer than the other two just because of the extra features and nuances that the Switch provides (Touch Controls, Docked vs Undocked, hardware differences, etc) - but the team will be doing everything in our power to lessen that time gap.
We hope you really enjoy seeing Journey's End running on Switch as much as we do - these are exciting times indeed!
Back to Table of Contents

MOBILE - DR STUDIOS
​
Happy Halloween!
We admittedly do not have much in the way of huge development news or spoilers to share with you this month. We tried to figure out what happened and why... but then we remembered that the epic Journey's End update (plus all of 1.3.1 - 1.3.5) just landed in your hands a mere week ago!
Making this leap a reality for all of our Mobile Terrarians was hard work indeed, but we are so glad to see it here and to read about how everyone is really feeling like this is the best Mobile Terraria experience ever!
That said, we have also been diligently documenting your bugs and feedback for some hotfixes and perhaps future development down the road. To that end, we have a hotfix in process that we expect to be able to push out to everyone sometime early next week. This will cover an array of issues raised either internally or by the community coming out of the Journey's End launch. We won't list all of that out now - but we do think we have covered off most of the major bits.
You want one example? Ok fine... we fixed the range of Zenith when using the virtual sticks or a gamepad to now reach the entire screen, just like touch!
​
We will save the rest for the hotfix post next week - so make sure that you tune in for that information. We hope that it makes your Terraria journey even more polished... so much that you will never want it to end! If you have any new bugs/issues to report, please do so via the link below:
Beyond the hotfix wave - and once we feel like we have Terraria 1.4 where we want it to be, we will be turning the majority of our focus towards bringing our Console Terrarians into the Journey's End era. We will get back around to our plans for Terraria 1.4.1 and a few other potential ideas, etc. that we have at a later time once we have that wrapped up and out.
For now, we sincerely hope that everyone is enjoying Terraria: Journey's End for Mobile. It was an absolute pleasure to be able to bring it to you and we cannot wait to keep up this momentum moving ahead!
Back to Table of Contents

COMMUNITY
​
Greetings Terrarians!
Here's the latest and greatest happenings on the Community side of things. Thanks as always for being the most engaged and awesome gaming Community ever!
TERRARIA MERCHANDISE UPDATES
In the next couple of weeks, we will be putting together a Terraria Holiday Shopping Guide for all of the currently-available merchandise options. We will keep this updated over time so that you will always know where to find the latest and greatest!
---
NEW TERRARIA PINS FROM SANSHEE
Our fantastic partners at Sanshee are back again this month with a pair of suitably spooky offerings - a Corruption Biome Pin and a really cool Skeletron Pin, complete with adjustable chain hands!
Click the image above to pre-order either of these two amazing Terraria pins or to check out the rest of what is in stock at the Sanshee Terraria Store!
----
HALLOWED JOYCONS
Our ever-creative friends at Elite Gaming Gear are rolling out the latest in the Terraria Joycon line for Nintendo Switch: Hallowed Joycons! Click the image above to check out all of the Terraria-related Console customization options that Elite Gaming Gear has to offer!

CREATION COMPENDIUM - SHARE YOUR CREATIVE GENIUS WITH THE COMMUNITY
Are you an epic Terraria builder? Perhaps your skills lie instead with creating amazing art... or music... or who knows what else!? If so, the premiere place to share your Terraria creations of all types is the long-running (81 issues and counting!) Terraria Creation Compendium! If you have never checked these collections of Terraria creative mastery out before, you have really been missing out.
Even Issue #81 by itself has some amazing stuff, a lot inspired by the recent Journey's End Update:
CREATION COMPENDIUM #81
LIST OF EVERY ISSUE OF THE CREATION COMPENDIUM TO-DATE ON TCF
Now, how can YOU make sure that your epic talents are in the next - or other future issues? Why ask no more - simply follow the instructions posted below (the current-hosting TCF member is always listed in the previous Issue - for #82 that will be the one and only
@Khaios
!)
We cannot wait to see what amazing works you all will have to share with us and the Community at large in future issues of the Terraria Creation Compendium!

TERRARIA PARKOUR CHALLENGE
​
With the release of the 1.4.1 update we feel it is time to kick off a series of awesome annual community features and events. We are planning everything from PvP tournaments to art contests and we will be revealing them all in the months leading up to the festivities taking place on the Terraria 10 Year anniversary. Today we are announcing our plan to host the Terraria Ultimate Parkour Challenge which will be taking place this year from December 18 until December 31.
Our goal is to create an incredible parkour course for the Terraria community each year and release the map this year on December 18. Members of the Terraria community will have around 2 weeks to complete the course as fast as possible. All rules related to playing the course will be revealed in the November State of the Game announcement. This will be a PC event to start, but eventually this will be a global event available on all Terraria platforms.
We can reveal that the goal of the parkour event will be to try to complete the course in the fastest possible time and sharing a recording of your run for verification. The top ten fastest times will then qualify to compete in an epic live event to determine who is the parkour champion for this year. We are also planning on giving away some awesome prizes for this event.
If all of this sounds interesting to you then you have an opportunity to take your involvement in the Terraria Ultimate Parkour Challenge to the next level. We are looking for passionate members of the community who are interested in helping to design the parkour challenge each year. If thing sounds like something you want to be a part of then join the Terraria Community Team Discord server and apply to join the TCT. If you are accepted as a member then request to join the Ultimate Parkour Challenge team.
Terraria Community Team server:
Join the Terraria Community Team Discord Server!
Last edited: