Consigliere
Staff member
Re-Logic
Administrator
Greetings Terrarians!
Welcome to the the latest Terraria community update on development progress across all active platforms! Fall is (hopefully!) just around the corner, bringing with it cooler temperatures - but things are as hot as ever on the Terraria development front! Lots of progress is being made across every platform - so hang on, enjoy the ride, and read on for all of the latest Terraria news!
PlayStation 4 & XBOX ONE - PIPEWORKS​
Hey Terraria fans on the PS4/X1!
We're just finishing up on porting 1.3.4 to Playstation 4 and Xbox One, and Re-Logic has started their review pass for quality. That means that we may have some additional bugs to address, but the 1.3.4 content is in the game and ready for testing, so we're on the home stretch! As soon as we have a chance to finish a quality assessment and bug fix with Re-Logic, we'll look to get this submitted and downloaded on your consoles. No promises on date and time, but we'll let you know when it's ready to go.

SWITCH - PIPEWORKS​
Good news, Switch fans: The 1.3.1.1 port is nearly complete!
Thanks to the work we already put in on PS4/X1 this did not take as long as we expected, and we're pretty happy with the results. We're still working at additional features like adding proper touch support for the Grand Design/Multicolor Wrench. We also have a few bugs left to address, as well as a review pass by Re-Logic, then we'll look to get this submitted to Nintendo and in your hands.
Thanks for your patience!

MOBILE - DR STUDIOS​
Let's see, what happened in the world of Mobile Terraria since the last State of the Game... oh that's right, we launched Terraria 1.3 for Android and iOS!
In case you missed that for some crazy reason, check out our launch thread here >
Mobile Terrarians Assemble! Mobile 1.3 Launches Today!
Since launch, we have been hard at work on post-launch fixes and responding to player feedback (including the return of optional Legacy Jump controls and Autoswing). If you want to see what all has been addressed since launch, keep a close eye on the Fixes Changelog Thread linked below!
We should have at least one more fix round coming your way in the next week or two. This one is primarily targeted towards issues that players on very low-spec devices may be having in regards to crashing and the like. Of course, it will have the usual suite of other fixes, but we wanted to let those low-end players know that some relief may be on the way soon. All of this is in the testing/review process internally at the moment - so we do not have an exact timing to give you nor the extent of things it will cover just yet.
As it is our hope that this fix wave (1.3.0.7.5) will be the final one for launch before we move on to the often-mentioned "Controller Support + Customizations" Feature Update, it is our current plan to submit this version of Terraria Mobile 1.3 to Amazon for approval. This is subject to change should other critical issues arise, but this is certainly the plan!
To whet your appetite, we wanted to share some more Amazon info with you... and they say a picture is worth a thousand words, right?
​

PC - RE-LOGIC
​
The PC dev team is hard at work on a number of very cool and even more top secret things for the upcoming Journey's End update. So no, we will not be speaking to any of that this month. However, we are not empty-handed. We wanted to share a quick shot of a brand new dev armor set coming your way!
Whose dev armor could this be? Any guesses?
Oh, and it looks like a new furry friend has tagged along as well... how cute!
Until next month, Terrarians - keep watching and waiting for more news along the path to Journey's End.
​

COMMUNITY
​
Greetings Terrarians!
We have some big news and events to share on the Community side of things this month, so without further ado, let's dive in!
Terraria Community Forums Update & Upgrade
​
The past few months have been busy for Terraria, with updates/releases for Console, Switch and Mobile, as well as more updates coming for all platforms as we head to Journey's End.
We haven't forgotten that Terraria Community Forums needs some love and attention as well, and we've been working behind the scenes to make that so.
As we explained with the last major update
, while we currently have a stable base for the forum, it will be passing into a non-support mode at the end of this year. Thus, we are taking a big step to upgrade the forum software now so that we have the maximum support and can provide the best experience possible for the community going forward.
We have scheduled these updates to occur on 26 September 2019 at 9:00am GMT.
The site will be down for several hours starting at that time​
For more complete details on what is coming you way soon, check out the thread linked here >
Important - Changes are coming to your forum

Terraria Community Forums New Forum Staff
​
With all of these events happening, we felt that additional help for the Forums would be needed to ensure that more people get support as they need it. Considering these events, we have decided to bring three long time Forum members on as new moderators for the Terraria Community Forums Staff!
Please welcome:
These three have contributed to the community for a long time in their own ways. With their passion for the community, positive energy, and willingness to help others, we feel they will be fantastic additions to our current Staff Team.
If any of these three are new to you, or you feel like dropping by to say hi and congratulate them, feel free to leave a post on their profiles!

Discord Update & Terraria Community Team (TCT)
​
The Terraria 1.3 Mobile update is finally upon us and the Terraria Community has been filled with non-stop action! Since the mobile update launched, we have been breaking all time activity records on our various social media platforms. For example, Over the last two weekends our Discord server at
Join the Terraria Discord Server!
has had over 50k online members simultaneously!
​
We have Terraria communities spread across the globe in all the major social media platforms. We are thankful for our dedicated fans who have taken their passion for Terraria to the next level by contributing to our communities. We love checking up on the communities and seeing glorious Terraria builds, fan art, entertaining videos, lore interpretations, Terraria mods, activity servers, and so much more.
As the various Terraria communities have grown, we have grown along with them. We take great joy in providing a positive platform where Terraria fans can take their gaming passion to the next level. We are fortunate to have the Terraria Community Team and its truly worthwhile contributors. What is the Terraria Community Team AKA the TCT? The TCT is a volunteer fan club made up of dedicated Terraria super fans who love contributing to the various Terraria communities around the world. They are currently accepting membership applications at
Terraria Community Team Application Form
For more details on the TCT read the membership brochure here: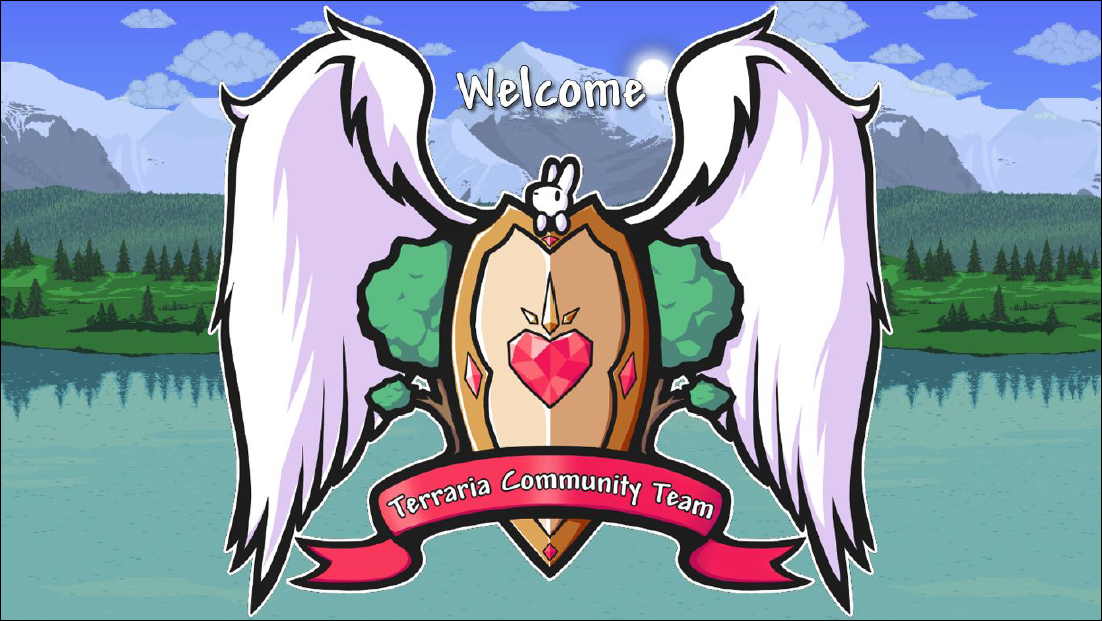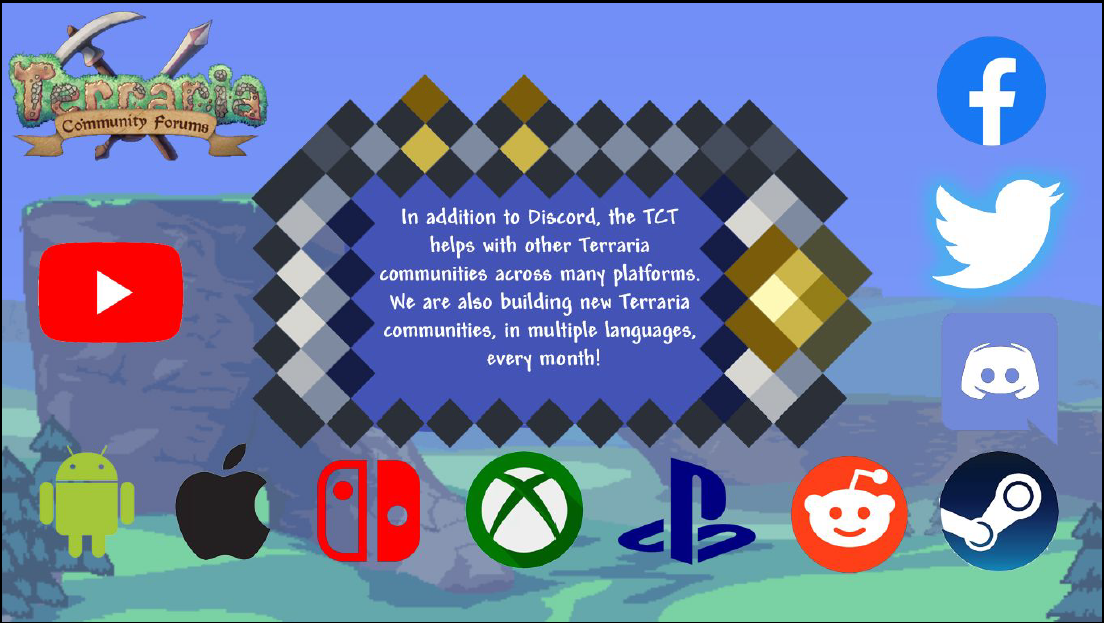 ​
Last edited: