Greetings, Terrarians!
For quite a few months I've been building an adventure map for the community. Today, I present you "The Hero's Quest", a single-player survival adventure.
Inspired by Zuazzer's map "Crim Fate" (check it out, it's honestly amazing), this map follows the feats of an adventurer who leaves his hometown to aid the Terrarian Kingdom in their fight against the Crimson, an evil entity that spreads through the lands, consuming everything on its path and leaving a trail of blood, chaos and death. Travel all the way from Oak Hills to Watercastle, fighting mobs and protecting the few friends you meet on your journey; learn about the crimson menace in the hope that, one day, you might defeat it.
This map should be friendly to players not so familiar with the Terrarian experience. If you are new to the game, try playing the map, you might pick up on quite a few tricks you can use on your playthroughs. Of course, feel free to tell me your thoughts on the map and what you think I could improve. Experienced players will go by with a certain ease (specially if they are good at finding secret Chests, that will supply them with better gear and potions
), but the map does have
challenge
.
I've played it a million times and I still die at some points
*Note that this map is also available in the Steam Workshop!!
Here are a few snapshots to spice your curiosity: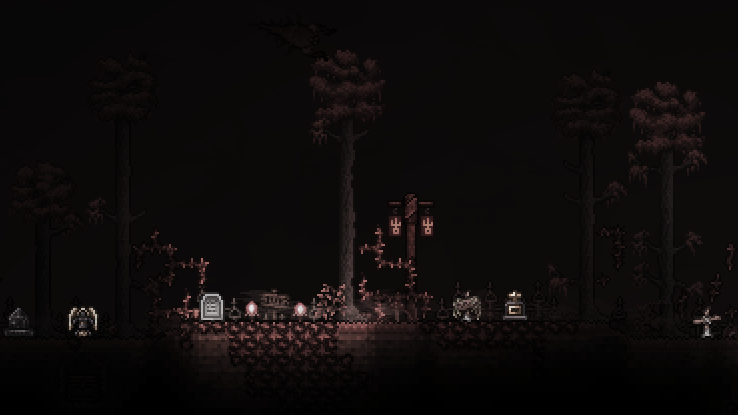 How to Download:
Download the attached "The_Hero's_Quest.wld" file;
Place said file in your Terraria worlds folder (
Documents > My Games > Terraria > Worlds
);
Find the world and enter it.
Rules:

Use a new, softcore character;
Do NOT break blocks or furniture, except sand from Antlions;
Do NOT build or craft (unless told otherwise);
Do NOT buy items from NPCs (unless told otherwise);
Do NOT loot mannequins, plates or item frames;
Do NOT mess with the delicate wiring;
ALWAYS follow the map's rules and instructions;
Note that this is a single-player map.
Have fun!!
Features:
A great, compelling story;
Amazing visuals and buildings;
An immense map to explore;
Very strong and creative use of wiring and circuitry;
An incredible soundtrack;
A steady and satisfying gear and boss progression;
Tips and tricks for new Terrarians;
Plenty of secrets to find;
Scoring system for secrets;
A little final prize for those who manage to find ALL secrets.
*Doesn't require any 3rd party programs or mods.
There aren't any Credits for this map - I worked pretty much alone - but there are people I want to thank:
I'd like to thank Zuazzer (who now goes by "RealSaucer") for allowing me to take inspiration in his map; the story would be a lot worse if it weren't for you and your map;
I'd like to thank ChippyGaming, HappyDays, Pedguin and FuryForged for introducing me to the Terrarian Adventure Maps and this amazing community of map makers;
At last but not least, I'd like to thank Khaios and BlueJayTGaming for helping me perfect my building to the excellence you'll experience in this map.
The map file should be attached to this comment.
I really hope you guys enjoy my map, I had a lot of fun building it. Please tell me your opinion and suggestions on the comments, as well as your score (the number of diamonds you've found). If you did like the map, please consider sharing it to your closest Terrarians, it would help so much.
If you spot any mistakes, bugs or glitches, or anything, please tell me, I'll correct it and send the updated version.
If there's enough demand, I will translate the map to Brazilian Portuguese (which is the only other language I know, unfortunately). If you'd like to translate this map to other languages, feel free to do it, but credit my work if you do so.
Thanks for the attention, I wish you all a nice day!
StipulateVenus
.
MAP CHANGELOG:
v. 1.0.2.: Made the B.L.I.S.S. section a lot easier. Added a couple light pets.
v. 1.0.3.: There we go.
Fixed the message for the Amber Mosquito secret;
Fixed "Slime Slaughter"'s summoner reward not working;
Added a few references to Chippy's video, "The Hero's Quest Part 1";
Changed the Mayor's House secret description and added a... note inside;
Added better lighting to the Geology Labs' area;
Made B.L.I.S.S. a bit easier;
Put a few warnings about certain map details;
Fixed the second question in the Trial of Wisdom (the first verse - which is very important - wouldn't show up);
Fixed not being able to escape the water in the final fight arena;
Added a few helpful notes;
Improved the King Slime's arena (more rope);
Added a few tips regarding rope throwing and the cell phone;
*Changed the Clothier's name to James;
*Added some James the Clothier backstory;
Removed the sign about the pit in the Bunker - you shouldn't find flippers so easily.
v. 1.0.4.: Fixed the Dryad's name not matching her name in the dialogue;
Changed the Trial of Wisdom, question number 3; should be easier now.
v. 1.4.2.: 1.4 Overhaul! There's a lot of stuff added, and I think I'll leave it to you all to find out.
Last edited: