In a long time ago, I was arguing about how many weapons and items were dropped from enemies instead of crafted.
At one point, I said
"Someone could play through the whole game using only looted items"
. And from that moment, I was wondering if it's possible to do so.
I've attempted this one back in 2016, But I stopped after the Wall of Flesh, seeing that as the ending goal.
But this challenge keeps sticking to me, because It's still one of the things I want to try out completely before 1.3.6 hits.
And so, this playthrough of madness has started once again.
Progressing is mainly based on items from chests or dropped items, so other sources to gain items have to be restricted:
-
Start the game without your starting tools.
-
Crafting stations are not allowed, only items crafted by hand.
-
NPC shopping isn't allowed.
The rules sounds simple at first, but as you'll notice later, these first rules are branching into many other restrictions that's making this playthrough quite an unique challenge on it's own.
-
Can't buy a bug net, so you cannot fish.
-
Can't buy a Tinkerer Workshop, so you cannot combine accessories. (Combining accessoires also counts as crafting)
-
Pickaxes and axes are only available as rare drops, so you cannot mine blocks easily.
-
The only way to break blocks is by using bombs, so bomb management has to be done carefully.
-
Bombs however can't destroy chests, so all your chest management is depending on their generated location.
-
Can't craft armor, and dropped armor pieces are limited to pre-hardmode.
-
Cannot craft PM-/FM-, buy DD2- or catch Duke Fishron Summons.
-
Crafting by hand is allowed. Because usually these are secondairy options to use items too. (Rope Coil, Sticky bombs) and allows you to craft some items that are simply neccesary (Torches, platforms). Without handcrafting. You also can't make mana stars. So that's one exception I want to keep.
-
NPC's other options (Reforge/Heal) could be allowed. But I rather prefer to see if I can go without them. No reforge also makes accessory management more interesting.
-
since NPCs secondary abilities are disabled. I'll also will avoid housings so these don't have to be abused.
With all these restrictions, the game has turned into a challenging, if not rather tedious, randomized metroidvania.
And there likely are chances that makes it impossible to progress any further.
But I like to see how far I can get with this, at least for seeking out the point where I cannot progress further.
At first I had only intended to keep this a personal run.
But since I've passed my previous WoF milestone again, I've decided that it's worth posting the progress on the forums.
Difficulity: Softcore + Normal World
Size: Medium (for more chest and space to generate)
Evil: Random
Already at the beginning are the effects of this run noticeable.
You start with nothing at all, and while the trees and lead ore are just asking to be chopped down and mined up, you have to leave them there.
Not even the slimes or pots can be destroyed, so you're even limited on gaining resources.
So the first goal is to find one of the many chests sprayed around.
Some are easy, and others require a risk in the darkness:
But that dark risk is just for a short while, because it contained torches and a Wand of Sparking!
Certainely great loot to start with.
Though, on the surface you'll also have to deal with roadblocks that were otherwise never a deal:
That creates the big risk in this challenge, chances are possible for this run to be impossible.
And from the looks of things, the choices to go are already limited:
Yet at the same time, it also makes the run interesting, because it's really about discovery and seeking to get past the impossible. Like a metroidvania game that doesn't know the right path either.
And I would like to know how far I can get with this.
Currently the caves were too dangerous to explore with the current equipment, all possible options left is to cross the desert. Which I've managed to do with the use of ropes. (Even while these Antlion Swarmers are so annoying)
So I went crossing the desert, even the corruption with some ropes and precise jumps, all the way to find my first cabin in the underground jungle.
I...didn't expected that this had to be my first cabin out of everything...simply because there wesn't any other option left.
However, now that I've found a double jump and bombs, new paths can open up again.
I've wanted to take the chest with me by using a bomb...untill I realised that not even empty chests can be blown up...
Which means that all my chest management has to depend on their generated location...Now I understand again why this quest was so tedious:
Anyhow, with the bombs, I can blow up the tree and progress to the snow biome!
*Zelda Fanfare plays*
Sadly, there weren't any surface caves in the snow biome. So I've attempted to get there through my first cave instead.
I could progress futher thanks to the Cloud in a Bottle preventing fall damage, and found Marble biome instead, it also contained my first heart crystal. Which was great.
Though for every heart crystal, a bomb had to be sacrificed. But I find that worth the extra survivability:
Travelled back home afterwards.
I've decided to use the first chest I found as my main location to store items.
So far so good. My main weapons are only a Wand of Sparking and a Wooden Boomerang, which is just enough to fend off one enemy at a time.
I'm also getting my hand on several shurikens and throwing knives, which I'll save up for fighting bosses.
The progress on the map seems to be doing fine, there's plenty of space I can explore now:
The current goal is to find some better equipment. So I went exploring both edges of the map to reach the underwater chests. And went through the caves once again to find more Gold Chests.
While travelling accross the Jungle, I did found some interesting generation, a surface granite biome:
It wasn't possible for me to get accross that, but the Water Chest in the screenshot did had Flippers, so I wasn't all that disappointed.
In the caves I've used the wire of a dart trap with a Viking Statue, to farm slowly for the Viking Helmet. Every bit of defence is acceptable.
I didn't manage to get one in one session. It's still difficult to defeat them with only a toy boomerang. So I did some caving, as I had some bombs to spare to reach greater depths.
It is annoying that you're both unable to create an ideal path, and unable to set a new spawn point, so every death feels pretty well. >.>
Regardless, the caving resulted in the Enchanted Boomerang and a Chain Knife. And after a while, the Viking Helmet dropped too from my Viking farm.
The Dungeon has also been located, and of course it had to be on the edge of the map...urgh.
Having a bed housing wouldn't be so bad in these situations, guess I've to live with it. Or at least Hermes Boots.
After night falls, I went testing my luck against the Eye of Cthulhu.
I've also found the Hermes Boots before the fight, which really helped me out the needed mobility.
With two jump bottles and Hermes Boots, mobility was certainely set, though only with 4 defence at max.
But hey, you don't have to worry about defence if nobody can hit you.
And appearantly, one layer of platforms and a few hundreds of Shurikens/Javelins I found were all I needed. So the EoC was defeated once again.
It's a good thing I saved up the ranged weapons for bosses. As they're the ones that are really limited as of now.
After this, I feel like I was ready for Skeletron as well, so the next day I also went preparing for Skeletron too. Using classic arena strategies:
Fun fact, If I placed one block wrong, I couldn't remove it without wasting a bomb, so the block/platform placement has to be done with some care.
And once again, shurikens + Enchanted Boomerang aiming at the hands, then the head. And Skeletron went down pretty quickly too.
I could have recorded them, but then again, fighting these bosses with shurikens is a common strategy, so I don't think it's that special you're missing out.
I came into realisation that the Dungeon might probably contain the last weapons I can loot before fighting the Wall of Flesh. So in that case it's better to get all the items I can get.
And..whoa, this dungeon is rich in dropped stuff! I earn so many bombs, torches, arrows and all the like in the dungeon chests.
At this point the secondary loot interests me more than the actual item., but regardless, the real loot were obtained too. Including the Water Bolt, Magic Missile, Cobalt Shield and Muramasa.
I really start to value these dungeon weapons a lot, knowing that I won't be able to find direct upgrades of them easily.
Though, sometimes I even find situations where I can't even open a door without blowing it up, nice generation:
The Magic Missile is such an amazing tool, and I wish I was able to use it in more runs, I only just make it's use so limited myself because I rarely do a mage playthrough.
And some other out-of-screenshot stuff happened to sum it up shortly:
- One Shadow Orb smashed to unlock the Goblin Army.
- Goblin Army appeared, but as they're dropping their own weakness, along with Water Bolt, they weren't much of a match either.
- Found the Goblin Tinkerer from the inside of an underground Cabin, since I havn't made any houses, he decided to make the cabin his own home.
Sadly, his Tinkerer Workshop is unavailable for obvious reasons. So it hurts to think I've to go without combined accesories either. Although that makes accessory management more interesting too.
His reforge
could
be of use. But I'll only use it when it's absolutely neccesary, and for that time been, he'll remain in this shack:
PS: Strong Muramasa rocks. \o/
Running dry on screenshots, so decided to pack them all together in one bunch.
After the adventure in the Dungeon and getting geared up, it's time to see what I can do in the Jungle.
The answer: Not much. Ivy Chests doesn't hold much of progression value: Bullets are limited, and Hermes Boots > Anklet, I did got my hand on some feral claws though.
The point of interests are the rare Ancient Cobalt Armor, which is probably my best bet to get some decent armor around.
And the drops from the Queen Bee, as some Bee weapons will help me out against the Wall of Flesh. Queen Bee isn't much of a challenge anymore after getting Dungeon weapons.
But then, after the first fight, an useful friend has appeared:
The Bee Mount!
So I actually have a partial set of wings now, that's really awesome!
With this kind of luck, I think it would be a waste if I will not try to pursue this further after pre-hardmode.
So here I've decided to do my best to get as far as I can.
Eventually, I've reached the underworld through my main tunnel, the extra bombs found in the dungeon chests really helped a lot!
It was quite with some fall-back and get-ups. it was no easy enviroment to travel (No pickaxe, hook, and Obsidian Skull), at least the Climbing Claws and Bee Mount helped me to get accross.
Using the Shadow Key, I could earn the stuff from the final generated chests. Which also have some great secondary loot available that you wouldn't expect.
And sometimes great loot can drop without needing a Shadow Key:
After the looting, I've decided to return home and prepare blocks and potions for the Wall of Flesh. Things go pretty fast when you don't need to mine Hellstone. heheh...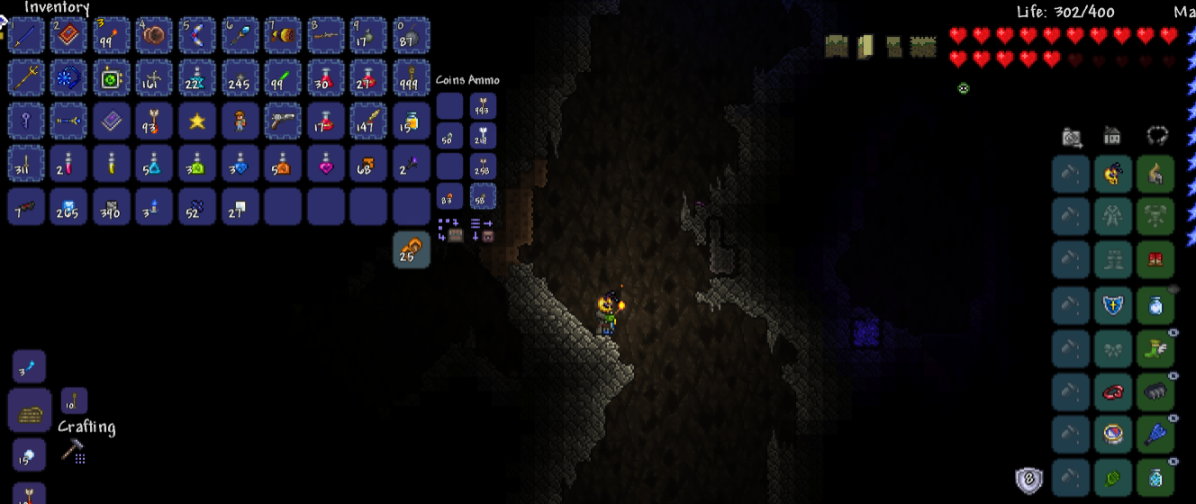 It still feels so odd to face the Wall of Flesh, and Hardmode afterwards, with mediocre dungeon weapons and uncombined accessories.
I've decided to look for more Shadow Chests, and managed to find a Dark Lance and Fire Rod at least.
There were moments if I should back to grind for an armor set at least. (And after looking back, I think I should have).
But I had a good feeling that I was prepared enough for this. Buff potions shouldn't be underestimated when stacking them all together.
And after placing carefully the blocks and bombing away the tower obstacles, the moment has arrived:
One Guide, One chance:
Last part the Wall of Flesh has been defeated. A short break followed, because I've already reached a milestone.
But I've started to wonder how far I can get in hardmode. And see if it's possible to go without ores or anvil...and all other restrictions.
So, first a little check what all happens in hardmode:
- Corruption and Hallow spreading, and unable to buy or craft counters against them.
- Hardmode Bosses spawning after breaking an altar.
- Unable to mine, craft and use any of the hardmode ores.
- Unable to craft or buy wings.
- Stronger enemies that'll pierce through your weak armor.
But, it's at the same time also the dawn of a new era: Lot's and lot's of loot to drop!
So that's the main motivation, many of the hardmode weapons and accessories are dropped now, including bosses, so it gives a proper way to progress through.
However, before we're able to fight these bosses, we need to find stronger weapons first.
And in order to get stronger weapons from strong enemies, you need to get stronger weapons from weaker enemies instead.
Good thing that the Wall of Flesh dropped a Laser Rifle, it really helps me to get through the first stretch, untill the Mana runs out.
So the first goal is to get the item that's otherwise infamous for it's high droprate: The Amarok.
So I've decided to use the surface snow biome and hope to get one early:
As you can tell from the gravestones, it was not an easy time. The Laser Rifle can only hold for so long, and after that, all I've left to defend is the Dark Lance. Which isn't going to help against these Ice Elementals. (Their ranged deals ~85 damage each hit!)
After some time, a Frost Staff dropped, and later a Damaged Amarok.
Finally been able to use the first yoyo, it'll be much easier to hold off against the enemies. With this I managed to snatch a FrostBrand from the Ice Mimic too.
With these 3 Ice weapons, I've attempted to get around the hardmode world a little bit more.
By chance, I managed to find a Hallowed Mimic in the underground:
By accident, I've discovered a way to cheese it underground, as it was stuck jumping out there below without passing through blocks.
I've tried to keep cheesing it with the Amarok, but it was difficult to do in the underground where all other enemies are lurking as well.
Illuminant Bats, Giant Bats and Fungi Bulb spores have caught me off-guard and the cheese attempt has failed.
Regardless, I did got a Blessed Apple though, and I think that's much
much
better of a reward! As it's horizontal speed and double jump outmatches the Hermes Boots by a landslide! Really glad to have some upgraded movement again.
Some minor items have dropped as well: A Beam Sword, A Marrow and a Magic Quiver.
I'll however still stick with melee and magic for now, as there's only a limited amount of ammo available.
And because Ranged is the best class in DPS at distance, it's safe to say I'll spare them for boss fights, when neccesary: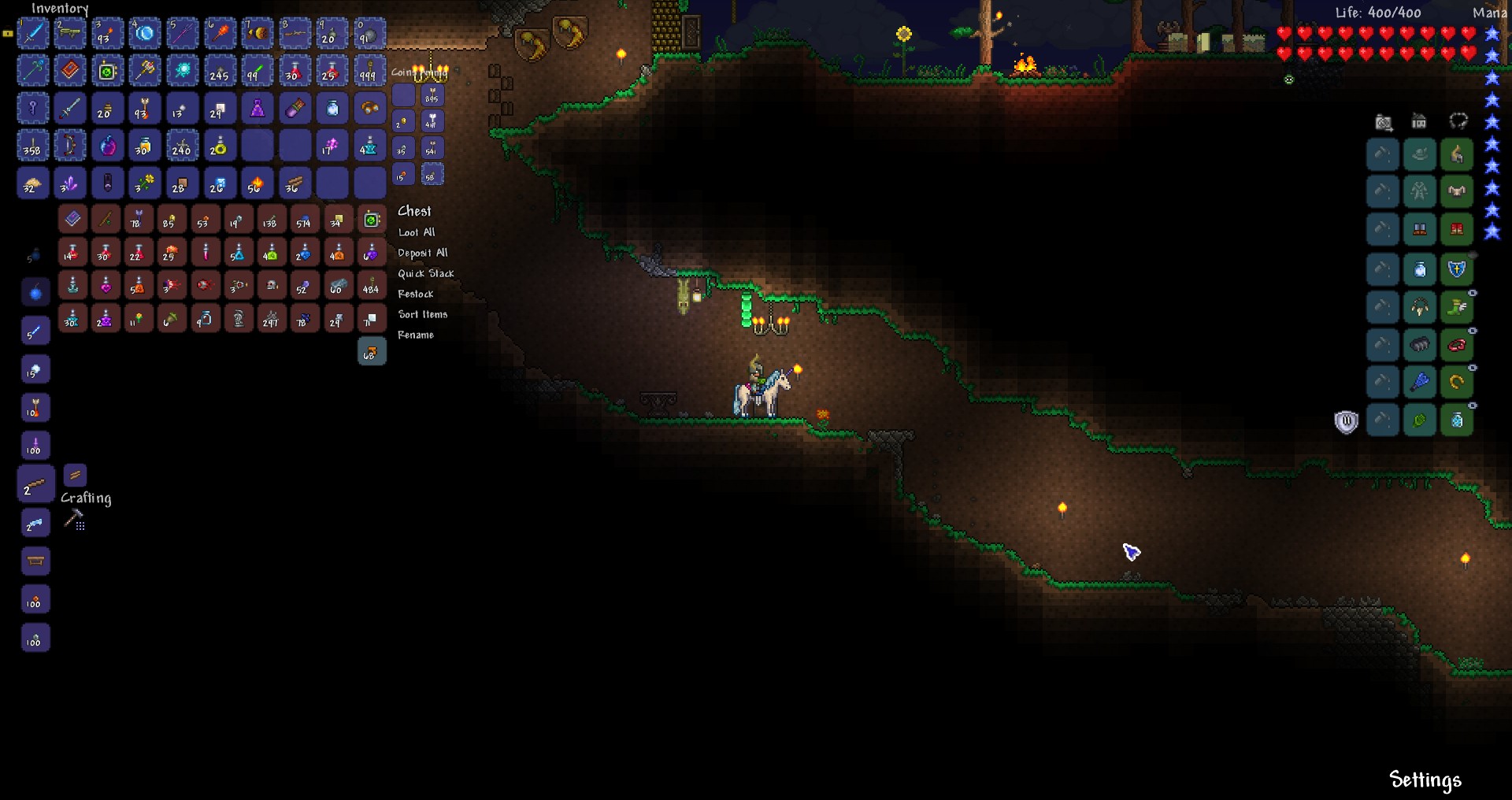 Overall, it's not a bad start. Plenty of Boss Summon items have dropped as well, so I could summon them when the time comes.
Good thing that Hardmode Bosses don't spawn on their own untill an altar is broken down, and since I won't be using the hardmode ores, I don't have a need to.
The main concern is the amount of items I'm holding on. Hardmode is offering so much items and I'll also get only more to keep from now on. I'll have to make proper use of the 4 surface chests that are located nearby the spawns. And then keep up some proper item management until I reached the Golem.
I'd like to believe that the Wall of Flesh was the only main issue that could end the run by an instant,
but there's another problem: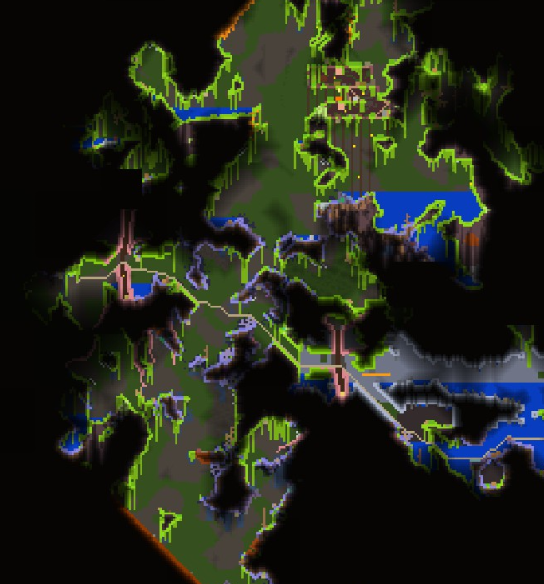 The corruption spawned inside the Jungle...I had hoped I could take the time, but with everytime I can progress, the available space to fight Plantera's only getting less.
So the Mechanical Bosses have to be defeated at all costs, and with some haste too.
Tactics are planned to aim for the Biome Mimics again, as they can hold some great weapons to take down the mechs.
Some tactics by a friend have been written down on paper to defeat the Destroyer using dirt pillars :v
So the hunt for greater loot has begun: Going underground to seek for Biome and normal mimics. And on the surface when it's raining, so the Nimbus Rod may drop.
Eventually, some common enemies may drop some rare loot too, but I can't make a proper farm, and don't want to waste the bombs for that.
Another Hallowed Mimic has been found nearby the same spot, so the same cheese method has been applied as well. This time it went down without too much interruption:
If it's only not for the Crystal Vile Shard...I'm not going to do much with just 20 magic damage...
Though, shortly after, I also found a new headgear, as if it was begging me to use the Vile Shard anyways:
It's kinda funny to have such a big variation of helmets to use. I see myself often switching between the Wizard Hat, Night Vision Helmet and the Viking Helm.
What's interesting is that the Biome Mimics drops Mana potions! So that way I'm able to use mana weapons for an extended period of time.
Though it'll still be somewhat limited like Ranged. It's at least renewable.
After returning to the surface, I've also remembered that the Pirates exist too. Which also hold some rare, yet useful weapons.
So while it was raining, I've headed towards the Ocean to start farming pirate maps.
Meanwhile, a King Slime spawned:
And got defeated: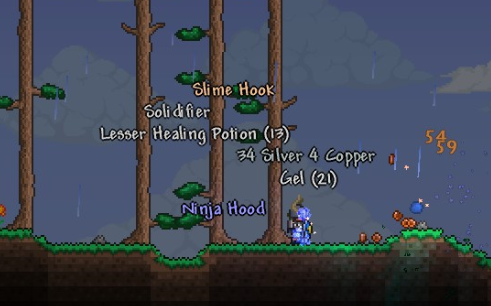 Which is good, as it dropped a Slime hook, my first grapple tool!
Really great to have this kind of movement finally available, after hardmode :v
So I've tried farming for the Pirate Map, and also for the Nimbus Rod.
Sadly, neither of them dropped. and it's starting to take too long.
I started to wonder if I should smash an altar, so that Pirates can also spawn on their own.
But it's really doubtful as it will also enable the Mechanical Bosses.
To make things a little bit less risky, I've decided to build an arena with the remaining blocks spared from the Wall of Flesh fight:
It's one ugly mess, but I think it gives me enough confidence to work it out. I got the Unicorn mount to make great use of the flat surface.
And to end this chapter, the Seal of the mechanical Bosses have been broken:
Ironically, I decided to only break a single altar so it won't spawn any more ores I can't bomb through.
It's for what you call a "Blessing".
The grind to Pirate Maps has started once again!
Minutes were passed, minutes that felt like hours.
In the meantime Strategies have been theorised to deal with the Pirates.
One example was to build a house on the beach, so an NPC can spawn there, so I can fight pirates while farming pirate maps.
But that's excluded as I want to avoid breaking the no-housing rule. (Which isn't part of the challenge, but just want to see if I can live without)
So instead, a little open shed has been made to place the banners:
An idea from MiltVala is to farm for Arapaimas, as Jungle enemies are always spawning at a higher rate.
This sounds like a good idea, if I only had mud blocks. So for that to work, I had to pay the price of my bomb stack and a section of the jungle.
At least it could help me to prevent some jungle corruption too.
So I went to the jungle to bomb some mud blocks. But then I saw something interesting:
A Corrupt Mimic! I guess this shows how corrupt the Jungle already is.
I've attempted to lure it all the way towards the arena, and from that point, I've decided to stay out of it's reach using the unicorn:
It's a very good way to check if the arena is ready for it, and with great success:
A Dart Rifle dropped!
Finally my first gun that I can put into proper use. Because Cursed Darts are craftable by hand!
Time to reach towards the corrupted Jungle again, to bomb away mud and corruption, and ironically to stay in the corruption to farm some Cursed Flames.
It's such a cheap material to get quickly 100 stacks out of it. Really glad that I can finally put them into use.
In the meantime, I also found something else interesting:
A bomb statue! With this, my bomb supply becomes finally renewable!
From now on, I decided to go a little bit more reckless with my current stack of bombs. And have attempted to clean up some of the corruption.
We're saving nature by blowing it up

It was some hefty, but epic battle. I havn't had such a corruption battle since 1.1, the clentaminator has really saved things a lot.
Unfortunate, the effort is in vain, (Just like in 1.1) there's too much corruption and too less bombs to really clear it all out, so the best bet is to find a clean jungle and keep that safe against the corruption.
During the battle, something of interests has dropped too:
At long last, finally a helmet that's topping over all current helmets I'm using. With a whopping 5 defence. :v
Still gonna keep the Viking Helmet though, the looting theme fits pretty well with it.
After the long fight, I've decided to restock the bombs again by using my statue farm.
I've used the place wire from a dart trap to activate the statues.
With this, I could farm for both bombs and the Gladiator Armor.
(Gladiator Torso gives a whole 2 defence...wew)
In the meantime, the artifical Jungle was done, so I could farm for mobs with increased spawn rate.
...It's what you call a jungle though:
It was kinda funny that I'm both destroying and creating Jungles. At least I can always farm Jungle Enemies here when the Corruption gets too harsh.
Farming arapaimas was difficult, mostly just enough to keep up with one at a time, I still want to save the dart rifle as Cursed Flames aren't easy to obtain either.
The jungle started to grow bigger, Derplings, Angry Trappers and Tortoises wanted to join the pool party too. But I found a Diving Helmet shortly after, which helps me to only focus on the arapaima's. And after getting the Arapaima banner, it went much easier, and a Pirate Map dropped one after another.
With an inventory stuffed with all and everything, I think it was time to head of home...
....oh....
"Do you wanna have a bad time?"
This is my pre-battle equipment so far:
18 Defence, That is basically on-par with a set of Shadow Armor.
I've decided to save on the buff potions and Greater Healing potions, and decided to use this fight as a combat test to check if I'm ready for the mechs:
I didn't started recording at the beginning, as I thought it was only a combat test. But since the battle went better than I expected, I've decided to record it quickly mid-fight:
And as result...Skeletron Prime was defeated!
Weeeeew!
Wow...I have really underestimated the power of the Dart Rifle.
Guess it was because with the Dart Rifle's Cursed Darts, I was able to hit all parts at once.
And unlike most bosses, Skeletron becomes weaker nearing the end of the battle. That probably played a role too.
So, one mech down, two more to go. I feel motivated to try the other mechs again!
But first, I want to fight the pirates and get some of their loot:
First fight was a good try to see how to deal with them. The Dart Rifle allows some great crowd control as it acts like a North Pole.
I was difficult to move around because my arena exist mostly of blocks I can't pass through. And I had to keep stunlocking the Pirate Captain constantly before it could bullet rain me.
Despite the Dart Rifle, it was still too difficult to keep surviving, the amounts of deaths were close to an average Pumpkin Moon difficulity.
However...there was something that I found more interesting than any of the weapons:
They...drop...CHESTS!!
This felt amazing! I can finally have a decent storage of all my items!
And it was even a common drop too, so this has become more of a focus than the weapons.
Good Dang...There's such a sweet relief to finally been able to empty all my pockets. I had decided to decorate my home cave a little bit:
I never would have thought that inventory storage became a part of progression. But it really helps keeping things ordered so I can prepare things faster for the next adventure.
A huge tedious limitation has lifted off my shoulders and I'm ready to progress deeper in this run!
Proceeds to farm more pirates just for more storage
It was a huge relief to keep all my items in the chests.
After ordering them, I started to wonder where to go next...I havn't been doing this run for a month.
So my mind went a bit blank, am I already ready for the other mech bosses, or was I just lucky with Skeletron Prime?
Without knowing which is the next step, I've decided to grind some more Pirate Maps instead.
At least one Mech boss is down, so all things that had that requirement has been released.
Despite I got already a Cutlass, I still preferred the Frostbrand over it. It's projectile is really decent. And I found a setup that allowed me to fire projectiles underwhater while dealing with the surface enemies overhead.
And after some time, a Yelets
dropped. That's one of the benefits for defeating one Mech.
And while I was close by, I've visited the jungle to restock the Cursed Darts again.
It appears that you can handcraft the Stingers into Poison Darts too, so that adds to the ammo.
If I had a little bit of luck, I
might
be able to get the other ancient armor pieces too.
I was foolish to already enable hardmode before I had a full set, as only pre-hardmode enemies are dropping ancient armor.
So it's either gonna be a long run, or I'll save time and have to go without the full set. And with the corruption spreading, I think I'll rather prefer the latter.
Thankfully, not only bad luck appeared in the Jungle:
Amazing, the Magic Dagger in it's best form!
Remembering back from the Throwable Playthough, the Magic Dagger has carried me for a long time. So it's good to see I can see an use for it again.
And after a long farm, the
Nimbus Rod finally dropped too! I'm starting to feel set for the next mech bosses soon.
And to see if I can get the
Pirate Staff, I've decided to use up the other Pirate Invasions.
And, well, I got a Pirate Staff, but I also got something else...
...Hoooooly shiiiiiit...
I never expected to see this happening in a playthrough like this one. (This is my second Coin Gun ever...)
Well, I'm glad to see I finally got a machinegun with replenishable ammo. I also never expected I would get a rare item and can use it while progressing.
But...I don't know, seeing how rare this weapon is, it almost feels like cheating, isn't it? It would come over that you have to farm for a legendary weapon in order to progress. So I'll probably try progressing without needing it. And see if there are other alternates.
After a Werewolf night was over and obtaining the
Werewolf Charm, I've decided to leave it here.
No boss-slaying episode for now, just a slow progression into getting slightly stronger.
Looking forward to fight the next mech bosses though.
At this point, I'm not sure what's left to farm before fighting the mechs.
It's really difficult to decide what to aim for because the Corruption keeps growing in the jungle. So I don't have all the time to farm for it.
While thinking for a better strategy, I've decided to farm a bit in the underground Ice biome.
The pirate outfit really fits my character and this playthough, I'll probably keep that one for a while:
The coin gun
could
be useful, but it's too much of a hassle to do the coin management well. And so I prefer the Dart Rifle over it.
It's still a great minigun for stunlocking though.
Farming enemies have been much easier now that I've a minion and the Nimbus Clouds, it's still difficult to find a proper area as I lack any pickaxe.
I've also noticed that most of the hardmode dropped bows are all converting arrows.
Which would be useful if you only had Wooden, but not if you've merged them all into Jester Arrows. <_<
The Hellwing Bow does not convert non-wooden arrows. So I've tried to reach for that one.
Unfortunate, one path is completely blocked with a burning structure, and on top of that, there are also Red Devils now around to make it even more sour.
So that's not going to be an option for now, sadly. Better gonna keep the focus on the Stormbow instead.
After an attempt to farm for a while, but still getting nothing, I've decided to take a bet at progression and want to aim for the Twins next night.
At the same night, the Twins thought so the same:
Knowing the Twin's mobility is now greater than mine, I've decided to bring some buff potions.
It...was not as great as I had expected. Though I've almost taken down Spazmatism.
Though since I've near-maxed out the possibilities, I'm starting to see a limitation in progression now.
Maybe better luck next time.
The grind for
something
returned again. The downfall from the Twins was heavy, but it was a good check to see how well it went.
By crossing the desert, I've noticed the corruption has already spread through halfway, it was rather disappointing knowing that I can't do anything to prevent it.
...however, it does have it's uses:
For these unaware, Djinn's Curse is a vanity item that allows a pernament Featherfall buff when equipped on the legs.
Completely oblivious about what the use of these effects were, I had to compare if it was worthful to have a 'little' mobility over some defence.
But as it turns out, this item is doing
incredible!
In combination with the Unicorn, it's becoming an airplane that can take me almost to the edge of a medium map before touching the ground again.
It also allows slower and faster falling, and immumity to fall damage, this is honestly the best replacement for Wings that I'll be able to find, and perfect for a playthough like this! Maybe it's more of a Blessing after all.
Man...it just feels awkward that I've browsed through the list of all armors, to check if there are non-helmet pieces that can be useful.
And then an amazing item like this slips by because it's tagged as vanity. <.<
It was doubtful to decide whether I'll still use the Lucky Horsehoe, as it has a Warding Prefix, over some other defensive items like the Cobalt Shield.
I've even gone back to the Dungeon to seek if I could find an Cobalt Shield with a prefix. (I found an Arcane one).
But at the end, I've decided to go with both and swapped out the Sharktooth Necklace. Even though it's Menacing, I'll probably go better without.
And so, a second attempt has been made against the Twins:
So, with two mech bosses down, all that's left is the Destroyer.
There was quite an amount of doubt against him, as with the huge laser spam and my weak armor. I was afraid that it's going to be a pretty difficult one.
So I had thoughts to get a decent piercing weapon, I assumed the flame droppings from the cursed darts didn't pierce, so I had to look for a different one.
I already had a Nimbus Rod ready, but I don't want to rely entirely on that.
My classic preference is a bow with Jester's Arrows against the Destroyer. So I think once I have that, I would make a decent chance.
However, I realised something, why does all these looted bows convert ALL types of arrows?!
Well then...this leaves me little options for bows through the start of hardmode, so I've decided to find the Hellwing Bow again, as it only convert wooden arrows, and even into piercing bats.
Though, I forgot that the underworld has gotten quite dangerous after defeating one mech:
Oof...this has been quite a path with some downfalls, at least I did found a pretty spot to farm the whole underworld, if they only dropped something of use though.
I'll just make use of the Hallowed connection with it. Because it totally makes sense that they're dropping souls of light.
With the Unicorn I managed to escape them sometimes before they could catch up. I can't thank the mount more than enough.
There were also some other obstacles that I had to get through in some creative way:
Commonly crafted accessories would have otherwise been the easiest aquired, sadly that's not gonna happen in something like this.
After some time, I finally managed to get one...only to discover they'll do 20 damage each hit.
I think even with Jesters arrows, it would be too much of a waste to spend them through this bow, but I guess it could be worth the try nonetheless:
Sometime later, a Medusa statue was found, coincidentally, in a Marble Biome.
And I thought "Medusa = Medusa Head = Destroyer of Worms"
so I could use the statue back at my statue farm to get the head while I can also restock my bombs:
But since Medusa's drops are reduced from statues, time passes...a lot...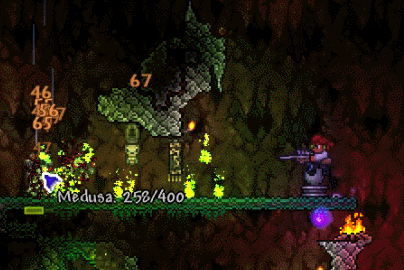 After I've gotten tired of it, I've decided to look up the chances.
Medusa's drops are suprisingly reduced to 1/20, and the drops already are 1%, this would make the chance only 1/2000...
...yeah, while this goes fast, I don't think this was worth the time hopping over and over again.
Suprisingly, I did got a
Pocket Mirror out of it pretty early, so that have helped me to make the farming much easier.
Another attempt was made in the underground Hallow, where Medusa spawns naturally, which was neat for some variation and to get some Hallow drops instead,
funny enough, this was also in the same area where I found the Medusa statue:
It was a decent farm, but not enough to get the Medusa Head quickly, so after another amount of time passes, I've gotten tired here too and returned home.
Night was coming once again, so to end the day with a bit of excitement, I've decided to give it a go with what I got:
So, as it turns out, the Cursed Darts flame droppings did pierce after all!
I should honestly stop searching for other weapons and main the Dart Rifle for as long as I can.
So, with all mech bosses down, the hardmode Jungle is ahead.
At first thought I thought that this was going to be an easy session, because I can skip the whole Chlorophyte mining part.
(Not really that that's a good thing...I'll probably be fine...)
But I forgot about something: There's only 1 Bulb in the early time after defeating Mechs. And it takes time to find more.
So I've been spending quite some time to find some bulbs, in the meantime I could also farm for either Jungle or Corruption loot as both are pretty close by. It would help getting either sets of Ancient Armors. So maybe the Corruption spreading through may not be all that bad.
The search went slow, really slow. Especially with my only mining tool been bombs, I had to save them up to get around the Jungle, because when they're emptied, I had to go through the long grind at the Bomb Statue again to get a decent stack again.
At least thanks to the Bomb Statue, I'm able to have my bombs renewable. And I start to wonder if this statue doesn't become too essential to manage through the Jungle well.
In that case, it's quite a blessing that I was able to find one. Even though it's pretty slow, it's still better than having no bombs at all.
So far the Jungle exploration has been done well, I managed to get some
Life Fruit and the
Ancient Cobalt Leggings.
Though, after putting on the Leggings, I havn't noticed that my Character felt so heavy...I've gotten too used to the featherfall effect that I can't live without them. Unless I manage to get some wings somehow.
So, the first session ended, and no bulb has been found yet.
I'm able to cycle all around the Lihzahrd temple by now, so I find that I've explored a big amount of the Jungle already:
View attachment 220976
Second Session:
A bulb has finally been found! I've decided to do a test fight for this one to see how much I felt ready.
There's little room between post-mech and pre-plantera to improve if there's no Chlorophyte available, so I basically have to fight Plantera with the same gear available as before mechs.
As I could have expected, I didn't won. But I am suprised that I almost got her health at half already.
So improvements had to be made. Since the bulb has been scattered, I either had to find another, or wait untill more will spawn.
I've noticed that one of the Post-Plantera events will make the pre-hardmode gear in the Dungeon harder available, so I've decided to go to the dungeon again to grind for my one and only bit of ranged armor:
View attachment 220978
That's 5 defence and 5% Ranged damage, boys.
It's something...
But it's powering up my Dart Rifle with a small amount of 2 damage, so any boost can be helpful.
And at the end of the day, the last bit of Jungle Armor dropped too:
Quite amazing how I got this drop, a beehive and a boulder falled down at the same time.
From the beehive spawned a normal Hornet, that instantly got squashed against the rolling Builder.
And then the last armor piece I needed dropped.
Amazing. :v
So that means I've now 3 more defence (over the long lasted Gladiator Torso),
and the ability to activate the Set bonus, a possibility to use magic items rises.
Gotta be honest, this is one of the most mixed builds I've ever worn:
Seriously, what is this?
Anyways, while I've tried to save the Jungle from the corruption, I actually didn't noticed how much of the surface got affected with it.
I...I have never noticed that because the center point was still pure, and I was unicorn flying over all of it untill I've reached the Jungle.
The center point and snow biome is all what remains of the pure surface:

Unfortunate, there's nothing I can do about it, been unable to buy the Clentaminator or craft Holy Water leaves me just to watch let it happen.
At least the Hallow is in the Snow biome, so it might protect the center biome too, if swarms of Gastropods is what you call protecting...
Oh well, at the positive side, more Corruption means more chances to get Ancient Shadow Armor...heh...
So, with the whole world slowly turning corrupt, there's not much I can do about the Jungle except beating Plantera before the jungle becomes too small.
I've started to realise that Plantera might be the biggest Climax of this playthrough, because it's the last possibility where a run could fail if there's too much corruption. Hopefully I'll be able to get through their second form...as that still remains in doubts.
In order to stay safe in the Jungle, a Cabin has turned into a personal fortress to stay safe.
This one is close to the edge of the Corrupted Jungle, to keep track of it's spreading and to farm for both biomes at the same time.
And another Cabin Fortress that's close to the open area where I fought Plantera the first time, looking at the map, this might probably be the best spot:
Sadly I'm not able to clean up the mess unless I've to use bombs for it.
Please don't use bombs when you have to clean your own room.
After some time grinding through the Jungle, and jumping one way to the other to get more bombs, something interesting dropped:
A jungle key! I think these Dungeon Chest Weapons can help me out in the Endgame too.
Good thing that they key was dropped, imagine that you had to earn a mold instead.
...Except that wouldn't be a problem either, because they're crafted by hand. The more you know.
Meanwhile a Plantera bulb was found, I've tried to trigger a fight again and lure it to the arena, but it appears that the Plantera didn't spawned...
It seems that Plantera will only spawn if the bulb was destroyed without going off-screen. I thought I could make a head start while I was using a bomb.
It's a bummer, but something to learn from next time.
Sometime later, another bulb was found, though it's a long trip away from the Arena, while also going through the Corruption, so I had to make some route strategies:

(With red been the current route, and Blue been the shortest route if I've to use bombs to create them)
I've decided to use the bombs to get quicker through the jungle.
I've also made up the open area into an arena, so it'll be easier to move around the next time.
Everything planned up and well, and ready to give Plantera another try.
...And then she despawned...
like...while one of her hooks was on screen, it just blatantly explodes:
Well...guess I didn't really had my day then. The find for a fight for Plantera will remain a mystery...
It's kind of funny that through all the grind for dropped items, I've basically an Ankh Charm already:
View attachment 221413
If I only could combine them though...
(And yes, 3 pocket mirrors while still no Medusa Head has dropped.)
I think at this moment, it's better to give the jungle some time to spawn more bulbs.
So while I was waiting for them, I've decided to pick up some other farms in the meantime.
The most notable one was the underground hallowed Ice biome, where I could farm for either Keys, a FrostBrand with better prefix, or a Frozen Turtle Shell.
View attachment 221415
This has been going since part 13 too. though untill now, something of interests have dropped:
Awesome, finally the
Frozen Turtle Shell!
This is probably going to be one of the more important accessories to have, as percentage damage reduction should amplify when having less defence. (A hit of 100 would absorb 25 damage, where a hit of 50 would just be ~12,5 absorbed. if I got the damage calculation right)
Sadly that it's arcane though, but I can live with that.
I wanted to continue the Ice Biome grind for a bit, untill something interesting happened:
Solar Eclipse, oh boy.
View attachment 221418
This was the first time I actually had to struggle while using the Dart Rifle, but after I've discovered which enemies where the most important to take down first, it started to get a little easier.
Certainely, Vampires were the most annoying, they're so fast that you can't outrun them, and they'll just fly after you when you finally manage.
Because all Mechs have been beaten, Mothron started to spawn too:
View attachment 221419
The fight wasn't easy, along with the vampires swarming around, but I was glad to see that I'm able to take down Mothron with my current gear.
Sadly, the Eclipse dropped nothing of interests, so it has only been a test of survival for me.
After I've convinced myself that the map will update when Plantera's Bulb spawned, I've decided to put my trust on that.
And it worked, it looks like Plantera's Bulb spawns right next to the arena, that's perfect!
View attachment 221420
...Almost too perfect, I havn't fought Plantera yet with my new gear to test my strength. so I've decided to leave that one there untill I know I'm strong enough.
Some time later, I've decided to use bombs to get past that mushroom biome I didn't saw the need to cross. I mean, how big is the chance that out of the entire area, that the bulb will spawn there?
View attachment 221421
...Big enough, appearantly.
So, I've decided to put my chances on Plantera with this bulb.
Maxing out everything, even using Featherfall potions so I could use the Ancient Cobalt Leggings instead. But saving on the other buffs.
The fight went really well, I almost got her too! But I went too cocky at the end, and didn't survived at the last bit remaining:
View attachment 221422
It was...really frustrating, to be so close...
But, now I know I'm strong enough to beat her down!
So without much hestitation, I went back to the Jungle, prepared for everything again, removed the platforms on the edge to move around quicker,
and then broke the 'perfect' bulb for a rematch:
...and then I died again...
But the fight also felt, different from last time, it's like Plantera had prepared a trick to spam Spike Balls everywhere so I didn't had any place to go:
View attachment 221424
And so the perfect bulb was wasted...
But...I know now that the Spike Balls were a main problem.
So the Lava Bridge has been bombed up, even sacrificing a part of my cabin fortress a little bit...
Shortly after the Bridge has turned into platforms, I've discovered another bulb, another chance:
It's time to enter the Temple:
View attachment 222089
It wasn't an easy area to pass through, as traps like Spear Traps deal over 100 damage, and I was unable to dismantle the traps unless I've to spend bombs for that. And I rather wanted to save a Statue grind session again.
So things had to be done slow and carefully, Thankfully the Glowsticks, torches, blocks and Djinn's Curse helped me with it.
Though, it seems that the Lihzarhd wanted to prevent cheesing around:
View attachment 222092
Guess I'll have to use bombs here then.
The enemies themselves were not much of a thread, at least not for the Dart Rifle and Nimbus Rod.
So as safe as I was for the traps, so was I also for the enemies:
View attachment 222091
And in some cases, just a single mud block does enough:
View attachment 222090
Nerf mud blocks.
Sadly, I've noticed that crafting Solar Tablets requires a Mythril Anvil, and I only found one Solar Tablet in the temple.
So summoning the Eclipse is not as renewable as I thought to be. I guess I shouldn't rely on Mothron Wings too much.
Eventually, the Golem Arena was eventually reached.
As usual I've made the arena as flat as possible to cover all the pressure plates and unflat surface. (Why does the Lihzahrd construct it like that? must have been collapsed partially)
Normally, if I'm able to beat Plantera, then Golem is going to fall without a doubt.
But I have a preference to fight it without cheesing methods like platforms, as Golem is already easy enough.
An attempt against the Golem was made using the Dart Gun.
But I noticed that shooting overhead will also damage the head, which caused him to shoot lasers earlier than intended.
And I died...
It's noticeable that I need a more focussed weapon for this fight, thankfully I got a Jungle Key, so I decided to visit the Dungeon to find the Jungle Chest.
The Dart Rifle knows their limits in the Hardmode Dungeon, so I better hope to gain better weapons soon.
I've decided to search up the Jungle Chest on the map before entering, that way I could already make the route to the chest.
2 tries later, I eventually got it:
Quite a worthless prefix, but it'll do it's job. And it certainely does against these teleporting mages!
I could spend my time in the Dungeon to gain some items, but it won't be enough with just the Piranha Gun, so I decided to take down Golem first, and then farm in the Dungeon.
So, another attempt against the Golem was made, this time using the Piranha gun.
..and I died again...
Somehow, Medusa manages to spawn inside the temple, so I even have to worry about more than I thought.
View attachment 222093
Good dang, been Stunlocked by Medusa while getting hit by Golem's Arms is horrible.
Another attempt have been made while attempting to ignore Medusa, even sacrificing an Accessory slot just for the Pocket Mirror.
But once again I wasn't able to survive it, but at least managed to get it in it's second stage.
I think I'm underestimating Golem a lot. I never had to be properly prepared for a Golem fight before.
Not to forget that I actually have to walk the whole path through the temple again by every death. >.>
Attempt #4: Still no success, it's not like I'm not trying to.
It's actually starting to frustrate me. One of the Easiest bosses in the game is just blocking me to progress...out of everything that I've done in this run.
I guess i'm underestimating him a lot, but if I'm not able to beat Golem in this no-cheesing state, then how can I even stand up against the Celestials?
Endgame is starting to worry me...actually, this boss is starting to worry me.
No matter how much I've swapped out and how hard I've tried, there always was something happening that doesn't let me beat Golem on the normal way:
I've even tried autopause to swap out accessories when they're active. It's really troubling me that I need to micromanage more than 5 accessories just to breat hardmode's easiest boss:
The Medusa appearance is still the most annoying of all, even though she didn't appeared at all during Plantera's fight (safe from after defeat), while it's the same Marble biome.
It just looks that far away...I don't see any sense in it:
View attachment 222461
Regardless, out of frustration, I've decided to spend all my remaining bombs and Dynamite just to blow up all of the Marble Ceiling.
I guess saving all these Dynamite starts becoming worth after all:
View attachment 222462
A while later, there was only half of the Marble Biome remaining, that felt really statisfying:
View attachment 222465
And after watching back my previous fail, I start to notice that I'm too grounded, and that the Golem body is most of the time the causes of my deaths, because of it's reckless jumping and high damage.
I think I never saw that as a problem before because I had wings, So I finally start to notice the downside of the Featherfall effect over Wings: you can only ascend in the air again with double jumps. This was never been a problem in the open air. So it was the small space in the Golem Area all the time where I stayed too grounded.
So, with that in mind, I started to avoid the Golem's Body in it's 2nd form at all cost, and eventually, it happened:
It's over...finally...
Whatever's facing next, I'll have at least the surface space again to dodge well.
With the Golem finally fallen, the last lock of progression has been broken.
I personally like how much different equipment you can get at this tier: Pumpkin Moon, Frost Moon, Duke Fishron, Old One's Army T3, Martians, Endgame Armors,
All of them are in a pretty equal tier to prepare for the Celestial Event. Untill you'll eventually swap it all out for Celestial gear.
It's kinda ironic that even though most of these tier upgrades are actually drops, you're unable to even summon them because it requires crafting summons or buying a bug net. It's quite an unintended side effect that will impact my chances even in late-game. That's where my biggest doubt is if I'll ever defeat Moon Lord.
But I've not reached the limit yet, so in that case the run will continue.
At Golem's first defeat, it dropped the
Possessed Hatched, which truly is a headstart to have it easier in this mode.
It's direct and continious homing ability makes it one of my favorite weapons to use in the late-game.
And since the Dart Rifle and Piranha Gun was reaching their limit, It's really a blessing to have this weapon in my run now!
With this, I've been able to hold off much better in the dungeon, and so a grind session has started:
Current Equipment so far:
I've so far hold back to rematch the Golem, because I rather want to have a certain chance to beat him again.
I also started to notice how boring most of the offensive accessories actually are, most of them is just a stat/damage increase.
While most of the defensive accessories can add much more variety. So I think I'll start to make my build full defensive right now. Most of the offensive accessories requires combination anyways.
And at the end, after I wanted to rush back to the dungeon, my Unicorn accidently triggered the cultists:
Well, I guess the Cultist fight is gonna be worth a shot.
...it wasn't...
Probably died when he still had around 75% HP.
Even with the Djinn's Curse, I was too grounded to offer enough mobility to survive.
The options for that to improve is the UFO mount, but yeah...Martians are brutal.
I've returned back to the Golem to see if I'm able to grind it's content.
A certain someone had continiously suggested to use platforms from the start of the Golem fight. But I refused them as I've never needed to cheese to beat Golem.
But since I've beaten Golem in the traditional way, I've decided to try out the platforms regardless: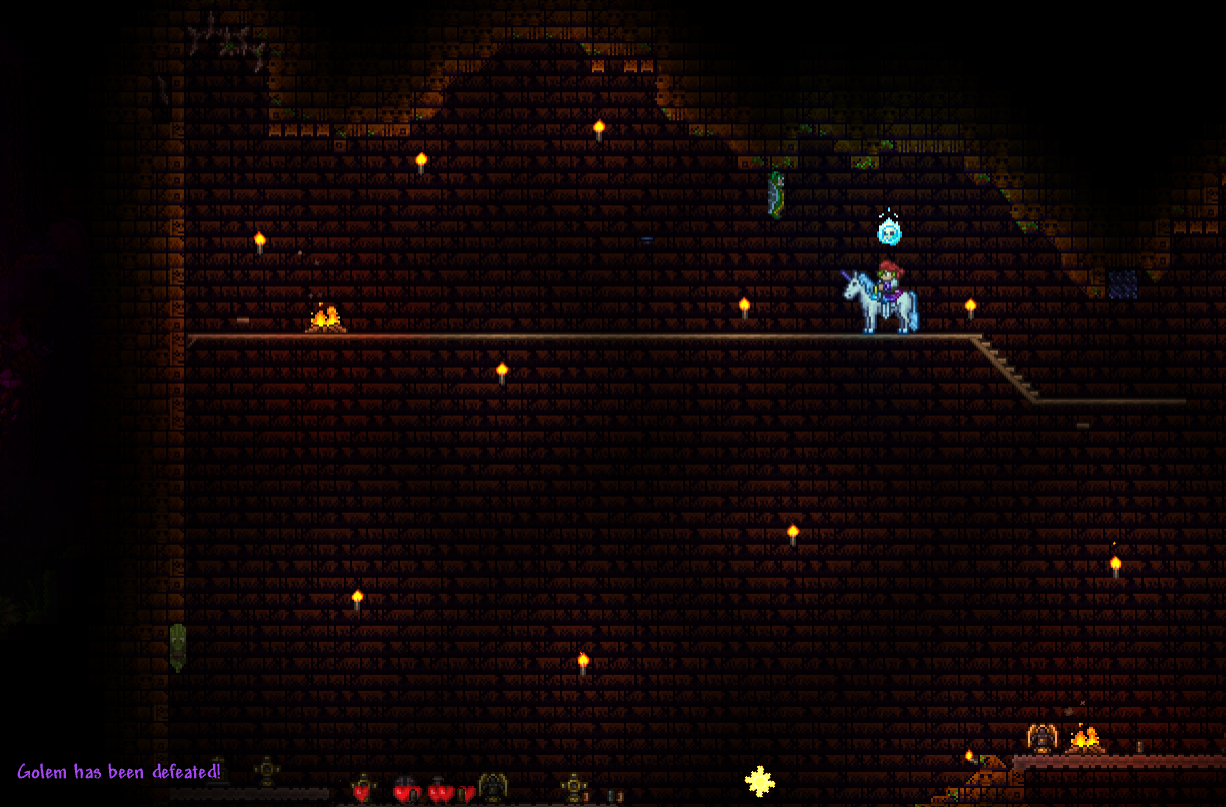 ...Wow, this really made the fight a lot easier.
Guess the madly hopping Golem Body really was the big problem after all.
The fight was still not trivial though, the lasers can do a decent damage if you're too careless. So I even had to swap out my Djinn's Curse with the Cobalt Leggings for that extra defence. Even though the Possessed Hatched was a better weapon for the head and hands, the Dart Rifle could still fullfill a last purpose to destoy Golem's second form.
And eventually, I managed to grind Golem for enough times to get the item I've wanted for a looong time:
A Pickaxe! Weeeeeew!
I have...yet to realise what's all possible by now, not only am I able to mine the temple, but I'm now able to mine
everything.
Another huge disability of the run is finally gone now, it's difficult to believe it's still legal after been all the time without.
I already went wild to rebuild the temple to my likings, to make the Golem farm and the summon grind much easier.
And after a while, I also got the
Sunstone. With both the Sun and Moon Stones, I basically have the effects of the Celestial Stone.
Though since I can't combine them, I still have to manually swap them out when the day/night time cycles.
With that, I got all items I needed from the Golem.
Back home, I started to feel the huuuuge benefit from the picksaw:
- I can finally pick up chests!!!
- I can place things down without a second thinking, cause I can easily remove them!
- I can remove gravestones!
- I can mine with precision!
- I don't need to farm/use bombs anymore!
Truly, a pickaxe may not be a need to clear the game, but it still feels invaluable.
And I wanted to get started on a bunker for the martians.
But then a Solar Eclipse happened...followed by a blood moon.
Oh well, at least I was able to get some decent loot from both events:
Death Sickle and
Money Trough obtained!
(And a Broken Eye of Cthulhu, which did less damage than the Kraken)
I think I'll leave the Martian preparation for a next time, but at least I'm able to go wild with my Picksaw and managed to decorate my cave a little bit, and due to the many chests recieved, I could clear up my inventory properly once again:
And the Dart Rifle has finally been archived. But even though it's been powered out, it'll still be remembered for how long it has carried me.
It's time to prepare for the true aliens.
Cause in places where you raid for aliens, in Terraria, aliens raid you.
To have a decent chance for mobility against Moon Lord, I'll have to get the UFO mount.
And to have a decent not-limited DPS against Moon Lord. The best I can go for is the Influx Waver.
So the Martians will be important to decide the fate of the run.
Starting off, it already feels amazing to have a picksaw (or pickaxe at all) in my hands.
I've made a floating alien bunker to protect myself from the Martian Saucer's attacks:
Floating Alien Bunker! Suited with a bed, clock, chest, and a ceiling to hang up all your martian banners. made with the most durable Lihzahrd bricks!
A floating rectangle bunker for all your defence against the most nasty aliens! Compact and effective!
(Prices not included)
Constuction aside, It was time to reach the high grounds and challenge these aliens.
Since I never had a need to revisit the sky islands again, I havn't even build anything towards them either, so it's been the first time in hardmode that I needed the Bee mount again to reach a floating islands. But afterwards I went literally jumping from island to island thanks to the airplane unicorn and spaaaace.
I even saw floating islands I havn't even discovered yet...I'm suprised I never went for the Starfury or the Shiny Red Balloon, and since I discovered the latter had warding, I start to regret it that I didn't found it sooner: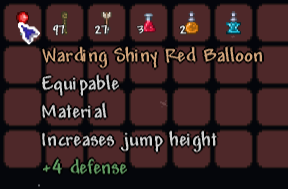 Afterwards, I went sitting for quite a while on the furthest island, waiting for the probe to spawn...
There we go!
Instantly back home, retreating to my Floating Alien Bunker right away. and figuring out how to deal with the martians untill a saucer spawns.
But it appears, I didn't need to think of a plan, the pirate minions were already doing that job right before me:
And dang, it keeps suprising me how much DPS they can do to grounded units. To even compete against Martains...over time.
Eventually, a saucer spawned, pretty early actually, way before the 50% progress. Oh well, the sooner the more, right?



The tactic was pretty simple, which I've used a lot since I learned about it.
I'll throw out the Possessed Hatched on either side of the door, and the homing ability did the rest.
Because of my Floating Alien Bunker(tm), I was able to resist all damage the saucer could do to me, aside from a stray rocket every now and then.
And since it worked in both phases. the Saucer was done for.
I found it funny how I was fighting the martians in 2 layers, the top one where my saucer fights the bunker, and the bottom one where the pirates were fighting the rest of them.
After several ufo fights, the great treasure started to drop:
Car keeeeyyy
The loot was not bad either, I also got a Xeno Staff, which means flying precise DPS! probably the best minion I can obtain too!
Another day, another grind session has begun.
Because of my preference to avoid NPC's secondairy options too, the only way to get better prefixes at items is to obtain them again.
It adds a twist to use other prefixes besides the most optimal ones. And in the early game cases, even decide to go with different accessories because of their prefix.
So I've farmed the Golem a few times to get a Superior Possessed Hatched, which will be close enough to Godly.
I can rather try to get the best out of the hatchet, since it'll probably be my last viable and homing weapon I'll obtain.
Suprisingly, I still can't take the Golem too lightly, as I'm getting smashed when I try to change my current strategy.
Eventually, after getting 4 picksaws already, farming for a prefix starts getting dull.
---
During the farming, I've thought about the chances against the Celestials:
- Ranged has limited, unrenewable ammo.
- Mages aren't effective to keep up without accessories.
- Summons have a low cap of 2.
- The only way to have potions renewable is with the rare chance of slimes obtaining them (And then daring to give a
mining potion
), so I can't rely too much on buffs either.
- So basically, Melee is my only decent option, with the best armor been one that only increases Melee Speed.
So yeah...The Influx Waver is quite my only hope.
Another option is to use the Coin Gun, since I saved up 15 platinum simply by not spending them. But since it's ammonution is difficult to manage. (picking up 1 coin messes up everything). I should rather save that up to possibly win a DPS race at the end.
---
Anyhow, after attempting some corruption grind for the Ancient Armor + Corruption Key, I decided to poke some Martians again.
Though, just for fun, I wanted to see how effective the Airplane Unicorn + Spaace really is:
I can explore all islands with high speed and slow falls. I love doing this. :Y
I actually forgot that I got an UFO mount now, Lol.
After some long grinding/waiting sessions, some good loot can eventually appear:
Finally found a Moon Charm with Warding, now I feel much more confident against Moon Lord. :v (kuch)
And after like, 10-15 minutes, another Martian Probe is found:
And the waiting finally started to pay off!
And there we have it, Finally a replacement for the FrostBrand, weew!
It's started off a little ironic, since I've actually never liked the Influx Waver for been a drop replacement of the Terra Blade.
But I've thought of it as a different way: It needs a sword from outer space/dimensions to overpower it. So that's fine to me.
The first plus point is that the Influx Waver is much less noicy than the FrostBrand. Though it's projectile doesn't scream power to me.
So, to put the sword at a test, I've tried beating Plantera with it.
...and it completely destroys her.
This really gives me the good expectations of the Sword. A good offense is the best defence.

Let's hope to see if it can last well against the Celestials.
The time has come, to unleash the 4 pillars on earth and defend your world from the destruction you've created.
The preparations are not done yet to the ultimate max, there are still some accessories remaining in the dungeon, better reforges to drop, and I could get Ancient Shadow Armor for use with the Influx Waver. However, all these things are just small benefits, and and these shouldn't matter much anymore in a large scale event like this.
So, this celestial fight will more be a test if I can make a decent chance against the Moon Lord. Otherwise, the run will end right there.
The last preparations have been made:
(Nasty Dart Rifle has returned the spot again \o/)
It's kinda funny how I barely have used the Influx Waver or UFO mount in all my playthroughs, and for this one I don't have much of an other choice.
I had to get through the first test: the Cultist.
Last time I couldn't manage it because I was too grounded to dodge his attack properly.
But with the UFO mount, I had enough air control do evade his attacks long enough.
The Influx Waver was too inaccurate for this fight, so I had to switch back to the Possessed Hatched again.
And after a while, the Lunatic Cultist was no more...The Towers have been released.
And now I've to bear the hefty rule of no-crafting-stations for a last time:
As for the Celestials, theoretically, if you can defeat at least 1 enemy and can at least inflict 1 damage to the pillar. Then you can beat the Celestial event.
Regardless of amount of deaths.
But that's not a reason to be reckless of course.
I've written my strategy down in short sentences for each pillar, to take notes for later fights.
And maybe they come of use for you too.
General:
Long Grinds for better prefixes/armor isn't gonna be worth anymore seeing the huge damage scaling of the next events.

I can better rely on the Frozen Turtle Shell, Cross Necklace and Black Belt to stay alive.

No buff potions/food will be used to save them up. Except Greater Healing Potions because the Golem is farmable.
After each death, I slowly regained my health back to 500 to still have the best chance to survive again.
I'm not counting the amount of deaths, so instead I'll be picking up the graves found around, these may or may not be accurate.
Solar Pillar:



Why does the Solar Pillar always ends in the snow biome for me? At least I could use the mob farm as an arena.
Preferred to stay on the edge, so I can avoid the invasion from swarming me.
Influx Waver is the best choice, it has a good protection against these fireballs, and doesn't reflect by Selenians.
Swapped out the Djinn's Curse for Ancient Cobalt Greaves and Cloud in a Bottle for Black Belt, I won't need the airtime anyways
Preferred Unicorn over UFO mount
Scrollers are super annoying.

Most attacks from all enemies are at least 50 damage each hit, where Scrollers does at least 100

Black Belt has saved lifes many times, certainely a keeper.
After the Shield was gone, decided to heal up and charge to the pillar while shooting Influx beams, gave me a great head start to beat down the pillar.
Influx Waver does also incredible to take down the pillar without the charge, it's single target DPS is amazing.
Grave Count: 3 (All from Scrollers)
Vortex Pillar:
Spawns at the Desert, could make good use of the desert pit to stall the enemies from approaching.
Night activated, so could use the werewolf charm for this. Defence is now up to 35!
Alien Hornets were quick to defeat and they should stay like that.
The Alien Hornet banner dropped already mid-fight, so made quickly a makeshift air-block to place the banner on.
Same Strategy used with the Solar Pillar once the Shield was down.
Shotguns and Alien goop are horrible
Grave Count: 3 (didn't survived the remaining aliens after the pillar was down)
Influx charges are beautiful to start the attack:

Nebula Pillar:
Spawned near the Corruptions, combining Brain Eaters with Soul Eaters is not a good sign.
Weapon switches between Influx Waver and Possessed Hatchet, these Brain floaters really have to be beaten fast.
I forgot about using the Xeno Staff, they were really helpful against these Brain Floaters.
Had to stay airtime so the Nebula Floaters and Headcrabs didn't get stuck in the ground.

Actually, Staying in the air will also prevent the ground enemies from interrupting. so that way I only had to deal with the brain floaters and eaters.

I kept making big circles around in the UFO mount helps to dodge most of their attacks.
Thought I was safe in the air to avoid the Nebula enemies, then got snapped by a Wyvern. rip
Death Count: ~3 (Couldn't be sure because the Corruption Chasms makes it difficult, still did quite well though)
There was also a fun discovery I found after the shield was down:
what if I just lined up with the Nebula pillar, out of all danger, and keep shooting projectiles at it?
Oh dang, it actually works! This way I've already won the fight at the moment the shield is down. Awesome!
And finally, the Stardust Pillar:
I managed to use the Stardust Cells trick with the Influx Waver without getting swarmed, and then used the offscreen kill trick.
Easiest pillar of all.
And that were the four Pillars, as long as enough care is taken, you can beat them down without a ridiculous amount of deaths.
Which is good, I guess, because I'll have to beat them each time again to summon Moon Lord...ough...
But now...for the impending doom...
I started recording at the moment before I defeated the final Pillar. The battle starts at 1:22
To be fair, I didn't expected that I survived for this long. :v
I still had to get used to the UFO mount and had yet to decide which weapon performs better.
I do manage to dodge the big laser thanks to the UFO mount, But there's also a lot of small fast projectiles that are more difficult to dodge.
And I've made some mistakes in preparation, because of the fall damage. >.>
Though, even with the Influx Waver, I didn't really saw a significiant damage on Moon Lord. And since I'm almost at the maximum, I doubt about the possibilities.
As if the chances aren't straight zero yet, because the Three True EoC's hurts a
lot
in the second stage.
I'm not sure whether it's gonna be worth the remaining grind and rematch, I could try to go for better prefixes and Ancient Shadow Armor, but I would need a significiant change in strategy to make it possible.
...Should I use the Nurse? I find that too cheap to use as that makes the fight too much of a cheesecake.
Especially since I've never needed the NPC's beforehand. I would rather prefer to go without if that's going to be possible. But it's something to consider.
Before further progressing, I've rewatched the video back several times to check and see where things went wrong.
I think as for survivability, I'm probably set enough, and there are barely any other choices left.
Maybe I could swap out accessories, but it's a very doubtful and competitive choice between them:
I'll probably swap out the Moon Charm with the Philosopher's Stone, Because the slight armor and melee buff will probably not make it up.
I know I could also just swap to Phil's Stone when I need it, but I don't like this form of micro-management while in the heat of the battle, and will end up forgetting about it.
Maybe the autopause might help on it? As long as I'm not using a weapon at the moment I pause (Because that locks your inventory).
While sitting with these thoughts, I decided to grind the Dungeon for a bit.
The dungeon farm is doing great:
And an upgrade to the Cobalt Shield drops:
+5 defence, it's an upgrade at least. :v
I also got a Sniper Rifle, and good dang, that weapon is loaded:
This damage, for a non-ranger build, is really impressive.
It looks like they've
really
buffed the weapon up since 1.3, it might actually be a decent DPS puller while saving on the budget bullets.
Would it still be a viable weapon against Moon Lord? With the lack of autofire, probably not though.
A martian grind also happened, in hope to get a Influx Waver with a better prefix.
But after another raid, I noticed that none of the Martian Saucer drops had a prefix.
after a check on the wiki, it seems that all the Martian drops will have no prefix at all...
That was the last drop, I've been done with all the extra grind for accessories with better prefixes.
So I've decided to break my additional 'no reforge' rule.
To be fair, to have managed to play through the whole game without needing the Goblin Tinkerer was already quite the road on it's own. And I've enjoyed it while it lasted.
But now that I'm reaching endgame and have to get the strongest I can be, I rather want to reforge the current items and be done with it.
...The Goblin is still alive in the shack where I found him, suprisingly.
Imagine just doing nothing in this dim cave for the rest of the game, the message hits hard:
The road to a Legendary prefix reminds me of the 'normal' playthroughs again. Imagine if every 'tink' took one Martian Saucer to beat.
...yeah, I'm glad that I let myself use reforges now:
Untill eventually, it happened:
It kinda feels like the "Legendary Blacksmith" TV Trope. Existing just to forge the ultimate weapon to beat the final boss.
I've also decided to reforge my current accessories: 4x Warding and 1x Menacing.
This has blasted me through the platinum coins that I had saved the whole run, so a Coin Gun strategy seems to be unlikely now. I think this would've been a better place to spend the money on.
Later on, I also found a Frozen Key! And decided to loot the Frozen Chest:
...This chest though, 10/10:
...11/10
What was in mind with the people that made the chest?!...good thing I've allowed reforges now.
And so, more preparations have been set, all that's left to improve are the really rare drops, and I wonder if these are going to be worth it:
It's been a while since I've progressed in the pure loot playthrough again, I even almost forgot about the restrictions.
So to get a little used to it. I've decided to farm in the corruption again.
The Corruption holds still some value to collect, mostly the Ancient Shadow Armor, which I could use for 2 extra defence and more velocity for the Influx Waver.
And secondly, for the Corruption Key, having another strong homing weapon to your arsenal might help to grind through the Celestials.
And so, the farming has started:
Ancient Shadow Armor is pretty rare, along that Eater of Souls spawn less in Hardmode.
So I've decided to try out an autofarm for the first time since 1.2, by leaving the game running, and using my ufo minion to do the farming.
I think in like 20 minutes, the first piece of Shadow Armor started to drop, and things started to look hopeful:

But then Terraria crashed when I wanted to switch monitors.
Feared of data loss, or even corruption, I've tried to open it up again.
Autosave was not turned on, so all the progress of the session was lost.
It was kind of a bummer, especially that I lost a shadow piece again, but I've made another farm and went for it again:
And well, things started to look brighter:
And after like 3 hours of semi-autofarming, (semi because of the tons of deaths and repositioning again), the Corruption Key and the full Ancient Shadow Armor was obtained:
It's just a small bonus, but at least the armor saves out on a Feral Claws accessory, and the increase in Velocity with 21% is pretty noticeable.
So the changes to at least hit Moon Lord have increased with 20%, where the changes of surviving it's attack is like...increased by 0,5%.
It's farming for what's worth, This is the best armor that I'm going to get. I start to feel bad that the Frost Armor isn't dropped anymore.
At the very least, it could've ended worse, like data corruption, so the run can still go on.
So, with the reforges and a new armor, I should be ready for a new try against Moon Lord.
But at least, I want to prepare for the most required, most useful, and most rare item to obtain: The Rod of Discord
Thus, my previous Medusa Farm has been improved to grind for hallowed enemies as well:
Though, I think there can be some improvements here and there...
So slowly, the farm was altered and improved slightly while I was also fending off Chaos Elementals.
At one point, a Solar Eclipse happened again, so I hoped for another chance.
And that chance happened:
And it happened another time!
2 Mothron Wings right after each other, that's awesome!!
Though, to be fair, after the Djinn's Curse, I really didn't missed out on the Wings anymore. And both have their good and bad uses.
I even started to compare both of the flight accessoires, which still makes them doubtful to use for the ideal situation.
Maybe at the end, I'm still going for the Cosmic Car Key, which kinda makes both accessoires irrelavant. Lol
Still short in quite some buff potions, I hoped that the standard ones were renewable from slimes, but it appears that the only combat buff that slimes drops are the Ironskin Potion. Which leaves me with only one Lifeforce, and one Regeneration. Perhaps in that case I can better try to not rely on the non-renewable buffs at all.
Perhaps I should give the Celestials another shot with the current gear, with new armor, weapons and reforges, It'll probably make the event easier to handle.
Before I'm going to spend another 3 hours on sitting in the underground hallow, I wanted to try my chances first against Moon Lord again:
In short: I died.
However, I've at least managed to get one of his hands at half health, So perhaps I'm already set for damage, as long as I can stay alive.
View attachment 228622
One of the biggest damage dealers were of course the Big Beam of Destruction. I could attempt to get around the eye to avoid it, but that's a pretty tight window:
View attachment 228623
So with other words, I'll
need
the Rod of Discord, and thus the grind continuous.
I've decided to make a new farm away from the Marble Biome, perhaps that way more hallowed enemies will spawn.
The hallow biome was a decent farm though, and this took a long while to set up without having enemies to spawn elsewhere.
The farm was slowly improving while I was waiting:
View attachment 228624
And some ridiculous luck happened:
View attachment 228625
Eventually, it start becoming to bore me so I've been trying again to set an autofarm, using the Star Cloak and Beehive.
(I even went picking up my 3DS again because Steam doesn't allow me to play other Steam games while Terraria is running.)
View attachment 228626
Too bad, the autofarm didn't worked, because I learned that the dropped coins counts as an item too for the max item drop count, and already have seen a Magic Quiver and Beam Sword despawning. So I either had to work for a lava trap (without buckets!) or have to keep paying attention at the screen.
Thankfully, at the moment I was still busy deciding, the grind was already over:
View attachment 228627
View attachment 228631
AWW YEAHHH!!!
This was the first and, hopefully, the last time I've had to make a dedicated RoD farm for a single playthrough. Because man, this was not fun to do...
View attachment 228628
View attachment 228629
I think I should consider myself lucky that the RoD dropped just over the average amount of 500, it could've also been twice or thrice as much.
Too bad that most of my grind chests that's stuffed with loot kinda just stays there. never going to be picked up again.
It's not that relevant to pick up since I'll usually start a new playthrough anyways:
View attachment 228630
A new day, a new attempt.
I formerly said that it would've taken too long to get all the extra rare items just for the final boss, and now I'm bulking with full Shadow Armor, the Scourge of the Corruptor, Mothron's Wings and even the Rod of Discord.
Along with all the Dungeon Chest weapons and the Coin Gun to an extend. The possibilities in equipment have now pretty much maxed out:
View attachment 228809
And now it's finally time to test my chances and face the Moon Lord.
As for the situation of the Celestials, I still had to be aware of the enemies, but overall the fight went easier without any deaths. it really helped that I only have to fight them on the edges of their territory.
I've also decided to place down 'banner camps' nearby the Pillar region's edges, and further duplicates remain in the box.
Perhaps it's also the banners that helps me a lot to make the Celestials easier:
View attachment 228813
So the Celesials have become less of a problem, the only problem I however have is that I've to go through them everytime when I try to face Moon Lord.
And oof...Even with the Rod of Discord, making a mistake still hurts a ton.
Oh boy, time to spend another 20 minutes to fight Celestials...
View attachment 228804
View attachment 228805
It's clear that even with the best chances available, I can't keep it up without the Nurse. So I've decided to break the no-housing rule and decided to make housings with the stuff available.
Some rooms like the Skyward chambers were already directly available by just placing down a torch, free widespace bungalows with a great view on everything!
I could use the Golden Furniture I got from the Pirates as furniture, and the Wooden walls were obtained from the cabins generated underground, they look pretty clean without:
View attachment 228815
I wanted to keep the NPC's found nearby their own cabin though, I think they've found a pretty neat spot by then:
View attachment 228814
View attachment 228816
Eventually, the Nurse moved in as well, and been the savior of this playthrough, I've decided to give her a little prettier house, with the stuff I had:
View attachment 228810
With everything set up, I've decided to take my chances again:
View attachment 228807
View attachment 228811
...

Who would've thought, the Nurse is not giving you a free ticket to victory.
I've also been juggling with strategies for a while too, from staying in one spot with dirt ceiling, to swinging around with the anti gravity hook, to jumping far and fast as possible with the unicorn plane.
I think the UFO mount is likely the safest choice, since I don't have to worry about jumping height, falling down and can dodge in any direction.
I still need more practise with both the UFO mount and Influx Waver though, as I've barely used any of them in my Terraria Playthroughs.
But, this playthrough is mentally getting too much...
For each Moon Lord try, I've to go through all Celestials again, spending around 20-25 minutes, and then have to remember what I forgot last Moon Lord fight, then having to wait untill it's nighttime to become werewolf for the ideal moment.
I've already farmed for so long for every item and even have obtained every Biome Key twice already.
View attachment 228812
Bosses are designed to be beaten, but if I'm limitating myself to this rate, I'm not even sure what the chances are myself.
It's somewhat stupid to break the major no-crafting rule at the very end. losing the 'pure loot' status.
But at this point, I just want to see if it's possible.
So just for this one exception:
View attachment 228817
x 5
5 direct bonus tries, let's go...
It has been done...
After having to endure the pressure for 20 minutes, Moon Lord has been defeated, and this run is completed.
I'm honestly suprised I've actually managed this run as whole, due to it's bizarre limitations, I've only set the run to see how far I could get.
But it was amazing, it's been a very unique playthrough that kept the difficulity at every section of the game.
There were parts that I disliked though, some of them been that the spawn was always on the starting point, and the long trips to get back to the jungle/dungeon without hermes boots. So perhaps I shouldn't have restricted myself to build housings.
The part that I disliked the most was actually that this whole run was basically based on the parts that I disliked the most: the RNG drops.
Of all the suggestions I've made or supported to make random drops craftable to reduce the grind. I actually had to grind basically every section of the game.
Perhaps this left me burnt out on Terraria by now. I'm not looking forward to do any of these grind sessions again in a different playthrough.
But I loved the moment of progressing, as every time, I felt uncertain if it was possible to manage. And then you're managing it.
Thanks for everyone that was following this playthrough, and see ya another time.
More progress will be posted later on.
Last edited: