Consigliere
Staff member
Re-Logic
Administrator
WHAT WAS OLD IS MADE NEW AGAIN - REVISITING THE TERRARIA EXPERIENCE
​
Happy Monday, Terrarians and welcome to a fresh week on the road to Journey's End!
To kick off the week in style, we wanted to share one of the more impactful - but often unappreciated - aspects of Journey's End. On top of all of the shiny new content and features, the team has spent countless hours giving the entire game a thorough review across the spectrum of Balance and Aesthetics. The truth is that over time, as updates have released, some content felt "left behind", imbalanced, or it didn't feel quite "right" any more. So, we took on the arduous task of giving those things a makeover. Today's Journey's End feature article touches the surface of these efforts - read on to learn more!

FULL REBALANCE PASS ON ENEMIES AND ITEMS
​
As a part of Journey's End, the team examined and re-examined the balance of the content in the game. From start to finish, no stone was left unturned and no gear left unaccounted for. In the end, what remains is a full rebalancing of the game from top to bottom. Stats have changed, functionality has changed. There is no better time to start a fresh playthrough and experience the new Terraria for the first time! Want some more examples? Sure you do!
ENEMY & BOSS REBALANCE
Our friend the Golem has some new surprises in store for you
King Slime has learned how to climb ropes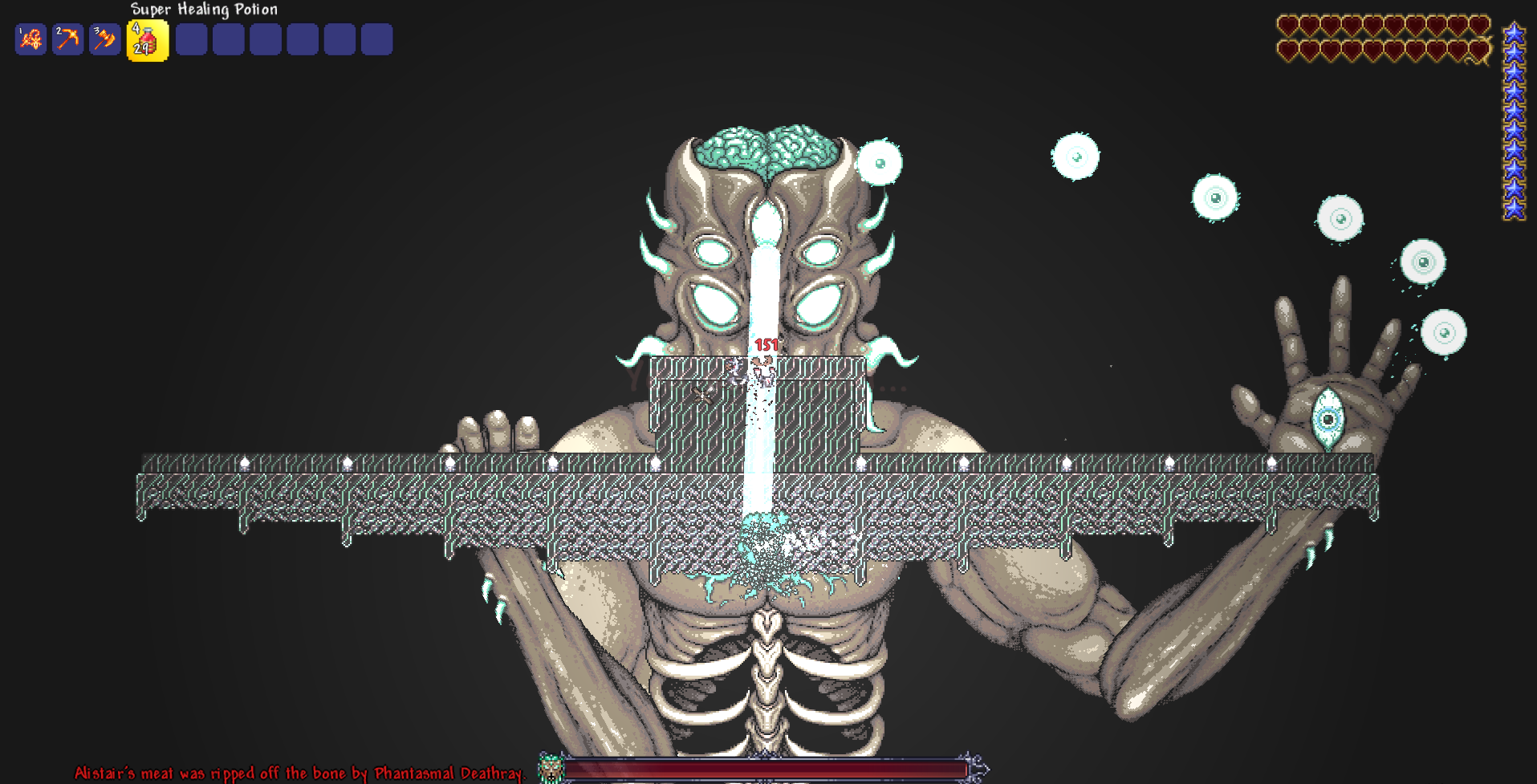 The Moon Lord laughs at your pathetic attempts to defeat him by hiding inside boxes

WEAPON & ARMOR
CHANGES
Weapons/Armor and other gear were also closely examined. Beyond stats, some situations in the game required more than just stat changes to make things feel right again. So, you will see some weapons and weapon classes that have all new functionality. Let's have a look, shall we?
SHORTSWORDS
No longer content to exist solely on the X-Axis, your favorite stabby weapons are now able to poke at foes in all directions!

FLAILS
Flails felt left behind by the introduction of Yoyos, so they have all new functionality to restore their status as useful weapons

CHARGED BLASTER CANNON
Yesterday's throwaway weapon from the Martian Madness Event (What? Don't look at us like that, don't act like you ever used the thing!) is today's death-dealing space laser of doooooom!

CHRISTMAS TREE SWORD
Our festive friend here always felt very underwhelming when lined up next to its fellow Frost Moon drops... so now it can channel its inner Everscream.

MEDUSA HEAD
Medusa's Head felt underwhelming for when you were able to obtain this in the core progression. So, this has been reworked to have a quite unique attack style.

WAND OF SPARKING
The Wand of Sparking has been a bone of contention for some time in regards to feeling underpowered - no longer!
Damage increased from 8 to 14
Speed increased from 28 to 26
Now has a 10% critical chance
Chance to inflict On Fire! increased from 33% to 50%

MAGIC MISSILE
Magic Missile has been overhauled to be more lethal and fun to use than ever before!
Projectile is faster and has homing if you release it
Has a moderate AoE damage explosion on impact

HALLOWED ARMOR


New Set Bonus: Holy Protection Familiar to most users as Shadow Dodge, Hallowed has had its previously stat-based set bonus replaced with a periodic immunity to damage.
Upon attacking an enemy, you will gain a buff. If an enemy hits you during this buff, you will gain a very brief immunity to damage.
After this period of immunity, at least 30 seconds must pass before you can re-activate the immunity buff.

TITANIUM ARMOR


New Set Bonus: Titanium Barrier As you attack enemies, titanium shards accumulate and spin around you
These shards deal damage to enemies at close range, and inflict knockback.
Use them defensively to keep enemies away, or for the bold, aggressively to inflict extra damage.

STARDUST ARMOR
Stardust Guardian now has a more much vigorous and aggressive attack, and he will attack automatically without prompting. All resemblance to a certain anime is purely coincidental.

SOLAR ARMOR
Solar Armor is no longer content to sit at the back of the line, so it's set bonus now grants more defense than ever before... along with a passive regen effect.
Solar Helmet critical chance bonus increased from 17% to 26%
Solar Breastplate melee damage bonus increased from 22% to 29%
Each piece of the set now gives 1 HP/s regen
Instead of 30% damage reduction whenever you have charges, part of Solar Armor's damage reduction is now active at all times, with the amount increasing when you have shield charges. This gives Solar Armor a more persistent durability.
Recharge time between shield charges reduced by 1 second

GRAPHICS OVERHAUL
As with our balance and mechanics review, the team has put a fresh coat of paint on a number of things in Terraria. Biomes, Furniture Sets, even some Enemies have been given the makeover treatment! Heck, we even spruced up the logo...
Check out some of the eye candy magic that our artists have been creating in the series of before and after gifs below!
Please note that this work is still ongoing, so anything you see here is still subject to change!!!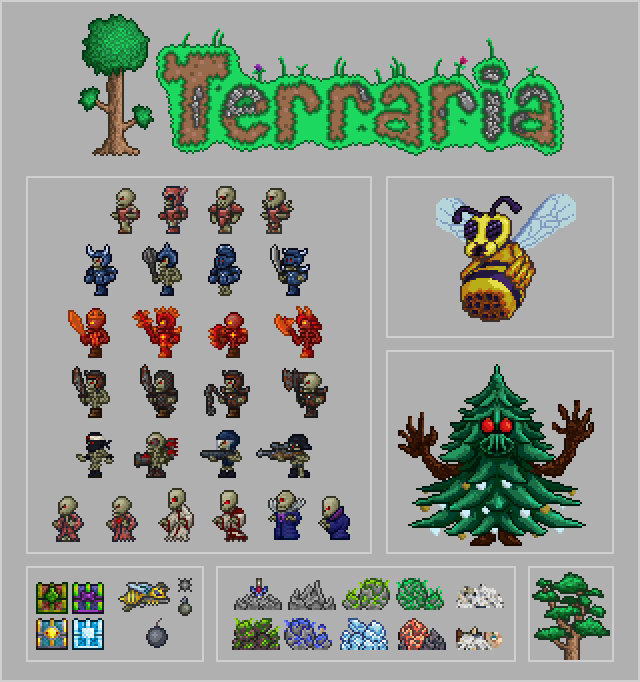 Crowno

Lazure

Jimmarn

We hope that today's Feature really shows how Journey's End is not only about new things, but also about old things made new again. Across the entire progression of the game, there are new surprises in store for players - once again, we really encourage a fresh playthrough in order to experience it all!
We have more Features in store for you as we draw ever-closer to launch day - so be sure to keep your eyes peeled for more!
​
Last edited: