Enhanced version of the textures of Terraria 1.3.0.8 - 1.4.1.2
This is how it looks like:

instead of this:

Some examples: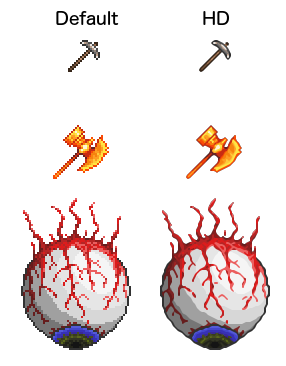 The whole pack is around 80MB, which means I cannot post the zip file to this forum.
Can be downloaded here:
sullerandras/terraria-hd-textures
The Images.zip contains the HD version of all more than 11k textures in the Images folder, and some textures in the Images/UI folder.
It may not be perfect, but I like it better than the original low resolution look.
To install, just unzip the downloaded file, then copy the .xnb files to your Terraria Contents folder, overwriting the existing files.
Also created a
silly Greasemonkey script
to replace images on the
Terraria wiki
to my high resolution version. I created it for myself so that I can recognize items in the wiki a bit more easily.
Let me know what do you think. Source code of the texture converter is on github:
sullerandras/terraria-hd-textures
History:
0.1 - 2016-01-09
- initial version
0.2 - 2016-01-28
- improved walls, should not have transparent pixels at the corners
0.3 - 2016-01-29
- removed the pink pixels from monoliths
- improved the gemspark and other similar blocks. I cannot try this, I hope it works.
0.4 - 2016-03-06
- improved the walls, now there should not be any "missing" pixels
- the UI buttons are now excluded from the zip.
Attached a zip file containing the original xnb files of the UI buttons to restore them.
I removed the attachment to avoid confusion, i guess people think that the attached zip file is the texture pack and didn't read the instructions above
0.5 - 2016-05-23
- support all Terraria 1.3.1 textures
0.6 - 2016-07-21
- support all Terraria textures up to 1.3.2
0.7 - 2016-09-10
- support all Terraria textures up to 1.3.3
0.8 - 2016-11-17
- support all Terraria textures up to 1.3.4.2
0.9 - 2017-04-21
- support all Terraria textures up to 1.3.5.1
0.10 - 2020-05-17
- supports most Terraria textures up to 1.4.0.2, but some newly added textures are missing
0.11 - 2020-05-21
- supports all Terraria textures in 1.4.0.2. It is the first release in TexturePack format (twice as big as the older releases)
0.12 - 2020-05021
- supports all Terraria textures in 1.4.0.3
0.13 - 2021-02-13
- supports all Terraria textures in 1.4.1.2
0.14 - 2022-02-19
- supports all Terraria textures in 1.4.3.2
Last edited: