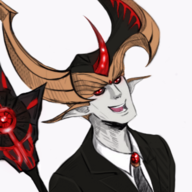 Joined:

Dec 4, 2018
Messages:

44
Likes Received:

14
Trophy Points:
Gender:

Male

Birthday:

May 18

Home Page:

Location:

Occupation:

Magus Imperator
Dakuryon
Steampunker, Male, from Arx Umbra
"I am borne darkly, fearfully, afar; Whilst, burning through the inmost veil of Heaven." Dec 11, 2018
Loading...

Loading...

About

Gender:

Male

Birthday:

May 18

Home Page:

Location:

Occupation:

Magus Imperator

Re-Logic Games Owned:

Auron || Male || Taurus|| Satanist || Pansexual || Taken

"

I am a silent onlooker in a crazy play called Reality. Did the Gods forsake you too? An angel appeared from the sky borne upon bloodied wings. He promised to burn all those who sinned. Yet we all falter and fall. The louder we scream, the more invisible we seem. Fallen Angels. Do you fall with me?

"

★ In-Game Dossier ★


╚»★«╝ BASIC INFORMATION ╚»★«╝ Name:

Dakuryon

Species:

Archdeva

Ethnicity:

Deva

Residence:

Arx Umbra, Val Oriyn (Northern Arun)

Occupation:

Master Blood Mage ▪ Magus Imperator ▪ Ruler and Leader of the Archdevan Imperial Army

Official Theme:

╚»★«╝ SEXUALITY ╚»★«╝ Sex / Gender:

Male

Pronouns:

He ▪ Him

Sexuality:

Pansexual

╚»★«╝ APPEARANCE ╚»★«╝ Eyes:

Bright crimson with black sclera

Height:

8'4" (all Archdevas are tall AF)

Weight:

198 lbs

Figure:

Dakuryon's body is mildly slender with a tall frame, well-built shoulders and toned limbs. Has a pale, unblemished skin complexion with high cheekbones, plump lips and a strong jaw. His eyes are almond shaped, crimson with black sclera. Everything about Dakuryon commands regality, a royal atmosphere surrounding him, and he is often stiff and confident. Has the tendency to walk in an arrogant, sauntering fashion, along with the habit of raising his chin and looking down at people from above at times. He keeps himself high and mighty, and his back is always straight, chin high and proud. Out of all the Archdevas, Dakuryon's horns are the largest and the most prominent, along with a smaller, crimson horn adorning his forehead.

╚»★«╝ PERSONALITY ╚»★«╝ MBTI: ENTA-J (The Commander) Enneagram: Type 8, with 8w7 wing (The Challenger} Alignment

: True Evil, self-serving.

Interact

Content:

Twitter:

Dakuryon1

Signature

Loading...