Consigliere
Staff member
Re-Logic
Administrator
Here you go, Terrarians: the 2023 Terraria Holiday Shopping Guide! Take a look at the merch hub as well as all of the new stuff and pick up something cool for yourself or a loved one today. Happy Holidays!

TERRARIA MERCHANDISE HUB
Throughout the year, best place to be able to see all of the available Terraria merchandise listed in one place is our Terraria Merchandise Hub (
terraria.org/store
). This is constantly updated, with all current Terraria merch collected in one place to make shopping for gifts (or gifts for yourself) easy. Click the banner above to check it out!

NEW TERRARIA MERCHANDISE FOR THE HOLIDAYS
TERRARIA HOLIDAYS 2023 SEASONAL COLLECTION
Though they are not QUITE ready for today's post, our partners at
Terraria.shop
will once again have some suitably festive products on offer. We expect those to arrive soon - we will add them here to this guide once they are available!
COMING SOON!

TERRARIA PREMIUM BOSS FIGURES REVEALED & CHIBICHANS NOW IN STOCK
Our good friends over at Terraria.shop are pleased to reveal the brand new Moon Lord and Eye of Cthulhu Premium Boss Figures - brand new for the Holidays! In addition, Terraria Chibichans are now in-stock!
For anyone that preordered Terraria Chibichans, that means that they will be shipping out to you shortly!
MOON LORD PREMIUM FIGURE
EYE OF CTHULHU PREMIUM FIGURE
TERRARIA CHIBICHANS
Click the banner/images above to check out these amazing Terraria figures - or to see what else is available over at Terraria.shop! They have yet another set of amazing stuff planned for early 2024 and beyond, so this is a site that you will want to keep a very close eye on.

TERRARIA HALLOWED ARMOR PLUSH MAKESHIP CAMPAIGN LIVE NOW!
We have recently partnered with Makeship to create what we hope will be the first in a series of plush based on the most popular and iconic Terraria armor sets! Up first, we have Hallowed Armor - complete with Excalibur and Pickaxe Axe!
Click the banner above to check out the Hallowed Armor Plush!
Personally, we think this little dude looks pretty cool and we hope you will agree and support this campaign by picking up your very own Terraria Hallowed Armor plush today!

TERRARIA COLLECTION FROM EIGHTY SIXED - NEW OFFERINGS AVAILABLE NOW!
Eighty Sixed is a brand new Terraria partner for 2023, and they have come out of the gates hot with some of the most unique Terraria designs that we have seen to-date. From the must-have Zenith Keychain to a handful of some of the most awesome shirt designs thus far, this is a collection that you will not want to miss!
Eighty Sixed is running a Black Friday sale as well - from November 24 through November 30, you can pick up some of these amazing pieces at a nice discount!
You can pick either of these two new pieces over at
Eighty Sixed's Website
- and be sure to check out the rest of the
Terraria Collection
while you are there!

NEW PLANTERA SHADOWBOX FROM ARTOVISION
Artovision has always been known for making killer videogame-based shadowboxes and desk art... but they have really outdone themselves this time! Brand new just in time for the Holidays, they are releasing the Plantera Shadowbox!
Do you have what it takes to evade the creeping tendrils and poisonous nettles of the terrifying Plantera? Click the image above to pick yours up today and find out!
Of course, all of the older favorites from the Terraria Shadowbox and Desk Art collection are available - such as the amazing Wall of Flesh shadowbox! Click the image above to
check out the entire Terraria collection at Artovision
!

TERRARIA GRAPHIC NOVEL SERIES
The day has come! The first issue in the new TERRARIA comic book story will be available for pre-order starting on this Wednesday, November 22. We are even more pleased to see that our partners at 50 Amp Productions have stepped up in a big way to ensure that distribution and shipping goes a lot smoother this time!
Picking up where we left off, we find out what Vale and crew have been up to since their narrow victory at the end of Book One. All is at peace... or is it?
Check out what is on offer as far as packages for Issue Five by clicking the banner image above. As with previous releases, we have a variety of options: from "just Issue 5" to a selection of collectors' items featuring the characters from the Graphic Novel. Be ready to order yours starting on Wednesday!

TERRARIA 2024 CALENDAR - ONCE AGAIN FEATURING TERRARIA'S AMAZING FAN ARTISTS
Last year saw the return of Terraria calendars to walls everywhere. Featuring amazing brand new art from some of Terraria's most popular fan artists, this was a must have for any Terrarian's room! We are happy to share that the Terraria calendar is making a return for 2024 - once again with brand new never-before-seen art from Terraria's vibrant fan art community.
Click the icon or cover image above to pick up the 2024 Terraria Wall Calendar on Amazon!

NEW TERRARIA MERCHANDISE THAT YOU MIGHT HAVE MISSED
2023 brought a lot of cool new Terraria merch for fans to enjoy. Perhaps you missed seeing it at the time or you wanted to wait until a later date to check it out. Well, allow us to catch you up on these amazing pieces!
TERRARIA x MADRINAS COFFEE
We had the distinct pleasure to work with the amazing folks over at Madrinas on two distinctly Terrarian coffee flavors. The perfect gift for the coffee fanatic Terrarian in your life... after all, nothing warms you up better than Pigron's Maple Bacon whole bean coffee on a cold night.
Terraria x Madrinas Collector's Box
Our good friends over at
Madrinas
are starting Black Friday early with up to 60% OFF sitewide! From 11/17 – 11/28 you'll be able to score your favorite
Terraria Coffees
, like Dryad's Wild Honey Cold Brew, Pigron's Maple Bacon Whole Bean or the Limited-Edition Collector's Box at their lowest price ever! Who doesn't need some extra fuel to dig, fight, and build this busy holiday season, not to mention it's the perfect gift for the Terraria fan in your life!
Pigron's Maple Bacon Whole Bean
---
Dryad's Wild Honey Cold Brew
Click the banner above to check out the Terraria x Madrinas collection - including the awesome limited edition gift set that includes both Terraria flavors, a Terraria shaker and a Terraria koozie!

NEW PLUSH AND THE RETURN OF THE BIOME PIN SERIES FROM SANSHEE
Sanshee brought some amazing new offerings to the world of Terraria in 2023 - from the awesome King and Queen Slime Plushies to the return of the Biome Series pins, Sanshee has something for every Terraria fan!
The Terraria Collection at Sanshee - Click the Banner to see it all!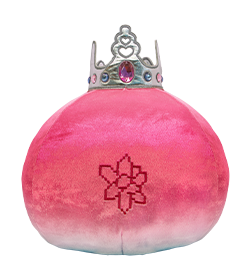 King Slime Plush
---
Queen Slime Pin
---
Queen Slime Plush
Ocean Biome Pin
Click the product image above to check out the latest and greatest Terraria merch from Sanshee - or check out the
entire collection over at Sanshee.com.

CHECK OUT THE REST OF THE EXISTING TERRARIA MERCHANDISE LINE
Of course, the new stuff is always great to see - but we would be remiss to not remind everyone about all of the other amazing Terraria merchandise that is out there. Again, check out the merch hub linked at the top of the page if you want to check out absolutely everything in one place. You can also click on any of our partners' logos below to be taken to the Terraria storefront on each partner's website.
Terraria Figures, Clothing, Plush, Art & More @ Terraria.shop
---
Terraria Collection @ Eighty Sixed
---
Terraria x Madrinas Collection @ Madrinas Coffee
---
Terraria Collection @ Sanshee
---
Terraria Shadowboxes and Desktop Art @ Artovision
---
Terraria Graphic Novel Series @ 50 Amp Productions
---
Terraria Plush @ Makeship
---
Terraria Wall Art @ My Wonderful Walls
---
Terraria Clothing & Phone Accessories @ Amazon
---
Terraria Shells and Skins @ Elite Gaming Gear
---
Terrarian & Kraken Yoyos @ OneDrop

That's it for our 2023 Terraria Holiday Shopping Guide, everyone. We wish you all Happy Holidays - and just know that, as in years' past, our entire team spends a lot of time reflecting on just how thankful we are for each of you. Have a fantastic Holiday Season - and we cannot wait to see what the future holds for Terraria in 2024!
​
Last edited: