Steam or GOG

Steam
Single Player/Multiplayer

Both
Operating System

Windows 10
Terraria Version

1.4.1.1
Controls Used

Keyboard/Mouse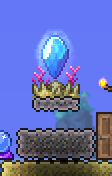 Have this issue been posted yet?
When pylons are placed on gravity affected blocks, they will float if blocks beneath them are destroyed. (which is a basic mechanic of the game)
And in this situation, mining the left two blocks will give you 2 pylons, and mining the right-most block will give you 3 pylons.