Nuffing much here currently, updated whenever
My First Suggestion:
----------------Sprites----------------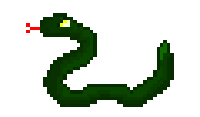 Mutated Serpent
Health: 5000
Defense: 10 (while in attack 1) 0 (attack 2)
Damage: 20 (Melee) 35 (Poison Shot) 50 (Inside mouth during poison shot)
Knockback: 6
-----------------------
Description
-----------------------
The mutated serpent is a mid - pre-hardmode Boss that has a random chance of spawning when the player has killed the Eater of Worlds/Brain of Cthulhu and the player has at least 20 defense and 300 max life.You also must be in the Desert Biome. There is no way of spawning it manually. It is not necessary to advance in the game, but useful in pre-hardmode as it provides summoner equipment.
-----------------------
THE FIGHT
-----------------------
Attack 1:
The snake shakes and brings 5-10 snakes (imagine a much smaller version of this, too lazy to sprite rn) which deal 10 damage on contact. They have 50 health each, and have a 40% chance to drop a heart. after all minions are killed, he goes to attack 2.
Attack 2:
The snake then opens its mouth and spits projectiles similar to the cursed flames that Spazmatism shoots, but instead inflicts the poison debuff. It will shoot 3 times, then attack 1 starts again.
EXPERT EXCLUSIVE: When it drops below 1000 health, it darkens and its eyes glow yellow, and starts to jump frequently, and, also, don't forget lasers from eyes of course!
-----------------------
THE DROPS
-----------------------
Snake skin (Main drop) 15-30 (30-45 expert)

used in snake armour (summoner set) and a special snake item (look below)
Heart 5-15
Demonite/Crimtane ore 45-70 (60-100 expert)
and one of the following items:
Sandy Bow (Ranged Weapon)
Speed: Fast
Damage: 20
"Turns Wooden Arrows into sandy arrows, which create a pile of temporary sand on impact, suffocating your foes"

Snake Tongue (Melee Weapon)
Speed: Very Fast
Damage: 15, acts like a golem fist but less powerful
"Can hit multiple targets and high chance of inflicting poison"

Staff of (Snake) Venom (Magic Weapon)
Speed: Slow
Damage: 30 Mana Usage: 20
"Summons 3-5 poisonous spit balls that inflict poison"
--------------------OTHER-------------------

Snake Hat: 5 snake skin + 20 demonite/crimtane bars
4 defense
1 extra minion
Scaly Scalemail: 15 snake skin + 30 demonite/crimtane bars
7 defense
10% increased minion damage
Snake Scale Boots: 10 snake skin + 25 demonite/crimtane bars
3 defense
10% increased minion knockback
Set bonus: +1 minion
Snake Staff: 15 snake skin + 1 diamond + 10 demonite/crimtane bars
15 summon damage
weak knockback
The next one (as of August 5th, 2015) is a mount! Quite simple description, but was fun making this!
Idle sprite.
Pre Burst but driving sprite.
Burst sprite.
If anyone knows how to gif, I would appreciate it if you could gif this, thank you!
------------------Motorbike Mount---------------------
Speed (mph): 40 (before burst) 75 (Burst)
Can Fly: no -- Jump Height: 20 tiles
Rarity:
------------------Description-------------------
This is a craft-able, Hardmode mount that has High speed but low jump height. It resembles a Harley Davidson Fld Dyna. It gives off a Large amount of Light but slows down during rain.
Crafting:
Soul of Might (Speed)
Soul of Fright (Intimidation)
Soul of Sight (Light)
Iron/Lead Bar
10
Hallowed Bar
5
Rubber (see below for recipe)
10

This makes

a Shiny Silver Key, which summons the mount.
Other items:
Rubber
crafting:
Rubber Sap (1/10 drop chance from PearlWood Trees) at a furnace.
currently nu mur. reds gun su cenx pls
Last edited: