https://terraria.curseforge.com/maps/silent-hill-2-adventure-map/
https://mods.curse.com/maps/terraria/silent-hill-2-adventure-map#t1:description
http://www.nexusmods.com/terraria/mods/16/?
(Current Version: 2.1)
(Warning: This map may contain writings which deals with mature themes and is not suited for very young children. Players discretion is advised.)
James Sunderland has been mourning the death of his wife Mary for 3 years when one day, after one too many drink, he receives a letter in the same hand-writing as Mary, telling him to meet her at their "special place". For James, this special place can only be where he and Mary spent their last vacation together: Silent Hill.
Is she really alive, waiting there for James?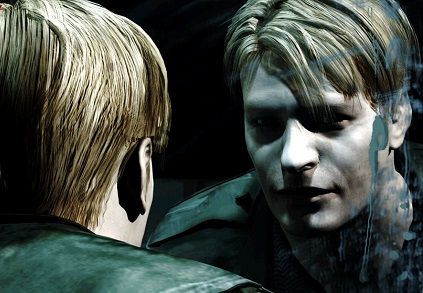 Features
- Single player adventure which mostly uses Guns as primary weapon.
- Large, dark labyrinths and dungeons.
- It's dark everywhere, only your torch to light you up
- Story and setting inspired by Silent Hill 2
- 4 Difficulty Mode + Expert Mode variant.
- 4 Endings + 2 Extra Endings.
- NG+-only loot and endings
- When you finish the map, you can keep your character and escort someone in multiplayer.
Rules
- New Character Only. Dump your starting items.
- Keep your Copper Short-sword at the beginning. That's your "Pocket Knife".
- Do not craft Torches or Wooden Platforms.
- When you acquire the Pickaxe, do not pick any block unless a Sign tells you to.
- You can use any usable bed as a Checkpoint.
- Follow the Signs. They may contain hints as to what to do next.
- You are allowed to take your character into your own world and drop unwanted loot if you become over-encumbered.
Enjoy a restful and peaceful vacation....
~~~~~~~~~~~~~~~~~~~~~~~~~~~~~~~~~~~~~~~~~~~~~~~~~~~~~~~~~~~~~~
Click "Show Spoilers" to see the change log.
2.1
- Infinite Ammo bag in Apartment has been removed.
- Temple Key added to Dog chest in Rock Maple suite.
- NPC House: Arms dealer renamed Deputy Wheeler, empty sign now has something written on it like it was supposed to.
- Corrected some paint color errors here and there.
- Bloody Mess suite stairs swapped because Terraria and TEdit can't Team Stairs.
- Lucky Horse Shoe now has the "Warding" modifier.
- Dozens of spelling errors corrected.
~~~~~~~~~~~~~~~~~~~~~~~~~~~~~~~~~~~~~~~~~~~~~~~~~~~~~~~~~~~~~~~
Hello Terrarians. Once upon a time, in the long-long ago, I posted this thread here, but for some reason, the entire forum got nuked, along with my whole account. Note that this thread/map is from precisely
Dec 18, 2011
(says Google cache). This map was made long before 1.2. It enjoyed mild popularity with frequent Curse front page exposure. Even I have hard time believing it's been more than 5 years since I made this map. So, here's the full original post to keep the ball rolling and get my map out there for all the new forum dwellers.
1.2.1
After a very long absence, I'm back. Note that this is a small hotfix to fix the 1.2 axe problem. I plan to revisit my map and add more to it. I made this map back before 1.2 was released. We had 5 types of bricks and furniture made wood only. So, in the following weeks to come, I will do a "HD remake" my map and carefully revisit all building structures, decorations, traps, maze and enemy spawning devices.
- The Axe in the Hospital, as well as all signs mentioning it have been replaced with a Pickaxe. Update 1.2 changed the way placed wood could be chopped down.
- To counter change above, the last door of the Hospital now requires wires and a wrench, which is now buried in the park.
- Ropes have been added to the mine shafts after EoW battle.
- Moved a certain chest further back because it could be clicked through the wall.
- Slime King and EoW boss fight removed from Hotel. Despawning chances too high.
- Flamethrower removed.
- Megashark replaced with Uzi.
- Added some campfires/fireplaces here and there.
- Underground NPC complex expanded and properly housed.
- Ending Signs has been walled with a peace candle, harpies can't bother you while you read.
- Removed a handful of potions, mostly from the Hotel and Mine.
- Re-wrote/re-formatted some signs that contained too much character.
- Added some slopes here and there.
- Moved the Frost Legion out of the way for now (not deleted)
- Mining Helmet moved to nearby chest because you can't pick it up without a pickaxe.
- Some buildings have had their bricks swapped. A small taste of things to come for the remake.
I would also like to take the time to thank the following people:
- Relogic for making Terraria and still updating it even after 5 years.
- BinaryConstruct for keeping his map editing program "TEdit" up to date. Couldn't have done it without his program.
- jj200275 for pointing out the obvious Axe bug in the Hospital, which lead to this hotfix.
- thejaxter for helping me import the old 1.2 version into the modern 1.3.2.1 Terraria. I tried myself but my world corrupted every time.
- The Fans: Fans of Terraria and/or Silent Hill who even to this day still download this map. Thank you for playing. Also, all of you who made Let's Play videos and forum posts promoting this map in the past. This map would have been long forgotten if it weren't for you. Thank you. I hope my future updates will charm you all once more.
~~~~~~~~~~~~~~~~~~~~~~~~~~~~~~~~~~~~~~~~~~~~~~~~~~~~~~~~~~~~~~
1.2
- 4th Ending Added: Merry Christmas!
- Bullet Adjust: Cut out around 3000 bullets of each type.
- Weapon Adjust: Removed Flintlock Pistol, Removed Minishark, Removed Dark Lance, Removed Night's Edge, Debuffed Shotgun and Flamethrower, Buffed Musket, Added Breaker Blade. Pistol and Musket position changed.
- Aesthetics: Optimized Intro's dirt, stone and grass. Added more tree variations. Polished some background buildings. Polished some background walls here and there. Added some background windows in Hotel. Added some background Ads along the way to the Historical Society.
- Moved Pete's Bowl-o-Rama in between Heaven's Night and Brookhaven Hospital.
- Demon Torches added to all Boss Rooms.
- The Guide is now starring as Eddy Dumbrowski...
- Mandatory Typo Fix like every update
- King Slime is now in the boss rosters.
~~~~~~~~~~~~~~~~~~~~~~~~~~~~~~~~~~~~~~~~~~~~~~~~~~~~~~~~~~~~~~~
1.1
- Fixed "Hell" that could not be finished due to World Border Limit.
- Fixed some typos... again.
- Fixed the EoW room's wood platforms to be more user-friendly.
- New Difficulty Added: Very Easy.
- Added a Colored Torch chest for Easy difficulty.
- Added Colored Torches at some places.
- Added some complementary Wire Switch rooms.
- Added a couple of new weapons, accessories and misc items from Terraria's 1.1 update.
- Pete's Bowl-o-Rama added.
~~~~~~~~~~~~~~~~~~~~~~~~~~~~~~~~~~~~~~~~~~~~~~~~~~~~~~~~~~~~~~~
1.06
- Added a second door the Historical Society. Breaking down the wood patch canceled the Spawn point and sets it back to the beginning. Credit goes to Curse Forge user Rootbeerbottle for pointing this out.
- Added a bed before the Eater of World battle room.
- Moved the bed to the right after the Eater of World battle room. It could be clicked through the fence, which made the battle room skip-able by dying.
~~~~~~~~~~~~~~~~~~~~~~~~~~~~~~~~~~~~~~~~~~~~~~~~~~~~~~~~~~~~~~~
1.05
- Changed the Wood Side Apartment's Red Brick to Green Brick. More enemy spawn.
- Added more mine shafts in the Wiltse Coal mine to make it more confusing.
- Some spots here and there needed to be patched with Walls.
- Added an hint after the first jump in the Prison.
- Added a note about the Eye of Cthulhu on the Evil Hospital's Roof.
- Fixed a bunch of typos in the signs.
- NEW DUNGEON: Evil Lake View Hotel.
~~~~~~~~~~~~~~~~~~~~~~~~~~~~~~~~~~~~~~~~~~~~~~~~~~~~~~~~~~~~~~~
1.02
- Increased Wood Side/Blue Creek Apartment's roof size to force enemy spawn inside the buildings.
- Added a Bed checkpoint in the Historical Society and the Prison.
- Redesigned the docks. Added a lighthouse and a lighthouse keeper room.
- Added some wooden platforms in the "impossible" areas of the Wiltse Coal mine. You can still craft platforms and the Grappling Hooks stays.
- Added a chest to a "secret" location.
- Name in Terraria changed from "Silent Hill" to "Silent Hill 2 Adv. Map vX.XX".
~~~~~~~~~~~~~~~~~~~~~~~~~~~~~~~~~~~~~~~~~~~~~~~~~~~~~~~~~~~~~~~
1.01
- Changed the position of the torch. It was too dark to see...
- Added the Grappling Hook. The Wiltse Coal Mine was too hard without it. It's still possible to complete the map without the Grappling Hook.
~~~~~~~~~~~~~~~~~~~~~~~~~~~~~~~~~~~~~~~~~~~~~~~~~~~~~~~~~~~~~~~
1.00
Last edited: