Treasure Crates
Treasure Crates is a texture pack that changes every Treasure Bag (Expert Mode Bags) into Crates!

This Texture pack was made by me only.

The reason i made this cursed texture pack is because i was bored and needed something Cursed.
Dropped Crates:
Typing Crate in the Journey Mode Duplication: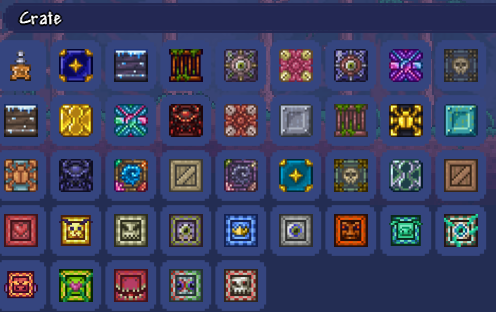 Download the .Zip file and Extract it into your ResourcePacks folder in Terraria files! (not steam ones!)
1.0: Release. This added tras versions of the crates/bags.

Update 1.1: Updated the crates to look better and more detailed.

Update 1.2: ADDED RENAMING THE CRATES! All treasure bags are now renamed to "Treasure Crate"!

Upate 1.2.1: Fixed EoL and Queen Slime crate names
I UPLOADED IT INTO TERRARIA WORKSHOP!
Steam Link Here!
​
Last edited: