For issues you find with the Switch and Console releases, please follow

this link

and give as much detail as possible. This is the speediest way to get info to Pipeworks and get a hotfix in the works.

Dismiss Notice

For issues you find with the Mobile 1.3 update, please follow

this link

and give as much detail as possible. This is the speediest way to get info to DR Studios to look at your issue. Also, some troubleshooting hints

here.

Dismiss Notice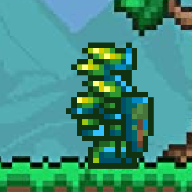 Last Activity:

Jul 1, 2018
Joined:

Sep 28, 2014
Messages:

1,916
Likes Received:

1,252
Trophy Points:
Gender:

Male

Birthday:

September 18

Home Page:

Location:

Occupation:

Grand Paladin of The Purity
Grand Paladin Tyrux
Official Terrarian, Male, from Tree of Purity, The Forest, Terraria
Aw geez, three years on the forums, I don't even frequent this place anymore. Nov 9, 2017
Grand Paladin Tyrux was last seen:

Jul 1, 2018
Loading...

Loading...

About

Gender:

Male

Birthday:

September 18

Home Page:

Location:

Occupation:

Grand Paladin of The Purity

Re-Logic Games Owned:

Terraria: PC
Terraria: Xbox 360

My name is Tyrux. Some of my titles include Champion of Terraria, Grand Paladin of The Purity, and The Chosen One. My quest is to rid the world of the darkness we know as the Corruption, Crimson and Hallow, so that the races of this land may recolonize and live on in peace, whether they're human, goblin, dryad, lihzahrd, truffle, or angel. To do that, I must reforge the legendary Terra Blade, the only weapon that can defeat the evils of this world once and for all.

My home is the Tree of Purity, a great oak said to be as old as the world itself. I live among the last intelligent survivors of this land, such as Andrew the Guide, Harold the Merchant, Lisa the Nurse, Darren the Painter, Hiram the Dye Trader, Gimli the Demolitionist, Celestia the Dryad, Tony the Arms Dealer, Destiny the Party Girl (she really loves ponies), Hazel the Stylist, Timmy the Angler, Grodax the Goblin Tinkerer, Xirigua the Witch Doctor, Cedric the Clothier, Sophia the Mechanic, Captain Stoney Dirt the Pirate, Shimeji the Truffle, Merlin the Wizard, Minerva the Steampunker, Omega (Unit designation T-3EO) the Cyborg, and Theodore the Tax Collector. My tree is also occasionally visited by Santa Claus, Abraham the Traveling Merchant, and Jack Sellington the Skeleton Merchant.

I am a Paladin. There are others of my kind. Fallen guardians of an ancient order, cursed to forever serve those they swore to destroy, and my fellow Biome Paladins. Some of us fight against the darkness and the light with all of the power at our disposal. Others have fallen.