For issues you find with the Console 1.3 release, please follow

this link

and give as much detail as possible. This is the speediest way to get info to Pipeworks and get a hotfix in the works.

A FAQ with notes and workarounds can be found

HERE

. Please check this first to see if this helps your issue.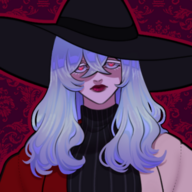 Last Activity:

Feb 24, 2018 at 2:53 PM
Joined:

Sep 26, 2014
Messages:

491
Likes Received:

15,008
Trophy Points:
Gender:

Female

Birthday:

Aug 20, 1996

Age:

21

Home Page:

Location:
Keigora
Lunatic Cultist, Female, 21, from the other side of the fence.
Also, drew a most humble self-portrait of yours truly~~
Feb 24, 2018 at 7:39 AM
Keigora was last seen:

Feb 24, 2018 at 2:53 PM
Loading...

Loading...

About

Gender:

Female

Birthday:

Aug 20, 1996 (Age: 21)

Home Page:

Location:

Re-Logic Games Owned:

Hello, I've not written anything meaningful here since the forum was started. Might write something soon, we'll see. Don't know if anyone would care to know about me anyways lol... You're all here for the art, right?.. right?

Since I don't have anything special to write here, I guess I'll plop some info and/or backstory on some of my OCs, starting with my main OC which I'm using as a persona here on the forum.

Carula was originally a human. This human has no name, as she threw it away long ago. She had no reason to hold on to her name as she was suffering from severe depression along with suicidal thoughts. However she didn't want her hands dirtied and set out to go out with a bang instead. She would traverse dangerous and unexplored dungeons while getting small and momentary thrills in in hopes of it one day becoming her end. She did enjoy herself at times, but her ultimate goal was still to die while experiencing the thrill of exploring. However, her plans of dying didn't turn out as she wanted them to. She survived. Again and again, she stepped out alive of increasingly dangerous and legendary ruins, lands, caves and the sort. And again and again were she greeted with increasingly respect as an explorer because of her discoveries. Her adventures would be told to children for generations and enjoyed equally as much by adults.
However, everything good comes to an end. The human -- now a renowned explorer entered her last dungeon. Her adventure as a human would end here. After five long years, she would finally get away from her misery, but she didn't know that as she picked up the ancient artifact from the inner sanctum of the dusty, abandoned tomb.
The tomb was as deep as it was long. The temperature was steadily rising the further down she traversed. Each step quicker than the last one. Maybe this was it? This might be when she would end?
As she approached the artifact, she surveyed the item on the golden pedestal. It was a mask, and grotesque looking to boot. She wanted to touch it. She needed to touch it. She knew she shouldn't, but she couldn't stop.
Right then, right there SHE died and what called itself for CARULA was born.

It was a trap.
As the chamber closed it's every exit, hidden vents let in liquid, glowing lava to take the intruder with it.
The human was submerged, burned, scorched, and from the molten rock a monster of burning, pulsating flesh rose.

OMNERO is here.

OMNERO burst out of the ruin with raw power. It smashed itself out of the walls out into the moonlight and as the writhing form of flesh and bone settled down, it formed around the human body and mind, creating it's core form.
It flexed it's claws, it blinked with it's four eyes placed on where a normal human's eyes would be placed and two over in the forehead region. It took a while to adjust to the light emitting from the big rock in the sky.
It could think. It could feel. It remembered it's old life as a lost soul. The loneliness and emptyness was no longer corrupting it's mind, instead the last spark of exploration thrills stuck with it, and it's love for life's flame was ignited once again. It wanted to know all, it wanted to see all. It needed it. It wanted it. It's intelligent but calm and reserved human mind had fused, evening out and become one with the primal and curious mind of OMNERO.

"Who am I?"
...
The newborn monster touched it's new and fanged jaw.
...
"I am."
As the back of it's head exploded into unimaginable and intimidating shapes.
...
"I am a new myself."
Salivating jaws, protruding teeth and eyes darting around covered the mass of evershifting muscle.
...
"I am."
Expanding, covering the moon and dying the sky red.
"Carula."

- "No.. No, I was

born

like this you inconsiderable, insufferable, human TRASH"

, the tall figure spat back at the dying human as he lifted himself off the ground onto his hind leg. With one swift thrust, the human was no more than a writhing corpse in a matter of moments, oozing the last bits of blood onto the cold hospital floor. Sirius, as the tall figure called itself, felt the dying human's soul seep into him, filling him with energy. His arms pulsed with a scarlet glow as the human became nothing but an empty husk imitating it's former self.The heart monitor's screeching beep echoed through the room.
As the dying man pulled his last breath, the last thing he saw was that of the white, clean sheets of which he lay in.

Interact

Signature

Loading...