Guide Category

Boss/Events
"Plantera is a Hardmode boss that can be fought in the Underground Jungle after all three mechanical bosses (The Destroyer, Skeletron Prime, and The Twins) have been defeated. Plantera drops a Temple Key upon defeat, allowing access to the Jungle Temple." – Official Terraria Wiki.

I haven't found a lot of information about how well various weapons do against Plantera, so let me introduce some pieces of it. Hopefully, this post will prove helpful to readers.

In a nutshell,

TOP 6

weapons

:

1. Coin Gun + Gold Coin : 26,3 seconds

2. Developer's Yoyo (Red's Throw, Valkyrie), chlorophyte armor : 36,0 seconds

3. Sanguine Staff + Durendal (secondary) + Firecracker (main): 39,3 seconds

4. Chlorophyte Shotbow + Holy Arrows: 39,7 seconds

5. Developers' Yoyo (Red's Throw, Valkyrie), frost armor : 40 seconds

6. Blade Staff + Durendal (main) + Spinal Tap (secondary) : 43 seconds

Your arena should be more tall than narrow. It gives less chances to get overwhelmed by bouncing spiky balls. A water body at the bottom is highly advisable, as it drastically reduces spiky ball velocity and basically makes them non-exisistent during the fight.

Example from my personal world:
Teleporter arena is also effective, though it narrows the list of usable weapons. You may need weapons that can shoot all projectiles through 1 block gap. Megashark is a great choice.
Image taken from here:
Plantera strategies
Melee, Ranged, Magic and Summon respectively
Melee&Ranged, Magic and Summon respectively
All stationary buffs were also used: sharpening station for melee, bewitching table for summon, and crystal ball for magic.
Godmode is an ideal result. Player movement was the same as normal fight. Then godmode was turned off to see the impact of a not ideal skill (retreating, sligthtly more missed shots, more distance, etc). Godmode was never used with magic, due to infinite mana. (no mana potions -> no sickness -> more DPS). Summoner used a whipstacking technique, rapidly changing whips in order to use the effects of each.
For yoyos, the Shield of Cthulhu was replaced with yoyo bag.
Average of 3 tries, rounded (tried to be more precise). Timer started with the first hit. If less than 40 seconds, decimals are shown.

Extra melee+chlorophyte tests were made with the same accessories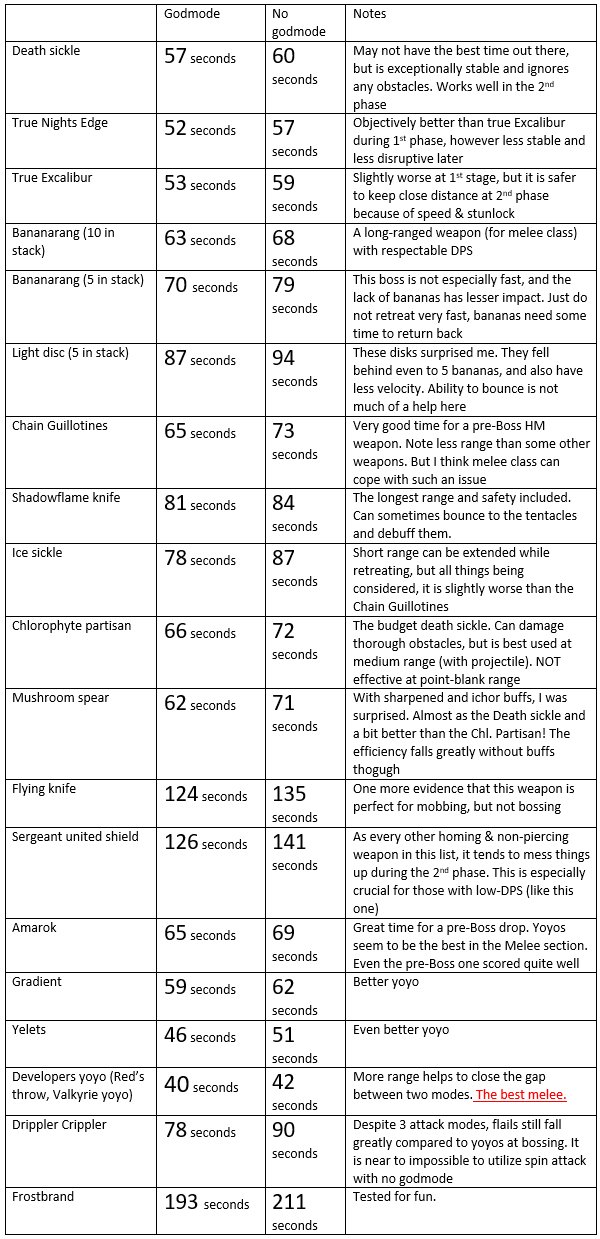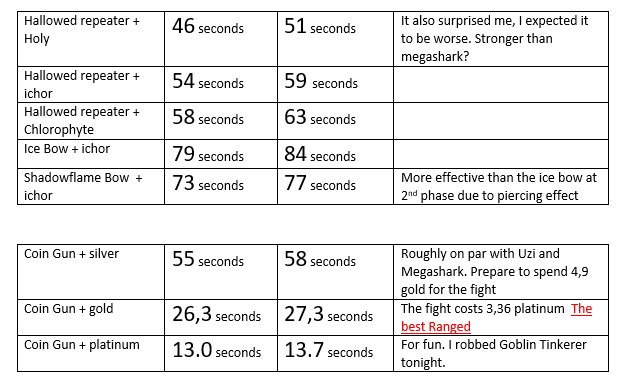 Chlorophyte vs. Frost armors; melee
Melee variant of chlorophyte armor has insignificantly less damage and 15% less melee speed, but 10% more critical stike chance and a leaf crystal. Fights were done with godmode turned off.
Frost
Chlorophyte
Last edited: