Consigliere
Staff member
Re-Logic
Administrator
Greetings Terrarians!
Spring has sprung... or at least it sure seems like it is trying to in our neck of the woods. We surely welcome the warmer weather with open arms. In the spirit of Spring being a time of growth and new things, we have tons of fun new tidbits to share in this month's State of the Game... including one release date (no, its not the one you are thinking of... but there is some pretty nice news in console-town to share that you won't want to miss) and much more. So, let's bask in the sun as we peruse the latest and greatest in the world of Terraria, shall we?

STATE OF THE GAME - TABLE OF CONTENTS
PC NEWS
TMODLOADER NEWS
CONSOLE/SWITCH NEWS
MOBILE NEWS
COMMUNITY NEWS

PC - RE-LOGIC
STEAM WORKSHOP SUPPORT FOR TEXTURE PACKS AND WORLD SHARING STILL IN DEVELOPMENT
Greetings everyone! We will skip the formalities and just jump right into what we know is on the top of your minds: when is the Workshop Update coming out?! We wish we could tell you precisely when this will be in your hands, but the best we can do at this time is give you a launch date...
TERRARIA STEAM WORKSHOP SUPPORT LAUNCHES NEXT MONDAY, MARCH 29TH!
That's right, the latest Terraria update is a mere few days away! This time, we are putting the power in your hands, allowing you to share your creativity with Terrarians everywhere in ways never before possible. Keep in mind that we will be perusing the available packs and maps to find our favorites over time - and then bestowing them with the "Developer's Choice" seal of approval. We cannot wait to see what crazy and awesome things you will create!
As a reminder, Steam Workshop for the core Terraria game
will not support Terraria Mods
- as for all things Terraria Mods, that remains firmly in the realm of tModLoader and the team behind that!

Our art team remains fully-engaged in their learning activities... the focus of late being animations! Wanted to share a fun Dragoon and Monk courtesy of
@Lazure
and
@Jimmarn
! Again, these are not to be taken as "GAME ART!!!" or even a sign of anything we might be working on down the line. This is just our team building their skillsets.

Be sure that you are up-to-date with the latest and greatest on this front via the Hotfix Changelog... and keep your bug reports coming via the handy bug report button below!
Terraria: Journey's End - Hotfix Changelog

STADIA LAUNCH
We are pleased to share that Terraria launched on Google Stadia last week (March 18th). As Stadia supports both Mobile and Monitor-based play within a single build, the foundation for this build branches from the latest 1.4.0.5.2 version from DR Studios. There are plans to port-over any further UI features/functionality that is generated during the "TV/Monitor UI" work that DR is working on now to maintain consistency and give everyone playing the DR build on a TV or Monitor the same upgraded experience. Of course, the same holds true for porting over the future 1.4.1 content and for attempting to include Stadia in any future crossplay plans.
As always, the team will keep its ear to the ground for any bug reports specific to this platform.
Terraria is currently available as a purchase-only title on Stadia, priced at parity to PC ($9.99). It will likely be added to the Stadia Pro subscription service as well in the months to come.

Thanks again, Terrarians - we are as always blown away by your support!
Back to Table of Contents

TMODLOADER NEWS - TML TEAM
The tModLoader Team remains hard at work on getting TML up to the 1.4 era.
Hopefully, it will not be too much longer!

TMODLOADER ISSUES/BUGS
The Re-Logic team does not directly develop TML, so bugs with TML are best reported via the links below.
tModLoader - Play Terraria with Mods!
https://tmodloader.net/discord
Back to Table of Contents

PlayStation 4, XBOX ONE, Nintendo Switch - DR STUDIOS
XBOX & PLAYSTATION
Ok, so first thing's first - we are not going to be able to be as cool as the PC side and drop a nice release date on you. Why not? Still banging away at that pesky UI. That said, we have something that we think is really exciting to share with you this month. During design chats with Re-Logic a few weeks ago, we all came to the realization (from reading your valuable feedback thus far) that no one default UI would satisfy everyone. So, what is the solution to that? We debated multiple UI's, but then decided on something a bit better: why not provide a default UI... but then give players the power to change things up (to a degree) in order to create their own "best way to play"? This is a mantra that we have had on Mobile (a lot of which will carry over to console in the settings that you will see!) - so we figure why not just keep that going, because you can never go wrong with giving players options and choices, right?
So, what does this look like and what is possible? Well, we cannot make EVERYTHING customizable, but what we could support, we did... check out the new UI Customization Frontend for Console Terraria:
As of this point, you are able to alter the following:
Scale of the entire UI
Position of each Page Group (Page Group = the clusters of UI sections you saw last time, eg. Right Side: Shop/Chest/Equipment)
Pages contained (Pages = shop, crafting, equipment, etc.) within each Group
Left/right screen alignment of each Group
(All while supporting both controller and k+m in the game and the edit interface itself)
Oh, and you get four UI profiles that you can save off so that you can quickly swap your settings as your gameplay session changes - the idea being that you can use them in different circumstances, so, for example, you could have a profile for full screen vs splitscreen, docked vs undocked, etc.
The video above is just a bit of a teaser to whet your appetites. We are planning to come back in a bit with something that more clearly shows what is possible and how it all works.
This is, of course, subject to change in either direction, but we really hope you will enjoy what we have in mind here - which again is a result of taking the time needed to absorb feedback, think through problems, and find clever solutions to them. To that end, we have been keeping future states in mind (such as avoiding "smushed UI" on splitscreen) as well - both by default and by again providing players choices of how they want things to play/feel.
Also keep in mind that this is an ALPHA version of Terraria 1.4 on Console. Lots of things - such as the final UI, etc - are still subject to change. So don't get too hung up on anything!
All that said, we almost have the UI side of the house wrapped up with this new feature in place. For the most part, our remaining development time will be focused on optimization and bug fixing... with lots and lots of testing. So, pretty much we are very close to what we would consider the Beta stage... the final phase of development leading up to launch! That means that HOPEFULLY, it will not be too much longer before we can give you that date you so want to hear...

NINTENDO SWITCH
Once again, all of the developments above will ultimately apply to the Switch version of Terraria as well. Once we have any Switch-specific news, however, it will show up here - so we are keeping this section alive for now.
Back to Table of Contents

MOBILE - DR STUDIOS
​
Hello everyone!
So yeah, as we keep saying, our core focus is on Console right now - so there is not much in the way of focused development for Terraria Mobile. However, we always try to keep an eye towards how things we are working on for one platform might also be valuable to include on other platforms. Part of the beauty of working from a more closely-consolidated codebase than ever before. That being said, Mobile Terrarians should watch the video we posted in the Console section above... because we are planning to bring some form of that UI editing feature your way down the road. We don't have all of the specifics nailed down just yet (so nothing to show, sorry) - but with the core backend pieces in place, we are feeling confident that we will be able to once again up the game for Mobile players in regards to being able to customize your Terraria experience. Coupled with the already-available custom controls, we hope this will open up new possibilities for both existing and new players.
More info as we move along!
It truly remains an honor to be able to work on Terraria - on behalf of our entire team, thank you for your support, patience, passion, and kind words. We have so much planned for 2021 across the board, it's going to be a wild ride!
Back to Table of Contents

COMMUNITY
​
Greetings Terrarians!
Here's the latest and greatest happenings on the Community side of things. Thanks as always for being the most engaged and awesome gaming Community ever!
TERRARIA MERCHANDISE UPDATES
We are currently in development with our existing partners on some really cool stuff that we hope to bring your way in the months ahead. Definitely something for which you will want to stay tuned! Of course, we are also still in the process of expanding the list of groups we are partnering with in this front... and we may have a few more surprises in store coming your way. Honestly, we cannot wait to share some of what is coming, but the timing is just not QUITE right yet.

UNITED SERVERS OF DISCORD
​
We are thrilled to announce that Terraria has teamed up with many other incredible communities to form the largest Discord alliance ever! We are calling this massive collaboration among participating communities the United Servers of Discord Alliance. The Alliance is run by the communities for the communities. The Alliance events run daily and have been enjoyable for many participants. The teamwork and collaboration effort, by so many communities, shows that diverse groups can work together to facilitate worthwhile experiences. If you are interested in helping Terraria in any of the Alliance competitions or want to learn more about the alliance then check our relevant info below.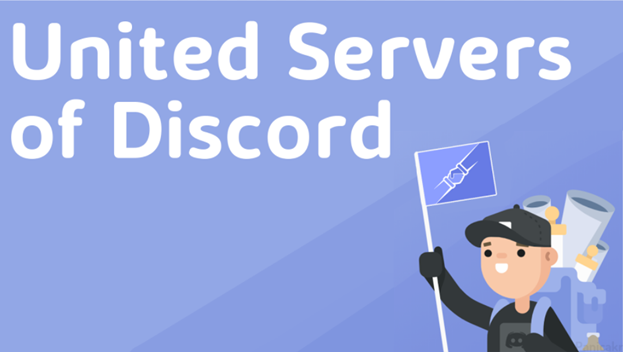 ​
Massive shout out to MadMan2021#2021, Panicakr#0577, Ruzike#6578, and the staff of all the servers in the Alliance for their incredible part in bringing joy to so many people across many different communities.
New communities are joining the Alliance weekly so if you are interested in adding your community to all the fun then full details on how to join can be found here:
United Servers of Discord

Until next time, Terrarians - we hope you have an amazing month, and we look forward to bringing you the latest and greatest next time!
Back to Table of Contents
​
Last edited: