"Even it's already Journey's end, those evil pieces of stuff won't stop the destruction."
Evil Mind is a mod project that aims to add more post-moonlord content.
Have an incomplete plot happen in this weird, various universe called "
Terraria
"
"A wacky world with crazy stuff and crazy creatures comes with crazy payment. That's our time working on this project."
---
mod browser version is bad, the new closed beta version is way more fabulous and more fascinating content, if want to try it out, ping me in our mod discord server
WE NEED MORE SPRITERS SO WE CAN ADD WAY MORE CONTENT
CREATORS
Dirty octopus - the mod creater, main coder, alt spriter
Pinkalicious - Coder
Aether - Main Spriter
Cleyera - Main Spriter
Ra_men0 - Main composer
CantWontDo - Mod testing
Arctic - Mod testing, General code helping
Amalgam - Mod testing, General code helping
Devil Slime - Mod testing, General code helping
are currently working on this mod.

Current State

:
NEW VERSION IS 100000 TIMES COOLER THAN MOD BROWSER VERSION
newest version: beta 0.7.0.0
close beta version: alpha 0.7.1.3
38 items(beta version : 45)
2 new classes
1 pet
1 boss(2 in beta version)
1 vanilla replacement
*Now on mod browser!*
New version spoiler animation:
"Creeper?"
Deathland contains many deadly mobs but they have low health, and they rarely spawn... But THEY'RE DEADLY.
close beta version features:

custom animated icon & custom panel
easy mode
and more unique items & stabbers
MUSIC
Most music in this mod is created by Ra_men0!
Primal Evil - Theme of the Slime Origin
Alt link for Chinese
Blue Infected - Theme of the Infection
Alt link for Chinese
Blazing Gazer - Theme of the guardian of the saint
Alt link for Chinese
Underworld remix - Theme of the DEATHLAND(outdated)
Deadly Silence - NEW Theme of the DEATHLAND(only one by me)
Terra Dissolution - Theme of Terra Reverser Phase 2
SPRITES PREVIEW
Here is some items preview, I didn't post them all so you'll have to download the mod for further experience.
stabbers are a new kind of thrown class weapons, we will add most of the material to be stabbers in terraria!


only can get if you do lil' cheat
Items drop by The Infection, or something craft out for its bar!
dedicated to the first no-hitter
dedicated to all beta testers
toggle easy mode
We'll improve what re-logic didn't do --- resprite and buff items!
Change Daybreak sprite:
Buffed Stardust Cell Staff, Star Wrath, Daybreak
Bosses
:
The Slime
Or
ig
in
(First boss post-
Moon
lord
, sf, cf)
The Infection(a
Wisp
, Skeletron type boss, sf, cf)
The
Te
rra
Reverser(
Te
rra
color(
gold
&
green
with
magic crystal
armor), sf, cuf)
with armor(First Phrase):
without armor(Second Phrase):
The
g
u
a
rd
i
a
n
of the
saint
(fight this to get
The Saint
summoned, sf, cuf, sprite under rework, sprite original by 野生棱角, flame animated by Cleyera, other animated by Dirtyoctopus)
The Saint
(Bullet hell boss, sf, cuf, the sprite is under rework)
Evil
Mind
(Final boss, The most powerful one from both evil, suf, cuf)
Biome: The
me
vil
land(A mess create out from both evil,
c
or
ru
p
tion
and
crimson
, suf, cuf), The Deathland(If you take any damage in this Biome, you'll die instantly, suf, cuf)
Terra
Biome(The most powerful non-boss enemy is mostly here, there will also be a mimic(WIP) for this Biome which drop
Te
rra
-tier items, suf, cuf)
The
Te
rra
Island(Spawn in the sky like other sky islands but make out of
Te
rra
Brick, count as a Sky
Te
rra
biome, suf, cuf)
Enemies:
Te
rra
Skeleton
(suf, cuf), Fielier(like an elf, but deadly, suf, cuf)
New class: Miner(cf), Mind Manipulator(WIP), Evil Constructer(cf)
*sf=sprite finished, suf=sprite unfinished, cf=code finished, cuf=code unfinished
Officially friended /w Time Apocalypse & Eldritch!
tModLoader - The Eldritch Mod
​
"Dislikes are welcomed but be wise of what you're saying, don't punish other's work like you're a fool. Always advise instead of nonsense punish."

​
SUPPORT OUR WORK!
If you like to join me in developing the mod, report bugs, or join our beta testing of the mod (or just chat with others), join our discord server by clicking the image below!
If you're likely to support my mod, get one of these codes in your signature:
Code:
[url="https://forums.terraria.org/index.php?threads/the-evil-mind-mod.102066/"][img]https://forums.terraria.org/index.php?attachments/embanner-png.314034/[/url]
Code:
[url="https://forums.terraria.org/index.php?threads/the-evil-mind-mod.102066/"][img]https://forums.terraria.org/index.php?attachments/banner-png.305599/[/img][/url]
Code:
[url="https://forums.terraria.org/index.php?threads/the-evil-mind-mod.102066/"][img]https://forums.terraria.org/index.php?attachments/banner1-png.305710/[/img][/url]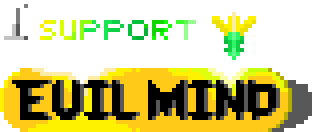 Code:
[url="https://forums.terraria.org/index.php?threads/the-evil-mind-mod.102066/"][img]https://forums.terraria.org/index.php?attachments/terraria-png.309303/[/img][/url]
Last edited: