(we still need a proper logo!)
Introduction
The Vitiosus mod is a mod in the vein of several mods. Inspired by the works of Calamity, W1K's mod, the JoostMod, Exxo Avalon and its predecessor, Necro, and Reborn mod, the mod provides players with solving a massive crisis that plagues the world of Terraria and revolves around the scale seen in the Calamity and Spirit mods and the crossover concepts of the Vanilla 1.3.4 update, W1K's mod, and JoostMod.
It started off as a tiny mod tinkering with weapon coding and has evolved into a project projected to include a ton of weapons and items, several town NPCs and enemies to fight.
What's currently in store for the future:
500+ items including a plethora of weapons
At least 5 new crafting stations
New foes including 25+ enemies and 5+ new bosses
A new potion to brew
Seven+ new ores
5 town NPCs and counting
2 new biomes and areas
3 new events
There are no public releases at the moment and thus a heavy work in progress.

Currently accepting new dev members, please read disclaimers before finishing the whole response:
https://goo.gl/forms/UbYXXGQhevPOhZ3G2
One of the first weapons added in the early days as a lone man project, the Bloodied Gae Bolg is a crimson-biome based spear created from a rare substance from another universe. The spear will shoot a speedy red projectile that acts like the Unholy Trident. Here is a picture of a strange man fighting a Medusa.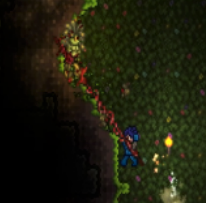 There may be a corruption biome equivalent coming post-first public release.
Eight more weapons that may be crafted in your journey appear in this screenshot. See if you can recognize them all.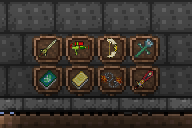 Have you seen the 9 weapons earlier this week? Can you craft them with a regular anvil (Iron/Lead and/or Mythril/Orichalcum)? The answer may surprise you.

Introducing the Multiversal Forge.
A strange creation that results from having a Eternia Crystal react with two other ingredients in a Demon/Crimson Altar. Despite the name, it is more of an Anvil than a Furnace. What items it supports is most of the items in the mod below Yellow rarity, reaching all the way up to pre-Plantera, in which a new upgrade is needed.
(this is only the item sprite, tile sprite will come later in development)
Gifs for two weapons. Nuff said...
(special thanks to the
BuilderPlus
mod for the statues used)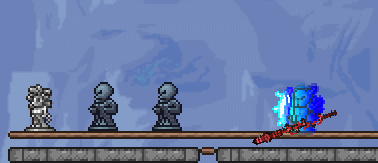 The Bloodied Gae Bolg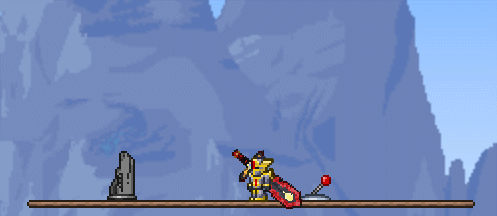 Enma Blade
@leafsaber47
- Mod founder, concept creator, minor spriter, minor coder
The mod may need: spriters, coders, and artists. Tread with caution when joining the team. Disclaimers will be given to prospective future members.
Re-Logic – for two games that redefined different points of my RL
tModLoader and its Discord server – for making the mod possible
@MountainDrew
,
@W1K
,
@blahblahbal
,
@Joost8910
– inspiration
Did I forget you? Will get to it ASAP!
Last edited: