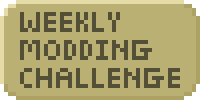 Hello Terrarians and welcome to the Bi-Weekly Modding Competition,

This is where you will be able to enter, vote for the winner, and vote for the next category.
Rules:
1. You can not use features that you used in a previous week.
2. You may not work in a group of modders unless otherwise stated.
3. Don't vote for yourself!!!!
4. You can change you entry up to three times.
5. Must be an original idea.
Prizes!
There are none! Just a good old fashion virtual pat on the back!
This Weeks Theme:
Your A Boss!
You must make a boss of yourself! (Your avatar/Ingame-character)
Q: Drok why would you even make this?
A: The goal of this thread is to see what people's imaginations can come up with and to fine-tune all of the participants' modding skills.

Q: Do you have anything planned for this thread for the future?
A: Yes, I have plans for virtual trophies that will be given to the winners.

Q: How do I enter?
A: Just post a download on this thread.
Since this "Week" of the competition was started in the middle of the week it will be longer.
Here's a link to tAPI
Week 1 Ends: Monday 6/29
​
Last edited: