Despawning messages in chat
A message will appear in chat notifying the player(s) that a boss has despawned. No more wondering if the boss has despawned or not; now you will KNOW as soon as it happens. Each boss despawn message has unique flavor-text to them, including special cases, such as the bosses leaving upon sun rise. Other messages include destroying lunar pillars and blood moon type events when ending.
Item map detection
Treasure bags and pillar fragments are highlighted on the full-screen map.
Respawn Timer
While dead, players can see how much time is left before they respawn. The last three seconds will have sound indicators.
Boss Radar
Bosses that are not on screen will show a directional icon on the edge of the screen
Arrow is green when the boss is inline of sight and becomes red when the opposite occurs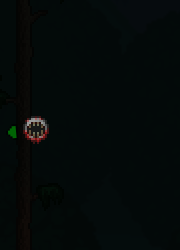 Boss Log
The Boss Log is a new UI that provides information on bosses, including modded ones if supported! Its features include:
Improved Boss Checklist
See which bosses have been defeated and which boss is next. Split into 2, prehardmode and hardmode for your convenience. Click on the names to jump to the boss's page.​
Boss Pages

Each boss page includes many features. On the left you will see the boss, its name, whether its been defeated or not, and which mod the boss comes from (or Vanilla).
​
Records

Every wanted to know how fast you can defeat the MoonLord? or see if you can beat Skeletron Prime going untouched? Or maybe you just like seeing how many times you killed a boss mercilessly. Well the boss log now records these statistics! Statistics include: Kills on boss, deaths to boss, Fastest/Slowest time to killing a boss, lowest health youve been in a boss fight, longest time without being damaged, and your best/worst boss attack count. Your best stats and you last fight's stats can be compared from the boss log.
​
Spawn Item

A boss's spawn item is viewable within the Boss Log as well as its recipe. (More on this may be in development)
​
Loot Tables

Displays the loot a boss can drop, and if obtained by the player, it gets "checked off". (A flaw in this is that it is not automated and that other mods must add in their loot with a call. I'm hoping proper automatic loot tables will become easily accessible later in the mod's future)
​
Collectibles

Bosses have neat collectible items that have a chance of dropping. There will be a checklist for these items. Collectibles include the boss mask, the boss trophy, and the boss music box. Upon collecting these 3 (4 for twins lel) items, they will appear in the display above them. Modded collectibles can be added via call, so be sure to let your favorite mods know!
​
Added boss despawn messages

Added event ending messages

Added map icons for treasure bags and pillar fragments

Added respawn timer with sound indications for the last 3 seconds
Github intergration

New icon
Mod name changed to "Boss Highlights", due to confusion where some players thought it was helping players kill bosses easier

Discord server released!
Added Mod Support! Add your own unique messages when you boss despawns! (Find out how on the homepage)

Added boss limb kill messages for: Skeletron, Skeletron Prime, Twins, and Golem (Moon Lord has issues)
Fixed Moon Lord despawn message appearing when defeated

Fixed Moon Lord despawn message appearing for all of his limbs

Fixed Martian Saucer counting towards the list of despawn messages

Fixed a bug in multiplayer, where thrown items had two map locations
Fixed Eater of Worlds not having despawn messages

Changed variables needed for modded fragments to work on the map

Added Shadow Scales and Tissue Samples to the item map
Fixed a game-crashing bug with Tissue Samples and Shadow Scales being drawn on the map
New Icon

Added Boss Radar

Added Boss Log

Added Player Records
Added Boss Checklist
Added Loot Tables [Unfinished. Hope to work on it more later]
Added Collections
Fixed worm bosses spamming their messages in chat

Fixed dictionary error messages

Improved respawn timer font
Fixed Boss Log dropping frames every time its opened
Fixed crashes involving Boss Radar (let me know if you are still running into any issues)
Removed debugging texts (Whoops. Sorry bout that)

"Thanks for playing" text now only appears on new characters once and is no longer shown in MP.
For bugs and issues, please provide crash logs if applicable, .tplr files if necessary, and detailed descriptions.
-- Fixed for next patch/update
● -- Attempting to fix right now
○ -- Needs proof of occurrence to fix
​
● Records do not update/record in Multiplayer
● Records sometimes dont record for worm-like bosses in singleplayer
○ Map drawing causes crashes in MP (Unsure if this still exists, please let me know)​
Hopefully allow loot tables to be a proper full list of items that could be dropped
Allow cross mod content for collections
Suggestions are welcome.
Last edited: