Hello There Again!
So after longer than you may think and arduous hours, Part 2 is finally complete!
​
So once again, What is this?
(THIS IS NOT A TERRARIA TEXTURES REVAMP)
This is my personal pet project to bring some of the more dated sprites of terraria up to speed, while only a work in progress I am working hard to resprite (hopefully) every aspect of the game and for those who don't know. My goal is to keep to Terraria's style as much as I can.(almost like those little resprites they'd throw in with every new update) The Post before this was Part 1 focusing on Terraria's Paintings this is Part 2 encompassing the bosses and you can download both parts as separate or (recommended) The main pack with both bosses and paintings


(YOU MUST DOWNLOAD THE MAIN PACK TO GET BOSSES AND PAINTINGS TO WORK TOGETHER OTHERWISE THE PAINTINGS AND TROPHIES WILL OVERLAP)
Right now this pack: resprites almost all of terraria's paintings, resprites and Reanimates almost every boss, boss gore, multiple bosses drops, trophies, masks, projectiles, icons, and some boss minions!
Whats Next?
Next I plan on doing, ambience or decoration sort of stuff(such as trees, misc furniture, other fauna, the disco ball, graves, and other stuff like that) when will it be done? uhhhhhhhh
BUT NO MORE DILLY DALLY, Downloads are below!
but if you love dilly dally and want a sneak peak scroll down past it for more
BOSSES & PAINTINGS
DOWNLOAD HERE
PAINTINGS ONLY
DOWNLOAD HERE
BETA DOWNLOAD
HERE
This will be a frequently updated pack with everything I am working on. It most likely be updated weekly,(not now tho i just started the new part) It is
NOT RECOMMENDED
Because very often I will change textures in the pack because I believe they don't fit into the game enough or I want something different. most likely there will contain broken textures or unfinished ones, Example(enemies having different gore textures on death, Tiles not fully completed, random lines in textures, and more fun stuff)
This is if you don't want to wait an extra week to get new stuff just because I'm going through and adjusting or optimizing stuff.
​
SPOILERS TIME
Sorry the sprites aren't timed the same, I tried everything in my power to do so
Bosses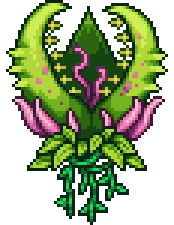 Paintings
Not all the paintings

These are not all the sprites added, I just want to leave some of them to be a surprise and it would take me forever to put together the full pack to show
(but if you want here are some of the other ones just not animated)

skeletron

dungeon guardian

Find me here
Twitter
and here
Reddit
and for those that really want to get into the specifics, this is EVERYTHING the pack changes
​
King slime:
His Animation(More Bounce) and Sprite, His Crown, The mount, his Trophy, his Summoning Item, and Map Icon
Eye of Cthulu:
Sprite, Mask, Minion, his Gore, his Minion Gore, his Summoning Item, Expert Mode Shield, Trophy, Both Map Icons
Eater Of Worlds:
Sprite(outline for his weird flesh things), Gore, Map Icon, Mask, Treasure Bag, Trophy
Skeletron:
Skull, Arm, and Hand sprites, Map Icon, Mask, Bone Glove, and Trophy
Dungeon Guardian:
Sprite Unique from Skeletron, Bone Key Pet and Buff Icon,
Queen Bee:
Trophy
The Twins:
Sprites(outline for their weird flesh things), Map icons, Gore, Summoning Item, Map Icon, Tether Sprite, Trophies, Mask, Optic Staff, Optic Staff's Buff, Optic Staff Minions
Skeletron Prime:
Mask and Trophy
Destroyer:
Mask and Trophy
Wyvern:
Sprite
Plantera:
Both Stages Sprites and Animations(Stage 2 has more movement and bounce, Stage 1 more bounce and she appears to shoot pellets or sort of spit), Both Stages Gore, Both Stages Map Icon, Trophy, Minions, Projectiles, Mask, Vine Chains, and Summoning Bulb
Duke Fishron:
Animation,(Wings have more realistic movement and fins smoother transitions) Sprite, Gore, Detonating Bubble, Map Icon, Mask, Wings, Bubble Gun, Flairon, Tsunami, Trophy
Mourning Wood:
Sprite(more scaree) And Animation(Will Bounce and sort of laugh while moving and even more while standing still, Better Walk animation and more indicative attacks), Gore, Map Icon, Trophy
Everscream:
Map Icon and Trophy
Santa NK1:
Both Stages Sprite and Animation(More bounce and will actually appear to cycle through bullets while firing, stage two's jaw will bounce when moving and open when firing) Gore, Map Icon, and Chain Gun Sprite
Ice Queen:

More Realistic Arms and Hands(still jagged on fingers and stuff cuz ice) and breasts(will no longer come from the side and are better positioned on the body) Her Gore, Trophy, Map Icon, Projectiles
Golem:

Trophy and Mask
Paintings:
sorry I can't list every painting, but it's pretty much all of them
Other Stuff:
Holly, Compass Rose, Ship Wheel, All the Wall Racks, Life Preserver, Anchor, Treasure Map, and Animal Skins.
sorry everyone I originally planned to put the wall of flesh in here and was thinking about doing BoC and others but just couldn't get Wall of Flesh to work and decided it wasn't worth the time and delaying this any longer.
Hey Marley Here, small... nah actually big thanks to "Unit One" for helping me not screw up basically everything, this was originally a whole new thread which obviously is bad(I didn't know)
along with various other things.
​
Last edited: