Consigliere
Staff member
Re-Logic
Administrator
Greetings Terrarians!
The weather is getting colder, the leaves are falling, but things could not be more red hot in terms of news around Terraria development, merchandise, and more! We have so much going on right now, even squeezing in this State of the Game is a challenge. Never fear, however, for we are here to share the latest and greatest across the world of Terraria. Let's get to it!

STATE OF THE GAME - TABLE OF CONTENTS
PC NEWS - RE-LOGIC
TMODLOADER NEWS - TML TEAM
CONSOLE NEWS - DR STUDIOS
MOBILE NEWS - DR STUDIOS
COMMUNITY NEWS

AN EYE FOR AN EYE - TERRARIA x DON'T STARVE TOGETHER IS OUT NOW!
In case you missed the big launch last week, we just released the second major crossover update in the history of Terraria - this time with the long-running hit indie survival game, Don't Starve Together! Lots of fun new DST-related content for players to explore here - including the terrifying Deerclops boss, a handful of new items, and a brand new world seed that brings Don't Starve Together gameplay elements into the world of Terraria. Check it out, and let us know what you think!
For full details, click the banner above to head to the launch post and changelog!

TERRARIA - LABOR OF LOVE & AUTUMN SALE
CLICK THE BANNER ABOVE TO CAST YOUR NOMINATION VOTE NOW!
It is that time of year again, loyal Terrarians! We come to you to humbly ask for your support towards nominating Terraria for the Labor of Love Steam Award. The game we all love so much has had the distinction of being nominated several times... but never quite pulling down that elusive win. Let's make 2021 - the 10th anniversary of the game, 10 years of updates, 10 years of amazing fun with family and friends - be the year that the Terraria Community brings home the prize! To support Terraria for this award, please click the image above to submit your nominations!
Oh, and Terraria is half-off during the Autumn Sale! Click the image below to head to the Store Page and pick up a copy today!

STEAM WORKSHOP NEWS
The level of quality and quantity on the Terraria Steam Workshop just continues to climb - nearly 36,000 packs and worlds so far, which is just insane! If you have not checked out the Workshop yet, what are you waiting for?
Click the banner above to check out the Terraria Workshop!

TERRARIA WORKSHOP DEVELOPER'S CHOICE SELECTIONS
The team has unfortunately just been beyond slammed over the last month, so we will have to hold off on more Developer's Choice selections - likely until the new year. Sorry all!

WHAT ELSE IS GOING ON?
We are going to gratefully take the extra time allowed by the recent Steam Deck launch delays to take our Deck optimizations a bit further. More on that later, once we get a bit further clear from the 1.4.3 launch/fixes!

As always, keep your bug reports coming via the handy bug report button below!

Thanks again, Terrarians - we are as always blown away by your support!
Back to Table of Contents

​
Hello everyone!
We continue onward, working tirelessly towards the goal of tModLoader for Terraria 1.4. Recent noteworthy progress includes a move to the fresh .NET 6 with C# 10, and a repair of the current modded sound playback design (Thanks, ExterminatorX99!).
Our main development focus is currently on the following:
- A final redesign of audio systems (1.4_soundfix)
- Data-oriented rework of tiles (1.4_data_oriented_tiles)
- Topological sorting-based redesign of interface layers and world generation passes
- Post-merge improvements for the asset system redesign
- Side-experiments with bettering the overall API designs;
Of course, the TML 1.4 Alpha remains available for you to check out. Again, please keep in mind that this Alpha is primarily intended for developers as an audience - so play around with it at your own risk!
As always, you can keep track the current progress and such more in real time at
tModLoader/tModLoader
(But note that the completion percentage doesn't mean anything, because issues and PRs don't have weights.)
Developers who are willing to contribute may do so by doing PRs to the
tModLoader/tModLoader
branch. (See
tModLoader/tModLoader
)

TMODLOADER ISSUES/BUGS
The Re-Logic team does not directly develop TML, so bugs with TML are best reported via the links below.
tModLoader - Play Terraria with Mods!
https://tmodloader.net/discord
Back to Table of Contents

XBOX & PLAYSTATION
Greetings, Terrarians! The team has mostly been focused on Switch Development... but we also took some time out to hammer away at some Console fixes! These will be in your hands soon - here is the list!
CONSOLE JOURNEY'S END FIXES & FEEDBACK
​
New!​
Move the Sun! You can now control the sun and the moon on the frontend menu by holding RT/R2 + right stick. Give it a whirl!
It's back! It is again possible to use the Touch Pad on the PS4 Dualshock Controller to zoom in and out of the world and transition between the world and map!

In Settings >> Controller >> Pinch Zoom World and Pinch Zoom Map are now available
Improved!​
Based on player feedback we've fixed the hotbar navigation when a Dynamic Hotbar item is bound to a hotbar slot, making it easier to jump through the Hotbar
Improved mouse & keyboard support across the board. Keyboard bindings for inventory management are now closer to PC

Use Shift/Ctrl/Alt + click to quick deposit/sell, quick trash and favorite items
Press Alt + left click to toggle the vanity visibility on equipment (this differs from PC, pressing Alt changes the cursor to an eye and you can click anywhere in the slot)
In Settings >> Keyboard & Mouse >> Quick Trash can be set to Shift + click or Ctrl + click

Improved world creation speed!
Improved boot up time, the game now starts a little bit quicker!
Fixed!​
Multiplayer and Split Screen
Fixed mannequins losing items when placed by the host and not being able to be seen by other players
Fixed an issue in multiplayer where an item was lost if held when a chest was closed
Fixed player 2+ in split screen being immune to projectiles
Fixed a few issues where open menus caused navigation conflicts or problems navigating the game in split screen and multiplayer
Fixed issues where open menus interfered with joining multiplayer games
Fixed the issue where users were unable to navigate through the Options menu during multiplayer if their network connection was lost when a menu was open
Fixed the delay in picking up items when the host threw an item to another player
Fixed a number of crashes

Fixed some player reported crashes when player encounters certain trees from their 1.3 worlds
Fixed the crash when the Painter's house is in a hallowed-snow graveyard biome and trying to open his shop
Fixed a bug on PS4 where some worlds are unable to be hosted, or cause a crash when they move to an area which was very built up (many items placed in one location). If you have worlds where you cannot get your friend to join them, and you're able to access your files on PS4, please send us the world file so we can investigate further Upload your PS4 game files to the devs
Please let us know if you experience a crash by reporting it in the forums and including as much detail as possible!
And many more fixes
Fixed the issue where some players were unable to unlock Pet Collector achievement. Please let us know if you still are having an issue by raising a bug in the forums!
Fixed! The housing menu should be easier to navigate/query/assign npcs now!
Fixed the issue where player's couldn't quick equip an item from a chest, as long as there isn't a conflicting binding for Use Item bound in the Settings
Fixed the controller binding for Research! You can now open the Research menu directly from an item in the Inventory. You can find this in Settings >> Controller >> Controller Bindings: Edit >> Inventory and bind Research Item!
Fixed a number of UI visual and graphical issues
Fixed that one hairstyle being displayed outside the hairstyle list menu.
Fixed an issue where the player was prevented from continuing to play if they died while a text input box was open
Fixed issue where sometimes when using a crafting station items could appear at a locked-on enemy's location
Fixed item pickup range in Journey mode to match PC. It's now possible to throw items from the inventory without immediately picking them back up!
Fixed multiline editing on signs and tombstones for PS4.

Sorry Xbox players this is a harder fix to add as it's not supported by the Xbox's default text input system

Fixed a bug where the frame rate would drop when the housing menu was open and you had a lot of NPCs
Fixed the issue where the summons tag on enemies could disappear if you got too far away from the enemy, making it hard to know who your summons were targeted on
Fixed the issue where the biome artwork behind the map was incorrectly scaled depending on UI zoom level and especially in split screen
Fixed a graphical glitch in the tutorial dialog boxes
Fixed a missing controller prompt on tutorial dialog boxes

The team is feeling pretty good about this range of fixes, but we know a handful of bugs and issues are still wandering out there in the wild. We have most of these documented (again, the best way to make sure your issue is seen is to file a Bug Report in the TCF Bug Section by pressing the button below!)
We are, of course, aware of some of the larger remaining bits (further KB+M work, Online+Splitscreen MP, etc) - and we still plan to get to these! Thanks so much for your feedback and reporting during the launch - with your help, we are able to fine tune and sort out issues to create a better Terraria experience for everyone!

NINTENDO SWITCH
We have what we hope will be an early holiday gift to our Switch fans: Terraria: Journey's End is in the final stages of development and submission, and…
We are pleased to reveal that the launch date will be January 4, 2022!
This build is a match to the fixes and content that PlayStation and Xbox had as of the start of November. Any relevant additional fixes listed for Consoles above - as well as any other Switch-specific fixes - will be submitted to Nintendo for release as quickly as possible.
So – we know the big question will be "why can it not come out before the end of the year if you are so close right now?" The reality there is that companies – including Nintendo – are nearing the end of year/holidays. As we all know, that means a lot of folks out on vacation and/or full company shutdowns. If we were to release - say in December - this would create a scenario where if there are any bugs or issues at all, they would essentially be impossible to fix (even if DR had a fix made instantly) until probably sometime in mid-January. It is just an unfortunate dynamic of this time of year. This gets the update out just as soon as possible in the new year, avoiding that risk.
While we are confident in this build, every launch has some bugs, and we just don't want to put everyone in a situation where there are issues that everyone is powerless to address. Now, that said, the team will continue to test and fix in the meantime and go ahead and get whatever else they can find already in the queue. Hopefully, that makes sense to everyone, but we are happy to answer any questions that you might have.
Back to Table of Contents

Hello everyone!
Mobile Terrarians, we are growing ever-closer to a return to development - this time, alongside our Console friends! The team is eagerly anticipating jumping headlong into bringing content parity to all platforms in the new year, we just need to get any needed Switch fixes out before we dive in. Not much longer now!
We have also been made aware of some issues impacting some players in regards to Android 11. The team will be looking into this shortly, and we will get any needed fixes out just as soon as possible!
Thanks as always for the honor and trust you give us each month to work on Terraria - it is not a responsibility that we take lightly, and we look forward to bringing more amazing things to you all as we move forward.
Here's the latest and greatest happenings on the Community side of things. Thanks as always for being the most engaged and awesome gaming Community ever!
TERRARIA MERCHANDISE STORE HUB
​
The merchandise hub is here for all of your holiday shopping needs - and it is packed with more goodies than ever before! Check out the latest merch drops as well as some classics and pick up that epic Terraria gift for a friend (or yourself!)
Click the banner above to head to
Terraria.org/store
now!

TERRARIA MERCHANDISE UPDATES
We had been teasing a few merch drops in time for the Holidays - and those began last week! In case you missed it, we launched two new merchandise lines: the latest product lines from Vidglo and brand new (and amazing) shadowboxes/desktop art from Artovision!
HOLIDAY COLLECTION - AND MORE - FROM VIDGLO
Our fantastic partners over at Vidglo (
Terraria.shop
) have been hard at work on some new offerings for the Fall/Winter season. Terraria Xmas Sweater? Christmas Card? Yes please!
---
TERRARIA x JAIDEN ANIMATIONS
Click the banner image above to check out the Terraria x Jaiden Animations collection!
If you haven't checked out the Terraria Series by
@ChippyGaming
, Jaiden Animations, and AntiDarkHeart, you are really missing out! We have certainly enjoyed watching the ups and downs and all of the antics as this trio tackles all that Terraria has to offer in the Journey's End era. For anyone not familiar with Jaiden Animations beyond the Terraria series, she is a talented and amazing artist and content creator with a very unique style all her own. Definitely worth checking out her YouTube channel, linked below:
JAIDEN ANIMATIONS YOUTUBE CHANNEL
She has had so much fun playing Terraria that we all got to talking about how cool it might be to do another "influencer-inspired" collection of Terraria merchandise, featuring Jaiden Animations... and so, here we are! Blending elements unique to Jaiden's style with everyone's favorite creepy robed figure - the Lunatic Cultist - this limited collection features an amazing hoodie, shirt, stickers, and a collectors pin (that you can get for free by picking up anything else!).
---
BRAND NEW CORE TERRARIA MERCHANDISE LINES!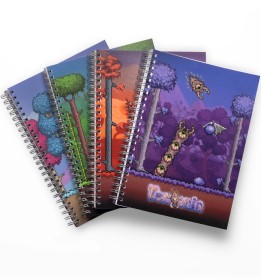 Notebooks, pens, new stickers and posters - and a first foray into a Blind Bag Pin based on in-game art! Click any image to pick up anything that catches your eye today!
You can also find quick links to each of these festive products on the
Merch Hub
- we are really proud of the wide range of products we have been able to get out there this year. Truly there is something for every Terrarian on your gift list!
---
SHADOWBOXES AND DESKTOP ART FROM ARTOVISION
These are the first releases from our latest awesome partner, the good folks at
Artovision
. If you are not familiar with them, they make simply amazing Shadowboxes and Desktop Art pieces based on video games and popular culture. These are really unique items - creating a really cool three-dimensional effect via the use of layers. Pictures really do not do these justice - wait until you see them in person! This initial release focuses on the Lunar keyart introduced during the Terraria 1.3 era. Check it out - and pick one up today - just click the image to head on over to Artovision to complete your purchase or to learn more!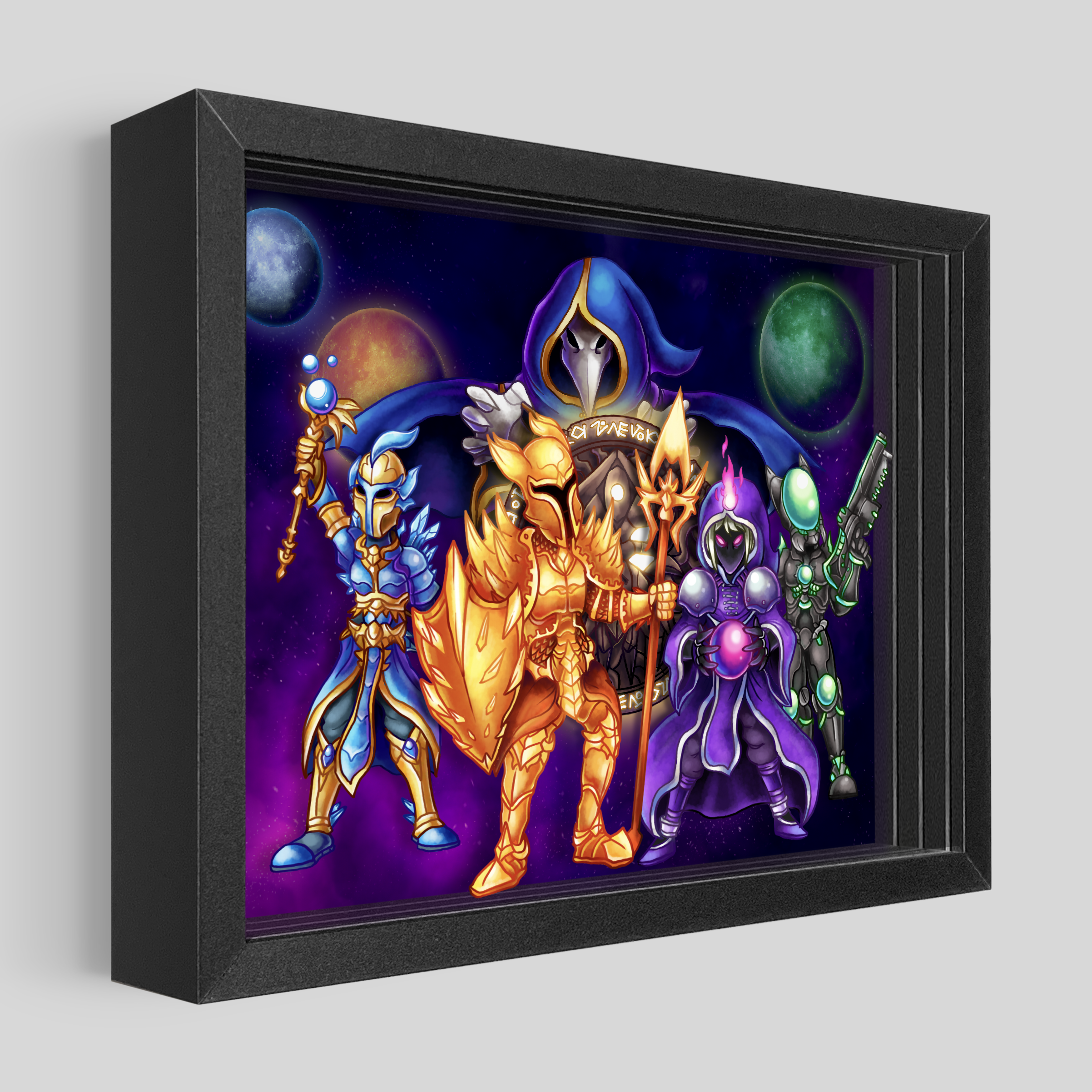 TERRARIA LUNAR SHADOWBOX
This collectible shadowbox art piece measures 12" x 15 1/2" x 2 1/2" and comes ready to hang with an official Terraria Certificate of Authenticity (COA).
Each piece is printed on 1/8" thick optical-grade acrylic with vibrant UV cured inks and set in a high quality finished MDF wood frame, our shadowbox art pieces are handcrafted in Eau Claire, Wisconsin.
TERRARIA LUNAR DESKTOP ART
Each piece is printed on 3/4" thick optical-grade acrylic with vibrant UV cured inks and measures 4 1/2" x 6"

TERRARIA HALLOWEEN CONTEST RESULTS
​
We were really blown away by the quality of the entries this year - especially the epic pumpkin carving. You all are just amazingly creative and talented! Check out the winners below!
Here are the winners for the Terraria 2021 Pumpkin Carving Contest!

1st Place: @Student (25,000 Prize Points or 250,000 Special Prize Points)
2nd Place: @apgold (15,000 Prize Points or 150,000 Special Prize Points)
3rd Place: @Immortal_Fire (10,000 Prize Points or 100,000 Special Prize Points)
4th Place: @ThatOneGirl (5,000 Prize Points or 50,000 Special Prize Points)
5th Place: @KuroiTsuki (5,000 Prize Points or 50,000 Special Prize Points)
You can view all our amazing entries here:
---
Here are the winners for the Terraria 2021 Halloween Vanity Contest!
1st Place: @ilysatan (15,000 Prize Points or 150,000 Special Prize Points)
2nd Place:
@Dmitri
(10,000 Prize Points or 100,000 Special Prize Points)
3rd Place: @Ohenry1234 (5,000 Prize Points or 50,000 Special Prize Points)
4th Place: @Squid_CEO (3,000 Prize Points or 30,000 Special Prize Points)
5th Place: @Drippler Crippler (2,000 Prize Points or 20,000 Special Prize Points
You can view all the spooky entries here:
Halloween 2021 Vanity Contest Submissions - Google Drive

TERRARIA X DON'T STARVE TOGETHER COMMUNITY EVENT
In celebration for the new Don't Starve Together x Terraria update we are hosting a Don't Starve Together themed event!
Submissions will be open until December 12, 8:59PM PST.
Event Summary:
Create a Terraria build or fan art incorporating Don't Starve Together themes. Share an image/gif of your event entry.
Rules:
• You must submit an image/GIF.
• It must be your own original work.
• No NSFW submissions.
The community will vote on the winners and the top 10 voted winners will each win prizes that they will get to pick from a prize pool.
All details on how to participate in the event can be found in the Terraria Discord server at
Join the Terraria Discord Server!



Until next time, Terrarians - we hope you have an amazing month, and we look forward to bringing you the latest and greatest next time!

Back to Table of Contents
​
Last edited: