Bad luck with world generation again? This mod might help out without modifying vanilla world generation.
It can search for world seeds which generate vanilla Terraria worlds with specific properties you are looking for. That means the seeds found here can also work without any mods (for 64-bit (*)).
Or as alternative this mod can also be used to just find some nice worlds with e.g. many Pyramids, a Living Tree near spawn and no Corruption in Jungle biome.
To enter the seed search mode
cycle through the mod menu at the title screen. (at the bottom of the screen)
How does the mod work?
During world generation it checks if the world matches the chosen search criteria - if not the mod ends world generation of the current seed and continue with the next seed. Some criteria can be checked at early world generation, some other need more world gen steps and some even the full world generation. Depending on chosen criteria it can be over a thousand times faster than normal world gen or just about the same speed.
Have fun & good luck in finding the seeds of your dreams
(*) Currently tModLoader and with this also this mod generates the same worlds as vanilla Terraria on Linux/Mac. Vanilla Windows world generation is similar but not equal (1.4.3.6).
Some pics: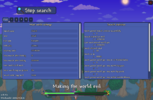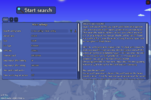 >>> Seed Searcher Community - Discord Server! <<<
There you can share your seeds, ask questions about the mod, do some feature request or just do some common seed talking.
This mod only works for tModloader 1.4+ branch. It is based at the 1.3.5 version you can find
here
.
Besides the new mod name it also got a new UI with a more powerful internal structure. 1.4+ world generation also changed a lot. It will take some time until all features (which are still possible) made it into the new 1.4 version. Many things can be added. If you like to have some impact about what is added next feel free to post some suggestions here or at the discord channel.
Last edited: