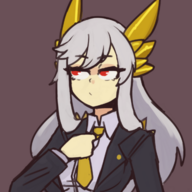 Last Activity:

Feb 17, 2019 at 4:32 AM
Joined:

Oct 13, 2014
Messages:

2,621
Likes Received:

10,764
Trophy Points:
Gender:

Male

Birthday:

Oct 2, 1996

Age:

22

Home Page:

Location:

Occupation:

Overly Lenient Dungeon Master
Matsu
Moderator, Male, 22, from Dorvton
Staff Member Moderator
Song of the Day: Night Moves by Bob Seger & the Silver Bullet Band _mRFWQoXq4c Feb 14, 2019 at 8:30 AM
Matsu was last seen:

Feb 17, 2019 at 4:32 AM
Loading...

Loading...

About

Gender:

Male

Birthday:

Oct 2, 1996 (Age: 22)

Home Page:

Location:

Occupation:

Overly Lenient Dungeon Master

Re-Logic Games Owned:

​

If you have never wept bitter tears because a wonderful story has come to an end and you must take your leave of the characters with whom you have shared so many adventures, whom you have loved and admired, for whom you have hoped and feared, and without whose company life seems empty and meaningless –

If such things have not been part of your own experience, you probably won't understand what Bastian did next.

Staring at the title of the book, he turned hot and cold, cold and hot. Here was just what he had dreamed of, what he had longed for ever since the passion for books had taken hold of him: A story that never ended!

From: Michael Ende's The Neverending Story​

​

I am currently some random scrublord living in the not so nice part of California we aren't supposed to tell people from out of state about; you know where Trevor starts out at in GTA:V? Yeah, I live in the real life equivalent of that place; not even kidding a little bit.

Several days out of the week I venture out into the nicer parts of California in my on-going mission to get not just one English degree, but two of the things. If you're ever on the CSUN campus let me know, I will avoid you.

I watch the animes (having completed 228 of them and Bakuman being favorite) and play the video games (Pokemon Sapphire being my favorite one) and read the books (Patrick Rothfuss' The Slow Regard of Silent Things being my favorite one) and play the funny shaped dice games (Pathfinder being my favorite system.); I am good at none of them however.

I have been part of the Terraria community since May 12th 2011, and I got the game on launch day.
I have been a moderator on TCF since February 26th 2015, and I am mediocre at it.

My 3DS Friend Code:
4897-6057-2265

Aliases That I Use:
MatsutsuT
NotMatsu
ProbablyMatsu
MatsuSuxButt
Actually Matsu

I do indeed have more characters than this, some of them can be seen in the Imgur gallery in the spoiler below this one in fact, but these are the ones I personally deem important and relevant.

Charles "Bramblewynn" Montehan III

​

​

Race: Human

Gender: Male

Age: 19

Height: 5'8"

Weight: 135lbs

Description:

Bramblewynn was born in a small village. One fair evening while on a walk with his parents, his family was beset by wolves and torn apart. The three year old Bramblewynn would have died, but luck took a turn for the better and a small hunting party of Bronze Giants killed the wolves and, in a moment of pity, took in the mewling human baby. Bramblewynn was raised by the giants in the lofty peaks of Dun Dar, being taught their ways and learning to respect the bountiful mountain he would now call home. He was raised chiefly by the village shaman, a stately but kind woman who taught him the ways of the druid.

Bramblewynn is calm and cautious and tends to act in most situations with the patience learned from his foster-mother. However, he is incredibly loyal to anyone he deems a friend and tends to be somewhat gullible due to his wild upbringing.

Bramblewynn loves nature in all but one form, wolves. He fears and despises the beasts and will avoid them when at all possible. He also has a fondness for vegetables.

Theme:

Race: Elf

Gender: Male

Age: 119

Height: 6'1"

Weight: 140lbs

Description:

Caladrel was born and raised in a simple elf village. As he grew he was taught the way of Battle Dances and became a highly skilled Dervish Dancer. One day he touched a strange book on an old peddler's cart and his life change drastically. For over 100 years of his life Caladrel has been shunted from dimension to dimension working for the strange god Viyon. He spent much of his life alone, but did eventually come to an agreement with Viyon that gave him the opportunity to start a family and still see his daughter regularly.

Caladrel is curious, reckless, and prone to violent mood swings. The dimensional shunting that Viyon puts him through devours his memories and quite possibly his sanity and as such he remembers little of his life before he met the god.

Caladrel is a Bard and showman through and through, and will never pass up the opportunity to dance for a crowd and show off his skills. He fears kodamas in an almost unhealthy way. He has a fondness for strange items that seem mostly useless, but he deems comical.

Theme:

Faedia Sura


​

Race: Human

Gender: Female

Age: 20

Height: 5'6"

Weight: 130lbs

Description:

Faedia Sura grew up in the city-state of Lini, her mother a prostitute and her father a drunk. From a young age she knew that she wanted a better life, and as such she worked hard to join the city-state military. She faced much adversity due to her gender and young age, but she quickly rose up to be a prominent member of a phalanx. She grew attached to the leader of her phalanx, and viewed the man as a surrogate father figure. During a skirmish with a group of orc raiders he was struck down; Faedia took up his hammer and shield, and in her grief led the remaining members of her phalanx in a last stand against the raiders. After returning to Lini Faedia was tried in a court-martial for breaking the chain of command and taking command of the phalanx. After this incident she was dishonorably discharged from the military. She now plies her trade as a bodyguard for hire, still using the hammer and shield of her former commander.

Due to her strict military upbringing Faedia is a rather taciturn woman, she prefers avoiding flowery speeches and often speaks only what must be said. Her life spent living and dying by the strength of those next to her has taught her to be well aware of the strengths and weaknesses of her allies and how best to utilize them.

Faedia is loyal to a fault, when given an order by whoever is her commander at the time she will follow it thorough even if it means death. She fears little, but she does seem to dislike joining other women in the public baths of Lini.

Theme:

​

Race: Vampire

Gender: Female

Age: 132

Height: 5'1"

Weight: 105lbs

Description:

Maria has seen a lot in her long and rambunctious life. A Bard by trade and a Rogue by nature, Maria is keen on looking out for only herself and conning her way to a quick buck. Growing up on the streets of Notaly she learned to pick pockets and get away with it by utilizing her silver tongue at a young age. When forced to fight she prefers to let her beefy allies deal with the dirty work while she stays back and cheers them on and lobs the occasional spell into the fray; though she is known to plant a knife in a back when nobody is looking.

Maria only very recently became a full-fledged vampire, having lived most of her life as a Dhampir (half-vampire), and as such she is still getting used to the power that grants her; said event also charged her with electricity and gave her the ability to fly…don't ask.

Maria is manipulative to everyone she meets and she is also a consummate flirt. She loves utilizing her charms to lure in any man or woman she finds attractive enough for a quick romp or even a longer term commitment if the person is right.

Theme:

​

Race: Human

Gender: Male

Age: 21

Height: 6'2"

Weight: 120lbs

Description:

Sir Gerard the Galant was born the sixth son of a minor nobleman and as such had a childhood with little parental supervision and entirely too much free time. A natural Swashbuckler Gerard was drawn to the nobleman's art of fencing from a young age; in fact, fencing is one of his three talents, the other two being binge drinking and wooing fine women. Gerard has recently had to flee his home, rather than face the wrath of his father, after one of his wooing sessions of a lady of the court ended in a pending child.

Gerard is a charismatic man and that coupled with his upbringing in noble courts has made him a right honorable man, most of the time. He never fights women unless the situation is life or death, and prefers to use his silver tongue to his steel blade in most situations; despite this silver tongue being the source of his problems more often than not.

Gerard is a womanizer, a gambler, and kind of a scumbag; but deep down he does have a softer side. His sense of honor makes him a man that will defend the rights of the downtrodden at all costs, even if it means starting a riot to do so.

Theme:

Twitch

​

Race: Silmoran

Gender: N/A

Age: 21

Height: 6' 4"

Weight: 184lbs

Description:

Twitch was raised in a monastery in a sprawling Silmoran city with their sibling "Eye Yarn." In this monastery, Twitch was trained as a Monk, utilizing unarmed combat as a means of meditation. In this monastery, Twitch was given the Calling of History and studied the subject with some passion. In learning history Twitch became disillusioned with the Silmoran way of life and sought a new way. They, along with their sibling. embarked on a carrier ship that was stopping in their city to re-fuel; eager to explore the vast cosmos and make a better name for Silmorans everywhere.

Twitch tries to be cheery and often acts child-like, making them appear to be the younger sibling. Twitch however does not view this with anger and often finds it humorous when people believe "Eye Yarn" to be the older sibling due to their grumpy nature. However, despite their often childlike personality Twitch is known to fly into a rage when "Eye Yarn" is attacked and will fight to the point of dropping to protect their sibling in a dangerous situation.

Twitch is naïve and optimistic, constantly seeking the best of a situation. Their sheltered and isolated upbringing has given them a massive amount of curiosity about the outside world. Twitch seeks to help people in whatever way possible to prove that not all Silmorans are bad and to make a better name for their people.

Theme:

Vend Ryn the Scion of Justice

​

​

Race: Deity (Aasimar)

Gender: Male

Age: 82

Height: 5'7"

Weight: 155lbs

Description:

Vend Ryn is the God of Justice, Neutrality, and Light. An inspiration for many Paladins, Fighters, and even some legally minded Oracles; Vend Ryn naturally draws in those that seek to do good in the world. Although, some doubters of those that hold faith in him question if the lengths he will go to provide justice are indeed, just.

Vend Ryn can easily be described as stiff and inflexible. These aspects of his personality reflect to his fighting as well, he simply overwhelms many foes through sheer defensive power; it is said only one other creature has ever pierced his legendary armor, and that creature was another deity.

Vend Ryn is stubborn and unyielding. Once he deems someone guilty he will stop at nothing to dispense justice to them; and seeing as he is the god of justice, he defines what exactly that means.

Theme:

Race: Deity (Hala Demon)

Gender: Male?

Age: 69

Height: 7'7"

Weight: 210lbs

Description:

Zaidhal is the "God" of monsters, gluttony, and betrayal; as well as being the claimed Lord of Storms and Monstrous King. Zaidhal loves little else beyond eating anything he can get his hands on, especially small humanoids and children.

Zaidhal can be described as cruel and sadistic, but the truth is he loves to play games with people. Easily bored and distracted, Zaidhal gains great pleasure from pitting mortals against each other. A strange thing to note is that many of his more devout worshippers describe him as a very kind and loving god, revering him as many would a father or mother.

Zaidhal is cruel and capricious; easily the definition of a mercurial personality. When Zaidhal finds something he wants, he will stop at nothing to get it; even if that means eating giant snakes.

Theme:

Below is just some of the incredible artwork that I have gotten. Click

HERE

for an Imgur gallery that contains all of it.

Made by @Ajidot

Made by @Corenality

Made by @DarthKitten

Made by @DG-VR.

Made by @EpicCriddle

Made by @Suweeka

Made by @Szaila

#Matsuweeka (Matsu x Suweeka)

#Qui-Matsurat (Qui-Devorat x Matsu)

#Matsuki (Matsu x Tsuki) [SUPER SHIPPED]

#Matstar (Matsu x Ghostar)

#Flatsu (Flan x Matsu)

#Matsuki (Again) (Matsu x Tsuki)

#Matsubind (Matsu x Cellbind)

#Rainsu (RainbowDrago x Matsu)

#Ajitsu (Ajidot x Matsu)

#TheQuietMatsu (TheQuietBisharp x Matsu)

#Matstream (Matsu x Jetstream)

#Leinsu (Leinfors x Matsu)

#Charmatsu27 (Charmander27 x Matsu)

#Matstorm (Matsu x Stormconure)

#Batsu (Baconfry x Matsu)

#Malee (Matsu x Doylee)

#Destsuroyerarcher (DestroyerArcher x Matsu)

#Lensu (Lenny x Matsu)

#Watsu (W1K x Matsu)

#Keltsu (Kelp x Matsu)

#Matsu_alx (Matsu x Agent_alx)

#MatsuKnight (Matsu x MetaKnight)

#Gemsu (Gem x Matsu)

#EpicMatsu (EpicCriddle x Matsu)

#XenoMat (XenoCat x Matsu)

#Foxsu (Kalifox x Matsu)

#Matscrow (Matsu x Scarecrow)

#Skye the Matsune (Skye the Kitsune x Matsu)

#Matsol's Girlfriend (Matsu x Sol's Girlfriend)

#Batsu (TheBezixx x Matsu)

#Matsodaponesu (Matsu x Sodapone)

#Magtsu (

MagnificentMicrowave x Matsu)

#Matsuki-Star (Matsu x Tsuki x Ghostar)

#Matsuw1ka (Matsu x Suweeka x W1K)

#DevaMatsuki (Devalaous x Matsu x Tsuki)

#Ayumi'sdatsuw1ekamander27 (Ayumi's Dad x Matsu x Suweeka x W1K x Charmander27)

Interact

Signature

♦

TCF Community

Rules &

Guidelines

♠

TCF Community

User Guide

♦ ♦

TCF Help Section

♠

Expired Warning Removal

♦ ♦ If you have any questions or concerns feel free to PM me! ♦

Loading...