Guide Category

Weapon/Gear Use
Inspired by tests like this by
@qwerty3.14
,
@J Bame
, and
@Mathbrush1
, I've decided to test viable early Hardmode weapons against The Twins to see which weapons are superior in boss fights like this one.
I did these tests in Journey mode with the difficulty slider set to 2.00x (Expert mode), which gave me 6 accessory slots to use, and gave the Twins a total of 64500 health (Spazmatism has 34500 health and Retinazer has 30000). I set the time to 7:30 PM, froze time, summoned The Twins, unfroze time, then froze it again after they were defeated.
Here are the builds I used for the tests. The top three accessories are reforged to Menacing, the bottom three accessories are reforged to Lucky except in the summoner build in which case they are also reforged to Menacing.
From left to right: general melee, yoyo, bows, other ranged weapons, mage, summoner.


Here are the buffs I used:
I used three Ruthless Sanguine bats alongside every non-summoner weapon.
Green
means a high velocity weapon with high range that can hit the boss really easily.
Turquoise
means a weapon that can hit the boss if used correctly but requires more effort than green weapons.
Blue
means a weapon that can hit the boss easily if you're close enough but doesn't have that high range.
Yellow
means a weapon that can only hit the boss when it's charging at you, but still performs decent.
Red
means a weapon that struggles to hit the boss.
Results:
Melee:
Melee didn't perform very well, as the Twins tend to hover a specific distance away from the player, which makes certain melee weapons unable to hit them.
Conclusion: boomerangs = post-Mechs yoyos > pre-Mechs yoyos > flails = chain weapons ("launched flails") > beam swords
Ranged:
Ranged was probably the best class for this boss, as every weapon had basically infinite range (except for Toxikarp) and got a decent time.
Conclusion: post-Mechs bows > dart guns > pre-mech guns > pre-mech bows/repeaters
Magic:
Magic did fine, generally not as good as ranger but better than nearly all of melee's options.
Summoner:
Summoner performed extremely well, especially with whip stacking, which allowed it to get times under ranger, however there were only two viable minions (Sanguine and Blade). Also keep in mind that I'm not the best person ever at whip stacking, so the whip stack times could be improved with more skill.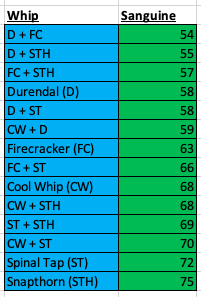 Conclusions: With Sanguine Staff: Durendal > Firecracker > Cool Whip > Spinal Tap > Snapthorn . With Blade Staff: Durendal > Spinal Tap > Cool Whip > Snapthorn > Firecracker. Also stacking Snapthorn with a whip other than Spinal Tap seems to be more trouble than it's worth, at least for me. Also Spinal Tap and Snapthorn don't have enough range to hit Spazmatism while he's firing fireballs, which makes up a significant portion of the fight.
Final Conclusion:
Ranger is definitely the safest (as always), but summoner wins in terms of speed with whip stacking, but without it is heavily in competition with ranger. Mage works great but is outclassed by ranger and summoner, and melee can work if you use one of the very few weapons that score respectable times (Bananarang, Yelets, Shadowflame Knife, and Light Disc), but I'd recommend using a different class.
Have any questions or requests to retry weapons with other loadouts?
Last edited: