Maybe they could
store the items into the entity data so it would be safe to move. Or just move empty chest, that could be fun too. There should also be a spinning motor, so you could spin things around like the spike balls in the dungeon.
Yeah, I thought about also making some kind of Turn Wheel that will rotate objects as they move along the rails or just sitting in place, kind of like this. --->

But I don't know for sure what all the limitations of the game engine are. Because I saw on 1 post they said they can't add more than 4 wire colors.

But if they could do it. You could place a Turning Wheel use a Screw Driver to set it's speed and connect Frames to it to make swinging things like this. --->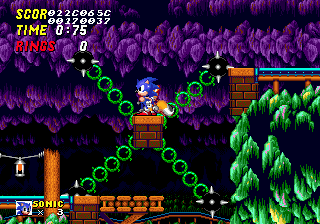 I also had the idea for a Free Wheel that would move things along the rail when a player or mobs run into them. Then you could make push-able blocks.