(This is a lot- skip to spoiler for a TL;DR)
Now first, I want to say I've had a lot of fun with this update so far. I'm very grateful that the devs have continued to update this game for NINE years now despite not really needing to. Terraria's one of my favorite games, but I don't think it's without faults, and as a constantly changing game (though maybe not for much longer), I'd like to see it become as best as possible before development truly ends.
That said..
As a sandbox game, Terraria has always advertised itself with the line "The world is your canvas" since the very first trailer, implying you may build the way you like. The NPC happiness system clashes with this since now the game pushes you to build one way and not any other. You can still build rooms close together, but not only do you miss out on the amazing addition of Pylons, but you also incur up to a 50% increase to item costs from NPCs (this makes items like the clentaminator, solutions, and wire CRAZY expensive). This means the game actually
punishes
you for building the way you like, and hides an amazing QoL item if you do not conform to the game's one way of setting up your NPCs. This is not "The world is your canvas," but more "Build this way only, or suffer higher prices and miss out on these quality of life items."
Some of us have spent hours, some of us
dozens
or
HUNDREDS
of hours designing very creatively built towns. I'm no master builder, but I've seen some amazingly intricate village designs that
blow my mind
. It's sad that these builds will now be punished, and that the game now discourages them. Some people already had single rooms or groups of rooms spread throughout the world, with others having them all consolidated at main base either in simple square boxes or cleverly created villages, but now we'll mainly see just the former. The game actively encourages just
one
way of building, and I think this
hurts the Terrarian experience
.
To my understanding, the given reason this system was made was to encourage players to build across the world, but to that, I wonder
why
? That seems to imply NPCs grouped together was overpowered or something. I think it should be fine if a player wants to keep them close, or spread out. Let the player decide! ..without punishment.
The world is their canvas!
It is a
good
idea to promote unique creations to make worlds distinct from each other! If only one way of building is encouraged, worlds and playthroughs will become more stale. The Dryad will
always
be in the Jungle, when even the Forest or the Hallow she seems to fight for would seem fitting for her. The Angler will
always
be at the ocean, even if a lake or river build could thematically work for him. The Steampunker will
always
be in the desert even if a player-built airship or clockwork tower would arguably suit her better.. see where I'm going with this? It's better to
encourage the player what they'd like to make
, not influence their decisions by imposing
punishments
and
locking away content
.
I'm also kind of sad that the Mechanic likes the Snow biome, but the Goblin likes it Underground.. they seem like they have something going on, why is the game trying to separate them..?
What if the Happiness mechanic instead used a system based on quests? These could be as simple as basic fetch quests- perhaps a lost item that'll spawn around the player much like a tied up NPC, or an existing item- maybe the Hair Stylist needs some pink gel to use as hair gel. Maybe the lost item's been stolen, like imagine if the Clothier lost his red hat and you'd come across a skeleton underground wearing it (it would drop a special version, perhaps named "Wilson," as he mentions he "made a friend out of leather" named that). The zoologist might have lost a pet.. etc. Performing quests could increase NPC happiness which could net you some new rewards as well as discounts. Angler's quests would work towards his happiness, as well as bringing Strange Plants to the Dye Trader (buuut could they be pre-hardmode again?) Buying stuff from an NPC can increase happiness too, say spending at least 1 gold per week at the Merchant will increase his happiness. This number can vary per NPC, accounting for their item prices and how often an average player may buy from them, capped per week to prevent easily instantly maxing out their happiness. NPC happiness can lower if another nearby NPC is killed, and significantly more if they themselves are killed, along with taking enough damage. Throwing rotten eggs, stink potions, and party girl bath water (except for her) at them would likely lower their happiness. There are a lot of more engaging, less limiting options here!
With the above idea, pylons could be sold when NPCs reach a certain happiness level... OR perhaps, they could be crafted with the use of gems and a magic mirror to keep them somewhat rare- and perhaps have a substitute hardmode Hallow ingredient (Maybe the Queen Slime can drop a Chaotic Crystal?) as magic mirrors are technicality limited in supply (or maybe magic mirrors could drop from Hallowed crates? They could use some unique items). Emeralds, spores, and a magic mirror could make a jungle pylon; amber, sandstone and a mirror could make a desert pylon; sapphires, coral, and a mirror could make an ocean pylon, etc. If needed, they could be crafted at a special crafting source, perhaps a crystal ball, or to make them pre-hardmode, enemies could drop a rare crafting ingredient. Maybe the desert one requires a drop from a sandstorm enemy, and an ocean one from the ocean when it's raining. There's a few solutions here I think. Pylons ideally wouldn't need NPCs near them, but only one of each biome's pylon can be active at a time- or maybe two or three. The reason being that pylons siphon a biome's energy to remain active to transport players, and with one (or the max) active, no more can be activated. Teleporters would still retain the use of being unlimited and having the ability to warp mobs and have the ability to be wired up.
Clowns used to explode blocks with their bombs, which discouraged use of any block beside dungeon bricks and hardmode ore. Wyverns are now less likely to spawn if you're behind a wall, making sky buildings less punishing. NPCs used to be defenseless, so you'd always have to design bases where enemies couldn't get in. Point is, all these changes were for the better- they removed punishments and encourage more freedom with building, but the current Happiness system does the opposite of this.
This sandbox game that calls its worlds your canvas punishes you depending what your build style is
.
These builds now receive a punishment with the current Happiness system: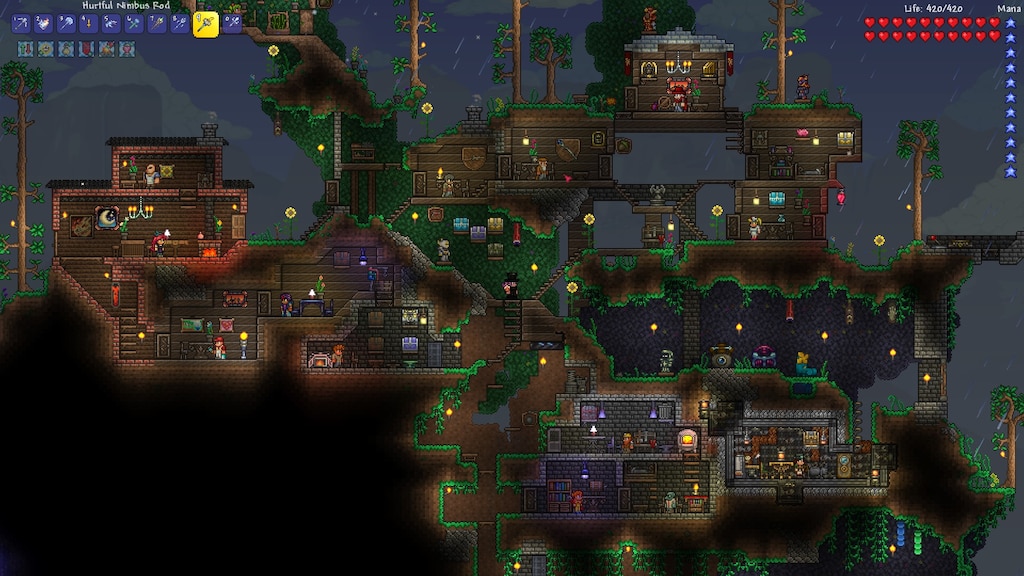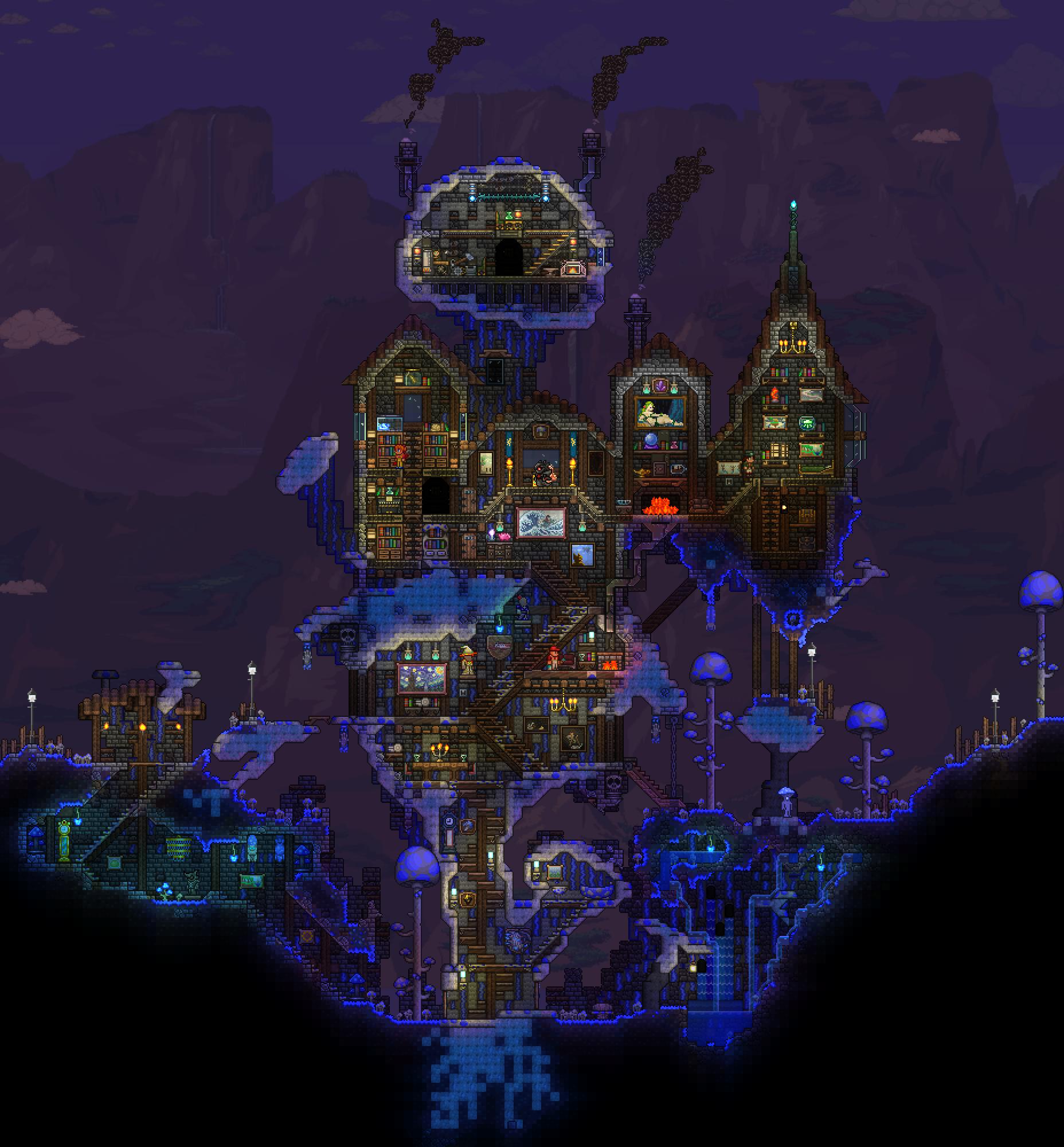 These builds are now frowned upon by the game, sadly.
Anyway.. this was a little longer than I thought. I'm really loving this update so far! But I do feel the punishment for building how you want is a very negative aspect to the game, as well as locking the very useful pylons behind one way of building. I
really really really
hope the dev team can reconsider this system.
Last edited: