Encountering issues with the Localization/Translations with 1.3.5? Please report them via the section linked below so that we can account for all of them and have them addressed. Thanks!

Localization Bugs & Issues Section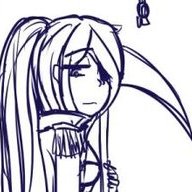 Joined:

Nov 25, 2014
Messages:

1,155
Likes Received:

14,064
Trophy Points:
Gender:

Female

Birthday:

September 11

Age:

16

Home Page:

Location:

Occupation:

Falling
XenoCat
Pixel Pirate, Female, 16, from Void
Ah, how little I've checked this place recently. Haven't properly looked at anything here in around three weeks now. Unfortunate. Jul 22, 2017 at 8:01 AM
Loading...

Loading...

About

Gender:

Female

Birthday:

September 11

Home Page:

Location:

Occupation:

Falling

Re-Logic Games Owned:

Terraria: PC
Pixel Piracy

Hiya! I'm Xeno, and this is... more or less just a simple gallery of a single image of my boring OCs. However, there is a bit more information below that.

Vare Nosk, scythe wielding pirate terror of the seas.

Character name: Calamite Crimson

Race: Demon

Gender: Female

Age: 55 (17 in demon years)

Visual Description: Light red skin and silver hair, light purple at the tips, braided into many 'drills'. She wears a golden choker with encrusted rubies, a dark red dress with bows and booty wings. Thigh highs that are slightly lighter than her skin, and red slippers. She has bands around her ankles and wrists, as well as sleeves that wrap around her middle finger. She's notably short, yet above average for demon standards. Above everything, she wears a cloak bearing the symbol of her kingdom to hide her identity.

Abilities: Calamite is able to turn into a Gold Dragon, or sprout dragon wings from her back at any time to enable flight. Otherwise, when she's angry, she can enter a state of increased power for a short time, at the cost of fatigue afterwards.

Personality: Snotty and royal, as well as very cocky and confident, yet timid at the same time. She often bites off more than she can chew, believing that she can handle anything.

Misc: Humans are nothing but slaves to her, and most other races are beneath demons, in her eyes.

Backstory: Calamite hails from the Crimson Kingdom, a far off and little known demon kingdom that takes humans who come across it as slaves and sells them off in black market exchanges. Her father, King Crimson, rules the kingdom and raised her as a princess, to the point that she believed the world was hers. She knows that appearance is everything so she always tries to look her best. Eventually, she wandering into her father's treasury and stole a valuable weapon and a small fortune. Her father caught her and exiled her immediately, leaving her to wander the world alone.

Feel free to add me on Steam if you want to chat, or play, or anything. Please remember though, I may be busy with other things, or not wish to talk/play at any given time.

http://steamcommunity.com/id/Xeno246

Otherwise, if you're interested in playing things like Pokemon or Smash, here's the information you need:

Wii U NNID: XenoCat246

3DS Friend Code: 3926 - 8593 - 7859

Interact

Loading...