​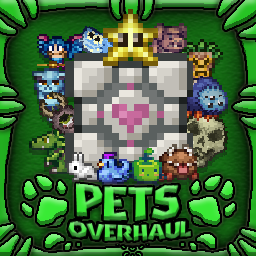 2.0 Update, Complete Revamp of Code, Heavily Improved Quality and Mechanics, New Pet Effects & More!
Your Pets are about to richen up your gameplay in every aspects with +65 new unique pet effects, +10 new town pet auras and a new Leveling System for your gathering tasks to make them more efficient and more enjoyable!​
-Very well, what does this mod even do?
Pets being nothing but vanity is something that I always disliked and felt like its boring. Light Pets served a purpose but regular pets haven't, other than a few that gave light as a regular pet so I remember always using Cursed Sapling or Strange Glowing Mushroom as my pet in my playthroughs. Even though obtaining pets are usually obscure, pricey, rare and just difficult altogether, they are almost never exciting to get one unless the pet is some character you really like etc. Now with this mod I aim to remove the fact that a pet does nothing and now, they will be worth to grind for. This mod gives all non-light pets and town pets a unique effect on their own that matches the pet's personality and the stage they can be obtained.
These effects will impact every aspect of your game. This includes Combat, Resource Gathering, Mining, Fishing, Mobility and more! Check our discord from below to find out what every pet does and to figure out what you want to aim and grind for! And well, of course, welcome and enjoy non boring pets!
-What is Mastery Shard?
Mastery Shard is an item dropped by Eye of Cthulhu, Wall of Flesh and Golem only once per world (A mod has been made to remove this limit if interested!) which can be crafted into any Master Mode pet by combining it with a Boss Trophy. Allowing Normal and Expert worlds to have access to Master Mode pets with a limited amount! You also may still drop the shards even boss has been defeated prior to using Pets Overhaul.
-Cool stuff! Can I give my opinions about the mod?
%100. I need feedback especially since this mod has been released quite new. Balances can definetly be off and I will have to need player feedback for proper balancing and even yet, fixing unintended stuff! Please feel welcome to say any opinion, critisism, praise or anything u got! Also, always open to recieveing new ideas to improve pets!
-What about crossmod pets? Any plans to add effects to pets from other mods?
Currently no specific plans on that, quite possible, which mods are going to recieve cross-mod will probably be determined on which mod the community is wishing to see my mod to be crossmodded with!
-Why not make pets directly attack enemies but instead make player get certain effects?
I had these 3 rules in mind while making the mod: 1. Effect must match the Pet. 2. Effect must be unique and aid the player in some aspect of the game. 3. Effect must not make the 'pet' be something separate than player like a minion.
My initial idea conflicts with the idea of making pets attack enemies etc., besides, there already is a mod for that. (Check Amulet of Many Minions if interested in it!)
The mod is mainly inspired by Hypixel Skyblock's Pets system, where pets 'assists' the player, rather than acting as a separate entity and attack, or do some other action on their own. (there may be few exceptions)
So even if I have some pets that 'attacks' (makes player summon a projectile etc.) they don't unless player attacks or under certain conditions.
Here are few of the pets as an example!
​
Check out the Mods discord for whole changelog, list of every single pet and more!
Server for Terraria tModLoader's Mod, Pets Overhaul! You can find List of Pets, Changelog, extra information and more! | 265 members
discord.gg
Special Thanks to:
Furqi for making all Icons and artwork
Celestepic for Chinese Translation support
Starite_Fusion for Brazilian Portuguese Translation support
Community for helping with the code
Last edited: