Fireplaces were first introduced in 1.3, but that doesn't you can't "make" one in 1.2. Today I'm going show you how to make an "Artificial Fireplace" in 1.2
Note: To show you that you can really make it, I'll be using the mobile version of Terraria (which is 1.2)
The first design is a simple and basic fireplace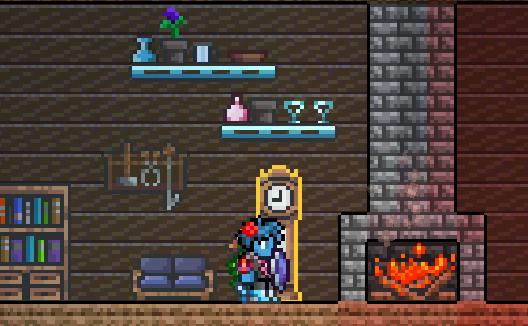 Follow these steps so you can learn to make it aswell:
1.) First, place a 3×2 rectangle wall using Gray Brick Walls

2.) Put Gray Bricks around them

3.) Put a tall 3-block thick column of Gray Bricks (The height stops at the ceiling of the room)

4.) Lastly, put the Campfire in the 3×2 Gray Brick Wall

Tip: Since there are extra blocks of Gray Bricks on the sides, you can put a few decorations like books or a wine glass on top of them to decorate them.
The next design is my personal favorite. Its a fireplace similar to the first one, except it has a few curves giving it more detail

Follow these steps so you can learn to make it aswell:
1.) Place a 3×3 square wall with using Gray Brick Walls

2.) Place a group of Gray Bricks looking similar to this placement

3.) Turn some of them into curves with a hammer, make sure they look like this

4.) Put a tall 3-block thick column of Gray Bricks similar to the first design (The height stops at the ceiling of the room)

5.) Finally, put the Campfire in the bottom middle

The last design is probably the reason why your here. The fireplace that looks similar to the current 1.3 design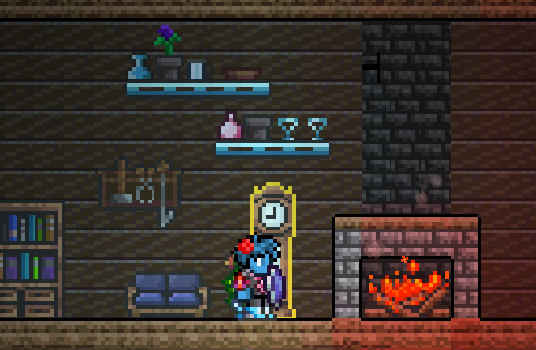 Follow these steps so you can learn to make it aswell:
1-2.) Repeat the first two steps from the first design
3.) Put a row of half-blocked wood on top of header/undermantel of the fireplace

4.) Similar to what most 1.3 players do to the current Fireplace, place a tall wall column with Gray Brick Walls

5.) Last but not the least, finish it off with the Campfire in the fireplace

Notes and Tips:
If you want to walk through your fireplace similar to the current 1.3 Fireplace, you can actuate the blocks. Just make sure to power them since there aren't any Actuation Rods yet in 1.2.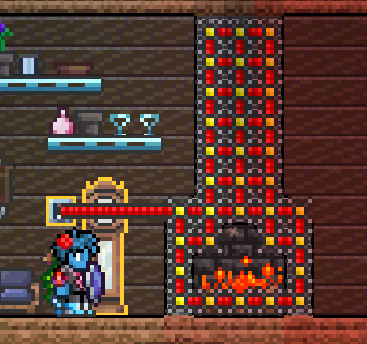 Because these "Artificial Fireplaces" rely on blocks, it can be customized with different blocks. Here is an example of a curved fireplace using Stone Slab blocks and Walls as their base design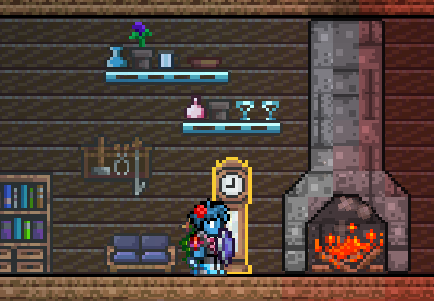 Bonus: Pre-1.3 Chimney
Did you really thought I forgot about this? Of course not! Alright, here are the steps:
1.) Place a tall 3-block thick column on top of your roof (Height depends on your preference, though I recommend you to make it a bit taller than your roof)

2.) On the last two blocks of the column, put two blocks on the sides of them

3.) Then hammer the blocks to look like the image below

Alright! Now that you know how to make a fireplace in 1.2, take this knowledge and use it in your 1.2 worlds!