Consigliere
Staff member
Re-Logic
Administrator
Greetings Terrarians!
Spooky season is finally upon us! We hope that your pumpkin carving, candy collecting, haunted house visiting, and trick or treat preparations have been going quite well. On our end, we have loved seeing the Halloween Contest entries coming in (over 300 entries and counting - you still have time to get your amazing Pumpkins, Costumes, and more in!) while we continue to work away on 1.4.5. We are also getting really excited to see some of the other Terraria things that will be coming out over the Holidays, such as the next wave of the Terraria Graphic Novel, new merch stuff, and more. It is also the time of the year where we really start to reflect on how much we appreciate each and every one of you and your support. We will say it again (probably more than once) - thank you so much for all that you do for us!
That said, let's go door to door for the latest Terraria treats - no tricks, we promise!

STATE OF THE GAME - TABLE OF CONTENTS
PC NEWS - RE-LOGIC
TMODLOADER NEWS - TML TEAM
CONSOLE & MOBILE NEWS - DR STUDIOS
COMMUNITY NEWS

TERRARIA 1.4.5 - BAT!
Another great month of development has come and gone, and the team is really feeling great about what we have in game thus far as well as what we still have planned/on deck to add before we can call 1.4.5 complete. It is becoming increasingly hard to not spoil some of our favorite bits - but our willpower is winning out thus far. No estimate on timing to add just yet, but it is looking increasingly likely that we are looking at a 2024 release for 1.4.5 at this point. You know our mantra for updates - they are "done when they are done". Hang in there with us a bit longer, it will be worth it.
What better spoiler for the Halloween Season than to share one of our newest additions - the Vampire Bat transformation!
Don't worry, when your nighttime aerial hijinks are concluded, you will be able to safely return to your... Human Form!
Until next time folks - the Holidays are closing in and we cannot wait to see what they hold!

STEAM WORKSHOP NEWS
We are creeping ever-closer to 100,000 packs/worlds in the Terraria Steam Workshop! You are missing out if you haven't taken the time to check out these amazing creations from the community.
Click the banner above to check out the Terraria Workshop!

WHAT ELSE IS GOING ON?
Thinking about another team playthrough - this time on a World Seed unlike any we have played before.

As always, keep your bug reports coming via the handy bug report button below!

Thanks again, Terrarians - we are as always blown away by your support!
Back to Table of Contents

​
Hello everyone!
It has been another exciting month! On November 1st our monthly update release of tModLoader will go live. This month's release contains fixes for various gameplay inconsistencies with Terraria. Dye visuals, boss item drops, bomb damage, tool speed, and echo coating have all received fixes to match Terraria behavior. We are extremely grateful to the users that reported these issues to us. The mod configuration menu has been reworked to be less confusing for mods with multiple configuration pages.
We also have exciting news for modders working in a team. Modders added as a "Contributor" to a mod on the Steam workshop will soon be able to publish updates for the mod to the workshop directly. Mods will no longer need to be updated only by the original uploader. Mod owners should take some time this month to ensure that everyone listed as a "Contributor" on the Steam workshop for your mod is trustworthy enough for this responsibility. Please remove any contributors that do not meet this standard. The feature for contributor publishing will be active November 21st starting with our preview releases to provide time to act. Please spread the word to other mod teams you know that might not have seen this announcement. We look forward to this feature enabling mods to more reliably update to fix bugs that arise.
Modders should also keep an eye out for our Steam announcement on November 1st where a complete listing of API changes this month will be listed.
We look forward to seeing how mods make use of these new features. As always, if you are having issues of any sort, definitely don't hesitate to check out our
FAQ on github
or reach out to us at our
Discord
.

tModLoader Steam Workshop - New Mods every Day!
The TML Steam Workshop has over 6000 mods for you to enjoy! Coupled with the in-game mod browser, the TML Steam Workshop is a great way to explore what modded Terraria has to offer - check it out today by clicking the banner above!

WHAT'S NEXT FOR TML?
​
More features, continuing to evolve and grow what TML can do... and getting ready for 1.4.5.
As always, you can keep track of the current progress and much more in real time at
tModLoader/tModLoader
(But note that the completion percentage doesn't mean anything, because issues and PRs don't have weights.)
Developers who are willing to contribute may do so by doing PRs to the
tModLoader/tModLoader
branch. (See
tModLoader/tModLoader
)

TMODLOADER ISSUES/BUGS
The Re-Logic team does not directly develop TML, so bugs with TML are best reported via the links below.
tModLoader - Play Terraria with Mods!
https://tmodloader.net/discord
Back to Table of Contents

CONSOLE & MOBILE - DR STUDIOS
We were fortunate enough over this past month to have a bit of extra time to work on the future - above and beyond the ongoing work on Terraria 1.4.5, of course. What future would that be, you ask? Why a future where Terrarians everywhere can come together from all over the world to Dig, Fight, and Build - regardless of which platform on which they choose to play. You will see what we mean in the spoilers below...
Speaking of which, let's give you the customary sneak peek!
Portable Demon Altars, Extra Spiky!
Please note that this will only drop in the most extreme of circumstances and is not going to be easily obtained/readily available.
Crossplay? Crossplay.
It is also worth sharing at this point that the image we shared in the
July State of the Game
was shot in a live Crossplay environment - as some of you surmised!
Please note that we do NOT expect Crossplay to be available until a while after Terraria 1.4.5 releases and all hotfixes, etc. are complete. Crossplay will take place in two phases, this is only Phase One.
We still need to go through the hoops and processes with first parties, and (as you can imagine), this feature will need a lot of extensive testing. That has already begun, and we are planning to keep that testing going up to and through the release of 1.4.5, so that we can get Crossplay Phase One (more details on that at a later time) into your hands as soon as possible. However, to reiterate, this will be sometime after Terraria 1.4.5 is out and all fixes are done with that update.
Until next time, Console & Mobile friends - thanks for all of your love and support!

The team is feeling pretty good about console & mobile at this point, but we know that the bug reporting never stops! So, please, as you run into any issues, be sure to file a Bug Report via the links below!
CONSOLE BUG REPORTS
MOBILE BUG REPORTS
Back to Table of Contents

​
Greetings Terrarians!
Here's the latest and greatest happenings on the Community side of things. Thanks as always for being the most engaged and awesome gaming Community ever!
ANNUAL TERRARIA HALLOWEEN CONTEST IS GOING ON NOW!
The annual tradition that is the Terraria Halloween Contest is accepting entries as we speak! You have until Sunday, November 5 at 11:59PM Eastern Time to enter.
Fabulous prizes are on the line, including Terraria merchandise, money for video games, and community rewards. We have a category for everyone - from pumpkin carving to costumes to artwork, in-game builds, and more! Don't miss out on your chance to show your creativity and pick up the win!
For all of the details on how to enter, click the link below or the banner above!
2023 TERRARIA HALLOWEEN CONTEST DETAILS

TERRARIA MERCHANDISE STORE HUB
The merchandise hub is where you can find all of the latest and greatest Terraria merchandise - with new stuff arriving all of the time! Check out the latest merch drops as well as some classics and pick up that epic Terraria gift for a friend (or yourself!).
Click the banner above to head to
Terraria.org/store
now!

TERRARIA MERCHANDISE UPDATES
TERRARIA CHIBICHANS SHIPPING SOON!
There is still time for you to preorder your Terraria Chibichan minifigures, but the window is closing fast! We expect these to ship out to customers in late November, and we will keep the preorders open up until a few days before shipments go out. Terraria Chibichans will remain available on terraria.shop for the long run, but getting your preorder in will qualify you to receive the Gold Bunny figure for free!
Click the banner above to place your preorder today!
Our good friends over at Vidglo will have a few new things to reveal in next month's State of the Game as well, so mark your calendars!

SKYLAND ARTS WANTS YOU TO PICK WHICH FIGURE IS NEXT!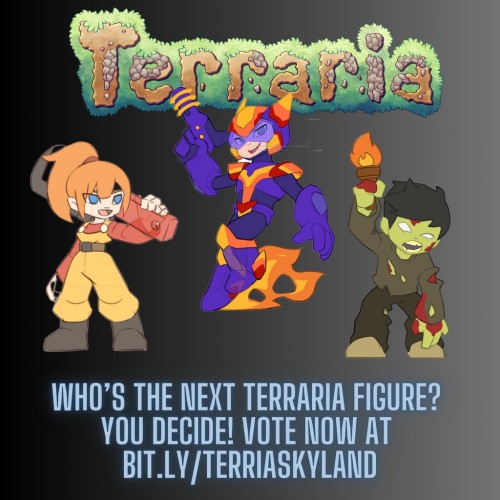 Our partners over at Skyland Arts are running an online poll to allow the Terraria Community to select which figure they should make next! The results of this poll will be combined with sales of the associated pins from each of the three choices to determine which figure is next up.
Cast your vote by clicking
HERE
or by clicking the banner above!
In addition, Skyland Arts is running a sale on all of the Series 1A figures - $5 off with the code "13HALLOWEEN"! This is the last week of the sale, so if you are interested in one of the first three Skyland Arts Terraria figures, this is a great chance to pick one up! Click the banner below to head to their site for more details!

TERRARIA - THE BOARD GAME DESIGNER DIARY
Here we are again with the latest "Designer Diary" entry from the lead designer for Terraria: the Board Game - Chris Kingsnorth. Let's see what he and the Paper Fort team have been up to over the last month!
---​
Hello Terrarians!

Chris here, game developer at Paper Fort Games. I'm back with the next instalment of the Terraria: The Board Game designer diary. This month, I'm going to be discussing my time at Essen Game Fair, revealing 3 new Boss miniatures and letting you know where to find us at PAXU in December!
---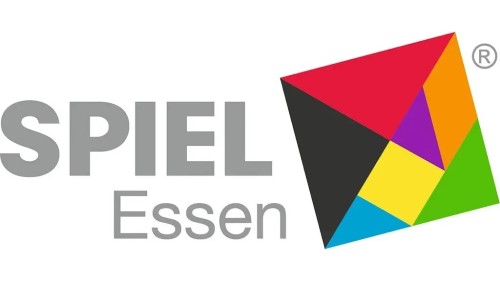 ​
Essen Game Fair
A couple of weeks ago I traveled to Germany for Essen Game Fair, the world's largest tabletop convention. 193,000 people visited the event; it was fantastic to meet hundreds of Terraria fans and show our in-development prototype. The painted Wall of Flesh and King Slime miniatures got lots of brilliant feedback, and though the game's cardboard components currently have prototype art, fans were already excited about how thematic the game is shaping up to be. Multiple people said that they could hear the Overworld Day theme playing when they saw the game on the table, so we must be doing something right!
​
Our transparent armour set cards are also proving to be a hit; you'll be able to customise your Terrarian by overlaying see-through cards on top of your basic character. Not only does this look cool, but these armour cards will provide permanent buffs as you progress through the game. We'll be showing more of these in a future SOTG so keep an eye out!
---​
New Boss Minis
This month, we've been working on 3 new Boss miniatures; Queen Bee, Eye of Cthulhu and Brain of Cthulhu. Here are the WIP renders; we'd love to know what you think!
Next month I'll give you a sneak peek of the miniature design process; i.e. how we get from my shoddy concept sketch to a fantastic sculpted model (spoiler; it involves other people with much more artistic talent than me!). I'll also show you the modular features of the Eye and Brain of Cthulhu miniatures in more detail.
Come and See the Game at PAX Unplugged 2023!
From December 1st to 3rd, we'll be showing Terraria: The Board Game at PAX Unplugged in Philadelphia, PA. If you're coming to the show, please stop by and say hello; you'll find us on the Lucky Duck Games stand (booth number 3400). You can find more info about PAXU at PAX Unplugged .
---​
Don't Miss Out!
If you haven't already, please sign up at

TERRARIA: THE BOARD GAME NEWS SIGN-UP LINK

and be sure to click through to the Kickstarter 'notify me' page. We'd be very grateful if you could share the link with fellow Terrarians via social media; you're always welcome to tag us in using @paperfortgames.

Until next time!
---
Sign up for the latest and greatest news on Terraria: the Board Game via the link below:
TERRARIA: THE BOARD GAME NEWS SIGN-UP LINK
In case you missed the big reveal, be sure to take a minute to read our post about Terraria - The Board Game, which contains details about timing, how it will be sold, and more!
TERRARIA - THE BOARD GAME DETAILS

TERRARIA GRAPHIC NOVEL SERIES
Colors for Issue 5 are well underway, as is the lineart for Issue 6. We have also spent a bit of time coming up with the extra goodies that will roll out alongside the Book Two Issues (5-7) - for those that are interested. Expect to see some familiar items alongside some brand new offerings in those packages.
We expect to be able to announce the details around Issue 5 sometime in the next week or so. To celebrate the occasion, 50 Amp has a pretty awesome giveaway planned, so you will definitely want to stay tuned for that! In the meantime, enjoy some more stickers that will be coming your way during the rollout of Issues 5-7
Vale, Helen, and the Mysterious Goblin Tinkerer!

OTHER COMMUNITY NEWS
TERRARIA MEDIA SPOTLIGHT
The Terraria community is filled with incredible fan media. We love to browse Terraria associated social pages and check out the creative minds sharing wonderful creations. We wanted to spotlight some of the trending media that caught our attention this month. Please let us know if any of the shared media has a different original creator.
(CLICK A GIVEN IMAGE TO HEAD OVER TO THE THREAD WHERE WE SAW IT)
FAN ART & BUILDS
Fossil Armor by
@nhatkhiem2k
Hallowed Castle by
@Noibatts
You Are a Terrible Person by u/Waweezy3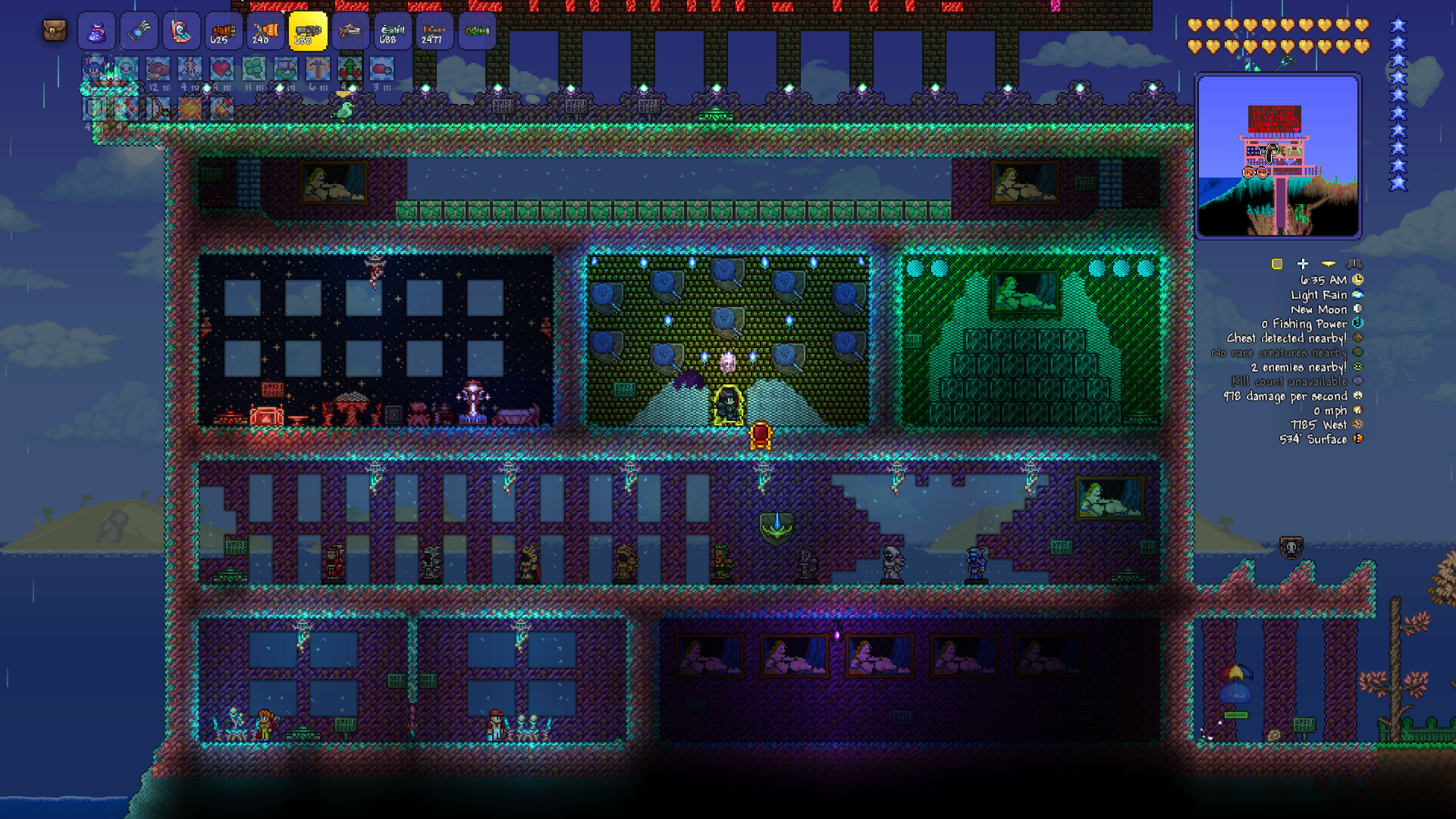 Great Barrier Reef Castle by
@Bodark Hu Tao
Dryad Cleansing by u/nakutaku
Desert Temple/Tomb by
@Kubiquity^3 🌳
Seasonal Dryads by u/webbfart
Sagrada Familia by
@Flaxes
The Royalty by u/Little_Pandi
Wizarding World Dursleys' house by
@LunaViolet
Megumin Million Block Build by u/LucasValkorion
Desert Warp by
@Zap173 ⚡⚡⚡



Until next time, Terrarians - we hope you have an amazing month, and we look forward to bringing you the latest and greatest next time!

Back to Table of Contents
​
Last edited: